Bill Murray is one man whom you can always rely on to deliver the laughs. The Chicago native commenced his career in the early 70s and later got his breakthrough on Saturday Night Live, between 1977 and 1980. Since then, Murray has gone on to feature in many movies and TV series, and has also nabbed several awards. He is also a prolific voice actor and famously voiced the cynical cat, Garfield, in two successful movies. Want to binge-watch some Bill Murray Movies? Then we have got some of his best, and worst, works right here.
1. Ghostbusters
Production budget – $25 – $30 million
Box office – $295.2 million
Ghostbusters is a 1984 fantasy comedy about three eccentric scientists, Peter, Raymond and Egon, who are initially college professors. The trio later set up a successful ghostbusting business, waging a high-tech battle against supernatural forces. Ghostbusters featured Dan Aykroyd, Harold Ramis and Murray as the eccentric trio. The movie was both a commercial and critical success, and is preserved in the National Film Registry. Ghostbusters is the Bill Murray movie that made him a household name. It also fetched him a Golden Globe nomination for best actor in a musical or comedy.
2. Groundhog Day
Production budget – $14.6 million
Box office – $70.9 million
Groundhog Day is another highly-acclaimed Bill Murray movie. In this 1993 fantasy comedy, the Chicago native portrayed the lead role of Phil Connors, a local TV weatherman who is quite pompous. Connors is later forced to re-examine his life after a freak storm at the local Groundhog Day festivities has him relieving the same day, over and over again. Groundhog Day received positive reviews and performed well at the box office.
3. Meatballs
Production budget – $1.6 million
Box office – $43 million
Meatballs is a 1979 comedy film which revolves around Tripper Harrison, the head counsellor at a teen summer camp. Tripper is the ultimate prankster but later sets aside his mischief to assist a shy teen named Rudy. Meatballs featured the likes of Harvey Atkin and Chris Makepeace while Murray portrayed Tripper. The film received mixed reviews but nevertheless performed well at the cinemas.
4. Caddyshack
Production budget – $6 million
Box office – $39.8 million
Caddyshack is a 1980 sports comedy about Danny, a teen who works as a caddy at a country club in order to raise money for college. Danny later enters into a caddy day golf tournament for the purposes of winning a college scholarship. Caddyshack featured the likes of Chevy Chase and Michael O'Keefe while Murray portrayed Carl, a maniacal groundskeeper intent on dealing with the rodents destroying his precious course. The movie was one of the highest grossing films of 1980. ESPN has also named it amongst the funniest sports movies ever made.
5. Rushmore
Production budget – $10 million
Box office – $19.1 million
Rushmore is a 1998 comedy/drama which revolves around two friends; an eccentric teen named Max Fischer and a rich industrialist named Herman Blume. The odd pair later turn to arch-rivals after they both fall for a beautiful teacher named Olivia. Rushmore featured the likes of Jason Schwartzman and Olivia Williams while Murray portrayed the role of Herman. His performance earned him the 1999 Independent Spirit Award for best supporting actor.
6. Lost in Translation
Production budget – $4 million
Box office – $119.7 million
Lost in Translation is the Bill Murray movie which has fetched him the most accolades. The film is a 2003 indie drama in which the comic portrays Bob, a washed-out movie star who travels to Japan in order to film a commercial. In Tokyo, Bob meets a conflicted newly-wed Charlotte (scarlet Johansson) and the two develop a close friendship. Lost in Translation fetched Murray the BAFTA and Golden Globe awards for best leading actor. He also scored an Oscar nomination for best actor.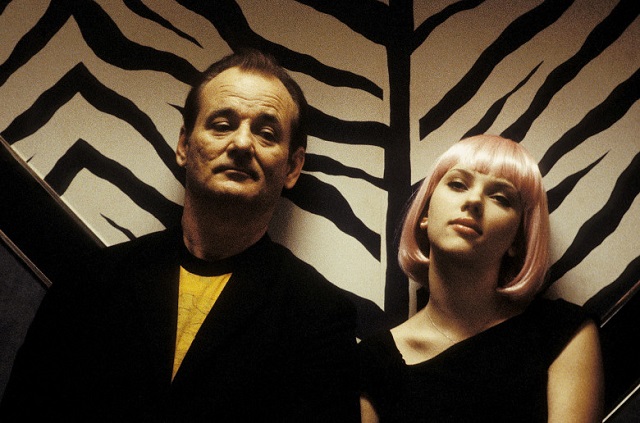 7. Olive Kitteridge
Olive Kitteridge is a HBO miniseries, comprising of four episodes, which ran in 2008. The series revolved around Olive Kitteridge, an antisocial but well-meaning school teacher. Olive and her kind-hearted husband, Henry, reside in Maine and have a troubled son named Christopher. Olive Kitteridge featured multiple-Oscar winner Frances McDormand in the titular role while Murray portrayed the role of Jack Kennison. His performance earned him the Primetime Emmy award for best supporting actor in a limited series.
8. Rock the Kasbah
Production budget – $15 million
Box office – $3.4 million
Rock the Kasbah is a 2015 music comedy about Richie Lanz, a washed-out music manager who is dumped by his last client while touring in Afghanistan. Lanz later discovers a talented Afghan girl, Salima khan, who wants to be the first female contestant on a popular music reality TV show. Lanz subsequently joins forces with a savvy hooker, as well as a mercenary, to make Salima's dreams come true. Rock the Kasbah featured the likes of Bruce Willis and Kate Hudson while Murray portrayed Lanz. The movie was both a critical and commercial failure, and has a rating of 8% on rotten tomatoes.
9. Larger than Life
Production budget – $30 million
Box office – $8.3 million
Larger than Life is another Bill Murray movie which failed to impress either the critics or moviegoers. The 1996 adventure comedy revolved around Jack Corcoran, a struggling motivational speaker who inherits an 8,000 pound elephant from his circus clown father. Jack later embarks on a crazy road trip in order to get the elephant from Baltimore to California. Larger than Life featured Murray in the leading role of Jack. The film was a box office bomb and has a score of just 11% on rotten tomatoes.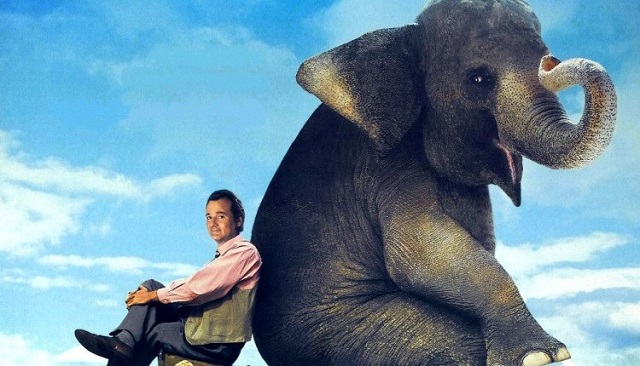 10. Where the Buffalo Roam
Production budget – N/A
Box office – $6,659,377
Where the Buffalo Roam is a 1980 drama/biopic loosely based on the relationship between author, Hunter Thompson, and Chicano activist and attorney, Oscar Zeta Acosta. The movie featured Murray as Thompson while Peter Boyle portrayed Lazlo aka Acosta. Where the Buffalo Roam received mostly scathing reviews although Murray's performance was praised in some quarters.