There is only one Charly Boy in the whole world, and we believe you may have in one way or the other heard about this strange fellow, also known as Area Fada. His weird way of life has been earning him a lot of attention for decades just as his music is admired by many. While the clout he gained as a musician has dwindled in the past few years, the lifestyle of Charly has ensured he remains relevant and popular, thanks to the controversies he has courted over the years. Because of the unconventional and strange way he has chosen to live his life, the public curiosity has rubbed off on his relatives as people wonder if his wife and kids are like him.
Charly Boy Is An Igbo Man from Nigeria
Born Charles Chukwuemeka Oputa on the 19th of June 1950, Charlie is a Nigerian singer-songwriter. He has also thrived as a television presenter, publisher, and producer. Being one of Nigeria's most controversial entertainers, he is known for his alternative biker lifestyle, political views, and TV show, The Charly Boy Show.
His date of birth remained a bone of contention until 2011 when he celebrated his 60th birthday. With that, it became known that he was born on the 19th of June 1950. He is the second son of Supreme Court Judge, Late Justice Chukwudifu Oputa, a native of Oguta located in Imo State, Nigeria.
He Initially Wanted To Become a Priest
Charly Boy had set out to become a priest but left the seminary school after a year. He was then sent to the U.S to study Law as his father had done, but instead of studying Law, he came back with a degree in Communications and delved into music most crazily.
Charlie started his music career as far back as 1982 but started gaining prominence around 1985. He attained greater success with the 1985 Polygram Nigeria release of 'Nwata Miss,' which included his title track. His most popular album was '1990'; the title was a reference to Nigeria's corrupt military government, which was expected to hand over power to civilians in that year, although civilian rule did not start until 1999.
1990 earned Charly Boy mixed reviews due to its political nature and also caused a national controversy, after which several radio stations refused to play the title track. Despite this, 1990 was one of Nigeria's best-selling albums of 1988, and Charly Boy was credited with using his music to stand up to his government, like Fela Kuti.
The Exploits He Has Made In The Music Space In Recent Years
In recent years, Charly Boy has worked on several collaborations with his cousin Dr. Alban, most notably on the song "Carolina," which sampled an earlier hit of Alban titled "Guess Who's Coming To Dinner," which originally featured singer Michael Rose. The new version was sung in Nigerian Pidgin and was a hit in Nigeria. The pair also recorded the songs "Work Work Africa" and "Commercial Waste."
Charly Boy's music has always been a national talking-point. Among the tracks on the album "1990" was "Big Bottom," a tribute to the female derriere. The scenes of the music were so obscene that in most Nigerian states, it was denied airplay on the radio due to its raunchy lyrics. It was later banned from television and finally denied airplay by the Nigeria Broadcasting Commission on the grounds of obscenity. He has been president of the Performing Musicians Association of Nigeria, and in 2011, an Idol Series judge.
Charly Boy Became a Father at The Age of 16
The controversial musician once related that he was sexually abused as a kid and lost his virginity before adolescence. Based on what he shared, it was his nanny that molested him at a very tender age. By the age of 12, he lost his virginity to a local whore who gave him his first bout with STD. These experiences gave rise to his promiscuous lifestyle. And at 16, he was already a father.
Charles has failed time and again when it comes to his marital life. As a result of his incessant love affairs, his mother talked him into getting married at the age of 19. His first two marriages failed before he met and married Lady Diana, an African-American singer and former fashion designer, who is still sticking on to him and doesn't look like she'll quit; the marriage has been on for about four decades now.
He Had Fathered Seven Children Before His Marriage to Lady Diana
The exact number of his children is not known but according to his wife, Lady Diana, Charly already had seven children before they got married. She later had two kids with him, bringing the number of his children to nine. It has been reported in some quarters that he has fathered 14 kids, but we can only confirm that he has nine children. It has also been reported that Area Fada has 14 grandchildren, out of them are identical twins who became very popular online.
Here's Why His Royal Punkness Meditates In a Coffin
Apart from Area Fada, he is also known as His Royal Punkness, a nickname that alludes to his weird nature and controversial lifestyle. Most people have associated his way of life to satanism. Given the social values of his country, his dressing and some of his controversial habits like meditating inside a coffin, are what inspire the satanic sentiment about him.
But Charly Boy isn't one to care about what people think of him. According to him, he will continue meditating in a coffin as it is very peaceful. In his words: "I see tomorrow in my casket."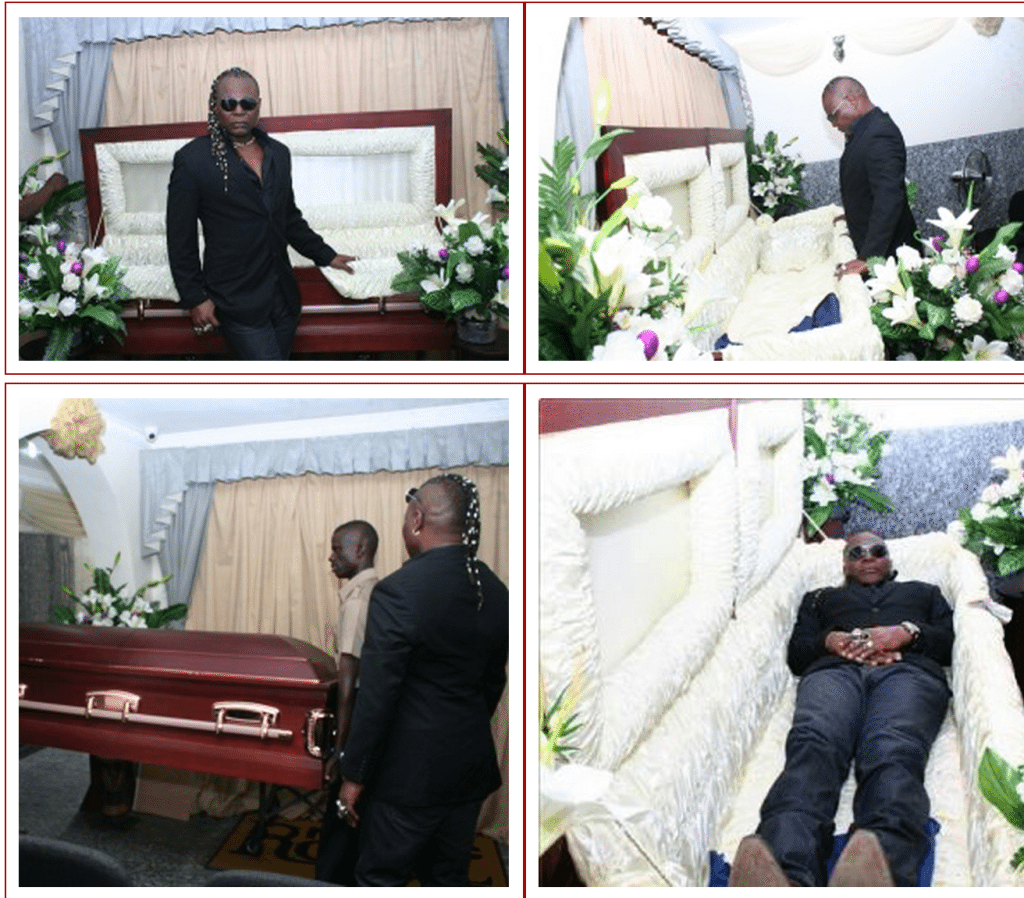 Charly Boy has tattoos all over his body and wears rings on any possible part of his body, from his ears to his fingers, nose, tongue, and what have you. The lyrics of his songs have always been controversial just as his outfits and dance moves are bizarre. Charlie has no regrets over the kind of life he has chosen to lead. The Area Fada expresses great satisfaction and fulfillment in almost every area of his life.
Controversies Surrounding Charly Boy's Sexuality 
Given his eccentric ways, Charly Boy has given people reason to question his sexuality, even though he has only been married to females. A good instance of this was in 2010 when he proclaimed his love for Denrele, a media personality, whose lifestyle and dressing have equally raised questions about his sexual orientation. The two were seen together in many suggestive poses in an article.
This became a big deal in Nigeria as homosexuality is illegal in the Western African nation. But then, there are no facts to support the speculations about the musician being gay. In 2012, he asserted in an interview that he isn't gay and threatened to sue national newspapers that inferred he is a member of The Illuminati and sexually attracted to men.