One thing that South Africa is renowned for in the entire African continent is its collection of exotic, state of the art, Avant-grade water parks, as well as beautiful tourism sites. These features have turned the country into one of the world's most preferred tourism destinations for the most memorable holiday or relaxation tour one could ever wish for. It is even better to know that these destinations are suitable for both family and friends, children and adults alike. Notably, water parks in Pretoria are among the best places to visit to have fun.
So, if you are planning a holiday or just want to visit Pretoria, one of South Africa's three capitals, and you are looking for beautiful and interesting waterparks to visit or tour, these thrilling water parks are the ideal places to cool off and have an awesome experience with nature's finest resources. This is simply because Pretoria has the best water park hubs in SA.
The Best Water Parks In Pretoria
Here is a look at the top 10 most entertaining water parks in the city of Pretoria.
1. CEDAR JUNCTION
Year It Opened: Unknown
Size: 8.5 hectare
Location: Lynnwood Road, Zwavelpoort, Pretoria East
Owner: Unkown
Highlight: Tornado, AquaLoop, waterslides, mini trains
Entrance Fee: R120 for adults R100 for children and pensioners (Summer), R100 per adult, R80 per Child from age 2-12, R80 per Pensioners (Winter)
One of the finest water parks that Pretoria has to offer is Cedar Junction. This breath-taking park stands at 8km East of Solomon Mahlangu (old Hans stardom) intersection within Lynnwood road, Zwavelpoort. This park is an outdoor 8.5hectare lawn area laced with an attractive view of about 2 hectares wide lake at the foot of the Bronberg Mountain Range, with a soothing idyllic ambiance.
What's more, Cedar Junction consists of a complete mini-scale 1.2km long train track with two trains which are more of a commercial train replica. These trains are designed to give you a thrilling trip around the park using its tunnels and bridges. Managed by a team of friendly, highly qualified, and experienced hospitality experts, there is a wide range of fun-filled activities you could enjoy here, either alone or with family and friends during a visit to the Cedar Junction.
If you are looking for an ideal place for a family picnic or just personal relaxation, that will give you good memories, you will live to always remember, this water park is your best option.
2. HARTIES WATERSPORT CENTRE
Year It Opened: Unknown
Size: Unknown
Location: Schoemansville, Hartbeespoort Dam, North West Province
Owner: Harties Boat Company
Highlight: Bumper Boats, Flow Rider, Water toys – tube riding, snake, parasailing, speed boat rides, etc
Entrance Fee: R150 for adults and kids alike
Harties water park is another delightful site of nature to behold in Pretoria, it is renowned for its busy nature as it remains one of the most crowded places, particularly during vacations. The park is unique and renowned for its exceptional facilities such as a jumping castle, a kiddie's zone with a trampoline to engage children, as well as a delightful park along with a camping site, the resort incorporates a wide ablution block for the fun-seekers to cleanse themselves if they so wish to do so.
You also get to enjoy pleasure cruises, private cruises, water toys – tube riding, snake, parasailing, speed boat rides, and lots more.
3. ZITA PARK
Year It Opened: N/A
Size: N/A
Location: Garsfontein, Pretoria, 0042, South Africa
Owner: N/A
Highlight: River Caves, Old Mill, Splash pool, Fairly steep water slide
Entrance Fee: Adult R9,00 school children R6,00 pensioners R6,00, Preschool children free of charge
Zita Park is a top-notch and amazing park situated at Zita St, Garsfontein, Pretoria, South Africa. It offers you that rare opportunity to have fun while catching up and hanging out with friends or bonding with your wife and kids. Features of this park include several swimming pools of varying sizes for everyone, sight-catching water rides, and lots of other interesting communal activities that will give you all the vibes you desire. Don't miss out on a trip to Zita Park whenever you find yourself in Pretoria.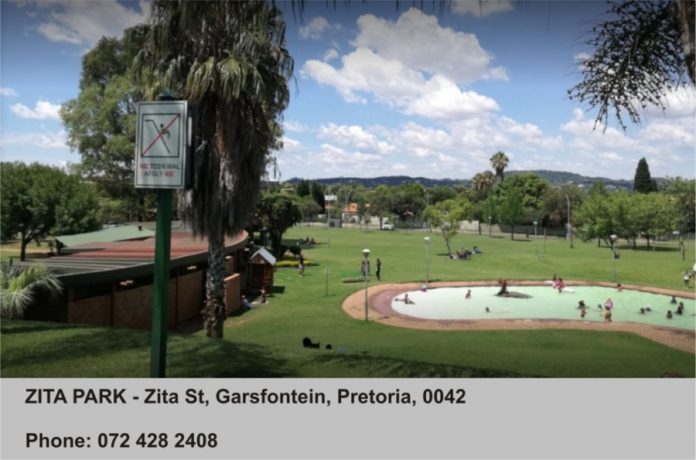 4. SPLISH SPLASH KIDS PARTY AND WATER PARK
Year It Opened: N/A
Size: N/A
Location: Stephan Rd, Montana, Pretoria, 0182, South Africa
Owner: N/A
Highlight: Old Mill, AquaLoop
Entrance Fee: Adults R90 Children R70
Whenever your kids desire an unforgettable outdoor picnic, you might want to consider the famous Splish Splash Kids Party Venue and Waterpark. This masterpiece kiddies hub has all the fun items every kid would ever dream of. The park specializes in catering for kids under the age of 8 years.
The management of the park has crafted together the most thrilling and amazing kid-friendly facilities and activities for the delight of the young ones. There are diverse energizing and spell-binding games and exercises which are meant for the kids to participate in, specially designed to improve their mental, motor, and swimming skills while entertaining them in the process.
Impress your kids once in a while by giving them such a deserving treat at the splish splash water park and be sure that they will be filled with those pleasant childhood memories to always be grateful for even when they grow older. Your little ones will surely love this spot and will forever cherish the memories created here.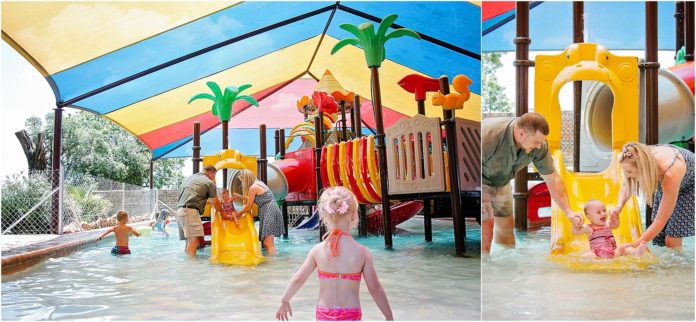 5. PINES RESORT
Year It Opened: N/A
Size: N/A
Location: Krugersdorp, 1739, South Africa
Owner: N/A
Highlight: Swimming pools, Toddler's Pool, Splash pad, Braai facilities, Waterslides for persons, shade umbrellas, etc
Entrance Fee: Adults and children from 8 years R120, pensioners R80 children 1-6yra R80
Pines resort is one of the most popular water parks on the Pretorian shores which offers you an opportunity to enjoy the luxury of therapeutic leisure time with your loved ones. This incredible resort lies along Krugersdorp on the West Rand. It has some of the premium facilities with activities that give you maximum fun. Some of its best features include swimming pools, as well as a toddler's pool, a splash pad, braai facilities, waterslides for persons of all ages, food shops for your favorite dishes and drinks, picnic spots that have braai stands and shade umbrellas, and a lap mostly for people who are in large groups.
You can also find stock ice, charcoal, firelighters to mention just a few. The kids are also fully carried along as it has a special playing section for children, where they can enjoy, jungle gym slides, swings, and a jumping castle.
Interestingly, the management recently announced the construction of a new tube ride which will give it an edge over other water parks. Pines Resort is only open in summer so take advantage of your day off or weekends to visit and you would be glad you did.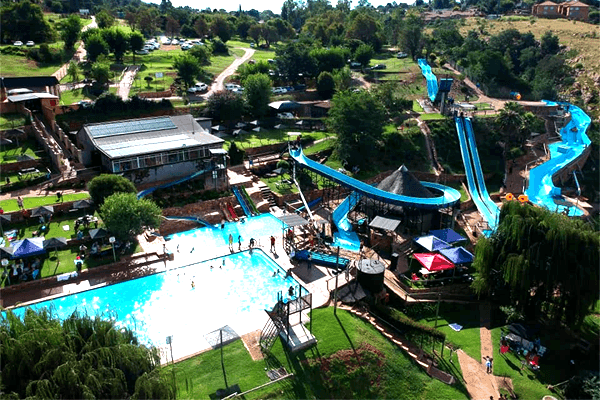 6. GRIZZLIES WATER PARK 
Year It Opened: N/A
Size: N/A
Location: Ds Krige Ave, Daspoort, Pretoria, 0082, South Africa
Owner: N/A
Highlight: Swimming pools, Water slides, Kids water playground, Lazy river.
Entrance Fee: R 80 – adults, R 50 – kids under 12
Looking for a family getaway location or just somewhere to unwind and relax with friends, children, family, or loved ones? We just found a perfect location for you. Located in Ds Krige Ave, Daspoort, Pretoria, 0082, South Africa, Grizzlies Water Park is one of the many fun water parks you will find in Pretoria. The park comes with features that include swimming pools, water slides, kids' water playground, lazy river, etc.
This park is great for friends/family to just have fun, relax, bond or catch up on old times and the entrance fees are pocket-friendly.
7. WILD WATERS
Year It Opened: 1984
Size: N/A
Location: Bardene, Boksburg, 1459, South Africa
Owner: N/A
Highlight: Lazy river and Old Mill
Entrance Fee: Adults R150 children R95
Wild Waters most definitely secured a spot in this review. It became operational as far back as 1984, making it one of the oldest water parks in Pretoria. In this park, you are surely going get entertained beyond your wildest imaginations as they offer a variety of family bonding activities in addition to 8 exciting, adventurous activities that will thrill you, without mentioning the amazing water park experience you would always get.
8. STOKE CITY WATERPARK
Year It Opened: N/A
Size: N/A
Location: Glen Austin, Midrand which is between Johannesburg and Tshwane (Pretoria)
Owner: N/A
Highlight: Water sports Wakeboarding, Skateboarding
Entrance Fee: R40 per adult, while kids under eight years old enter free. Though prices for activities vary.
Are you a water sports lover? Then then the Stoke City Wakepark is the place for you. This unique park will get you to shed off some pounds with a series of water sports designed for your pleasure. Opened mostly from Tuesday to Sunday, the park offers you activities ranging from waterskiing, kneeboarding – which is a water sport where participants are towed or pulled at speed by a motorboat or a cable system while seating on a buoyant board, as well as wakeboarding – another water sport where participants can ride a wakeboard over water while being pulled at speed behind a motorboat or a cable system.
The cable system can pull up to nine riders at a time and runs in a continuous counterclockwise motion.
Again, you could enjoy a braai and picnic spots and the park is famous for its beach volleyball facilities while it often hosts beach volleyball tournaments that attract a multitude of visitors and sports lovers. The park offers rentals of wakeboards, wakeskates, helmets, life jackets, and anything that might be needed to participate in the activities on offer. There is also a pro shop inside the park if you wish to buy any equipment for water-based sports and skateboarding. It is also being managed by a great time of specialists and coaches who always got your back. Be informed that Stoke City Park is always closed in winter (May to September)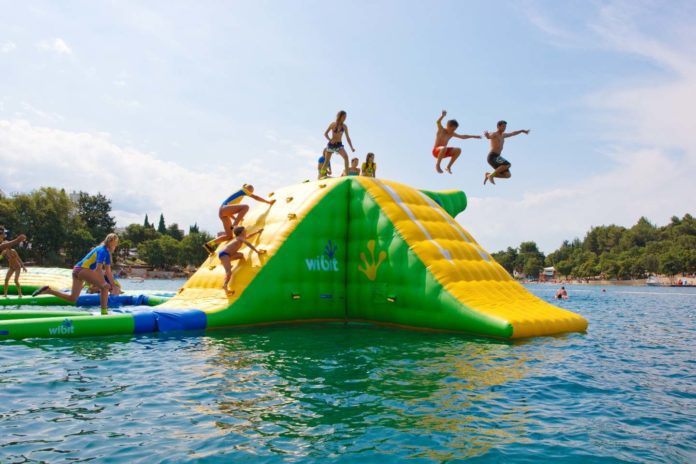 9. ZAMBIBUSH RESORT
Year It Opened: N/A
Size: N/A
Location:  Cecil Ave, Sinoville, Pretoria, 0182, South Africa
Owner: N/A
Highlight: Water Park, Mini Zoo
Entrance Fee: Adults R120 children and pensioners  R100
Located in the Northern suburbs of Pretoria, Zambibush resort combines the natural attractions of a water park, as well as those of a zoo. The resort is such a place where you would like to have a family picnic or just have a nice time with pals. It has water slides, spacious playgrounds, spiced-up with its mini zoo.
The resort also has different swimming pools for adults and children alike, water slides, kids' rides, and the pool is surrounded by a total of 34 laps for your relaxation.
THULANI LEISURE RESORT & WATERPARK
Year It Opened: N/A
Size: N/A
Location: Lavender Road, Wonderboom, Pretoria, 0182
Owner: N/A
Highlight: Swimming Pools, Water Slides, Bumper Boats – a great activity for the kids (children only), Volleyball Court, Jungle Gym, etc
Entrance Fee: Adults  R 90, children 3  12 years, R60, Pensioners, R60 Children under 3 years  free
Any review on the best water parks in Pretoria would be incomplete without a mention of Thulani Leisure Resort & Waterpark. Bordered by the Apies River and located at 516 Lavender Road, Wonderboom, Pretoria, Thulani Resort is one of the exotic parks where you can cool off at any time of the day with family and friends.
It offers a wide range of activities and top-notch facilities, including swimming pools, water slides, while the kids will have a swell time riding on the bumper boats. You can also find a volleyball court, jungle gym, paintball for a minimum of 8 persons, fishing dam & river. The facility offers Lapa hire services for birthdays, anniversaries, end-of-the-year celebrations, as well as ablution blocks. Your family will surely love this.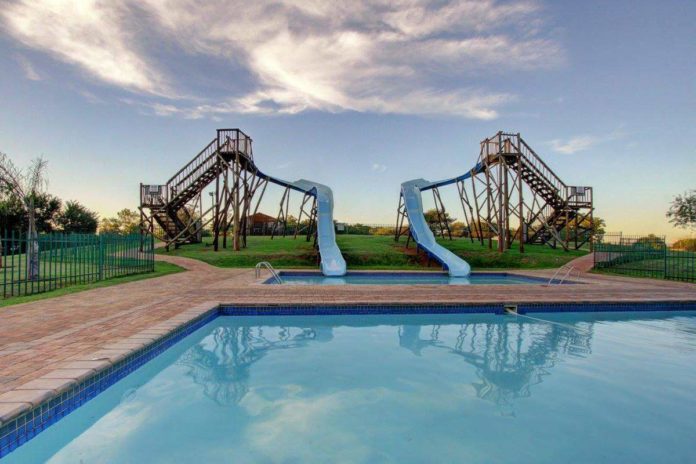 From this review, it is very obvious that Pretoria can pride itself as the choicest and most entertaining water park destination in South Africa, and one cannot fall short of fun places to have a good time with family or friends while in this amazing city. The puzzle will only be to choose just one among these breath-taking parks to relax at. Apparently, all of these water parks are quite competitive in terms of designs, facilities, activities, and management. Nevertheless, you can make your choice based on proximity and budget.