Mzwandile Masina is a 48-year-old South African politician and political activist who has been serving as the Executive Mayor of the City of Ekurhuleni Metropolitan Municipality since the year 2016. He is a member of the ruling African National Congress (ANC), serving as the Chairperson of Ekurhuleni. Just like many other politicians in the country, he has faced allegations of corruption but still maintains that his slates are clean.
Born and raised in a family that struggled, Masina joined politics at the age of 14. He first joined the ANC Youth League before training for Katlehong in East Rand as an Umkhonto we Sizwe Soldier.
Mzwandile's Profile Summary
Full Name: Mzwandile Collen Masina
Date Of Birth: 2nd September 1974
Age: 48 years
Place Of Birth: East Rand
Nationality: South African
Zodiac Sign: Virgo
Marital Status: Married
Occupation: Politician
Education: University of Witwatersrand
Party: African National Congress
1. The Politician is a Native of Gauteng
Mzwandile Masina is a native of Gauteng. He was born on the 2nd of September 1974 in East Rand, Transvaal Province, South Africa, the city where he was also raised. Growing up in a struggling family might have influenced his early quest for power. But while we know that he joined politics at an early age, details of his parents and early life are not public knowledge.
Being a shrewd manager, politician, and business executive, Mzwandeli Masina achieved a meteoric rise in his career with his hard-earned success.
2. Mzwandile Masina Is An Alumnus Of The University Of Witwatersrand 
Mzwandile Masina attended the University of Witwatersrand School for Public and Development Management. He received his first degree in the institution before bagging a master's degree from the University of Pretoria. He specialized in Entrepreneurship.
Being a Philomath, he went on to gain more knowledge and insights into various business management practices and policy environments from many international and local short executive and development programs.
3. The Mayor Started His Political Career At The Age of 14 
The Mayor is no doubt ambitious as he started taking part in political activities at the age of 14. He began by joining the ANC Youth League. At the age of 16, Mzwandile became fully involved in politics, registering as a full member of the ANC and the ANC Youth League (ANCYL) after a ban on the political party was lifted in South Africa. He has since held so many positions in the ANC, ranging from the street and section to zone and branch leadership before succeeding to the Regional and Gauteng Provincial leadership.
Mzwandile Masina was once the former Chairperson of The Congress of South African Students. He later became a member of the South African Students Congress where he influenced policy change and ensured the enrollment of more youths across the country into the university.
Serving as the General Secretary of the South African Youth Development Programme, Masina was responsible for inputting policy during the formation of the National Youth Commission. In the establishment of Katorus Youth in Action, he played a leading role and served as the Chairperson three times. He was later nominated as the Chairperson of the board. He served in the ANC Enkululekweni branch as a secretary.
4. He Has Served As A Director Of Several Municipal Programs
Mzwandile Masina was the Chief Director of the Department of Mineral Resources where he rendered services in the Office of the Minister. He was later moved to Special Projects.
As a director, he also worked at the Economic Empowerment in the Ekurhuleni Metropolitan Municipality before serving as a program manager who saw to targeted groups at the Ntsika Enterprise Promotion Agency.
The politician is no doubt good in the affairs of leadership as he also served as a Director at the Business Development and Customer Care at the Department of Trade and Industry before moving on to Uthingo Management as the General Manager.
5. Mzwandile Has Functioned In Many Different Sectors Of The Government
Mzwandile Mansi is not just bent on politics as he has served as the Chief Executive Officer at Gauteng Film Commission. He has also served as the Chief Operations Officer at the Gauteng Department of Sports, Arts, Culture, and Recreation.
His most high-profile role in the national government was as the Deputy Minister of Trade and Industry. He served in the role from 26th May 2014 till 23rd of August 2016. Within that period, he was a Member of the National Assembly of South Africa, serving from 21st May 2014 till 23rd August 2016.
6. He Has Been Serving As The Mayor of Ekurhuleni Since 2016
Currently, Mzwandile Mansi is serving as the Mayor of Ekurhuleni. He assumed the office of the Executive Mayor of Ekurhuleni Metropolitan Municipality in August 2016. Being an adept politician, he is also functioning as the ANC's Ekurhuleni Regional Executive Committee Chairperson.
7. The Mayor Is Married To A Philanthropist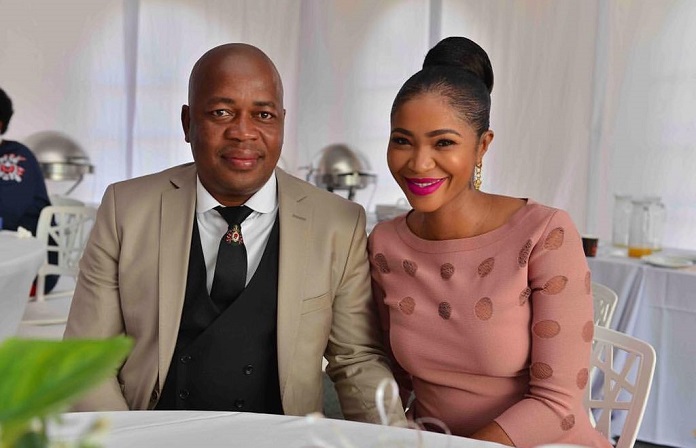 Before his recent marriage, Mzwandile Masina was previously married. Details of his ex-wife are, however, not known. Likewise, the cause of their separation is not clear. The politician got married to his current wife Sinazo Masina in a lavish wedding in November 2016 at Stellenbosch. She is not just a beautiful woman, but also an illustrious woman who works as the senior manager of Corporate and International Communications at Gauteng Growth and Development Agency. She is also a philanthropist.
8. He Is A Proud Father of Four
The Mayor is indeed a proud father as he doesn't hesitate to upload his children's pictures on social media. Mzwandile Masina has four children but chooses to keep their details under wraps. By looking at photos, however, we can tell that they are teenagers. This means that they might be a product of his first marriage. It is not clear if his current wife has any kids.
9. The Politician's Primary Source of Income Is Politics
Obviously, Mzwandile Masina has earned a significant amount of money through his political career. He is estimated to have a net worth of around $1 million – $5 million.
As a result of his service to the public, Masina has received a number of awards. He was named the Youth Leader of the Year in 1999 by the ABSA Foundation and the University of Johannesburg. He was further named the Most Innovative Employee of The Year for successfully bringing the concept of the One Company One Job Initiative to reality in 2008 within Ekurhuleni Metropolitan Municipality.
10. Mzwandile's Work As An Activist
Through Mr. Mzwandile Masina's patriotic attitude, he has been able to attain influential heights as well as executive positions. He is bent on seeing to the needs of young people especially in the areas of education and skills development.
Being is a man of valor, he reacts to issues without being partial. Though he is an ANC member, he has been labeled a rebellious member on many occasions for showing his support for ideologies of the Economic Freedom Fighters (EFF) and Radical Economic Transformation (RET). However, he reacted to the rebellious label by stating that he is not a rebel but rather an uncomfortable voice of reason. He further stated that he is an ANC activist who is deeply committed to the ideas of the movement.