If you are looking for an actress that fits the "screen goddess" description, then Damilola Adegbite may just be your best bet. Since she graced the screen of the daytime soap opera, Tinsel as Telema Duke, the Nigerian native has been listed among the most recognizable faces in the African entertainment scene. As the plot of Tinsel unfolds, the mother of one won many hearts, becoming a favorite among millions of soap lovers.
We would not be far from the truth to say that Dami is better at the series than she is in movies; this conclusion was drawn from the fact that she was quick to return to Tinsel after she exited to go try her hand at movies. However, it doesn't matter if it is movies or series, as the Nollywood actress has proved her mettle in the entertainment industry, perfectly depicting diverse characters on diverse sets.
Profile Summary Of Damilola Adegbite
Full Name: Oluwadamilola Adegbite
Date of Birth: 18th May 1985
Nationality: Nigerian
Education: Bowen University
Parents: Unknown
Height: 5 feet 6 inches
Occupation: Actor, TV Host, Model, Businesswoman
Years Active: 2008 to date
Net Worth: $300,000
Let's Meet Damilola Adegbite
Many lovers of Tinsel would be familiar with the character of Telema Duke, portrayed by Lagos-born actress Damilola Adegbite. Dami does not just act in soap operas, she had broadened her horizon since debuting in Tinsel and is currently being featured in some Nollywood movies. She has also presented television programs and has graced the red carpet on several occasions, interviewing celebrities. Dami is a businesswoman, a model, TV host, social media sensation, and has done well in scoring some really lucrative endorsements.
Talking about her personal life, the Tinsel alum has been married once but is presently divorced. Damilola is a mother of one from her failed marriage and even though it has been quite some years since her official divorce, the screen goddess has refused to test the turbulent waters of matrimony for a second time; what this means in effect is that Ms. Adegbite is single. Below are ten more facts about the actress.
1. The Actress Grew Up In The Surulere Area Of Lagos State, Nigeria
For the record, Damilola is the shortened version of the actress' name as she was named Oluwadamilola Adegbite at birth, on the 18th of May, 1985. The television actress was born in Surulere, Lagos State, Nigeria where she had an eventful childhood. According to what she let on in an interview session, her growing years were filled with loads of fun. Recalling the days when they staged a lot of street carnivals in Surulere, Dami narrated the good times she had with friends, the friendly neighborhood, and their open-door policy. You could basically walk into a neighbor's house, eat, relax, and even sleep there if you so desire.
The identities of Damilola Adegbite's parents are not known but the actress mentioned that her father is a Lagos State government employee while her mum earned a living as a teacher. Though her siblings were never mentioned, it has been established that the actress is not the only child of her parents; this conclusion was drawn from her interview session when she mentioned something about coming from a family of four.
2. She Was Previously Thought To Be A Twin
Following Damilola Adegbite's emergence to the limelight, speculations ran rife about the actress being a twin. However, she is yet to confirm or refute these rumors but the speculations about her twin sister were sparked after fans confused Dami with Kehinde Bankole, another Yoruba actress who looks so much like her. On her own part, Kehinde who is also a TV host and model is actually a twin; her twin sister's identity has been revealed as Taiwo.
3. Damilola Adegbite Is A Graduate
Facts about her primary education are not known but Damilola passed through Queen's College Yaba, Lagos State. During her secondary school days, the up-and-coming entertainer was quite active in the creative arts, performing with her school's dramatic society as its vice president; a post which spanned for a year between 2001 and 2002. The rising star equally took her acting talent to the church as she became part of their dramatic group. Upon graduating from secondary school, Damilola was admitted into Bowen University, one of the top private universities in Nigeria where she studied business administration.
4. Her First Real Brush With Acting Happened On The Set of Tinsel
Going by what Damilola Adegbite let on in an interview, she knew right from her formative years that she wanted to be in the performing arts. This stems from the fact that she actively participated in both her school and church drama. Thus, when she was fresh from the University in 2008, the youngster was informed about an audition by her aunt, Ethel Ekpe. On getting to the audition which was for Tinsel (from Mnet), Damilola's natural talent found expression onset, and consequently, she scored the role of Telema Duke.
Right there on the set of Mnet's debut multi-camera production, she displayed so much outstanding prowess that the producers of the soap had to stand and take note. Needless to say, her stellar performance on the set of Tinsel opened several inroads into other roles which were mostly cinematic productions.
Damilola Adegbite would spend four long years on the set of Tinsel but with the advent of 2012, the screen goddess had a rethink and decided to exit the series. This decision according to her was taken on a professional basis. It turned out that Dami spent the ensuing three years exploring the big screen as she was featured in quite a good number of Nollywood movies. However, she made her comeback to Tinsel in 2015 as according to reports, her venture into the movies didn't go as anticipated.
5. She Joined Nollywood After Her Exit From Tinsel
After she exited from Tinsel in 2012, Damilola Adegbite wasted no time in making her Nollywood debut, appearing in the movie Flower Girl (a Michelle Bello award-winning film) where she depicted the character of Kemi Williams. In 2017 alone, the rising star was featured in three productions; The Missing as Alero, Banana Island Ghost in a cameo as self, and Isoken as Joke. 2018 was when she appeared in Merry Men: The Real Yoruba Demons, breathing life into the character of Dera Chukwu and in From Lagos with Love, acting the role of Samantha.
Damilola appeared in additional three movies in 2019; Coming From Insanity as Oyin Martins, Merry Men 2: Another Mission, and Heaven's Hell as Janet Cole. The latter is a Nigerian psychological drama film where Dami shared the screen with movie greats like OC Ukeje and Femi Jacobs. The actress's latest film in 2020 is Crossroads Siwoku. Besides, following her return to Tinsel in 2015, Damilola started depicting the lead character of Temilola Coker on the set of another TV series, Before 30. The Drama, which tries to tackle the pressure put on Nigerian ladies to embrace matrimony before hitting 30 years of age, is a production that is still ongoing.
The actress has also made her mark in theatre/stage performances, appearing in productions like The V Monologues. Her other stage performances include Wedding Blues and Iya Ile.
6. Damilola Adegbite Has Played Other Roles Away From Acting
Away from the acting scene, Damilola Adegbite has functioned as a television host with quite a few programs under her belt. After she scored her first major acting role in Tinsel in 2008, she started working for Sound City Television as a program host and anchor. She also functioned as a red carpet host. She stayed with Sound City for a couple of years, spanning from 2008 to 2010. Her time with the media outlet was well spent as she interviewed celebs who graced the red carpet of glamorous events. She anchored shows like The Chatroom and Global Countdown.
The actress cum model has further been featured in a handful of television commercials. In 2009, Brilliance Motors employed her services to play the lead in a TV commercial. In 2017, Adegbite scored an endorsement with Instant Pickup Laundry Services. Nigerian giant Telecomm network Globacom also took her on as one of its brand ambassadors. No doubt, the Nigerian native's foray into the entertainment industry is paying off big time as she continues to create a niche for herself in the world of showbiz.
7. The Actress Is Also A Shrewd Businesswoman
From what is obvious, Damilola Adegbite seems to be a versatile woman with fingers in so many pies. Even after she became well established in the entertainment industry, the Tinsel alum still found time in her tight schedule to venture into the cutthroat world of business. Today, she is credited as an entrepreneur in addition to being an actress, TV host, and model thanks to her first business enterprise called Damiville and Kasham by Adedamee. The store, which is located in the Lekki part of Lagos State, majors in aromatherapy and also offers make-up products and accessories for sale.
Like many other celebrities of her ilk, Dami had to create a contact point with fans. Consequently, in 2018, she established her personal website and is quite visible on other social media platforms where she interacts with fans. On Instagram alone, the Nigerian beauty has amassed over 343k followers.
8. She Bagged Her First Award In 2011
As Damilola Adegbite's role in Tinsel progressed, she earned more visibility and soon became busy with a plethora of other roles both on the big screen and small screen. One thing that can be said for the Nigerian native is that she is a hard worker who goes the extra mile in giving a perfect depiction of whichever role she has been assigned to and needless to say, the authorities were watching. The actress was finally rewarded in 2011 when her name was nominated for the Nigeria Entertainment Awards in the category of Best Actress in a TV series. Dami knocked out other contenders in the end, winning the award, and going by her recent progress, she may soon bag more.
9. The Tinsel Alum Was Previously Married and Has One Child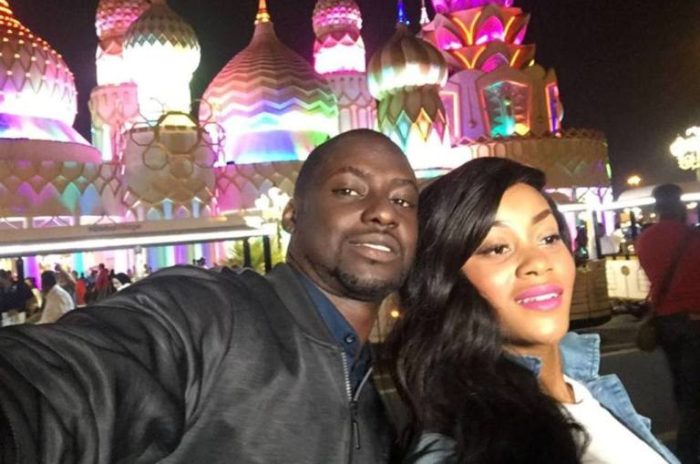 While on the set of the Mnet soap opera that brought her fame, the onscreen chemistry between Damilola Adegbite and her love interest, Chris Attoh, was so palpable that you would easily forget that it was just acting. At the end of the day, it came to light that it was not just acting after all. The two co-stars actually felt an attraction beyond the screen and let the public know in August 2014 when they became officially engaged.
Barely a year after their official engagement, Chris Attoh who is a Ghanaian native took his fiancée down to Ghana where they cemented their relationship in a wedding ceremony that took place on the 14th of February 2015. Though the details of their wedding were never brought to the public space as it was tagged "private", reports said it was well attended by family and close friends.
But before the celeb couple exchanged wedding vows, they already welcomed their first child – a baby boy named Brian Nii Ayittey Olaferomi Attoh who announced his entrance in September 2014. Damilola appears to be really proud of her little man as we have spotted several photos of them together in the public space.
10. Damilola Adegbite and Chris Attoh's Marriage Crashed Within A Couple of Years
It is fast becoming the norm for celebrity marriages to crash within the first few years, and it came as no surprise that Damilola Adegbite's marriage to Chris Attoh's followed the same trajectory in exactly two years. It was precisely in September 2017 that we began getting the feelers that the celebrity couple's marriage was about to hit the rocks. The speculations were still making the round when Dami who had already appended her spouse's last name to her social media accounts woke up one day to delete it. She did not just delete his surname, the screen goddess equally unfollowed him on the picture-sharing platform and wiped out all his pictures from each of her accounts on social media.
While Damilola's actions kept fans and the general public wondering, Chris Attoh himself appeared in an interview session a few minutes later to confirm that their union has actually hit the rocks. The end of the celebrity couple's marriage raises so many questions regarding the reasons behind the crash. Soon, rumors of infidelity infiltrated into the public space followed by some talks about family differences. Those who said it was family differences pointed to the fact that the duo comes from different nations; Ghana (Chris) and Nigeria (Damilola).
All these speculations notwithstanding, Chris still continues to speak affectionately about Damilola to date. However, this did not stop him from moving on with his America-based lover, Bettie Jennifer, months later. Ms. Bettie later tragically passed away after she was shot dead.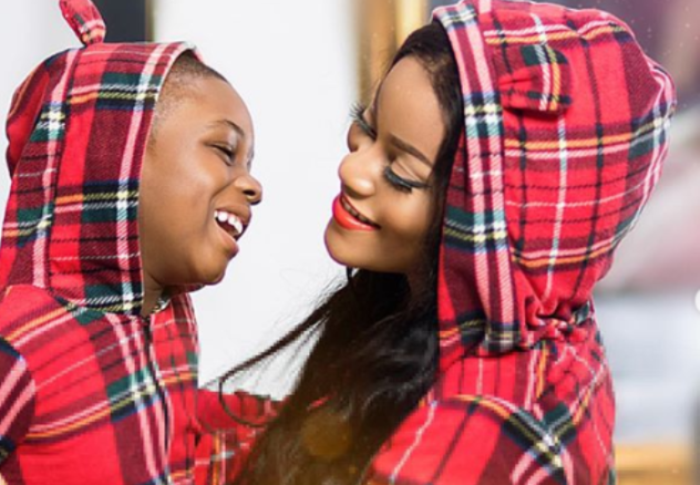 On her own part, Damilola Adegbite seems not to be in a hurry to move on with her life. According to what the Nollywood star said in 2019, she is not yet ready for a romantic relationship but only craves companionship. However, she sometimes wonders about her next boyfriend. Dami seems to be concentrating on furthering her career and taking good care of her son.