Nigeria is undoubtedly one of the most naturally endowed countries in Africa. It is blessed both in mineral resources and human capital and remains one of the most visited countries, not just in Africa but in the world, either for business or pleasure.
The list of beautiful tourist attraction sites in Nigeria is endless, from the Yankari Park in the North to the Ogbunike Caves in the East, the Sacred Grove in the West, and many other notable tourist attractions across the country. In this article, we will be reviewing the top 10 tourist attractions you should consider visiting any time you pay the country a visit. They are places anybody would love, not just for their beauty but also for their history.
The Top Tourist Attractions In Nigeria
1. Yankari Game Reserve
Location: Bauchi State
Address: Yankari Game Reserve, Bauchi State, Nigeria
Highlights: Wikki Warm Spring, Marshall caves, Dukkey wells, Anfara Iron Smelting Site, wildlife
Size: About 2,244 square kilometers (866 sq mi)
Entry Fee: Adults N2000, children/students N800
Yankari National Park depicts nature at its best. Located in northeastern Nigeria, the reserve is home to wildlife, several natural warm water springs, as well as a wide variety of flora and fauna. In fact, the reserve is said to have over 59 caves and an array of about 130 wells with interconnecting shafts which according to history, were used by slaves during the Atlantic slave trade period. The reserve is currently managed by the Bauchi state government of Nigeria and is home to the remaining Elephants and Lions still found in Nigeria.
With its amazing attractions, rich history, and location (the heartland of the West African savanna) Yankari Game Reserve is the ideal place for holidaymakers and for tourists with a taste for history.
2. Kainji National Park
Location: Niger State/Kwara State
Address: N/A
Highlights: Flora, Fauna, Wildlife
Size: 5,341 km2 (2,062 sq mi)
Entry Fee: Entry fees vary from N1000 to N500 depending on the time of visitation
Situated on about 5,341 km2 (2,062 sq mi) area of land, Kainji National Park is located in Niger and Kwara states in Nigeria. It was established in 1979 by merging two former game reserves – Borgu and Zugurma. Today, it has 3 distinct sectors, the Borgu Game Reserve, the Zugurma Game Reserve, and the Kainji Lake where fishing is prohibited.
Anyone visiting here will not only enjoy the serenity of the place but will also love the weather and its closeness to nature.
3. Ogbunike Caves
Location: Anambra State
Address: 

Ifite Ogbunike, 473120, Ogbunike

Highlights: Caves and tunnels
Size: Not Known
Entry Fee: N/A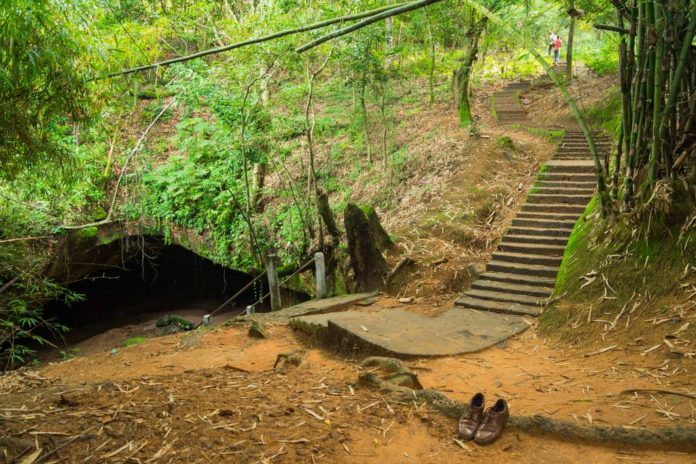 Ogbunike Caves is definitely an ideal tourist destination for tourism lovers. These caves have both historical and spiritual significance. It is said that about 4000 years ago, a man named Ukwa from the Umucheke family of Ifite-Ogbunike discovered Ogbunike caves. Legend, however, claims that the caves were created by a deity named Ogba, who is believed to live within the cave. The Ogbunike caves draw their spiritual significance from this belief and as a result, visitors must take off their shoes at the entrance, and women who are on their period are not allowed in. The caves are said to have served as hideouts and escape during the Nigeria civil war.
The caves consist of a massive structure with a big open chamber of about 5m high, 10m wide, and 30m long at the entrance. A stream flows out from one of the tunnels into a rapidly flowing river (River Nkissa). There are about 317 steps leading to the tunnel.
Every May, a celebration known as "Ime Ogbe" is undertaken to commemorate the discovery of the caves that is a UNESCO Heritage Site.
4. Osun-Osogbo Sacred Grove
Location: Osun State
Address:

N/A

Highlights: Sacred Shrines, Sanctuaries, Sculptures, and Artworks
Area: 

75 ha (190 acres)

Entry Fee: N/A
Osun Sacred Grove is considered one of the best heritage sites in the world by UNESCO. This sacred forest is situated along the Oshun River and it's the only tourist site in the whole of the country with lots of sacred shrines, sanctuaries, artworks, and sculptures in honor of the fertility goddess.
The people of Osun believe that the sacred grove is the home to the Osun people and to their goddess of fertility. There is a popular festival that celebrates this goddess each year in Oshogbo. In this tourist destination, you will find lots of shrines and statues of different deities scattered in the forest. Interestingly, the forest has about 400 different plant species that are mainly utilized for medicinal purposes.
The sacred grove captures Mother Nature in its fullest glory and is a very fascinating place to visit.
5. Awhum Waterfall
Location: Enugu State
Address:

Amaugwe village, Awhum town in Udi Local Government Area, Enugu State, Nigeria

Highlights: Waterfall
Height: 30 meters high 
Entry Fee: N/A
Awhum waterfalls is another beautiful tourist destination in Nigeria. The waterfall is 30 meters high and formed out of a massive outcrop of granite rock with water flow at the top forming a stream. Some part of the waterfall is usually warm through the seasons. It is close to the Awhum Monastery and thus has become a religious tourist site as many believe it has healing powers and is capable of dispelling evil forces if and wherever it is sprinkled.
If you are a lover of nature or a religious tourist, you will definitely love this place. The fall is said to flow into different lakes and streams with over 50 pieces of fish that have never been fished.
6. Zuma Rock
Location: Niger State
Address: Madalla, Niger State, Nigeria
Highlights: N/A
Height: 725 meters (2,379 ft)
Entry Fee: Free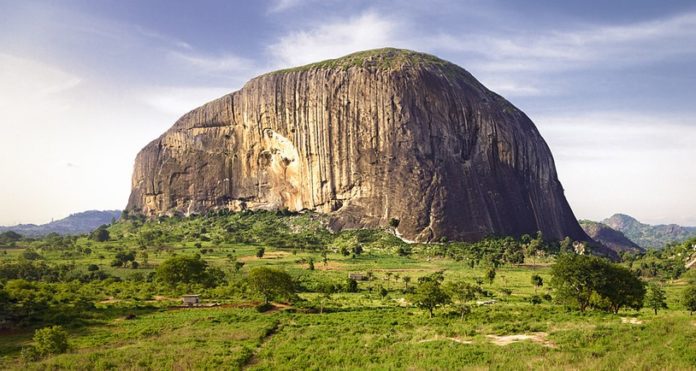 Standing at 725 meters (2,379 ft), the Zuma Rock located in Madalla, Niger State is one of the most popular and fascinating tourist sites in Nigeria. You will find it featured behind Nigeria's 100 Naira note. Depicting the image of a human face with a visible mouth, eyes, and nose, Zuma Rock is surrounded by several myths and legends.
The natives of the community believe the human face is a representation of their deity and ancestral powers which are governing and protecting the affairs of the community. They are said to also believe that the rock is a gateway for the afterlife. It is believed that when people die, their spirits go to the rock. During the rainy season (April and October), there is said to be fire at its apex. Natives attest to this happening and this forms yet another myth that the fire is the work of their deities.
Although tourists can visit the rock all year round, if you are planning a visit to the Zuma rock, you may want to do that during the rainy in order to witness the amazing wonder fire of the rock, a sight that will surely be amazing to behold.
7. Ikogosi Warm Springs
Location: Ekiti State
Address: Ikogosi Warm Springs, 362105, Ikogosi
Highlights: N/A
Height: 725 meters (2,379 ft)
Entry Fee: N500
Ikogosi Cold and Warm Spring should be the 8th wonder of the world not just for its awesome sight but also because it's known to be the only one of its kind across the globe. Situated in a dense forest in Ikogosi, Ekiti State, southwest Nigeria, this tourist destination is a unique site where warm and cold springs fuse yet each maintaining its thermal properties.
Although this attraction site is believed to have been discovered in 1950 by a Baptist Missionary, so many myths and stories abound about the history of this place. One of the most interesting ones of these myths and stories is that the warm and cold water were wives of a man who, after a long contest, turned into springs through magical means. The troublesome wife became the warm water, while the gentle and peace-loving wife became the cold water.
The attraction is an awesome sight to experience and in addition to this wonder is the rich green scenery and a fine topography found in this place. A big resort has been constructed around the cold and warm spring to provide tourists with relaxation, comfort, accommodation, and conferencing services. So if you are planning a visit or vacation to this place, you are sure to have an unforgettable experience. While the entry fee is just five hundred Naira per person, the lodging fee defers depending on your budget and taste.
8. Olumo Rock
Location: Ogun State
Address: Abeokuta, Ogun State, Nigeria
Highlights: Natural tunnels, unusual trees, natural cantilevers, gardens on the rocks, monuments of various ancient religious symbols, etc
Height: 137 metres above sea level
Entry Fee: N700, N2000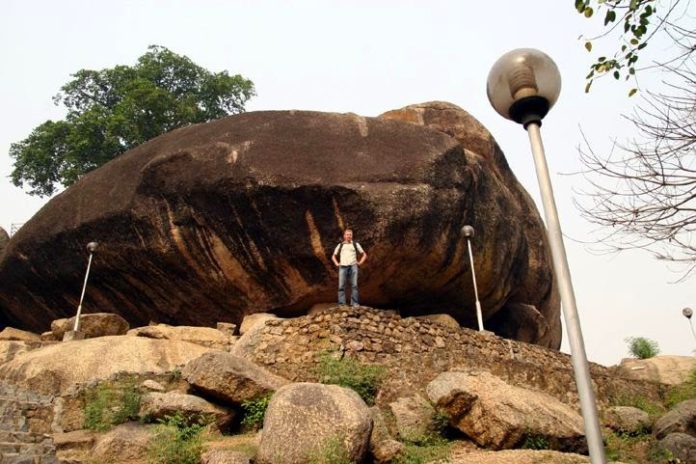 This popular tourist site, also known as the Fortress of Abeokuta, is located in Abeokuta in Ogun State, South-West Nigeria. According to history, the rock served as a natural fortress to the Egba people during inter-tribal warfare as far back as the 19th century and it's still held in high esteem by the people even today.
It is 137 meters above sea level. Aside from the beauty of the rock, tourists will also be wowed by the serenity of the site, its natural tunnels, unusual trees, natural cantilevers, gardens on the rocks, and monuments of various ancient religious symbols.
The entrance fee is just 700 Naira for those who would be using the stairs and 2000 Naira for those who would be using the elevator There's also a camera fee of 200 Naira and a parking fee of 200 Naira.
9. Lekki Conservation Centre
Location: Lagos State
Address: Km 19 Lekki – Epe Expressway, Lekki Peninsula II, Lekki
Highlights: Canopy Walkway, Floorboard games, Tree House, Swamp Lookout Station, Volleyball courts & Spectators' pavilion, Nature Station, Koi & Tilapia ponds, etc
Size: 78 hectares of land
Entry Fee: Adults – N1,000,  children (ages 1-10) – N200,  teens (ages 11-17) – N300
The Lekki Conservation Centre is one of the best nature reserves in the country. This reserve offers both a sightseeing experience and a relaxation center close to nature. The three-decade-old conservation center covers an area of 78 hectares and is one of Nigeria's Conservation Foundation projects to preserve unique biodiversity, scenic, natural, scientific recreational values of the coastal environs of western Nigeria.
Some of the interesting features of the reserve include a Tree House, Swamp Lookout Station, Volleyball courts & spectators' pavilion, Nature Station, Koi & Tilapia ponds, Rotunda, Bird Hide, Beach, 96-Seater Gazebos, Barbecue joints, gym facilities, etc. It is sure to make your tourism experience complete!
The fees are quite affordable. Gate fee for adults – N1,000, children (ages 1-10) – N200, teens (ages 11-17) – N300, Walkway Trek fee – N1,000, Canopy Walk – N1,000  per head (3xcluding entrance fee). The reserve can be visited at any time of the year but the most suitable time would be in the dry season (between November and March). If you decide to visit it during the rainy season, be sure to get your feet wet because of the mini moody walkways.
10. Agbokim Waterfalls
Location: Cross Rivers State
Address: 562261, Ikom
Highlights: Waterfalls, Rainforest, etc
Area: 315 kilometers
Entry Fee: N/A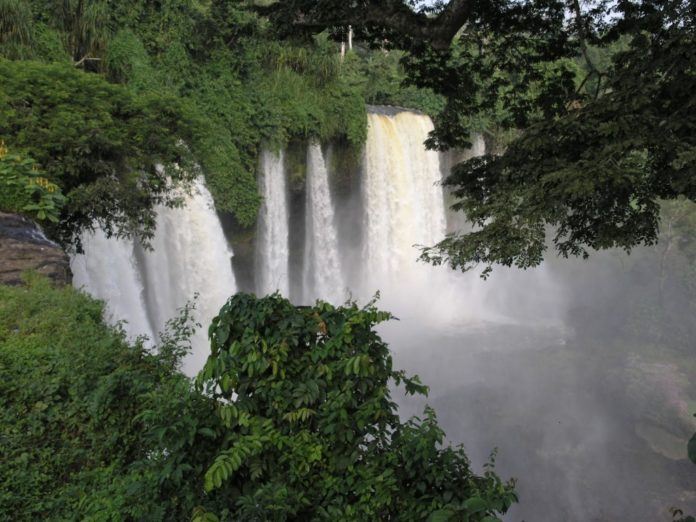 Located in Etung Local Government Area of Cross River State in south-eastern Nigeria, Agbokim Waterfall is yet another of nature's wonders you shouldn't miss visiting anytime you step into Nigeria. The Waterfalls are a series of seven cascades with a total length of 6817.73m which is said to have been discovered in the '90s by a hunter called Ntankum.
The falls are close to the border between Nigeria and Cameroun and are about 15 kilometers (9.3 mi) from Ikom and 320 kilometers (200 mi) from the ancient city of Calabar.
Agbokim Waterfalls is regarded as the speckle of beauty in fading nature and its beauty comes to full glare and is best appreciated during the rainy season when all its surrounding vegetation is in its full glory. You can plan your tourist visit during this time. It is also a  perfect location for a picnic, family vacation, and meditation.
Is It Safe To Visit The Tourist Attractions in Nigeria
Although Nigeria has not leveraged enough on its tourist attraction sites as some African countries like Kenya and South Africa have done, the populous black nation undoubtedly has some of the most beautiful places on earth that attract tourists. Sadly, the number of tourists has gradually declined with the increase in security issues facing the country in recent times. The Nigeria tourism statistics for 2019 was 1,471,000,000 visits, as against 2,615,000,000.00 visits in 2017. If the government of the country can tackle insecurity, Nigeria can again begin to attract thousands of tourists from all over the world and compete with other African countries that have made it big from tourism.