Kids have so much fun whenever there is water around. The exhilarating feeling that comes from a day out with kids in a water park is equal to none. These places feature water play areas like water slides, swimming pools, water playgrounds, splash pads, and lazy rivers where fun activities can take place. We have seen some water parks equipped with many types of artificial surfing and bodyboarding facilities in modern times. We have also witnessed some really cool wave pools or FlowRider.
Residents of Cape Town in South Africa, or people who usually spend their holidays in the city that attracts thousands of tourists every year, must have experienced its hospitality industry. A big part of this is some of the most beautiful water parks in the entire black continent of Africa. The parks are just too many, from the Bugz Family Playpark – the biggest water park in Western Cape renowned for its mud kitchen, dollhouses, and jungle gyms, to the Water World Strand on False Bay Beaches. The toboggan track is what sets Cool Runnings Water Park apart from the rest, and we are yet to factor in the Cape Wheel Water Park which is arguably the one with the most special attraction thanks to the famous Cape Wheel from the 2010 FIFA World Cup tournament.
List Of Must-Visit Water Parks In Cape Town
1. Bugz Family Playpark
Location: 56 Tarentaal Street | Joosten Bergvlakte, Cape Town Central 7570, South Africa
Highlight: Sandpit to slides, monkey bars to a treehouse, a mud kitchen, dollhouses, and jungle gyms
Entrance Fee: R60- adults, R70- kids
One of the biggest water parks in Cape Town is Bugz Family Playpark. In addition to being the biggest water park that the Western Cape can boast of, Bugz is an all-weather theme park with loads and loads of fun activities, both indoors and outdoors. Bad weather days can never keep you from having fun at Bugz as it comes complete with abundant indoor play areas. This includes the likes of soft play, swings, rides, playhouses, jungle gyms, and more. This Western Cape Park is the delight of kids of all ages as they love to bounce, run, swim, and play as they explore the entire territory from the indoor to the outdoor. The indoor activities may not exceed soft play but when the weather plays along, the outdoor playing area can test the little personalities of your kids in different games.
The water delight zone of Bugz requires adult supervision when kids are playing and the park allows shindigs like shock parties, birthday celebrations, and the likes. It is an entertainment marvel with fun activities like sandpits, roundabouts, tree houses, slides, castles, toys, and other play equipment. The weekends are for magic shows with a plethora of characters and mascots for entertainment.
Remember, you are not allowed to bring your own food into Bugz as the Bugz Tent Kitchen offers visitors a selection of mouth-watering edibles for both children and adults. There is the Bugz Mini Market that features a variety of stalls displaying all types of food. What's more, you will enjoy the large flat-screen TV as well as alcoholic beverages; this is exclusively for adults who wish to relax and watch sports events.
2. Water World Strand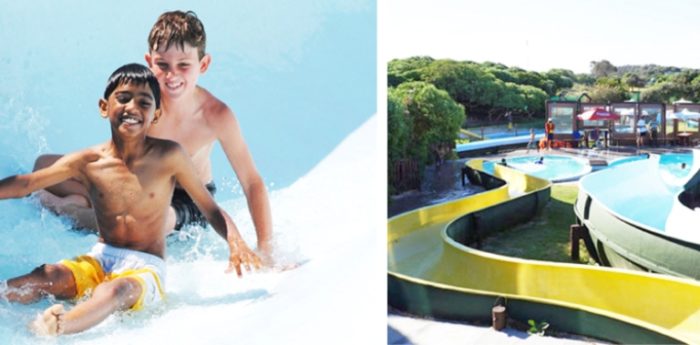 Location: Beach Road, Strand 7140, South Africa
Highlight: Speed slide, Kiddies double speed slide, Midi slide, double kiddies pool, Supertube, kiddies sandpit, Zipline, climbing wall, Mini action sport, jacuzzi pool for the grownups.
Entrance Fee: Prices on request
Coming next on our list of water parks in Cape Town is the Water World Strand sitting on Beach Road, Strand 7140, South Africa. Right there in the vicinity is the most beautiful beach False Bay can boast of. Water World Strand comes equipped with attractions like Speed slide, Kiddies double speed slide, Midi slide, Supertube, double kiddies pool, jacuzzi pool for the grownups. Visitors that wish to play on dry surfaces can leverage the park's kiddies sandpit, Zipline, climbing wall, jungle gyms including Mini action sport, and an adventure play area. The swimming pools at the park are solar heated so they remain comfortable and refreshing even on slightly cooler days. The layout of Waterworld lies in such a way that it is protected from the wind. Grassy areas abound which can be ideal for relaxing, picnicking, and sun tanning. The open period for the park is between September to April but during school terms, Mondays are excluded from their open days.
The adventures at Water World Strand seem uncountable but we are yet to factor in the Son Surf School for visitors who wish to learn surfing or rent surfing equipment. This paradise of a park is a must for the summer and the admission fees are listed according to the number of hours a visitor wishes to stay;
For a one hour pass, a spectator pays R20 while a Water-slider is expected to part with R99
Visitors on two hours pass pay R30 for spectators and R180 for the water slider.
An all-day pass attracts a spectator fee of R95 and a water-slider fee of R180
Visitors who come for a mid-week half-day (this is after 1 pm only) are expected to pay R50 for the spectators and R145 for the water slider.
With that said, concessions are given to very young children; those from 0 to 12 months attract no charges, one to two years pay just R55, but normal charges apply for those from three years and above.
The park boasts a Waterside Café that provides visitors with snacks and all kinds of refreshments, from Italian coffees to cappuccinos, hot chips, and toasted sandwiches, including an assortment of delicious sweets. Those who visit the park during the weekends and school holidays can treat themselves to mouthwatering pizzas! Special packages are also available for larger groups such as formal parties, school outings, or celebrations.
3. Cool Runnings
Location: Off Carl Cronje Drive | Tygervalley, Bellville 7530, South Africa
Highlight: Toboggan water slide
Entrance Fee: R50 to R60
Cool Runnings Toboggan Water Park is yet another name that deserves a mention on the list of the water parks in Cape Town. Cool Runnings offers the best outdoor thrill for both children and adults as it has the only toboggan track in the entire black continent of Africa. There in the warm temperature and sunny sky of the park, visitors have no need to walk as the water slides are on hand to take them down. As opposed to the traditional ice and snow, the toboggans at Cool Runnings run on stainless steel tracks with each seating one person or two. Your ride commences with a pull going up a sharp grassy slope leveraging a hook underneath of your toboggan. Once your sled is released, it is time to go flying down through the track with a total of 17 corners, a tunnel, and S-bends.
While on the move, you are at liberty to leverage the breaks in controlling your own speed, however, adrenaline junkies can easily escalate to an astounding 40km per hour. But then, as the sled approaches the docking station, they will slow down automatically. Thus, users have no worries except to go ahead and have loads and loads of fun.
Also available at Cool Runnings is a large, covered terrace, including food and drink facilities. There is also a liquor license, that makes it the ideal spot for family outings, corporate functions, as well as kids' parties.
4. Cape Wheel Water Park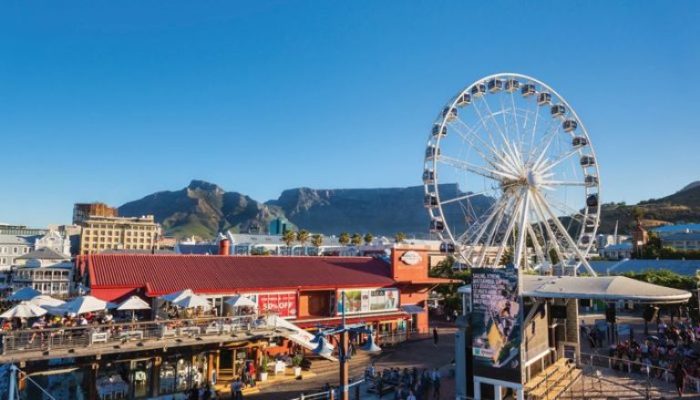 Location: Dock Road | V&A Waterfront, Cape Town Central 8001, South Africa
Highlight: The Wheel of Excellence
Entrance Fee: R150 adult and R75 child
Out of all the water parks in Cape Town, the Cape Wheel Water Park is arguably the one with the most special attraction. The Wheel of Excellence, AKA the Cape Wheel; a brainchild of Ronald Bussink, was constructed in 2007 in Germany. Standing 50 meters high, the wheel has visited other countries like Belgium, Sweden, and its origin Germany. However, when it came into Cape Town during the 2010 FIFA World Cup, it was meant to say for just six months but somehow, it found its permanent home at Cape Town's V&A Waterfront, which is the oldest working harbor in Cape of Good Hope.
Now, the Cape Town Wheel is there at the waterfront for visitors who can afford to pay for the ticket and enjoy the ride. The 12 to 15 minutes safe ride will expose you to a brand new experience of the entire city of Cape Town from the top. Your eyes can take in a tour of the Robben islands while on the wheel ride; also within your view are the Atlantic Coast, Hottentots range, Cape Town skyline Table Mountain, Robben Island, V&A Waterfront, and more. The waterfront view combined with the atmosphere is nothing short of amazing. The best time to go for a ride on the wheel is always the morning period. By so doing, you can dodge the congestion. There are two wheelchair-friendly cabins making the experience even more inviting.
5. Adventure Land – Water Slides and Play Park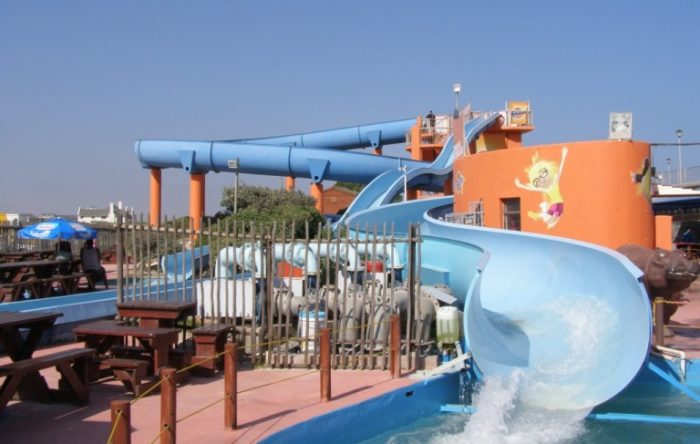 Size: 24-hectare property
Location: N2, Plettenberg Bay 6600, South Africa
Highlight: Wooden decks, large lawns, a variety of water slides
Entrance Fee: R145.00
Adventure Land – Water Slides and Play Park is among the top water parks in Cape Town that can boast of wooden decks, large lawns, and the likes. The activities available on this piece of paradise run to a variety of water slides, including a hop aboard, a tube for water rides, or a jolly ride on a quad bike. Navigating along the park's 3.5 km (2 mi) long route that goes through the forest (a high free-fall slide and a kamikaze slide) is definitely not for the faint-hearted. This 24-hectare property boasts of smaller water slides that younger children can take advantage of. There is also a 75 m long super-tube, including a 25 m mini super-tube for the kids' enjoyment.
The 2 lane racer is always there for visitors who wish to race down and alternatively, you can always leverage the raging rapid tube ride for a spin around. Toddlers are not left out as there are two little slides plunging into a kiddies pool, including a play park equipped with swings plus a jungle gym.
For your edibles, Adventure Land – Water Slides and Play Park has a kiosk that provides visitors with all kinds of food. What's more, the wide-open space, the braai area, and the atmosphere make for an unforgettable experience in Cape Town.
6. Milnerton Water Park
Location: Off Pentz Drive, Table View Cape Town, Western Cape
Highlight: Supertube, paddle bikes, paddle boats, trampoline, Pools and Kiddies Pool, trampoline
Entrance Fee: R50 & kids- R35
Located in the northern part of central Cape Town, South Africa, Milnerton is a beautiful seaside suburb on Table Bay that can boast of a plethora of attractions. There is the Milnerton beach which is popular for its view of Table Mountain. It is among the best surfing spots in all of South Africa. Another highlight of this seaside suburb is the Milnerton Water Park. This amusement park is counted among the known water parks in Cape Town and is guaranteed to give you and your family a fun-filled day. The amazing water slides are irresistible and jumping into the water pool alongside friends and family makes for a beautiful experience.
The highlights at the Milnerton Water Park include supertube, paddle bikes, paddle boats, trampoline, and pools (adult and kiddies). Visitors are in for a jolly time with loads of fun activities in the sun. The entrance fee is pegged at R50 & R35 for adults and kids respectively and groups like School Groups, Sports Clubs, Churches of 70 people, and above attract a concession on access fee. There are braai and picnic spots for your benefit and you can only book for parties during the weekdays, Monday to Friday.
7. Hartenbos Water Park
Location: Corner Kaap de Goede Hoop Ave and Port Natal Way, Hartenbos, Garden Route
Highlight: Penguin Land for toddlers, Waterwurm sporting 3m deep swimming pool, Junior slide, Daredevil, Waterfall, Waves, Slide, Picnic tables, Function venue
Entrance Fee: Available on request
Located in Western Cape, Hartenbos Water Park earns a place on the list of the top water parks in Cape Town. The park, which lies in Hartenbos, very close to Mossel Bay, offers loads of fun with various super tubes. Those who happen to be at Hartenbos during the summertime cannot resist a visit to the Water park. Spending the day under the sun at Hartenbos Water Park is a good way for families to unwind as they indulge in the thrill and fun of the water slides. Hartenbos is welcoming to people of all ages, old and young. In fact, there is something for everyone to enjoy at this picturesque spot.
Available at Hartenbos is Penguin Land for younger kids consisting of a splash pool and three different slides. There is also the Junior slide equipped with its own pool, and Waterwurm sporting a 3m deep swimming pool. Other attractions include The Freefall, Daredevil, Waterfall, waves, slides, and Function venue.
Visitors can have leisurely launches by leveraging the picnic tables and braai. Prices vary at Hartenbos. Six rides attract R40, nine rides R50, 14 rides R70, 17 rides R80, and 22 rides R100. Others are R150 for 33 rides, R200 for 50 rides, R250 for 55 rides, R300 for 85 rides, and R500 for 100 rides.