The Island of Madagascar is bounded by two oceans and has 5000 km of coastline and several islands which are notable for their white sand beaches. Most of these white sand Madagascar beaches are concentrated in the Northern region of the country but you can still find a couple of them in the South and South-Western regions.
It would also interest you to know that white sand beaches stand unrivaled in giving the best beach experience as it does not only give you beautiful scenery for pictures, it also makes the seawater appear clear and blue. It owes its name to the fact that it contains only one mineral, pure white quartz crystal, which is said to be so soft, and in some cases, you would mistake it for baby powder when walking on it. The soft feeling these white sand beaches give as the sand sifts between toes is one of the things that make tourists troop into Madagascar.
The 10 Most Beautiful White Sand Beaches In Madagascar
Peradventure you are planning on having that dream vacation of yours, here's a list of 10 white sand beaches in Madagascar that you could visit:
1. Anakao Beach
Location: SouthWest of Madagascar
City: Anakao
Water Body: Indian Ocean
Other Fact: This beach is mainly used for fishing
Anakao is a traditional Vezo fishing Village, with a series of perfect semicircles of white sand beaches and clear waters, just at the Southwestern coast of Madagascar. Its villages and environment are mostly known for Vezo farming. More so, the isolated nature of the land protects it largely from mass tourism and this is due to the fact that the roads heading South are terrible, so the village is accessible mainly by pirogues. This has also in a way preserved the history of the Anakao people who can still go fishing at the beach without a lot of restrictions because of tourist activities.
So, for now, Anakao is divided into two parts, one of which is for tourists and all the many other tourism-related activities – this part links straight to the beach, while the other part is a residential area. For those who are finally able to get to Anakao's beach, the journey is worth it, because the beach here is a beautiful combination of long stretch white sand and a magnificent ocean body.
More so, the place provides various thrilling opportunities for diving, swimming, fishing, surfing, and to top it all, if you happen to be visiting at the right time, you might just get to some whale-watching adventures too – this is around June to September. However, whales are not the only fish you could spot while in Anakao, several others can also be seen there like surgeonfish, angelfish, butterflyfish, groupers, and rays, among others.
Key Takeaway
The remote nature of Anakao makes it quite difficult to find some very sophisticated items. So, if you are going on a trip there, make sure you come prepared. You can also come with some bottles of fresh water just in case your water supply runs low.
2. Île aux Nattes
Location: East Coast of Madagascar
City: Taomasina
Water Body: Inidian Ocean
Other Fact: This beach is also referred to as Nosy Nato and the inhabitants are fishermen
This beach stands as one of the most beautiful white-sand beaches of Madagascar and it is located on the exotic Île Sainte-Marie island of Madagascar. The place has an expanse of a small 3km in diameter, white sands, blue sky, turquoise sea, palm trees, the most inviting water body, and some fishes. In a few hours, you can complete a walk around the island, but this does not take into account the water body that surrounds it.
Due to its location, this white sand beach is undisturbed by noise from cars and other forms of modern transportation. So, if you want to go on a vacation for peace and quiet, this island meets that requirement. However, there tends to be a flip around August and September which is regarded as the 'Whale Season' because a lot of tourists will usually troop in to see, the humpback whale and her calves.
More so, visiting Nosy Nato will definitely be exciting as you are sure to get the opportunity to swim, snorkel, eat several nice dishes, courtesy of the luxury island service. You can even get to see some rare and unique species of fish while you are there.
Key Takeaway
The island has a lot of things to uncover because of its lack of exposure so just come prepared.
3. Nosy Boraha
Location: East Coast of Madagascar
City: Ambodifotatra
Water Body: Indian Ocean
Other Facts: A pirate cemetery can be found in Nosy Boraha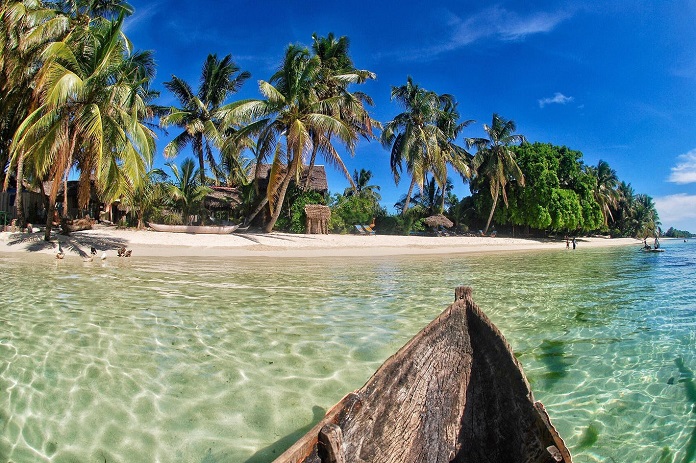 A perfect holiday or travel experience could just be accomplished at a one-stop on-the-spot experience on Nosy Boraha or Sante Marie Island of Madagascar. The place is also referred to as the "Island of Abraham" or "Island of Ibrahim" and it reportedly sits on a large span of 75km of land. This place is also home to a variety of fish species, marine life, several species of lemur, even the species called 'Queen of Madagascar".
More so, in the 17th century, Nosy Boraha was home to several marauders, they would stay in its bays till it was time for them to carry out their operations. The remains of some of their ships still lie beneath the waters. The Island is also known for whale-watching during the whale season (June to September), as whales leave their cold Antarctic habitat for the purpose of mating and giving birth.
Tourists can also enjoy diving, swimming, whale watching, and eating several delicacies at this place and the experience is thrilling. The mixture of Nosy Boraha's emerald green and deep blue waters also adds to making it even more fascinating.
Key Takeaway
The island could be toured on foot which gives you the ability to travel from coast to coast of its borders. So, come with some comfy but protective footwear. Although the weather is generally friendly, it can get unpleasant at certain times of the year, mostly from January to March.
4. Nosy be
Location: Northwest Coast of Madagascar
City: Diana
Water Body: Indian Ocean
Other Facts: It was called Nosy Manitra which means, 'the scented island'
The white sand beaches on Nosy Be are among the most spectacular sites in Madagascar. More so, the place is notable as the largest and busiest tourist resort, this is due to its large expanse of land, unique wildlife, and amazing snorkeling adventures – the island has an area of about 320 square kilometers as well as a total of 11 crater lakes.
More so, this place offers you unique biodiversity, as it is home to the black lumens and several unique kinds of frog, camouflage gecko, many snakes, and chameleon. Tourists who visit Nosy Be are also given a special treat of her rich cultural heritage, dance, music, and other breathtaking moments.
Key Takeaway
While you are on the beach at Nosy be, keep your eyes open for dolphins, manta rays, and whales or sharks for they can appear at any time. It is also worth knowing that sometimes it gets really cold around June, so come with a lot of clothes to keep you warm if you are visiting during that time.
5. Anjajavy Beach
Location: North Western region of Madagascar
City: Anjajavy
Water Body: Indian Ocean
Other Facts: This place has a rich wildlife presence
This is a beach paradise with azure turquoise waters and an astonishingly beautiful white-sand coastline. It has luxury written all over it, with wildlife very easy to spot. You can go on walking tours, fishing, skiing, boat trips, swimming, and even visit the neighboring villages.
Also, this place has a vast mangrove forest and abundant coral reefs. So, if you are looking for a remote and luxurious beach paradise with lots of wildlife, then Anjajavy is just what you need
Key Takeaway
The experience you will get at Anjajavy beach is worth capturing, so it would be thoughtful to come along with a good camera when you visit the place. You can also park a few comfy clothes that will help you move around with ease.
6. Mahavelona Beach
Location: North-eastern Coast of Madagascar
City: Toamasina II
Water Body: Indian Ocean
Other Facts: It's one of the most visited white sand beaches in Madagascar
This particular beach is purely for the purpose of tourism, its rich coral reefs and biodiversity are for the sake of tourism, on which its economy is based. The waters by the shoreline are completely calm and this is due to the 150km reef that prevents waves from hitting the beach. This beach is situated at the mouth at the coast of the Indian Ocean, south of the mouth of the Onibe.
Key Takeaway
Since this beach is popular for its tourist activities, you don't need to worry about some basic amenities as you will easily get them there. However, you can come along with personal items you will prefer to use e.g sunscreen lotions.
7. Nosy Ankao
Location: North: Eastern coast of Madagascar
City: Levens Archipelego
Water Body: Indian Ocean
Other Facts: There are several inhabited islands along Nosy Anko's coastline
Nosy Ankao's white sand beaches are located in the Northeastern part of Madagascar and it is the largest of 5 islands in the Levens Archipelago. According to reports, a failed seaweed farming project made the island available for sale in 2010 and it was purchased by Time and Tide who opened Miavana Private Island on it.
Anyone with a desire for luxury living, outdoor adventure, and finally a lover of wildlife should definitely head to Nosy Ankao because it is home to the most luxurious lodge – Miavana and it offers a huge range of marine activities and wildlife. You will also get to enjoy activities like fishing, whale watching, skiing, snorkeling and scuba diving, even helicopter tours.
Key Takeaway
With a private resort on Nosy Ankao, a whole lot of things have been taken care of.
8. Mitsio (Maldives of Madagascar)
Location: Northwestern Coast of Madagascar
City: Mitsio archipelago
Water Body: Indian Ocean
Others: This place is notable for its great geological structures
The Maldives of Madagascar island is characterized by its distance from other islands. It is distant from other large bodies of land, and it's a grouping of uninhabited virgin islands. However, the place is notable for having a clear turquoise water body, white sandy beaches, some beautiful reefs, and a lot of tall standing coconut trees.
This place has a rich geological heritage, though its people are very much rural which explains why much infrastructural development has not met them. More so, most of the individuals are rich farmers and fishermen and help the economy of the island by selling salted fish, sea cucumbers, and gathered coconuts at the nearest port on the mainland, Port St. Louis.
The Mitsio Island remains a peaceful and beautiful island, its amazing geological forms are unrivaled. Did you know that there are still some new places left to explore on the Island? That's how great it is.
Key Takeaway
They have limited access to health care, so come with some first aid materials just in case.
9. Tsarabanjina
Location: Northwestern Coast of Madagascar
City: Mitsio archipelago
Water Body: Indian Ocean
Other Facts: This place is known for its rich marine life
Walking through the powder-soft white-sand island or Tsarabanjima, you would get to feast your eyes on the unique natural biodiversity and its translucent azure blue water. If the experience you desire is one where you totally emerge in water, then Tsarabanjima has you covered. The beach has been structured to give unforgettable and fantastic underwater moments.
This white sand beach is also known for the snorkeling experience it gives and its luxurious resort. Surrounded by sands, rocks, and many beautiful hard corals, this place is the haven of rich marine life.
Key Takeaway
A diving gear would not be out of place, i.e, if you wish to check out the underwater experience.
10. Ramena beach
Location: North of Madagascar
City: Antsiranana (Diégo suarez)
Water Body: Indian Ocean
Other Facts: Home to Sakalava Bay where the wind is conducive for kite-surfing
In the North of Madagascar, you will find Ramena, although this place is not open to a lot of amenities as the highest educational institutions there are primary schools. But, it has garnered a lot of popularity because of its white-sand beaches. This place also comes with special scenery and one can get to enjoy the bliss of nature as they view its serene azure blue sea.
Several activities like kite surfing, snorkeling, windsurfing, jet-skiing, and so on are what you can enjoy on the beach. Tourists also get to go on excursions in the surrounding villages and its beautiful hotel infrastructure that is fit for all pocket sizes. As a matter of fact, everything has been designed to meet the desire of tourists
Key Takeaway
Like most places in Madagascar, the weather in this region is great for relaxing from the month of April to November. So, you can choose to schedule your vacation into this timeframe to enjoy the best of the white sand beach in Ramena.