Michael Essien is a Ghanaian footballer who currently plays for Persib Bandung and with the Black Stars of Ghana. He is particularly a household name in the Chelsea Club as a result of his almost a decade commitment to the club. Michael Essien is a midfielder who has often been lauded as a box-to-box midfielder for his ability to exert energy in supporting offensive and defensive play and for his tough tackling style. Essien can also play as a defender, both on the right of defence and in the centre. I guess you already know these very conspicuous facts about him. There are actually a lot more you should know.
Micheal Essien  Bio
Michael Kojo Essien who was born on December 3rd, 1982 to mother  "Aba Gyandoh" and father," James Essien. Micheal was raised in Awutu Breku, a small town in central Ghana where he also developed an interest in the game of football.  When he was 12 years of age, the younger Essien relocated to Accra with his mother and siblings, in less than two years, he was awarded a football scholarship to a secondary school in Cape Coast. After graduation, he began his career playing in a local club in  Ghana, called "Liberty Professionals."
He broke through when he played in the 1999 FIFA U-17 World Championship in New Zealand. This led to the attention he got from European scouts, and he even had a trial at Manchester United in April 2000, playing in the club's Under-17 team's defeat by Derby County. Manchester United offered him a contract to play for them, but work permit issues meant he would have had to join their Belgian feeder club Royal Antwerp until he was eligible to move to England. Since then, he has played for notable clubs including; Bastia, Olympic Lyonnais, Chelsea, Real Madrid, Milan and currently Peris Bandung.
It is on record that after leaving Chelsea, a club he spent nine years with, Michael Essien snubbed a move to QPR – as he could not stomach playing for Chelsea's west London rivals. As a former Blues star, he also turned down West Brom and fought hard to secure a new club in Europe and he did as he later joined AC Milan a year after leaving Chelsea. He has always stated that he doesn't want to play in the Premier League for a different side to his old club Chelsea.
House, Cars And Net Worth

As with most football players who usually have more cash to play around with, considering the fact that most are paid on weekly bases, they usually display this wealth by how much they spend on the choicest of cars as well as mansions. The luxurious brand of cars in Essien's kitty include; £75,000 Range Rover Vogue, an Aston Martin, as well as a Milan car. In terms of his home, he owns a property in Surrey, in the United Kingdom.
Read Also: Chioma Ajunwa: Five Quick Facts About Nigeria's Olympic Gold Medalist
As at last year, Essien's salary was 2.5 million Euro. He is one of the richest and most highly paid African footballer. His net worth is 35 million US Dollars.
Relationship With Nadia Buari
He once dated Fair-skinned Ghanaian Actress "Nadia Buari" and this was not a secret relationship as it was highly publicised given the celebrity status of the pair. It was so glaring that every Dick and Harry thought it was going to lead to something meaningful, but it wasn't meant to be as the football star suddenly left her for no clearly stated reasons.
Marriage 
Essien tied the knot with his publicist girlfriend, Akosua Puni in a secret wedding held in London late last year after he reportedly broke up with Ghanaian actress Nadia Buari. They are already blessed with two kids, a boy and a girl. He has tried as much as possible to shield his new family from the social scene as he believes too much exposure to the media can be disruptive to his family and kids.
Interesting Facts About Michael Essien
1.  He is from a Broken Home
Michael Essien was about two years old when his parents broke up. He, along with his siblings was taken and brought up by their mother. This made his father to be completely estranged from him. He is, however, very close to his mother. He always emphasizes how supportive his mum has been to him, especially in his football carer. He described her as the "Pillar behind Him".
2. His father was a footballer too
Michael's dad, James Essien played football for Gold Coast in his youthful days. Even Michael's late elder brother was also a footballer before his accidental and premature death. So I could say that football runs in his family.
3. His father disowned him for Neglect earlier before his demise.
Michael's dad, James Essien, a frail old unhealthy pauper, for the past years, has complained that he had been abandoned and neglected by his son. And for that reason, he seriously insists that Michael drop the surname, Essien. That's his father's house in the photo above. Isn't that pathetic? Hear the poor old man:
I will go all out to ensure that he stops using my name…Even if I have to drag him to the law courts, I will do that…I have been ill for over a year now. It is Kyeremeh Berekum (Chelsea board chairman) who takes care of me, and I see no point in him continuing to bear my name," James Essien told Happy FM, an Accra-based private radio station. I have not seen him for the past 15 years and I have not spoken to him for the past six years because I do not even have his number, let alone contact him…"
However, Michael denied this allegation, saying he takes care of the dad by sending him money on a monthly basis, takes care of his medical bills, has built him a house and bought him a car. Unfortunately, the man died not so long after.
4. He is Nicknamed "Bison"
Looking at how soft-spoken and shy Essien is when he is not playing, one would hardly believe he is the same person when in the field. Essien's field forcefulness and tough tackling styles earned him the name "Bison", the name of a large and very energetic buffalo-like terrestrial animal. However, he voices out on this unique contrast in behaviour:
"I don't know why I change like that when I play, off the pitch I am completely different and the club staff have to chase me to move."
5. He has Dual Citizenship
Michael's 5-year football business in France earned him a French citizenship. He spent these five years playing for Bastia (2002-2003), and Lyon(2003-2005). His performances while playing for Olympique Lyonnais resulted in him being voted the 2005 Player of the Year by France's National Union of Professional Footballers (UNFP).  Essien also helped Lyon to reach the quarter-finals of the 2004-05 UEFA Champions League where he put in dynamic performances and scored five goals in the tournament.
Read Also: Maame Biney, Fast Facts About The Ghanian Olympic Record Breaker
6. He is the first African to be voted Chelsea Player of the Year
On 15 May 2007, Chelsea fans voted Essien as Chelsea Player of the Year for his contributions in the 2006–07 season, becoming the first African to receive the honour. His late dramatic equalising goal against Arsenal was also voted as Chelsea Goal of the Season for 2006–07.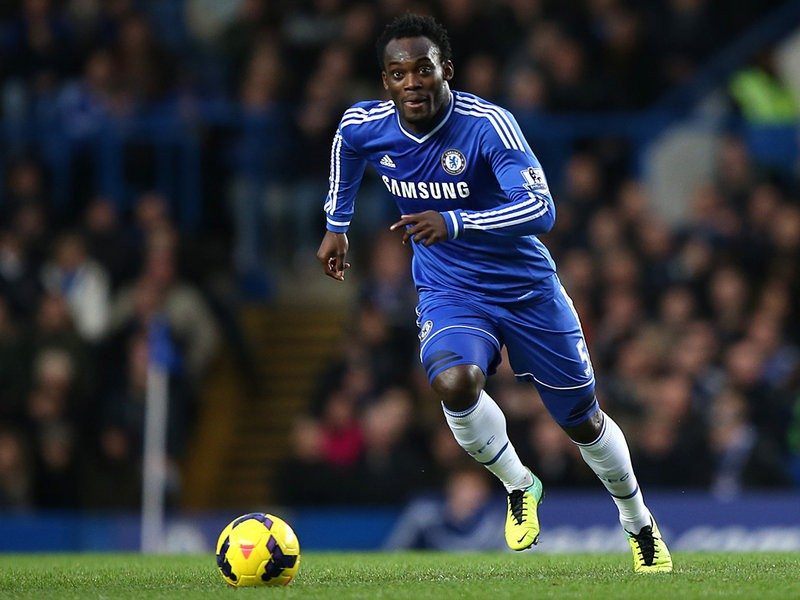 7.  He Runs a Charity Foundation
The Michael Essien Foundation (MEF) is a local Ghanaian NGO founded by Michael Essien about a year ago by the renowned Ghanaian International and Ex- Chelsea Football Club Star. It aims to create opportunities and hope for the underprivileged in the Awutu Breku area. The goal of the MEF is to promote basic community amenities and opportunities for various groups through different projects and activities. His wife  Puni happens to be his Charity Foundation manager/PRO.