Michael Essien is a Ghanaian footballer who currently plays for Sabail FK in Azerbaijan, he retired from the Black Stars of Ghana in 2014. A household name at England's Chelsea Football Club as a result of his almost a decade-long commitment to the club, Essien is a midfielder often lauded for his ability to exert energy in supporting offensive and defensive play, in addition to his tough tackling style.
Unlike his successes on the pitch, the footballer's personal life, especially his relationship with his father, has been a disappointing tale that goes all the way to his childhood years.
Broken Home and Bitter Father-Son Relationship
Michael Essien was about two years old when his parents broke up. He, along with his siblings, was taken and brought up by their mother. This made his father completely estranged from him. He is however very close to his mother. Essien always emphasizes how supportive his mum has been to him, especially in his football career. He once described her as his pillar.
Michael's dad James Essien is a frail, old, and unhealthy pauper. For years, he has complained that he had been abandoned and neglected by his son. And for that reason, he seriously insists that Michael drop the surname, Essien. He said even if it means going to court, he is going to drag Michael to stop using his name.
This was happening when Michael was at the top of his career at Chelsea. The threat got Michael emotional and could have derailed his career if he had to drop his name. It made Chelsea Football Club's Board Chairman Kyeremeh Berekum assume the care of James until Michael Essien intervened.
The feud between Michael and his father, which dragged on for over ten years, was caused by the separation of James from Michael's mother. As part of his efforts to end the drama, Michael Essien put out an emotional statement denying the allegation of not taking care of his father. He explained how he has been providing for him, built him a house, bought him a car, and also offered to take care of his treatment, but his father insisted on traditional medicine.
To end the feud, Michael put through a call to his father, which his father confirmed to the public and promised never to go to the media again to disgrace his family as he and his son settled their misunderstanding. However, not long after they reached the agreement, his father died.
What We Know About Michael Essien's Ultra-Private Marriage
Essien tied the knot with Akosua Puni, a British-Ghanian citizen, in a secret wedding held in London after he reportedly broke up with Ghanaian actress Nadia Buari.
Akosua Puni is a successful publicist and businesswoman. She acquired a bankrupt Italian football club, Como, at an auction for 206,000 pounds, 10,000 pounds more than the auction price.
Michael Essien and Akosua have two kids; a boy and a girl. He has tried as much as possible to shield his new family from the social scene as he believes too much exposure to the media can be disruptive to his family and kids.
Just one photo of the kids and Akosua Puni surfaced online recently. The boy's name is Michael Essien Jr, and the girl's name is Michelle Essien.
Relationship With Nadia Buari and Other Gorgeous Women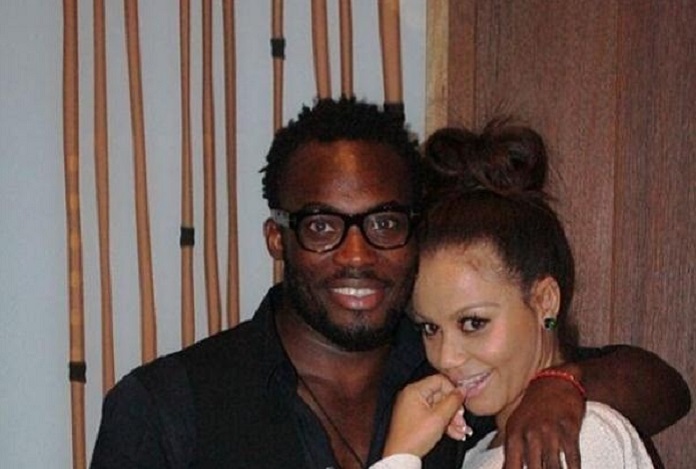 Michael Essien once dated fair-skinned Ghanaian actress Nadia Buari. There were rumors they were married at that time, but one thing is for sure, the relationship didn't end well. It was a highly publicized relationship thanks to the celebrity status of the pair.
It was so glaring that everyone thought it was going to lead to something meaningful, but it wasn't to be as the football star suddenly left her for no clear reason.
His Romance With Leila Beiruthy and Lurata Murati
Essien had a fling with shop worker Leila Beiruthy behind his long-term partner, Nadia Buari's back, whom he began dating in 2005. Leila Beiruthy was in the relationship with Essien between 2007 to 2008.
Michael Essien had a son with Leila. She gave birth to their son Jermaine Kwame Sakyi Essien at the Princess Royal University Hospital in Farnborough, Kent. Essien has reiterated he will continue to be a responsible father to his child born out of wedlock.
The footballer was enjoying a relationship with Lurata Murati, a British model, when he first met Cassie Sumner. When Lurata and Michael broke up, she claimed that Essien and Sumner had an affair while they were together.
The Fling With Cassie Sumner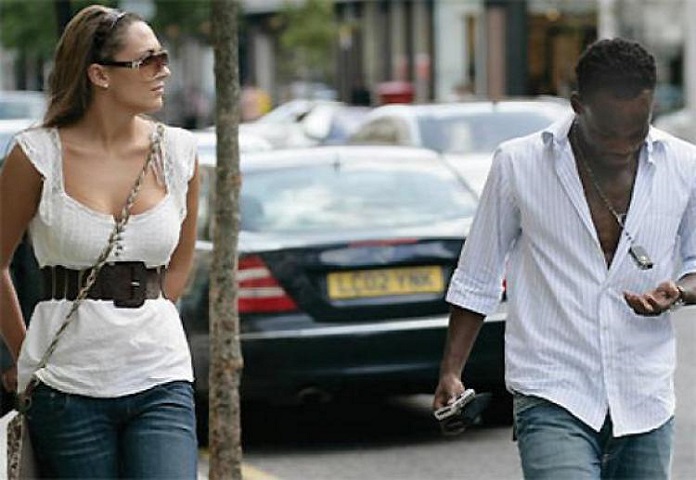 Cassie and Michael were pictured all around town, so it was no surprise when Cassie featured on WAG's Boutique as Essien's girlfriend. Cassie Sumner was formerly married to a footballer named Jose Fonte and has also been the girlfriend of other football players, namely; Carlton Cole in 2007 and the former Chelsea and Newcastle Defender, Celestine Babayaro.
According to Cassie Sumner, Essien was obsessed with purity and cleanliness during their brief 17-month relationship.
Michael Essien's Huge Net Worth and Luxurious Acquisitions
Michael Essien has an estimated net worth of $35 million, mostly earned through his soccer career. His annual salary was around $1 million while playing for Persib Bandung and he had a market worth in the region of £450,000 as of 2017, with his highest being £40.50 million in 2005.
He used to receive an annual salary of $4.7 million while playing for Chelsea. Essien earned a weekly wage of £70,000 in Real Madrid with a yearly salary of £3.5 million. He had an annual wage of £2.5 million while playing for AC Milan in 2014.
See Also: 10 Famous Ghanaian American Celebrities and Personalities
He Spends His Money on Cars and Houses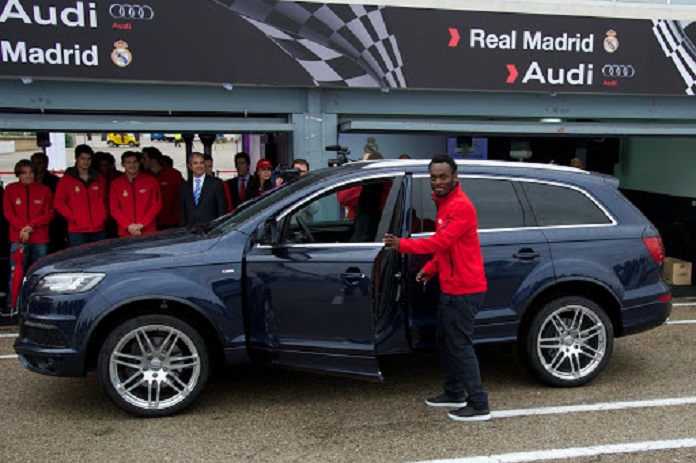 As with most football players who usually have more cash than they need to play around with, the footballer displays this wealth via expensive acquisitions of houses and cars. The luxurious brand of vehicles in Essien's garage includes £75,000 Range Rover Vogue, an Aston Martin, as well as a Milan car.
Essien and his wife Akosua Puni are the owners of the Italian Football Club, Como. The couple bought the third division club for £206K in 2017. He owns luxurious houses in London and Ghana. His home in Cobham, United Kingdom, was bought for $1.5 million. He also owns cars like BMW and Mercedes.
The Footballer Also Devotes His Fortune to Philanthropic Gestures
Essien spends on a charity organization he owns, The Michael Essien Foundation (MEF), which is a local Ghanaian NGO. It aims to create opportunities and hope for the underprivileged in the Awutu Breku area.
The goal of MEF is to facilitate the provision of basic community amenities and opportunities for various groups through different projects and activities. His wife happens to be the foundation's manager.