A church is a place where Christians worship daily, they congregate and make supplications to God. In Nigeria, where much of the population are fervent believers, the biggest churches have some of the country's largest single auditoriums. From Bishop Oyedepo's Living Faith Church to David Ibiyeomie's Salvation Ministries, there is no shortage of ultra-large buildings designed to house thousands of believers daily. In this article, we look at the 15 biggest among these church buildings based on a few criteria.
How We Chose
With several church auditoriums in Nigeria catering to over 96 million Christians in the country, there are many notable buildings to pick from. However, to streamline and highlight the ones with the largest auditoriums, we have had to apply some criteria for inclusion, namely:
The building capacity. We have not included numbers based on temporary expansions because of special events like conventions, congress, and outreaches.
Churches with multiple services on a worship day are counted only once. The implication is that Winner Chapel's Faith Tabernacle, which holds four services on a Sunday, is only counted once. So, its 50,400-capacity auditorium counts as 50,400 not 201,600.
Based on the lack of information available to the media, no Catholic or Anglican church makes the top 15 list. This is a combination of these denominations' relationship with the media and their more intrinsically decentralized system.
1. Redemption Camp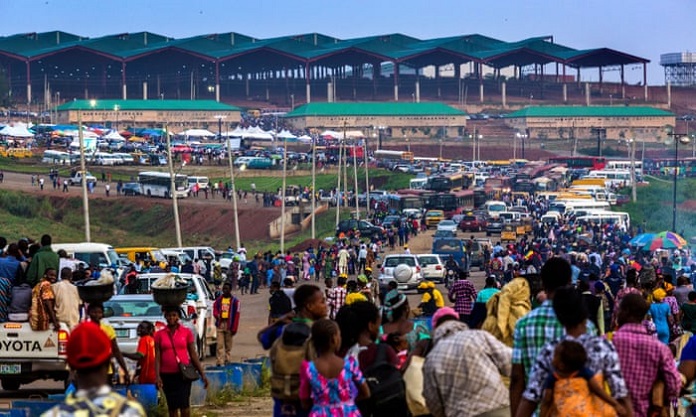 Parent Church: Redeemed Christian Church of God
Capacity: 3 million
Location: Lagos-Ibadan Expressway
Completion: 2018
Founder: Josiah Olufemi Akindayomi (1909 – 1980)
Current General Overseer: Enoch Adejare Adeboye
Founded: 1952
If Christianity had a Mecca in Nigeria, it would be the Redemption Camp. For good or bad, it is a lightning rod for religious-related conversations in the country. That is no surprise, considering the 2,500+ hectares camp has a capacity of over 3 million people.
It has become a city of its own, with over 5,000 houses, good road networks, a police station, hospital, supermarkets, banks, and many more. By 2018, an estimated 12,000 people were living in the camp. Owned by the Redeemed Christian Church of God, it opened to the public in 1983, one of the church's many milestones since its establishment in 1952 by Rev. Josiah Olufemi Akindayomi.
Governed by Pastor Enoch Adejare Adeboye since 1981, the camp is part of an incredible accomplishment that includes over 9.9 million members across 51,580 branches (parishes) in 197 countries.
2. Hand of God Cathedral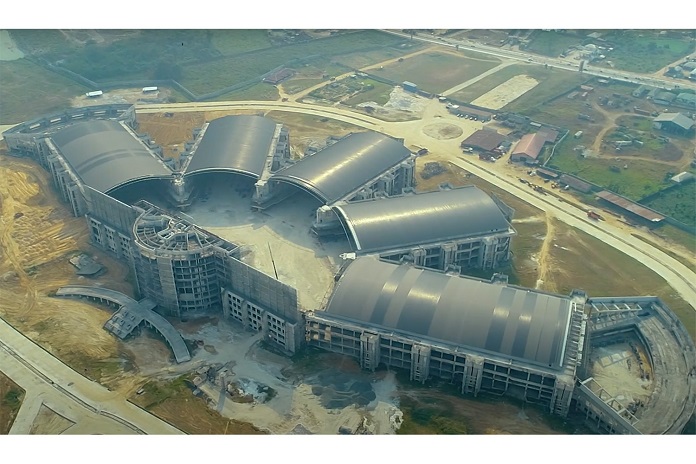 Parent Church: Salvation Ministries
Capacity: 120,000
Location: Port Harcourt
Completion: 2020
Founder: David Ibiyeomie
Current General Overseer: David Ibiyeomie
Founded: April 13, 1997
If Redemption Camp is the biggest church in Nigeria with the largest auditorium in the loosest definition of the word, Hand of God Cathedral holds the title in its strictest terms. Since its completion in 2020, the Salvation Ministries Port Harcourt auditorium holds the title of the world's largest church auditorium with a capacity of 120,000.
It is one of the grandest achievements of David Ibiyeomie, who founded the church in April 1997. He started the church after graduating from Bishop David Oyedepo's World of Faith Bible Institute. Salvation Ministries began as a house fellowship in Victoria Island before moving to Port Harcourt, where it holds prominence.
The church has had its fair share of controversies, like the arrest of Kemi Omolulu-Olunloyo. However, like the cathedral, it is still standing. Not only is Salvation Ministries standing, but it is also expanding. It has over 1000 satellite churches, and 20,000 home cell centers across Nigeria, the US, UK, Ghana, and Canada.
3. MFM Prayer City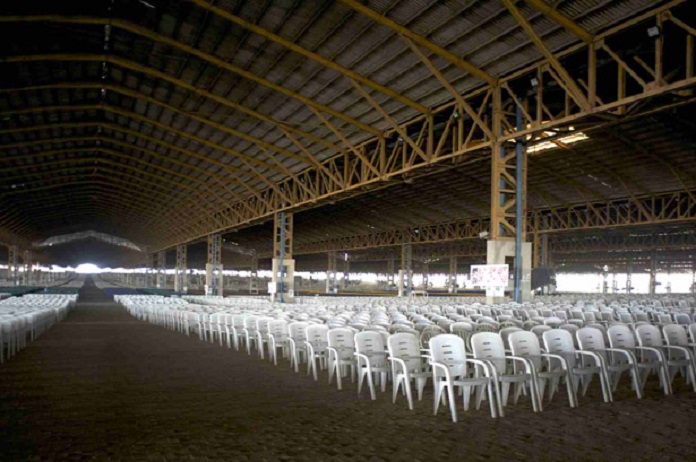 Parent Church: Mountain of Fire and Miracle Ministries
Capacity: 100,000
Location: Lagos-Ibadan Expressway
Completion: 2020
Founder: Daniel Kolawole Olukoya (DKO)
Current General Overseer: Daniel Kolawole Olukoya
Founded: 1989
Although it takes significantly smaller blame, the MFM Prayer City, alongside the Redemption Camp, has come under multiple criticisms for the traffic caused by its location. It results from its massive compound, which holds large structures such as housing camps, the Mountain Top University, and an auditorium that can house 100,000 members.
The church has had to face some legal challenges but it has prevailed. Daniel Kolawole Olukoya, founded the Pentecostal church in Yaba, Lagos as a prayer group in 1989. As the group grew, it bought land at a slum near the University of Lagos.
With DKO, as he is popularly known, still at the helm, the church has grown to more than 300 branches in Nigeria. It also has an international presence in African and Western countries, including the UK and the United States.
4. Glory Dome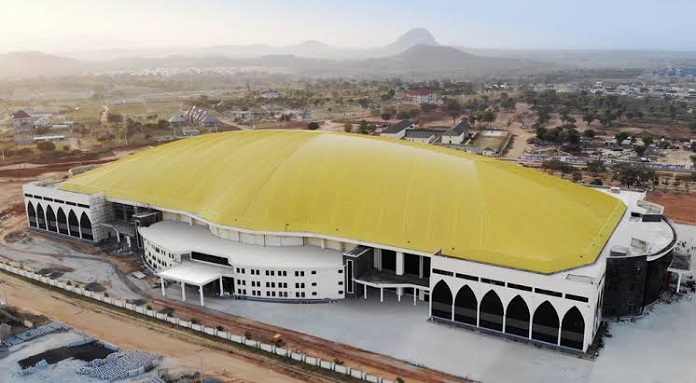 Parent Church: Dunamis International Gospel Center
Capacity: 100,000
Location: Abuja
Completion: 2018
Founder: Paul Idoko Enenche
Current General Overseer: Paul Idoko Enenche
Founded: November 10, 1996
For a couple of years, until the completion of Salvation Ministries' cathedral, Glory Dome held the world's largest church auditorium record. Led by the church's founder, Paul Idoko Enenche, Glory Dome was completed in November 2018, debt-free.
The launch, which had eminent pastors like Dr. Morris Cerullo in attendance, was a culmination of a journey that began in 1996. Paul Enenche was a medical doctor in Jos before he established the ministry. He relocated to Abuja and established the church with his wife, Dr. Mrs. Becky Enenche.
Long before the Glory Dome came to be, Dunamis held its first Sunday service on the first floor of Abuja Center for Arts and Culture. It moved to Abuja Sheraton Hotel & Towers two weeks after, spending six months before moving to its current site.
5. City of Wonders
Parent Church: Champions Royal Assembly
Capacity: 80,000
Location: Kubwa, Abuja
Completion: December 2015
Founder: Joshua Iginla
Current General Overseer: Joshua Iginla
Founded: December 2006
Fifth among the biggest churches in Nigeria with the largest auditorium is the relatively unknown City of Wonders, Abuja. The 80,000-capacity building belongs to the Champions Royal Assembly, founded by Joshua Iginla in December 2006. The building, which took 13 months from start to completion, is evidence of the church's rapid rise.
Joshua Iginla, a former Muslim born in Ado-Ekiti, Ekiti State, established the church after his conversion and a couple of years as a pastor at OPEM. He started the church with N70,000, a gift from Pastor Reverend, Joseph Yusuf Haruna. The result is an edifice with four storeys, 12 escalators, five detached elongated compartments, and three hectares for the car park.
The wonders do not end with the building, however. The founder and his wife, Yemisi Iginla, have admitted to extramarital affairs that resulted in children. They have gotten divorced, and Joshua has remarried to Stella Iginla. Add his multi-billion-naira private jet, and he is truly the purveyor of wonders.
6. Doctor Jesus City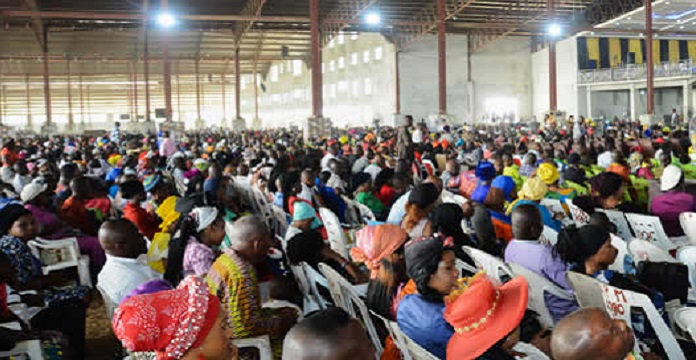 Parent Church: Omega Power Ministries
Capacity: 70,000
Location: Mbodo, Port Harcourt
Completion: 2020
Founder: Dr. Chibuzor Gift Chinyere
Current General Overseer: Dr. Chibuzor Gift Chinyere
Founded: 2006
Since its establishment in 2006 by Dr. Chibuzor Gift Chinyere, Omega Power Ministries has been one of the fastest-growing churches in River states, the Niger Delta region, and beyond. Its headquarters, Doctor Jesus City, an auditorium with a 70,000 capacity, define this rapid growth.
Dr. Chibuzor Gift Chinyere started the ministry after four years as a freelance gospel preacher. He had served in Mountain of Fire Ministry and was born into a Jehovah's Witness sect. Since he founded the church, it has become an influential force in Rivers State, where it also has a foundation, OPM Foundation.
7. Lord's Chosen Church
Parent Church: The Lord's Chosen Charismatic Revival Movement
Capacity: 70,000
Location: Ijeshatedo, Lagos
Completion: 2020
Founder: Lazarus Muoka
Current General Overseer: Lazarus Muoka
Founded: December 24, 2002
The Lord's Chosen Charismatic Revival Movement is one of Nigerian's biggest churches with one of its largest religious auditoriums. Located in Ijeshatedo, Lagos State, it can house up to 70,000 members and its surrounding areas can hold up to one million.
Lazarus Muoka, a native of Mgbidi in Imo State, founded the founded in 2002, eight years after leaving his former church. The church had its first service on December 24, 2002, and has grown to multiple locations across the country and beyond. Known for its members' distinguishing aprons, the church has more than 300,000 branches worldwide.
With a goal of reaching 10 billion souls, the Lord's Chosen Church has no intention of slowing down and with such grand plans, it could soon find itself higher up this list in the near future.
8. Deeper Life Bible Church, Lagos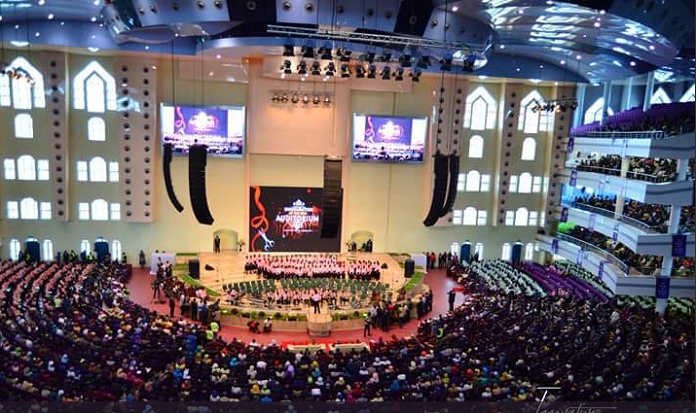 Parent Church: The Deeper Christian Life Ministry
Capacity: 65,000
Location: Gbagada, Lagos
Completion: 2018
Founder: William F. Kumuyi
Current General Overseer: William F. Kumuyi
Founded: 1980s
As far as the legacy of Pentecostal churches in Nigeria goes, Deeper Christian Life Ministry is one of the most revered. Since its establishment in the 1980s, it has grown and remained one of the country's most popular churches. Its vast membership and branches include the new headquarters in Gbagada, Lagos.
Designed initially as a 30,000-capacity building, the Deeper Life HQ now houses over 65,000 members, more than doubling the intended size when it began construction in 2004. It is one of the accomplishments of William F. Kumuyi, the founder and general overseer who started the church as a bible study group in 1973.
Today, Deeper Life, which has managed to stay away from any significant controversy, has more than 5,000 branches in Nigeria alone. It also has hundreds of churches across Africa and the rest of the world.
9. Canaanland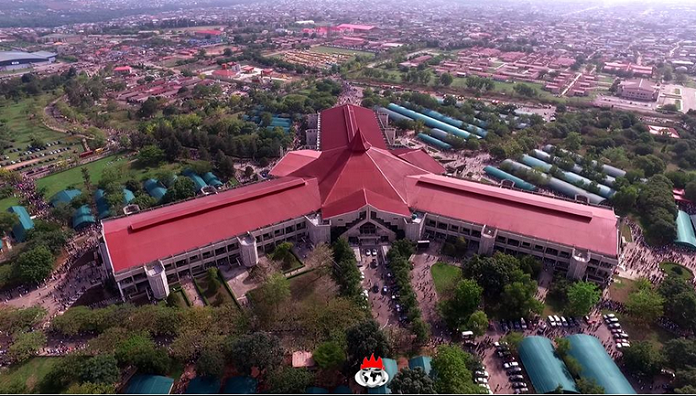 Parent Church: Living Faith Church Worldwide
Capacity: 50,400
Location: Ota, Ogun
Completion: 1999
Founder: David Oyedepo
Current General Overseer: David Oyedepo
Founded: December 11, 1983
Winners Chapel or Living Faith Church Worldwide is another renowned church with a place among the biggest churches with the largest auditorium in Nigeria, thanks to its Faith Tabernacle. In the uber-popular Canaanland, Ota, it is the central attraction in a sprawling city that includes Covenant University and Faith Academy.
It was the largest church auditorium globally with 50,400 capacity at the time of completion, spread across 70 hectares. It took 12 months from breaking down to completion. As impressive as it is, plans are underway to build a Faith Theatre, which will house 100,000 members.
When completed, both buildings will be a significant part of Bishop David Oyedepo's multi-decade journey in the ministry, which began in 1981. He was ordained as a pastor in September 1983 by Pastor Enoch Adeboye, and he established the first church in Kaduna. Today, the church has over 20,000 branches worldwide and millions of members.
10. The Synagogue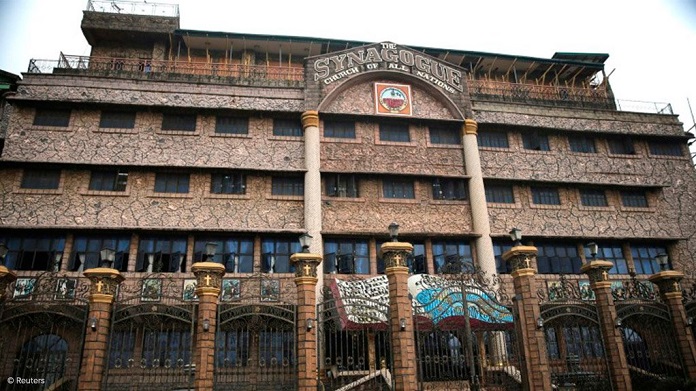 Parent Church: The Synagogue Church of All Nations
Capacity: 50,000
Location: Lagos
Completion: 2020
Founder: T.B Joshua
Current General Overseer: Temitope Balogun Joshua
Founded: 1987
Unlike most other churches on this list, The Synagogue Church of All Nations has limited branches. Widespread belief suggests its headquarters in Ikotun-Edge, Lagos, is its only location and what a location it is. The Synagogue is home to one of Nigeria's biggest churches with a large auditorium capable of seating 50,000 people.
Founded in 1987 by Temitope Balogun Joshua, the auditorium is Nigeria's biggest religious tourism attraction, receiving over two million tourists a year. T.B Joshua founded his highly successful ministry after he 'received divine anointing and covenant' from God.
The Synagogue is home to several faith healing events and broadcast center of Emmanuel TV, which has more than 1.3 million YouTube subscribers and over 3.5 million Facebook followers. Its controversial status has earned it coverage in Time Magazine, Associated Press, and Foreign Policy.
11. National Temple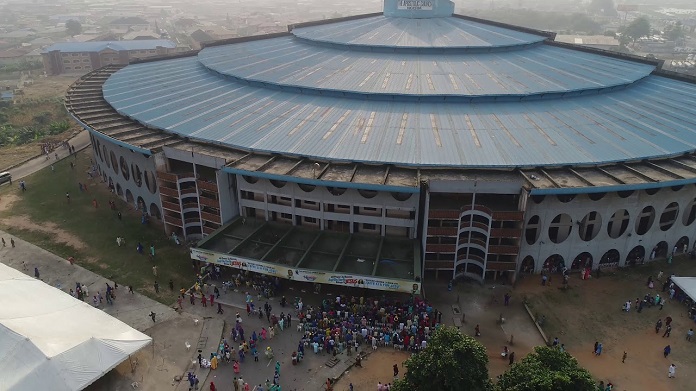 Parent Church: The Apostolic Church Nigeria
Capacity: 40000
Location: Olorunda-Ketu, Lagos
Completion: November 19, 2011
Founder: Joseph Shadare
Current General Overseer: Pastor (Dr.) Sampson Ekwutus Igwe
Founded: 1918
The Apostolic Church Nigeria might not be popular among the country's millennial faithful. Still, it is one of the biggest churches around and has one of its largest religious auditoriums. Known as the National Temple, it was completed in 2011, after construction began in 1979 under then territorial chairman, late Pastor S.G Adegboyega.
Religiously described as the 'House built with prayers,' it has 1,500 car spaces and can sit up to 40,000 people. The Apostolic Church is one of the early Pentecostal churches in Nigeria. It started as a prayer group led by Joseph Shadare in 1918 and has since grown in size.
The Apostolic Church Nigeria has several thousand branches, and as of 2018, has over 4.5 million members in the country alone. It also has an international presence in other parts of Africa and Europe, with its global HQ in Penygroes UK.
12. International Gospel Center
Parent Church: World of Life Bible Church
Capacity: 35,000
Location: Warri, Delta
Completion: November 19, 2000
Founder: Ayo Oritsejafor
Current General Overseer: Ayo Oritsejafor
Founded: November 1987
Not to be confused with Dunamis' jaw-dropping Glory Dome, the International Gospel Center is the brainchild of Ayo Oritsejafor. He is the founder and general overseer of World of Life Bible Church, a ministry based in Warri, Delta State. That is also where it holds its claim to one of the largest church auditoriums in the country with 35,000 capacity.
It is one of the oldest on this list, following its completion in November 2000. Yet, it retains its position as one of the largest auditoriums among Nigeria's biggest churches. Its journey to existence began with the founding of World of Life in 1987, after Oritsejafor's training at All Nations For Christ Bible Institute, Nigerian Baptist Seminary, and Morris Cerullo's School of Ministry.
Since then, he has served as the President of the Christian Association of Nigeria (CAN). His church also has over 70 branches and millions of members worldwide.
13. Christ Embassy Headquarters
Parent Church: Christ Embassy
Capacity: 30,000
Location: Oregun, Lagos
Completion: 2020
Founder: Chris Oyakhilome
Current General Overseer: Chris Oyakhilome
Founded: 1987
When it started in 1987, it was a prayer group known as Believers' Loveworld, led by the charismatic Chris Oyakhilome. He started the group at Ambrose Alli University, Ekpoma, where he was studying Architecture. Since then, the group has grown into an international organization, with headquarters in Oregun, Lagos, at a building capable of holding 30,000 people for a service.
Christ Embassy has a national presence, with branches in all 36 states. It also has additional branches in five continents, up to 145 around the globe. Together, they add up to more than 13 million members worldwide, spread across Canada, Nigeria, South Africa, United States, and the UK.
The church has dealt with public drama such as its founder's controversial divorce and comments in the 2020 Covid-19 pandemic, where Oyakhilome claimed 5G network towers caused the coronavirus. Regardless, his church continues to grow.
14. Noah's Ark Auditorium
Parent Church: Full Life Christian Center
Capacity: 10,000
Location: Uyo, Akwa Ibom
Completion: 2020
Founder: Ntia Ime Ntia
Current General Overseer: Ntia Ime Ntia
Founded: June 2000
Also on the list is the Full Life Christian Center's Noah's Ark Auditorium. The 10,000-capacity building is the biggest church building in Akwa Ibom, where the church has called home since June 2000. It is the brainchild of Ntia Ime Ntia and his wife, Ukamaka Ntia.
He started the church after he moved to Uyo from Enugu in 2000. Ntia was formerly a pastor at Liberty Gospel Church before opting to start Full Life Christian Center. Since its establishment, the center has not only built a megastructure but also expanded outside Nigeria.
The church now has three branches outside the country, and 24 within Nigeria – spread across ten states. The church also has a thriving broadcasting division and a Christian publication unit with over six published works.
15. The Rock Cathedral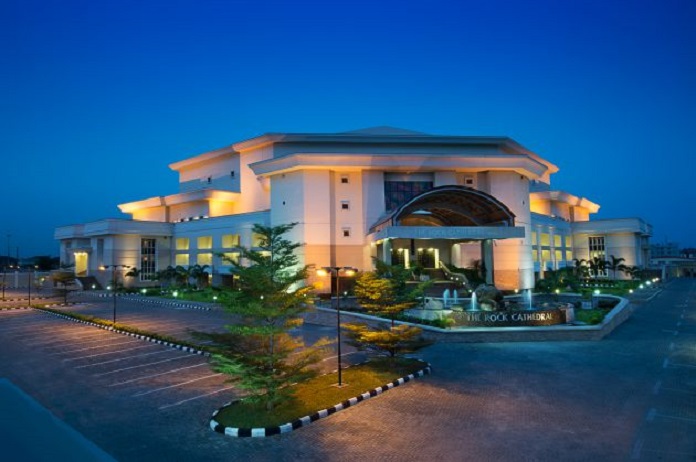 Parent Church: House on the Rock
Capacity: 10,000
Location: Ikate-Elegushi, Lekki
Completion: April 2013
Founder: Paul Adefarasin
Current General Overseer: Paul Adefarasin
Founded: 1994
There is a cultural chasm between legacy churches and their modern counterparts, and no one embodies that difference more than Paul Adefarasin's House on the Rock. However, they still share some notable similarities, such as their love for megastructures.
Although its size is nothing compared to the ones higher up this list, it also has one of the largest religious auditoriums in the country. The 10,000-capacity The Rock Cathedral has 2,000 car spaces watched over by 160 CCTV cameras, 14 multi-media screens, and five foyers.
The journey to owning one of Nigeria's largest religious structures began in 1994 for Paul Adefarasin, who founded the church in 1994. It started in his mother's living room in Lagos. The church now has over 50 branches worldwide, in Nigeria, Congo, UK, Ireland, and South Africa.
Notable Mentions
Making a top 15 list means a few notable churches have had to miss out on the list. But this by no means suggests they do not have building capacities worth bragging about. Some of these churches and their capacity include:
Fountain of Life Church, Ilupeju Lagos – 8,000
Household of God Church, Ikeja Lagos – 8,000
Christ Apostolic Church Agbala Itura, Ibadan – 8,000
Family Worship Center, Abuja – 7,000
City of David, Redeemed Christian Church of God – 5,000
Good Tidings Bible Church International, Abuja – 5,000
First Baptist Church, Abuja – 5,000
Our Sources:
To compile this list, we turned to many sources such as the respective churches' websites, local news articles, and Wikipedia pages. Additional sources include Leadership Network, which has an impressive database of megachurches in Africa.