When it comes to traditional ceremonies, everyone wants to look their best. No one wants to be left behind and that is why people often seek out the best attire to fit the occasion they are attending. Each traditional group makes special fabrics with unique colors which have significant meanings. With regards to this, Ndebele traditional attire and dresses have unique elements that will make you stand out and be the talk of the occasion. The Ndebele traditional attire is remarkably colorful. The beads, ornaments, and accessories are simply amazing. As the paintings are colorful, so are the attire.
In this article, we have carefully selected some of the modern Ndebele traditional attire and dresses that can be worn by men and women. You can be inspired to make unique designs that fit your special day from this list. These attires and dresses are presented in different categories.
Ndebele Bridesmaids' Dresses
Bridesmaids are a part of a typical wedding day and their dress will need to be stunning because they're going to be seen next to the bride throughout the ceremony.
1. Bridesmaids in Blue/Ndebele Prints Off-shoulder Dresses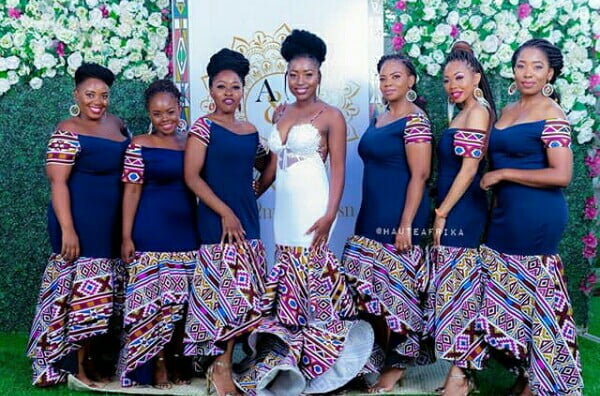 This Ndebele traditional attire will be perfect for your bridesmaids if you don't want to spend much but still want them to look classy and unique in this blue off-shoulder dress. Though not many beads or accessories are involved, the bridesmaids still look stunning. The dress is made with a blue fabric that tightly hugs the body with a short sleeve hand at shoulder level which is made with a piece of Ankara fabric. Same Ankara fabric is also attached to the blue fabric at the knee level and flares out from there downward, slightly raised at the front to reveal the feet/shoes.
2. Tube or Off-shoulder Gown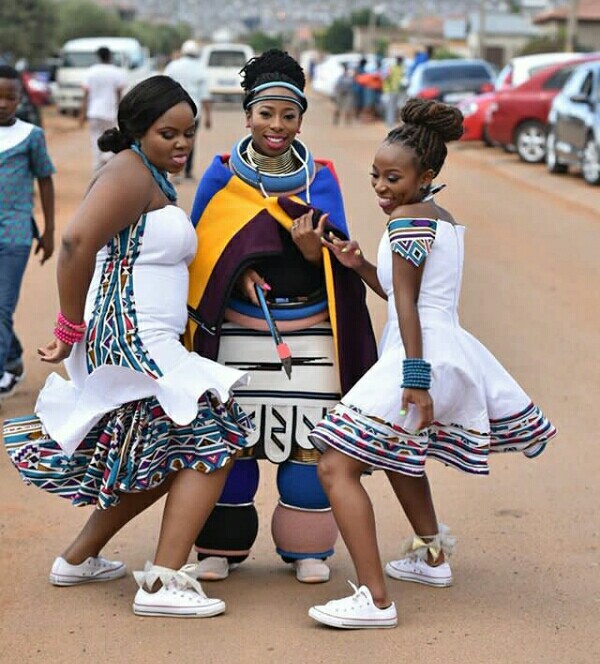 This is a simple but unique design for your bridesmaids. A tube or off-shoulder white gown with Ndebele print that can be placed anywhere on the dress to make a nice design. Depending on your choice, you can add some designs to the white fabric with some pieces of the Ndebele fabric.
3. African Wax Print on Ndebele Bridesmaids Dress
Creativity has no specific definition, as long as you can come up with something unique and acceptable, then you're good to go. You'll fall in love with the African wax print on the white tube dress sown in a sweetheart neckline and the Ndebele print with peplum at the waist to match. The beautiful multicolored beads on her neck add some sort of radiance to the rest of the clothing.
4. White Ball Gown with Net and African Print Top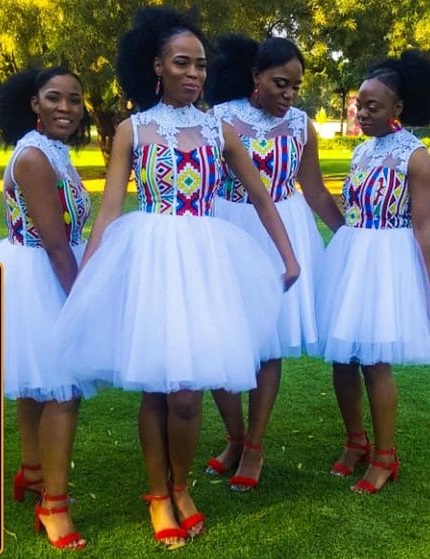 This lovely white ball gown with a net top and Ndebele print can be all your bridesmaids need to look glamorous on your big day. It is a short tight fitted gown made with half Ndebele fabric that is sown in a sweetheart neck design and attached to a piece of pleated short skirt made with net fabric.
5. Yellow Net Ball Skirt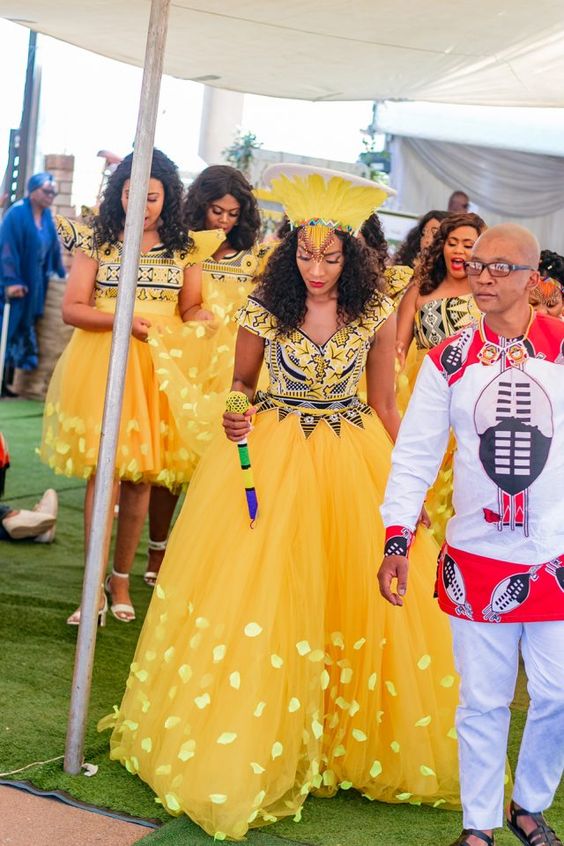 How about wearing almost the same pattern of dress with your bridesmaids? This Ndebele yellow short flowery short gown speaks more about the design of the Ndebele fabric. The rest of the clothing is a skirt made of net fabrics with flowery decorations dotted all over the short skirt. The outfit looks lovely yet is simple to make and you don't have to spend much buying expensive materials.
6. High Neck Long Dress with Blue Doek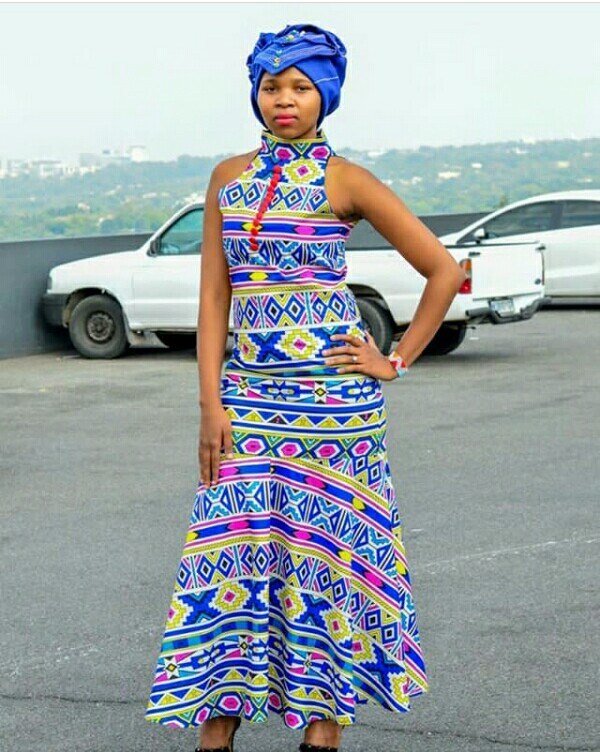 Many bridesmaids don't mind going for long dresses, so long it's tailored to their desired taste. This is a lovely high neck sleeveless dress with a blue doek. The gown is fitted from the chest down to the waist level but flares out from slightly above the knee to the ankle.
Ndebele Couple Outfits
Every Ndebele couple loves to be seen in admirable outfits, especially when on an occasion together. It is also important to know that in Ndebele traditional attire, most women's coverings and accessories are a display of the various stages of life, and we will explain this as we describe some of these Ndebele traditional attires. The following are a few traditional outfits for couples that may interest you;
7. Couple in Modern-Traditional Wedding Outfit
Here, the bride is seen in her elegant wedding gown with a red cape. The gown forms a ball shape from the knee to the toes, making it look special and flowing. Her Isicholo hat (married woman's hat) is not left out, it comes in white color with beads decorated all over it. She is also decked with her Ndebele neck chain, bangles, and beaded stick. The groom is dressed in a Ndebele shirt, beaded neckpiece, and a lovely bolar hat to give a perfect combination.
8. Ndebele Crop Top and Shirt for Couple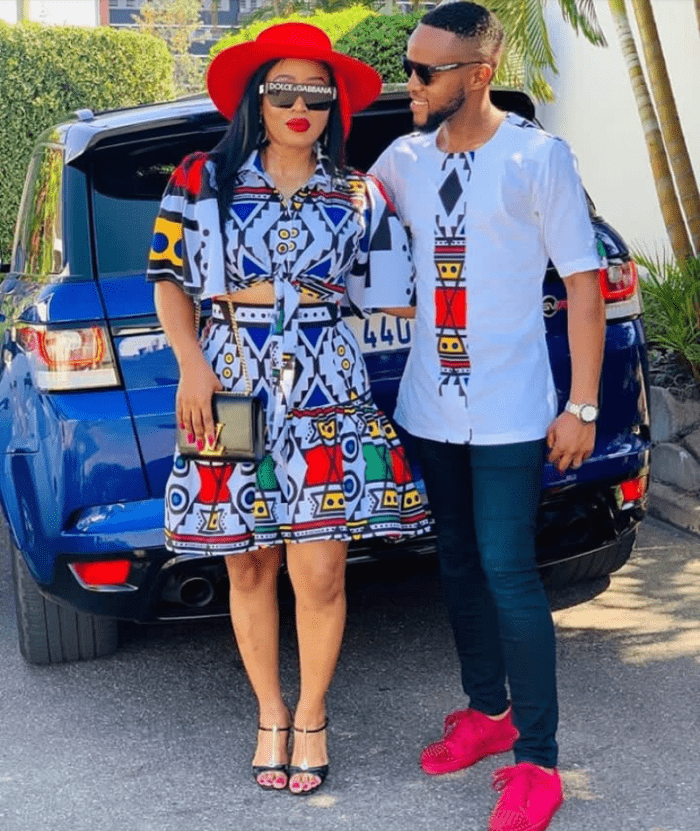 This is a simple outfit for couples who love to keep it simple. As shown above, you could decide to go in this Ndebele crop top and skirt, while your partner dresses in a Ndebele print shirt and jeans with sneakers to match. You could rock this for an evening or a simple outing without spending so much.
9. Trimmed Veil and Blue Trousers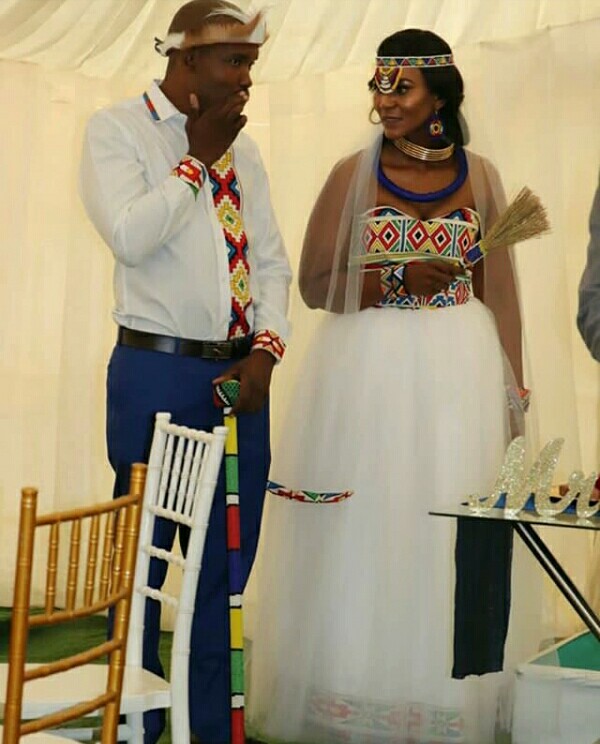 The image above depicts a bride dressed in a beautiful wedding dress with Ndebele trimmed veil, with lots of accessories and a gold choker to give a perfect combination. The groom is not left out as he's dressed in a shirt designed with Ndebele print with blue trousers and a colorful walking stick.
10. Colorful Traditional Blanket with Beaded Accessories and White Shirt for Couple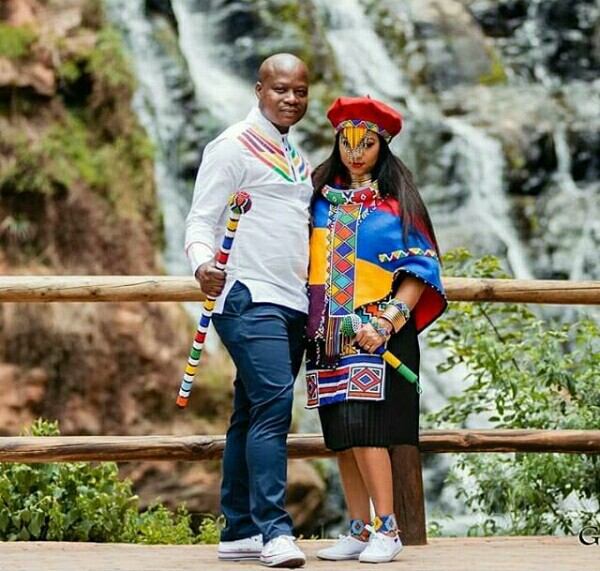 This lovely outfit could go well for a Ndebele matoki. Dressed in a colorful traditional blanket with beaded accessories, red beaded berets, and white sneakers to match, the bride looks stunning. The groom also comes in a white-inspired shirt with a beaded stick.
11. Ndebele Print Peplum and White Shirt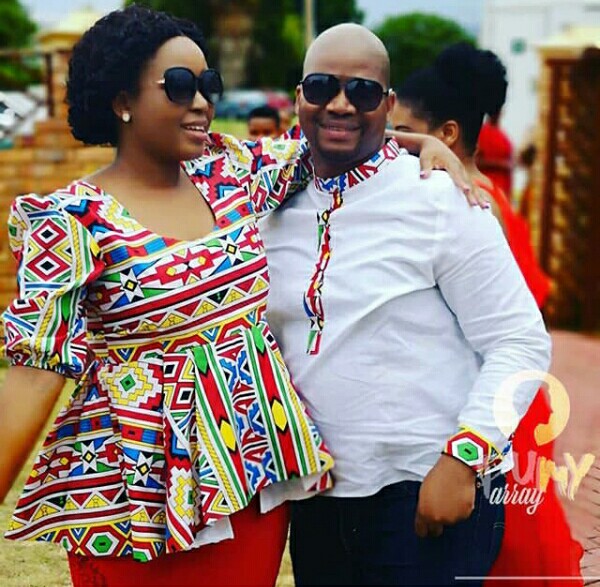 This simple red peplum top with Ndebele print generously used to design the top with a red skirt will look nice on anyone, especially if you're of fair skin. The lady's blouse has a u-shaped neck and is pleated just below her bust, while the short sleeve hands are puffed a little. The man can come in a white bishop neck shirt with Ndebele print on jeans. This is perfect for a not-too-serious outing or a casual occasion.
12. Strapless Gown and Designed Jacket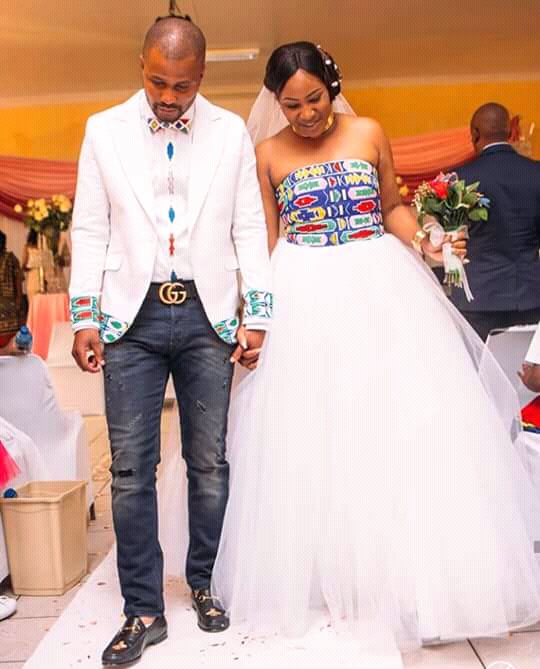 You can still look gorgeous on your wedding day, even if you don't have much to spend on clothes and accessories. Check out the lovely design above. This is a strapless wedding gown for a bride, with a nice Ndebele print, while the groom is decked in a simply designed jacket, shirt, and a bow tie for simplicity.
13. Ndebele Family Traditional Outfit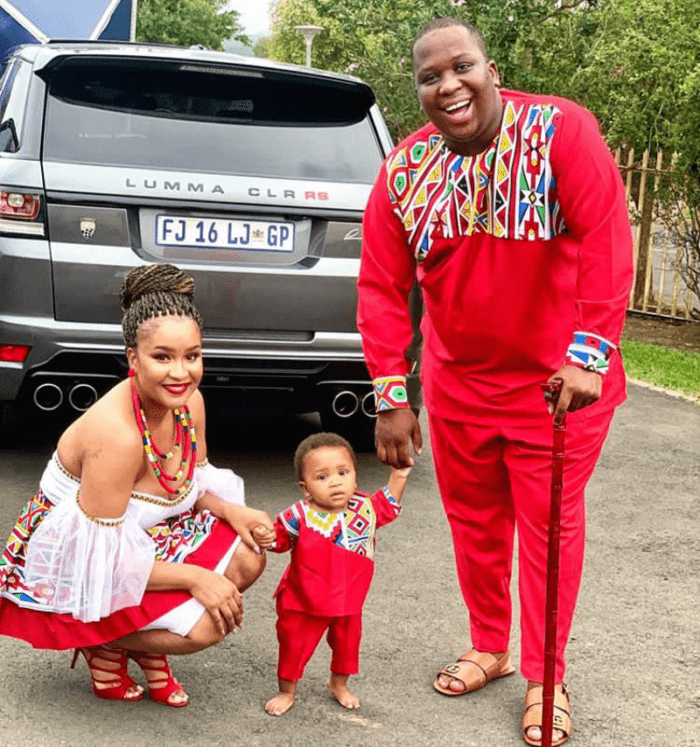 Here is a perfect combination for your family. With a background color of red and Ndebele traditional print for father and son, what more can you ask for? The mother is also seen in a white off-shoulder top with Ndebele traditional print, which could also go for a daughter, with beautiful colored beads on the neck. What a wonderful design for the whole family.
14. Red Traditional Wedding Dress and Hat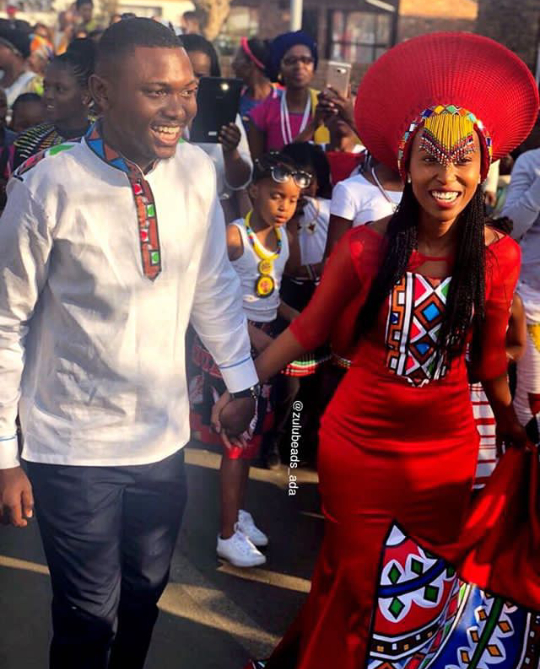 If you're a lover of red and would love to look reddish on your wedding day, then this Ndebele traditional attire could warm its way into your heart. It shows a bride in a red hot flowing gown, with Ndebele print in front and a red beaded Isicholo hat, making the red all glistering. The groom is seen in simple white and dark blue attire to complement his bride. The collar, half button, and cuffs of his shirt were finished off with Ndebele traditional fabrics and which ideally match that of his wife.
15. Corset Styled and Ndebele Print Trimming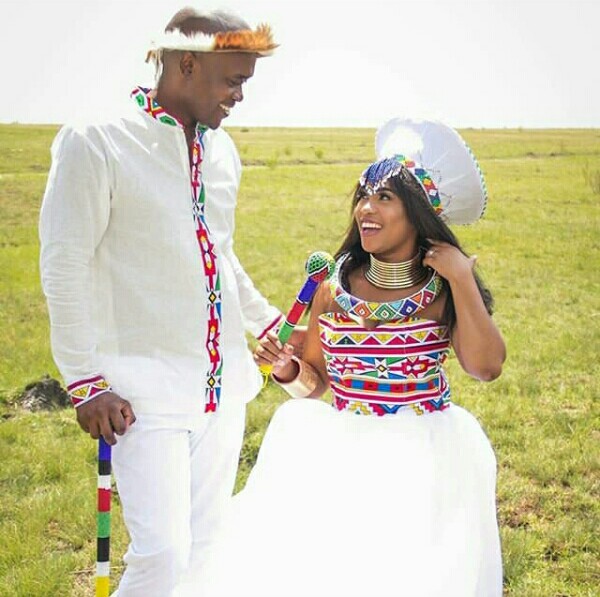 Corset-styled Ndebele wedding attire is another traditional wear many brides love. This goes along with their gold choker, bangles, neckpiece bead, and the regular white beaded Isicholo hat. The man is in white Ndebele print trimming with an animal skin headband and a multi-colored beaded stick to cap it all. The animal product of the headband is a vital part of their traditional wear.
16. Lobola Themed Ndebele Tie for Men and Gown for Lady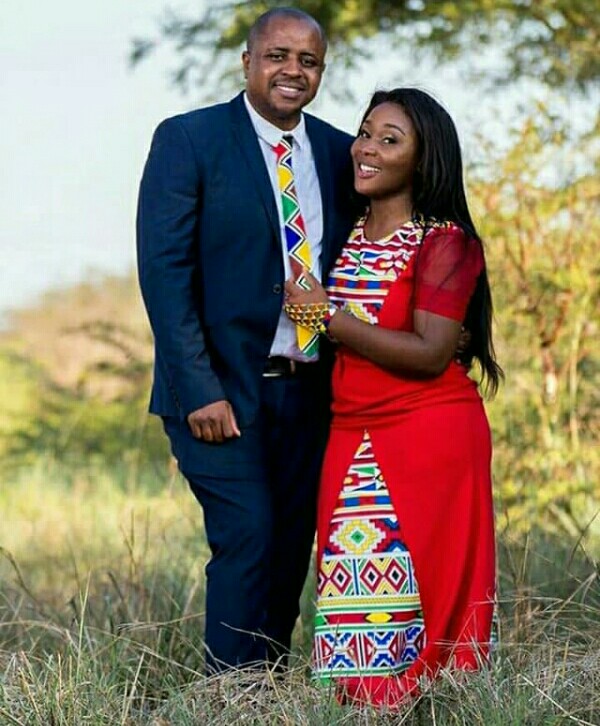 Just when you're indecisive about what to put on for a lobola celebration, get inspired by this couple. Watch how they rock their beautiful red Ndebele fabric with the colorful tie worn by the husband on his corporate suit and the lovely red gown with Ndebele fabrics worn by the lady.
Best Ndebele Traditional Attires for a Bride
In preparation for your special day, everything needs to be set and in proper perspective. Therefore, choosing the best Ndebele traditional attire as a bride needs a careful process. You need to look classy, gorgeous, and above all, come across as the most beautiful on that day. That is why we have put together these collections that you can make your choice from.
17. Bride on White Flowing Gown with Ndebele Print and a Net Veil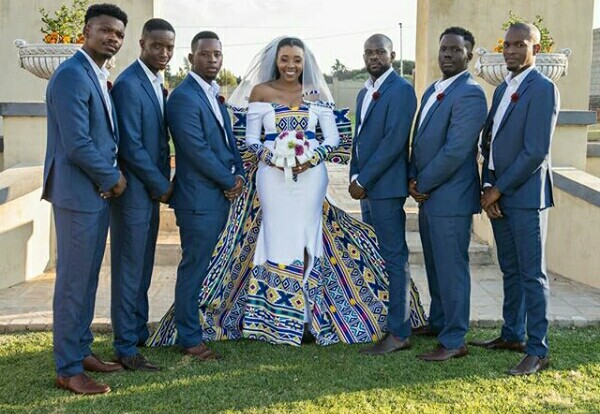 The above is a modern Ndebele wedding gown, which looks different from the conventional plain white wedding gowns. The bride looks stunningly beautiful on her flowing gown with lovely Ndebele prints strategically sown to give beauty and prestige to the bride. She's also seen on a net veil with the edges taped with the print. This is a good choice for a bride who wants to combine her culture with modern attire.
18. Ndebele Poncho and Print Doek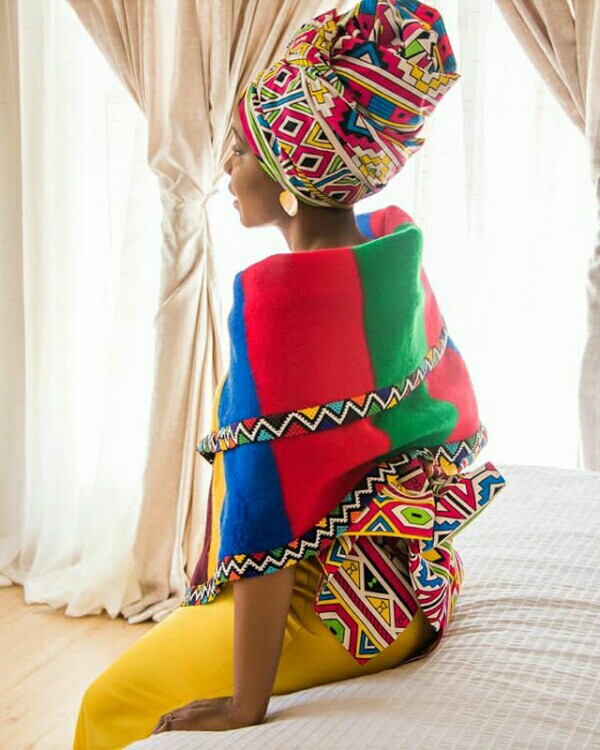 Here's another unique and outstanding outfit for the Ndebele bride you may like. If you don't mind being wrapped in a poncho having a nice print doek on your wedding day, then this outfit is a good one for you. With beautiful color designs that will make you look glamorous.
19. Yellow Isicholo Hat and Beaded Gown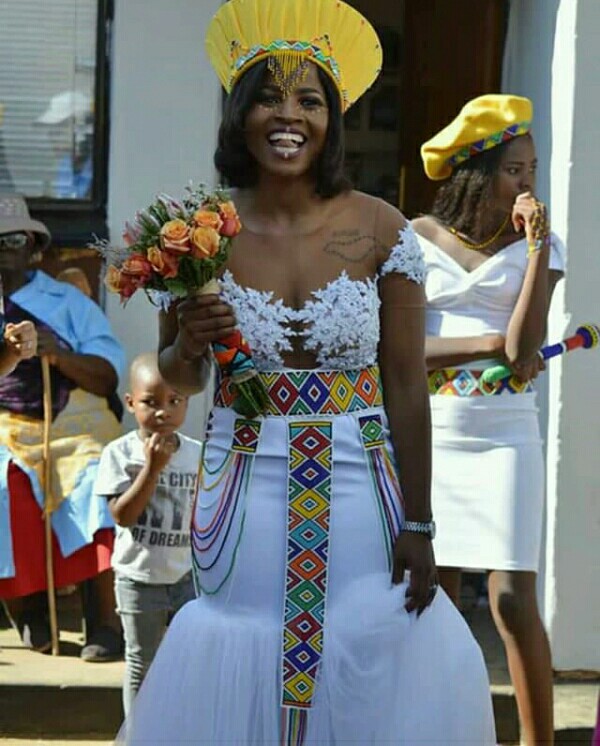 This Ndebele wedding gown is made with white lace fabrics that cover the chest region while the rest of the fitted part of the gown runs down to the ankle. From the waist to a point above the knee, the gown is tightly fitting but flares out from the knee downwards. The head of the lady is adorned with a yellow Isicholo hat with a beaded veil. The matching beaded dress with accessories, speaks of the rich cultural heritage of the Ndebele tribe. You could get one or two inspirations from this.
20. Sleeveless Yellow Mermaid Dress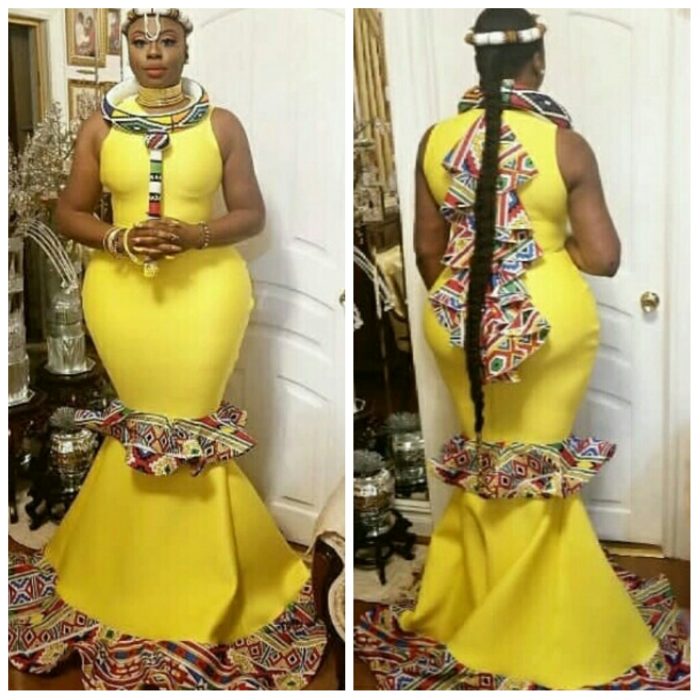 The gold neck ring brings out the beauty of this Ndebele sleeveless mermaid dress, with a hoop, beaded stick, and a headdress to match. You could choose your color preference for your gown. The gown is sown to tightly fit and project the curves of the lady from the chest down to the knee from where it flares out. At the knee level, a pleated Ndebele fabric is nicely sown and attached which is the same at the end of the long gown.
21. Lace Sleeves, Pink Cape, Choker, and Beaded Hoop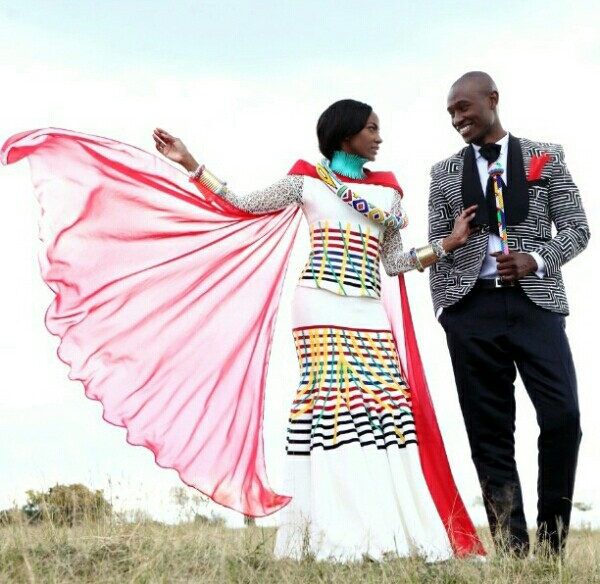 For pinky brides, this is a traditional attire with lace sleeves, a pink cape, choker, and beaded hoop. The long sleeve gown is sown tightly fitted to the body with some colorful Ndebele fabrics nicely designed and sewn on it.
22. Ndebele Off-shoulder Gown with Beaded Bangles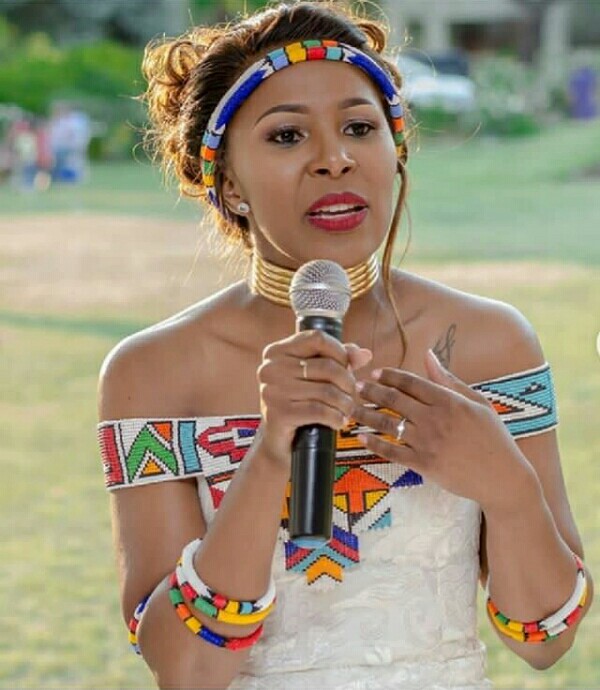 This Ndebele bride in an off-shoulder wedding dress, beaded bangles, a simple headband, and gold choker could be your inspiration if you love off-shoulder dresses, with beads and bangles to complement the design. It is a simple wedding gown made in a patterned white fabric. The unique things about this outfit are the Ndebele designs sown on it and the matching bangles and headgear seen on the lady.
23. Bride on White Mermaid Ndebele Traditional Gown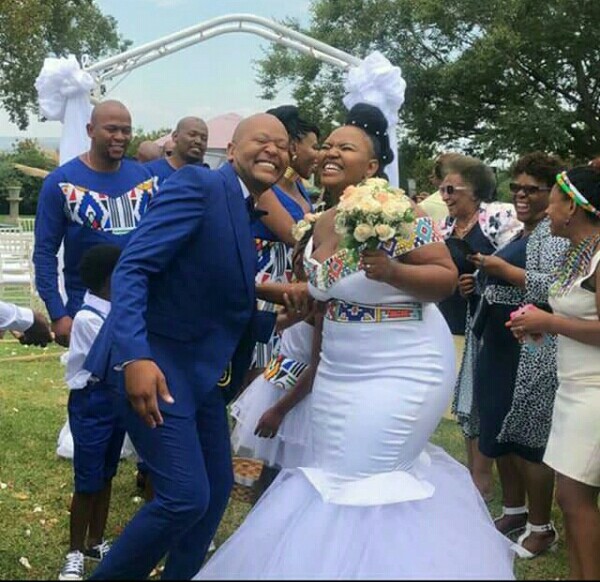 Hardly will you see any lady who will not glitter on a white mermaid Ndebele wedding gown. Mermaid gowns have a way of bringing your shape and figure. The wedding gown above is made with plain white fabric that tightly fits the body from the bust down to the knee level where a piece of net fabric that flares out is attached to it. To make the gown distinctive, a piece of Ndebele traditional fabric is attached to the chest region, forming a v shape that runs all the way to the shoulder and back. Also at the abdomen, the same Ndebele fabric was also sown like a belt on the gown.
24. Black Dress and Red Isicholo Hat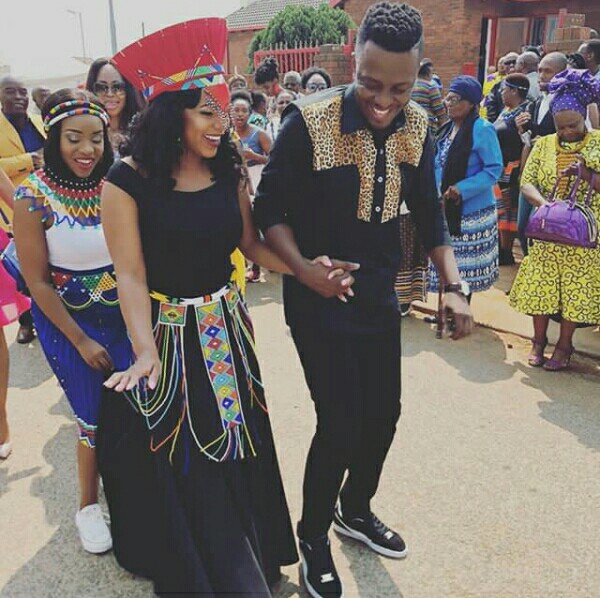 It's nice to know that black can as well be a part of your wedding attire. It might sound somewhat strange but it's a sight to behold. The above image tells more. A bride on a black dress with beaded accessories and her red Isicholo hat to match as usual. The black can be brightened by the kind of accessories you use to rock it.
25. Ultra-modern Ndebele Dress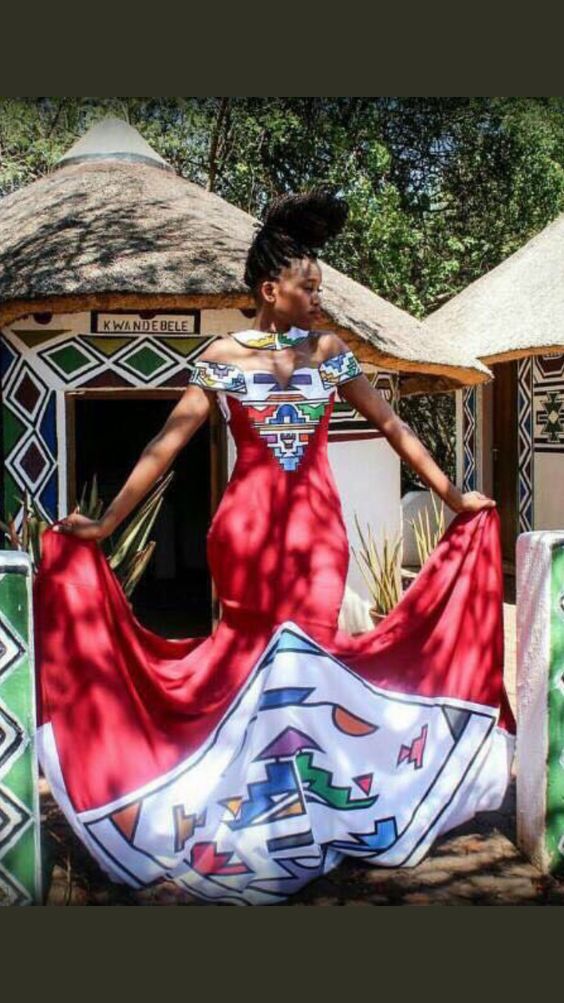 This is a modern dress style for Southern Ndebele people. It is a long red gown sown to tightly fit the trunk of the body and flare out from the knee downwards. The flare materials is made with a piece of brightly colored Ndebele fabric which was also used to form a V-shaped design at the front of the dress, as well as its neckline to the off-shoulder sleeves.
26. Blue Off-shoulder Ndebele Wedding Attire
A bride looking gorgeous in her blue gown, with a mixture of Ndebele print and crowned with her usual white isicholo hat. The blue gown is tight-fitting as it is traditional.
27. White Gown with Headwrap and Long Beaded Neckpiece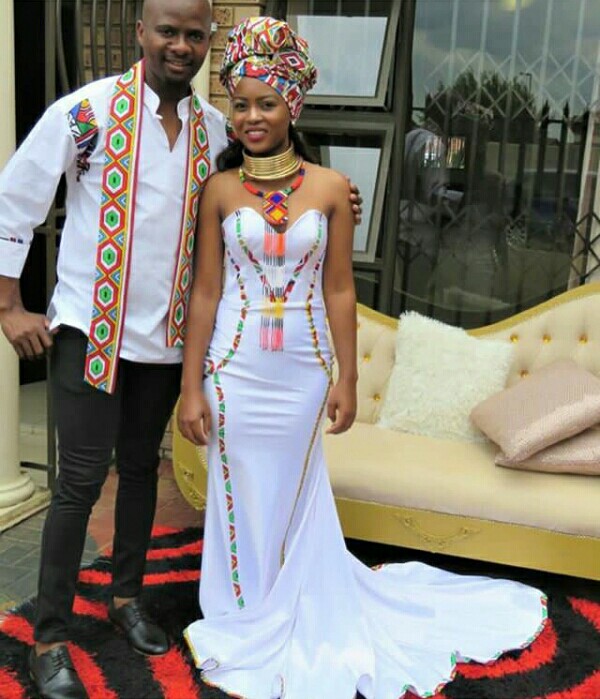 If you don't mind replacing your Isicholo hat with a nicely fitted headwrap on a flowing white gown, then this outfit may be perfect for you. It's simple, classy, and unique with your long-beaded neckpiece and gold choker to fit perfectly.
28. Colorful Ndebele Blanket with Lots of Accessories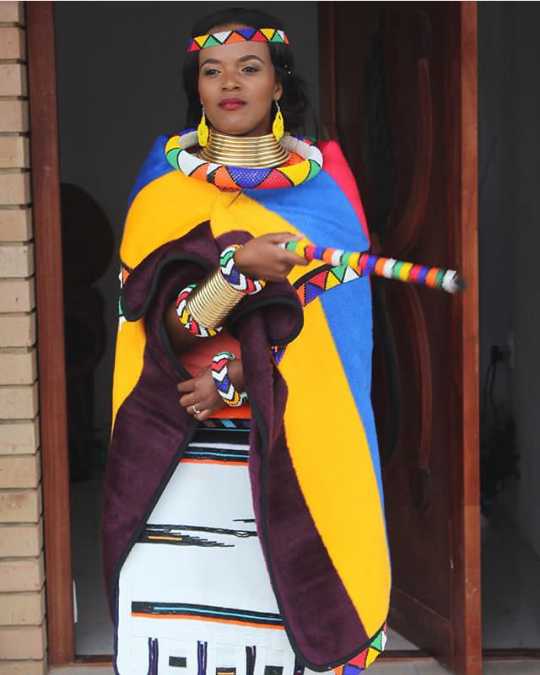 Many brides don't mind being decked with lots of accessories as they prepare to meet with their groom, this might be the case with you. This outfit says it all, in terms of the bangles, beaded stick, earrings, headband, neck hoop, and neck ring, all worn on a colorful Ndebele blanket. Great for you!
29. Ndebele Blanket, Beaded Red Beret, and Other Accessories
Apart from the Isicholo hat, head wrap, you can still look stunning and fantastic on a beret. Her beaded red beret on the Ndebele blanket with her many accessories looks splendid on her. The beaded waist hoop, apron, beaded leg beads, and leg rings which are not so common on most brides, make her stand out.
30. Customized Monochrome Cleopatra Beaded Cuffs on Ndebele Print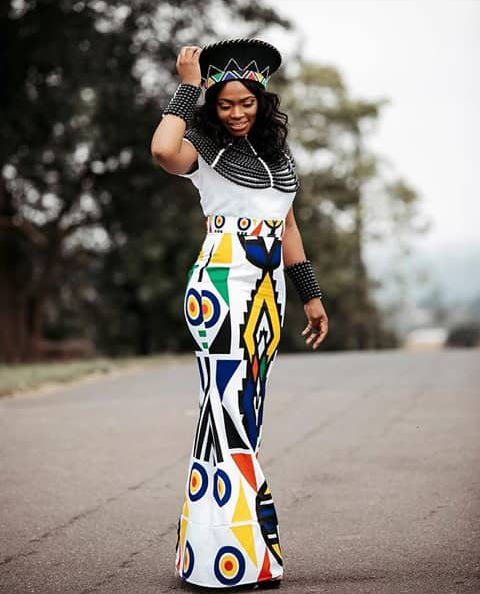 You will love this design because you can also customize your cuffs to suit your event and taste. A customized monochrome Cleopatra beaded cuffs on Ndebele print, says a lot about how much a bride cherishes her cultural heritage and will love to see it displayed on her special day. Her beaded neck cape and Isicholo hat are not left out of the design.
Ndebele Groom Outfits
Just as the brides and bridesmaids are beautifully dressed on the wedding day, the grooms are not left out. As a groom, there are classy, unique, and distinct Ndebele traditional outfits for you to make your choice.
31. Groom on Suit and Ndebele Tie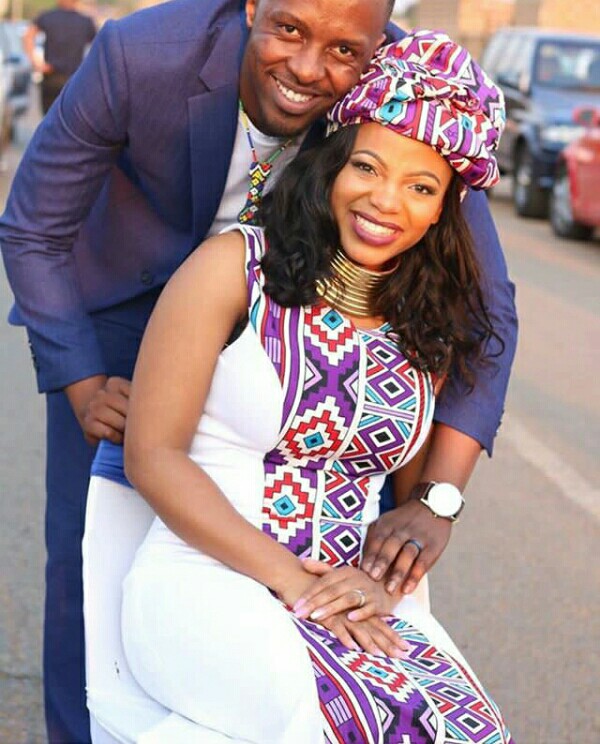 The above image shows a groom in a blue suit with a beautiful Ndebele tie. This outfit looks simple and unique, especially because of the Ndebele tie, which is not usual. It could be a good choice on your D-day.
32. Ndebele Shirt for Groom
Men too can look good on simple shirts. This is a nice Ndebele shirt style for a traditional wedding outfit. It is simply won on a pair of jeans.
33. Ndebele Print on Jeans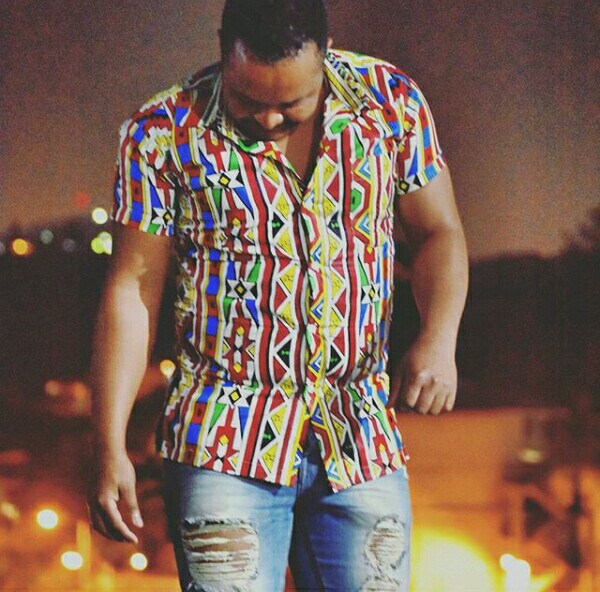 This Ndebele print short sleeve shirt is sown to be tight-fitting and project the muscles and chest of the man. The simple but colorful shirt can be worn with jeans or plain trousers but for the image above, the man rocked the shirt with a pair of rugged jeans.
34. Groom on Ndebele-inspired Shirt and Beaded Headband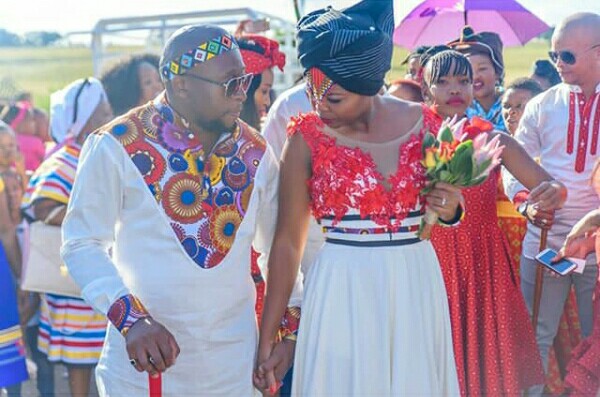 Just when you think the beaded headbands are for brides only. Don't be surprised to hear that grooms also wear headbands. This is the case with the groom in the image above, who rocks his plain white with Ndebele print shirt with a beaded headband.
35. Blue Suit with Print Pocket Square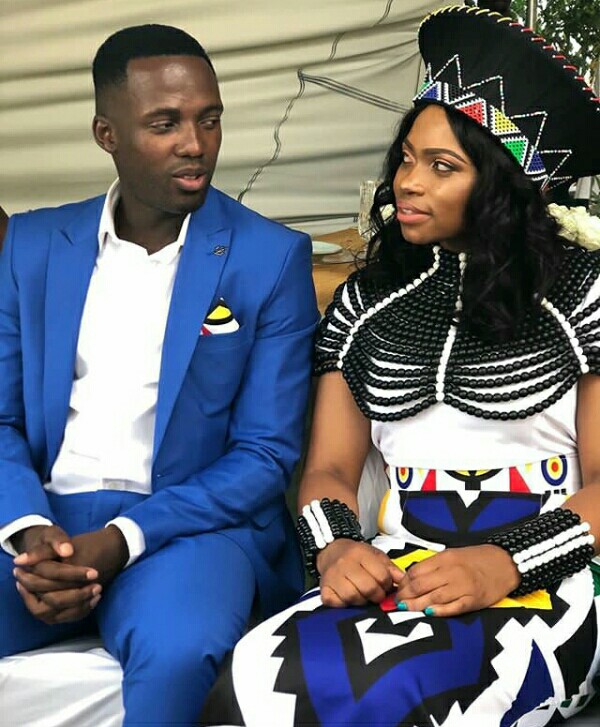 Check out this groom as he rocks his blue suit with Ndebele print pocket square. This is a simple western-style suit and could pass for formal wear on any other day. However, with the Ndebele handkerchief neatly tucked in his suit, a whole new distinction is made on the attire and the significance of wearing that day is made even more pronounced. You can also tell that the handkerchief is the same color as his bride's Ndebele traditional attire.
36. Groom on Bishop Neck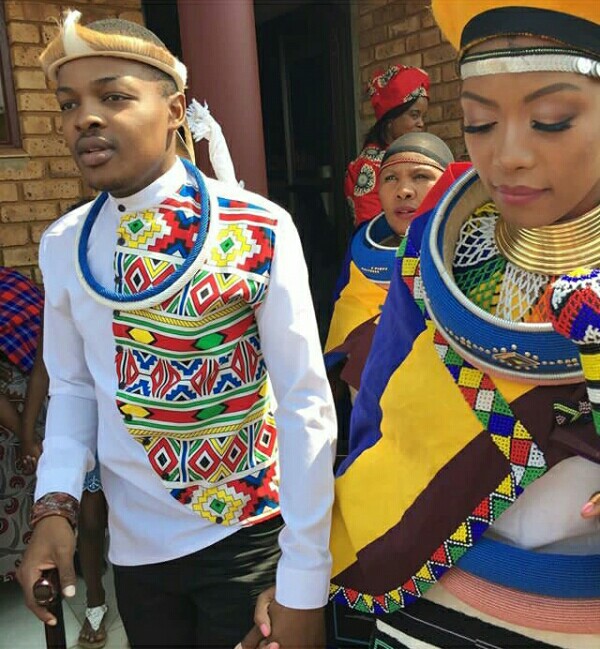 Bishop neck shirts really look good on men. Here the groom's bishop neck Ndebele print shirts is sown to be tightly fitted. On his head is a headband made of animal hide to show that he is a married man.
37. Shirt and Black Pants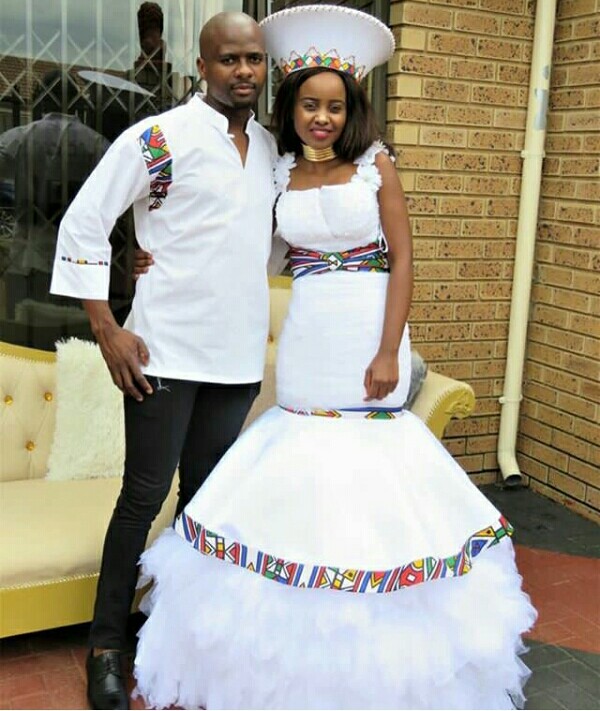 A groom doesn't have to dress in a complicated way before he gets noticed on his big day. A simple plain white shirt with pieces of Ndebele fabrics attached to it is all you need to look good on your big day as seen above. You can either choose to wear the shirt with jeans or plain trousers.
38. Groom on Stripe Pattern Print and Blue Trousers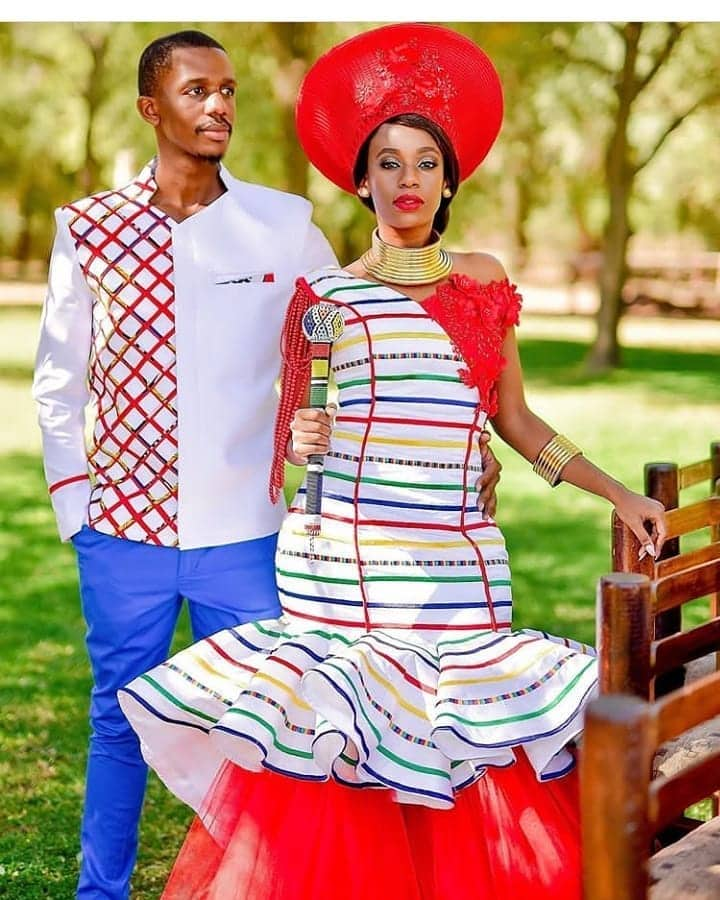 This groom is rocking his strip pattern Ndebele print shirt on blue trousers with his bride wearing the same prints. Even if you're not that financially buoyant, this is still a standard attire to rock on your wedding day.
39. Groom on Wrapper and Beaded Headband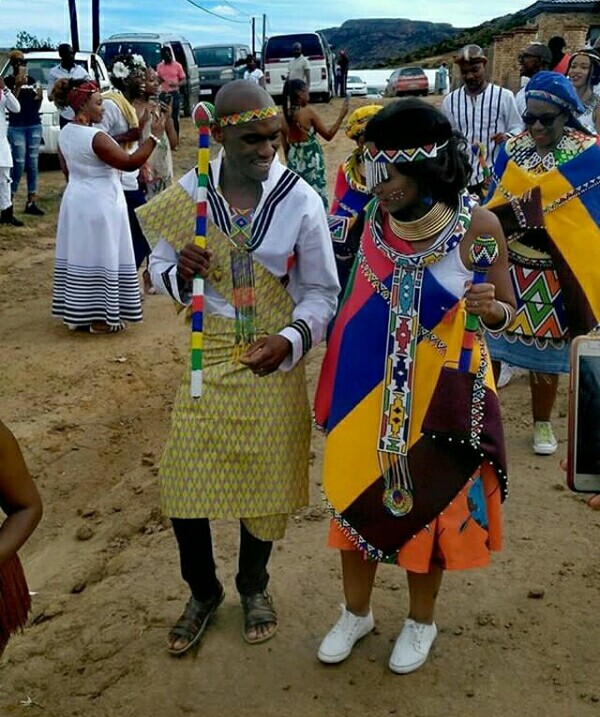 This Ndebele traditional wear looks gorgeous with a wrapper as the groom wore it simple. He also has his beaded headband to wrap up the combination and his staff to show authority.
40. Animal Skin Attire with Hat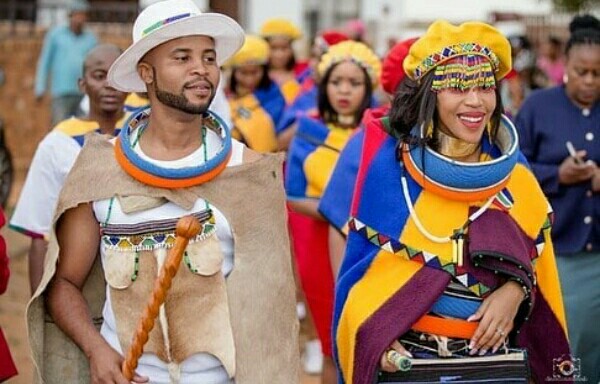 The Ndebele animal skin attire with a white hat infuses traditional fashion into modernity. The groom is clad in both animal hides and cotton fabrics. The hide is in the form of a cape hanging over his shoulder while he also carries a bag made of hides on his chest. The rest of his clothing are cotton singlets and some traditional round beads and a staff. There is also his white hat with a piece of Ndebele fabric sown nicely on it.