When it comes to fashion and hairstyles, Africans have, over the years, used their appearances to make a statement, mostly asserting and celebrating their rich cultural heritage. Dreadlocks, which used to have a negative connotation in the media, have evolved to become one of the quintessential looks of both men and women. South African dreadlocks styles are now on the list of hairstyles to look out for. With the emergence of new dreadlocks hairstyles on a daily basis, the options are indeed numerous.
History Of Dreadlocks
There are varying reports about the origin of dreadlocks, making it difficult to pin down the origin to an era or people. According to records, the earliest depictions of dreadlocks can be dated around 1600–1500 BCE in one of Europe's earliest civilizations. Different people in different eras worldwide are known for sporting dreadlocks, but there are some popular individuals who made dreadlocks their signature hairstyle which further made the style popular.
Moreover, dreadlocks are presumed to be closely connected to reggae culture, and some see it as a symbol of reggae itself. Closely related to this is the belief that dreadlocks first became popular due to their connection to the religious Rastafari movement. For the Rastafari movement, their dreadlocks are symbolic of the Lion of Judah and are also inspired by the Nazarites of the Bible. This hairstyle is an important religious symbol to them as they believe it connects the wearer with their God (Jah), which shows deep respect for the deity.
As reggae music began to gain popularity and mainstream acceptance in the 1970s due to the influence of Bob Marley's music and its cultural influence, dreadlocks, alongside the music became a notable fashion statement. Today, dreadlocks are worn by prominent people in society. As more people continue to wear the style, the stereotypes surrounding it continue to fade.
South African Dreadlocks Styles For Men
One of the reasons why dreadlocks might never stop being in vogue is due to their fluidity and versatility. Dreads can be rocked by both males and females and can be worn either long or short. It is also one of the easiest hairstyles to manage and it needs little to no fussing over to look presentable. Here are a few simple South African Dreadlocks styles for men.
1. Dreadlocks Rows
This is one of the easiest and most convenient ways for men to carry dreadlocks. The South African dreadlocks style is simple and fancy in a wholesome way. Firstly, it doesn't take a long time to get done and it's very easy to maintain, especially for men who do not fancy spending loads of time on their hair but want to look fashionable. This is one style that works for everyone it is both trendy and classy.
2. Curly Dreadlocks
Curling your dreadlocks is another way of making it look renewed and extra. Even though the locks are medium-sized, the curling adds an extra touch to them. When choosing a hairstyle, the major aim is to create a balance between the shape of your face and the size of your dreads. With that in mind, this style will suit almost every face type.
3. Dreadlocked Mohawk
This South African dreadlocks style is very popular amongst athletes and musicians. It has been categorized as a little wild but several people have been able to pull it off in a stylish manner. Mohawk has been a popular hairstyle for the millennial and adding dreadlocks to the mix is a sure winner. Moreover, going all out with a side faded or clean cut is bound to draw attention to your Mohawk. This hairstyle fits people with long and oblong faces.
4. Medium-sized Locs with Undercut
Some men can be a little skeptical about having a full head of dreadlocks so this is a good style to try. Moreover, the low cut on the sides and back adds a different dimension to the overall look and allows the loc to take center stage. Having short dreadlocks just at the center is also easier to manage. This South African dreadlocks style fits both round and oval face shapes.
5 . The Basket Weave Dreadlocks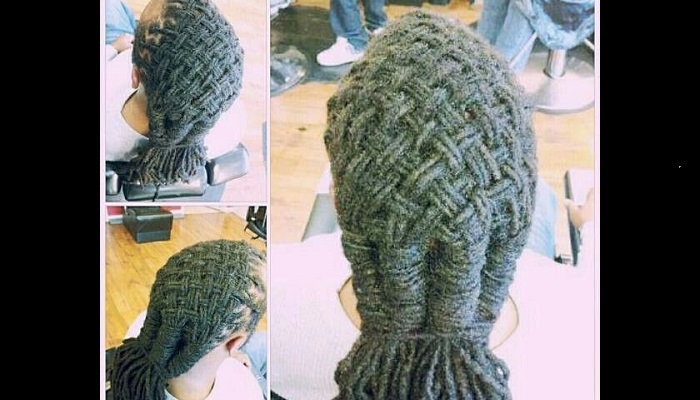 Having your dreadlocks weaved into this basket style actually gives its an intricately exotic look. The style will be easier to achieve with long dreadlocks. Even though the styling can be time-consuming, one can also carry it for a long period of time without having to restyle. The South African dreadlocks style is great for male locks as it exudes a cool kind of vibe and of course less time in front of the mirror trying to tame your long unruly locks. People with both oblong and round face shapes can pull it off.
6. Short Dreads with Tramlines
This South African dreadlocks style is popular amongst sporty men as it's high and short enough not to get in the way. It can be worn plain or dyed around the tips and edges. With tramlines around the base, it's all neat and cool.
7. Hippie Dreadlocks
This is a classic way of rocking your locks. It takes little or no effort. For those with extra-long locks, this is an opportunity for them to flaunt it either by letting it flow freely or putting it in a ponytail. This style gives you a semi-formal appearance and is good for a man with a round face.
8. Bun with Line Up
This South African dreadlocks style is elegant and well put together. It goes against the assumption and belief that men's locks must be messy to exude a certain vibe. The style is classy and can go well with both casual and formal appearances. The peculiar and intentional lineup of the knots definitely adds to the appeal of this style. The look suits a round face.
9. Chunky Locs
Most people believe the chunky locks are a little difficult to manage but it has remained one of the popular dreadlocks styles for men. When paired with a full beard, it's ruggedly beautiful. Due to the chunky nature of these dreadlocks, it would suit people with square faces and strong jaws.
10. Double Twist
The double twist is a good kick-off point for those who are locking their hair for the first time. To achieve this look, the hair is twisted in such a way that it "locks" and then the roots start to make dreads. There's also a different feel when both sides are shaved to give a mohawk style. It makes the hair look less bulky but maintains a quirky and unique style. This is one look that can be pulled off by almost any face shape type.
11. Labyrinth Dreadlocks
From the looks of this style, it is definitely one of the most complicated dreadlocks styles on this list. It is intrinsically done in different sections and tightly interwoven. As complex as it seems, it's actually very easy to maintain. The different sections are interwoven before lacing with another layer. It is actually important for this style to be done with accuracy unless it could easily look like a jumble of loose locks. The style is perfect for people with round faces and could be rocked to both casual and professional events.
12. Short Loose Locs
Even though dreadlocks have been around for quite a while, each era has strived to leave a mark and also adapt dreadlocks to other things in vogue in their time. Short loose locks are quite modern in a classic way. This style is one of the simplest and easiest to manage which is why they will always be trending. To achieve your desired looks, the length can be adjusted to your taste. This South African dreadlocks style is good for people with both round and oblong faces.
13. Short Knotted Locs
This beautiful South African dreadlocks hairstyle has been associated with several black men, probably because it is easy to maintain. To get a different feel one can actually dye the hair to an ombre or any desired color. This style fits people with any face shape.
14. High Top Dreads
This South African dreadlocks style is actually very popular among younger men. They accentuate this look by shaving the back and sides to draw attention to the front. The dread in the front/ middle is kept short for easier handling. This style will suit people with long and oblong faces.
15. Free Boho Locs
The boho locks are the chunky version of the hippie style and it needs time to appear. The boho locks can be rocked by people with the round face type. This hairstyle can be spiced up with funky grips which adds to its general appeal.
16. Neat Skinny Dreadlocks
When you decide to install dreadlocks, it is important to explore different options and settle for one that best suits your personality and face. While most people will prefer, the thinner locks because it's easier to manage and style, skinny dreadlocks will go better with a long or oblong face. To complete the look, a connecting beard will definitely do wonders.
17. Fire Flame Locks
Adding a bold color to your dreadlocks is a sure way to go if you are gunning for a bold look. These locks are medium-sized with a clean under shave. The orange and savage colors can be switched to the desired color. This South African dreadlocks style reeks of confidence and originality.
18. Low Ponytail Dreadlocks
This is definitely one of the simplest dreadlocks styles you will encounter. The style is elegant in an understated manner as it doesn't call out too much attention but remains classy. If you work in an environment that allows you to show up at work in dreadlocks, this is definitely a style to rock. Moreover, it is quite easy to achieve and maintain. Considering the shaved sides and back, the style would fit individuals with long or oblong faces. Another catch is that it can go well for both casual and professional events.
19. Tiny Locs Into Ponytail
Wearing your hair in a ponytail is one style that never gets old. It fits both males and females and all face shapes. Pulling your dreadlocks into a ponytail is stylish and it gets the hair out of the way. It's okay to play around with colors on the edges. The colors can be on a few strands or on the tips as long as you are comfortable with it.
20. Dreadlocks In A Bun
Tying your dreadlocks in a tidy bun can never go out of style. To make it even more unique, an undercut is necessary. This style has a creative twist to it that is bound to attract lots of attention.
21. Short and Simple Dreadlocks
Once you have made up your mind about installing deadlocks, it's pertinent to explore several hairstyle options before settling for one. The short simple dreadlock is a popular style for people who are less fussy. The good thing about this style is that it's ready to go at all times as it doesn't need braiding, pinning, or gathering into a ponytail. Even though the thickness and length are a matter of personal preference, most people believe the chunky locks look better.
22. Jumbo Dreadlock Braid
There are some dreadlocks styles that are universal and versatile in nature. They fit most face shapes and can be rocked by both males and females. The jumbo dreadlocks braid style is definitely one of those crossover styles. It is convenient, easy to manage, and definitely, one South African dreadlocks style to rock.
23. Long and Full Dreadlocks
This South African dreadlocks style is the real traditional dreadlocks hairstyle. It's mostly worn down to showcase the length which indicates the journey the carrier has gone through to grow it to that length. They are simple yet gorgeous and reek of quality. This style will suit individuals with round and oblong faces.
24. Mid-length and Thick Dreadlocks
One good thing about these mid-length thick dreads is that they can appeal to a number of people. The style appears to be popular amongst South Africans generally for a number of reasons. For one, the length has taken care of several issues many might have with rocking dreadlocks. It's short enough to wear down and long enough to put into a ponytail if one desires. It's quite easy to style and will be a good fit for people with long and oblong faces.
25. Five Lobster Braids
This hairstyle takes a level of confidence to pull off. Everything about it screams class and luxury from the well-shaved and shaped lower front to the back. What's not to like? The hairstyle is made by partitioning several tiny locks into 5 places and separately plaiting them. A little bit of the front, sides, and back was also shaved to complete the look. This style will suit people with long and oblong faces.
26. Spiky Pineapple Ponytail Dreadlocks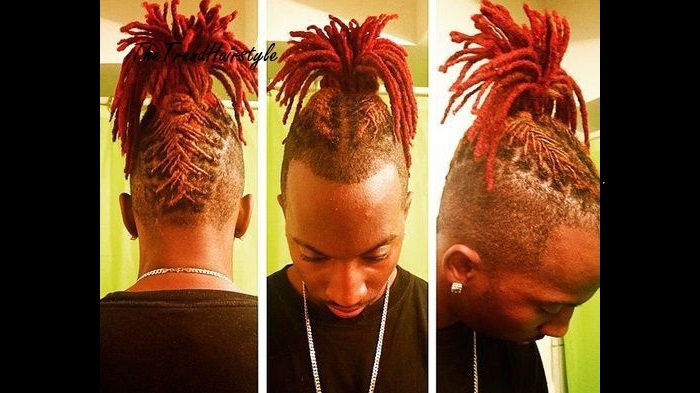 Dying your dreadlocks is one of the coolest things to do. Depending on your personality, there's always a wide range of colors to choose from. Although there's a general consensus that dying your dreadlocks can make you appear less formal, especially with loud colors like we have here. To complete the look, the dyed dreadlocks are braided up at the back and packed to form a spiky pineapple ponytail. This is one style that works for people with long faces.
27. High Bun Dreadlocks
This hairstyle is another South African dreadlocks style that can be rocked by both males and females although some might argue that putting your hair in a bun is a girl's thing. Naturally, dreadlocks that are long can be heavy which can make them difficult to style. So to get the hair out of the way, it can be thrown into a bun. This hairstyle can fit people with different face types.
28. Edgy Mohawk with Beads
If you are the type who likes to experiment, this is one South African dreadlocks hairstyle to try out. It's an edgy mohawk style decorated with beads. The sides are shaved clean which further emphasizes the mohawk in the middle. The dreadlocks style is kept short for easy management and it is tilted forward to make a bang in front. It might look better with a beard and might fit people with oblong and long faces better.
29. Uplifted Dreads with a Shape-Up
This is another simple South African dreadlocks style that is easy to make and manage. If you are looking for a way to restyle your short dreads that have grown out without relocking it then this is a style to try out. An elastic band can be used to tame the growing dreadlocks while the sides and edges are shaped up. This will give a tidy look until you make up your mind about what to do with your hair.
30. Twisted Individual Dreadlocks
This is another simple yet creative South African dreadlocks style to try out. This style fuses two different hairstyles. Individual dreads are twisted in different groups to form another hairstyle. The result is the braided fun-looking hairstyle. For this style, the tip of the dreadlocks has already been dyed which gives it a beautiful look. To further spice the hair up, the ends are secured with colorful hair accessories.
31. Plaited Men's Pigtails
This is one South African dreadlocks style that you need a stylist for. There are lots of styles to choose from depending on what you are gunning for. Putting your dreads in a pigtail never gets old as it can help transform your look from ordinary to extraordinary. Another good thing about this hairstyle is that you do not need to worry about the fitting as it looks good on every face shape as long as your dreadlocks are long enough to pull off the style. This is another way of standing out from the crowd.
32. Blonde Mohawk Dreadlocks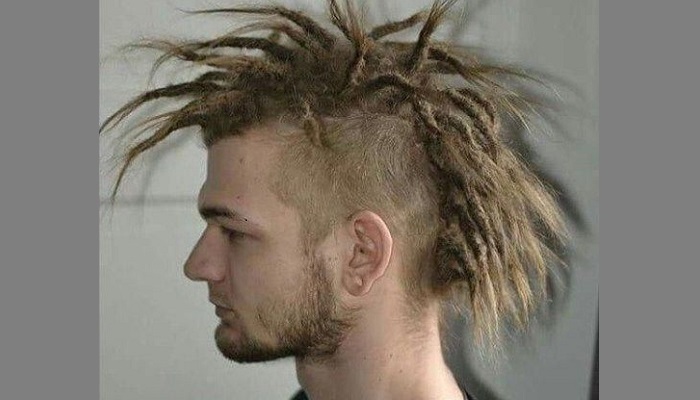 This hairstyle is definitely one of the edgier ones on this list. The blond mohawk style is one to turn a lot of heads. The sides are also completely shaved which further highlights the mohawk. Like most mohawk styles, this style is bound to look better on people with long and oblong faces, even though anyone who knows their onion and is gunning for an edgy style can totally rock it.
33. Thick Rough Dreadlocks
This is one simple South African dreadlocks style that is worth rocking. This style can be classified as bohemian and is a signature hair for several artists. The hair appears rough but neat. The locks are mostly thick and flat and it's even possible to have some strands interlocking halfway through the length. This style is mostly worn down with tilts to the sides or backward. This style is a good fit for both males and females with round, oval, triangular, oblong, and rectangular-shaped faces. No matter your size, body shape, or face shape, this style is always a hit.
34. Rastafarian Dreadlocks Style
This hairstyle is typical, isn't it? Considering the rasta origin of dreadlocks itself. The style has been described as alluring in a bizarre way and it takes a level of confidence to pull this off. The style can be achieved naturally or by crochet but it is the end result that matters. Another alluring thing about this hairstyle is the grayish color which makes it unique. Another selling point for this hairstyle is the versatility as it can be restyled in several different ways or left entirely down. The color amongst other things has made it popular among older people. It can be rocked by both males and females, and all face and body types.
35. Low Pony with Basket Weave Plait
Generally speaking, having dreadlocks can be low maintenance but retwisting into intricate style can be time and money consuming. For example, this hairstyle cannot be achieved by just anybody. You need a qualified hairstylist to pull this off as it's really high maintenance. To achieve this style, a basket weave plait is made from the dreads around the hairline. One good thing about this style is that you can rock it for a while before having to restyle and as long as it is well secured under a silk cap or scarf before going to bed, it requires little or no retouching in the morning.
36. Dreadlocks Made Into Intricate Cornrows
French braids have grown popular among men in recent times and it's a good thing that the look can be pulled off no matter the state of your hair. Moreover, these cornrow dreadlocks are easier to achieve if the dreads are in singles, small, and anywhere from medium length. The dreadlocks are partitioned in a way that they can be plaited to form a straight line down the head. The smaller they are, the better, so it's not too chunky at the top. This is one simple South African dreadlock style that can fit all face types.
37. Knotted Half Updo Style
This hairstyle is one that you can achieve by yourself if your dreadlocks are long. One good thing about this convenient-to-wear style is that it gets the hair out of the way albeit in a bold and stylish manner. To achieve this look, all you have to do is to tie half of your dreadlocks into an updo. You can use an elastic band to hold it up before rolling one or two locks around it. This hairstyle is simple yet elegant. It can fit every face type and is quite easy to pull off.
38. Side-Swept Dreads
This is a simple South African dreadlock style that needs little attention. It's good for short or medium-length locks. All the styling that is needed is just to sweep to one side of the head so they are away from the face. The style is perfect for oblong-shaped faces.
39. Two-Tone Dreadlocks
If you are up for some experimentation, having some color in your dreadlocks is the way to go. This two-tone color which is a blend of brown and blond is a good style for men who want some color in their dreadlocks. The color combination is mature and understated yet stylish. No matter the length of your dreadlocks, this is a style to try out.
40. Fauxhawk with Dreads
This hairstyle reeks of creativity and will be best done by a professional. From the way it comes together, one can tell that it will be difficult to make and maintain. The pop of color does add to the overall beauty of this creative hairstyle. This South African dreadlocks style is a good fit for all face types.
When it comes to styling your dreadlocks the options are numerous and you are only limited by your personal prejudice. Moreover, dreadlock styles for men are on the rise daily with several simple, casual, and formal hairstyles to choose from.
How To Care For Your Dreadlocks
Dreadlocks can occur naturally for some people while some can choose to have their natural hair locked. No matter what category you belong to, if you intend to have a healthy loc, you need some form of a hair care routine. Ironically, most people still believe the myth that having dreadlocks means you do not have to take care of your hair. This is very far from the truth. Here are some tips to keep your locks clean, healthy, and thriving.
Endeavor to Keep Your Dreadlocks Clean
In order to achieve and maintain good-looking and well-behaved dreadlocks, it's important to keep them clean. One of the reasons that some people abhor dreadlocks is the belief that it stinks so it is important to keep your hair clean. However, this doesn't mean that one has to wash the hair every day. Depending on how sweaty ur scalp is, just wash out once a week or once in two weeks.
Use Good Hair Products
The next step is to pick a product that works for your hair. The most expensive or popular shampoo might not be the best fit for your hair so it's important to try out different ones to see what works for you. Not all shampoos wash the hair squeaky clean and the residues that it leaves behind build-up to disrupt the health of your dreadlocks.
Keep the Dreads Dry
Even though it's important to have some sort of moisture in your dreadlocks, it's important to dry your hair after washing it. Damp dreadlocks smell terrible and can lead to weakness that might result in breakage. The best way to dry your dreadlocks is to get most of the water out by wringing it or with a towel, after which you air dry it or finish off with a hairdryer.
Keep Your Dreadlocks Moisturized
Even though you are not supposed to leave your dreadlocks damp to avoid breakage and a foul smell, you don't want to leave it "dry dry" either, as this can also lead to breakage, dry scalp, and several other issues; the aim here is to create a balance. You can keep your dreadlocks moisturized by applying a leave-in conditioner.
Bedtime Routines
It is important to wrap your locks in a satin or silk cap/scarf before going to bed. This is the best way of keeping them from attracting debris and lint and, of course, a good way of locking in some moisture.
Restyle
Although locks are generally low maintenance, they still require proper attention to thrive. Re-twisting your locks is essential for keeping them looking neat, and should you get tired of your dreadlocks, the easiest way to remove them is to cut them off. Moreover, having short dreadlocks will be easier to manage compared to long ones. Keeping it short or mid-length makes it healthier and easier to manage.
South African Celebrities Known For Wearing Dreadlocks
Celebrities have a way of setting trends and making their fans follow a particular path. It is possible that several of their fans can decide to rock a particular cloth, shoe, or even dreadlocks because of them. Here are a few South African celebrities who are known for their signature dreadlocks.
Mr. Jabu Stone
To several South Africans, Jabu Stone will always be synonymous with natural hair care, especially dreadlocks, which is how he came to earn the nickname "Mr. Dreads". Mr. Stone has a deep-seated love for natural hair which propelled him to find an alternative to the harsh chemicals women use on their hair. His brand, (which is named after him) Jabu Stone has grown to become one of the successful haircare brands in South Africa. Jabu Stone himself has been cultivating his dreadlocks for several years.
Nambitha Mpumlwana
The stunning actress and philanthropist have had her dreadlocks for years. She has been versatile with them and has traded them from long to short and her dreadlocks are simply beautiful.
Siphiwe Tshabalala
Siphiwe is one of the most celebrated South African soccer players who has been rocking his dreadlocks almost as long as he has been playing soccer. He most recently played as a midfielder for AmaZulu FC. He mostly keeps his dreadlocks in a ponytail at the back of his head so it doesn't get in the way.
Lerato Chabangu
Chabangu is a soccer player who plays as a right-winger for Baberwa in South Africa. He has rocked different dreadlocks styles over the years ranging from short to medium length and then mohawk with shaved sides. He has definitely tried it all.
Lefa Tsutsulupa
Lefa is a former professional soccer player in South Africa. At the height of his career, he played as a midfielder and also played internationally for his country. He wears his dreadlocks in the classic and traditional way held back with a band. His dreadlocks are long, full, and yummy.
Jabulani Mendu
Jabulani Mendu is one soccer player who stands out for his hair, amongst other things. Despite having retired from active play in 2009 and studying to become a coach, he is still very vocal about his favorite club Kaizer Chiefs. He is known for his chunky mid-length dreadlocks style.
William Mokoena
William was widely known by the nickname "Naughty" due to his constant controversies, scandals, and misbehavior. During the course of his career, he played for AmaZulu, Manning Rangers, and Orlando Pirates. He has rocked different hairstyles, including thin dreadlocks.
Pollen Ndlanya
The retired South African striker played for Kaizer Chiefs, Orlando Pirates, Manning Rangers, AmaZulu Bursaspor, and Göztepe. When it comes to his dreadlock style, not much has changed since the days he was active. He keeps his dreadlocks short at the center of his head.
Zenande Mfenyana
Zenande is a well-known South African actress who has been rocking her natural hair in dreadlocks since forever. She fell in love with dreadlocks after she tried them with her late brother. After his passing, she keeps his memory alive with her dreadlocks.
Yvonne Chaka Chaka
The internationally recognized singer, songwriter, teacher, actress, humanitarian, and entrepreneur, of South African origin, is a sight to behold in her dreadlocks. No wonder she has been dubbed "Princess of Africa" as her hair is indeed her crown.
Are Dreadlocks Native To South Africa?
Dreadlocks has its history enmeshed in various cultures that it's is difficult to actually pinpoint where they emanated from but there's no doubt that it's really an African thing. Considering that there are a sizable number of South Africans rocking natural dreadlocks, it is safe to say that dreadlocks are native to not South Africa but every African country. It's even more widely accepted in South Africa after it was approved by the Supreme Court.
In 2013, the South African Supreme Court reinstated 5 men working at the Police and Prisons Civil Rights Union after they were fired due to their dreadlocks. The court ruled that "a policy is not justified if it restricts the practice of religious and cultural belief that does not affect an employee's ability to perform his duties". The men were re-admitted into their positions in the service and were duly compensated. This act encouraged more people to carry dreadlocks.
Do Dreadlocks Have Any Spiritual Connotations?
It's possible that the regular South African dreadlocks styles seen all around today might not have a spiritual connotation as most of these people just want to look good. But according to the history and origin of this hairstyle, there are deep and spiritual connotations attached to dreadlocks. In fact, dreadlocks have been connected to several powerful religions in the world.
In Africa, priests who have been linked to the Ethiopian Orthodox Tewahedo Church are the earliest known people to have dreadlocks. According to Judaism, Nazarites are not allowed to cut their hair, which eventually grows into dreadlocks. The Nazarites are said to be a consecrated group of people set apart to be used for holy reasons.
In Indian Hinduism, a group of holy men called Sadhus wore dreadlocks to symbolize their sanctity. The Qalandris wore dreadlocks as a sign of their mysticism. And several others.
Moreover, another religious belief about dreadlocks is that it can be used to store spiritual energy as it represents supernatural and natural power. Rastafarians according to the scripture believe that a man's strength is in his hair just like Samson in the Bible. Pharaohs also preserved dreads as a mark of enormous power and confidence.
In Nigeria, children with dreadlocks are presumed to bring riches, so it's safe to say dreadlocks are a symbol of strength in the whole of Africa. However, it doesn't imply that every individual rocking dreadlocks is aware of the spiritual connotations and hoping to tap into this spiritual energy, several of these people just rock dreadlocks because they absolutely love them.
Recap Of 40 Simple South African Dreadlocks Styles
 Dreadlocks Rows
 Curly Dreadlocks
 Dreadlocked Mohawk
 Medium-sized Locs with Undercut
 The Basket Weave Dreadlocks
 Short Dreads with Tramlines
 Hippie Dreadlock
 Bun with Line Up
 Chunky Locs
 Double Twist
 Labyrinth Dreadlocks
 Short Loose Locs
 Short Knotted Locs
 High Top Dreads
 Free Boho Locs
 Neat Skinny Dreadlocks
 Fire Flame Locks
 Low Ponytail Dreadlocks
 Tiny Locs into Ponytail
 Dreadlocks in a Bun
 Short and Simple Dreadlocks
 Jumbo Dreadlock Braid
 Long and Full Dreadlocks
 Mid-length and Thick Dreadlocks
 Five Lobster braids
 Spiky Pineapple Ponytail Dreadlocks
 High Bun Dreadlocks
 Edgy Mohawk with Beads
 Uplifted Dreads with a Shape-Up
 Twisted Individual Dreadlocks
 Plaited Men's Pigtails
 Blonde Mohawk Dreadlocks
Thick Rough Dreadlocks
 Rastafarian Dreadlocks Style
 Low Pony with Basket Weave Plait
 Dreadlocks made into Intricate Cornrows
 Knotted Half Updo Style
Side-Swept Dreads
Two-Tone Dreadlocks
 Fauxhawk with Dreads