Kenyan Celebs and socialites have joined the league of world's sexiest women who show off hottest bikini bodies every now and then, making sure that everybody gets to see their enviable bodies.
At any time of the year, they can strip down and head for the beach for a bit of fun in the sun. While at it, they take photos that will satisfy the sight of fans and make them go bananas when they finally post them on the social media for everyone to see. Although bikinis are not for everybody as folds and fat body parts stop many from showing off their skin, we can't deny the glaring fact that some of these celebrities have the hottest bodies that would leave you drooling.
These celebrities know this and have never hesitated to show off some skin when going for a dip. Well, here are a few celebrities who flaunt their hot sexy bodies in beach style setting and look nice in them when taking that stroll on the beach sand or by the pool.
Note: These noteworthy celebs are ranked in no particular order.
Read Also: 7 Female Kenyan Stars Who Don't Look Their Real Age
 1. Mayonde
This curvaceous singer-songwriter Diana Mayonde unveiled her bikini photos quite lately and drove her fans insane. The well-structured and "butticiously" endowed celebrity not only knows how to sing and carry her voice to any extent but also knows how to rock an amazing bikini to earn a collective wow from fans.
2. Tallia Oyando
This teen star turned radio presenter knows how to rock her bikinis and swimsuits. She is one of the fittest mums you will come across in this town. Her killer abs and curves fit perfectly in the swim-suit. The pretty woman makes sure to stay beautiful while maintaining her youthful looks.
The sexy Mama ensures her face is always all lit up with her full makeup even while in the pool…which is quite cool. Meanwhile, check out those hot legs!
 3. Lupita Nyong'o
Look who we have here – the talented Lupita Nyong'o. In the picture above, the slay queen who knows her onions is seen, showing off her desirable body in a white Marysia bikini on the beach in Maui.
These photos of Lupita Nyong'o rocking a tiny bikini as seen above came out nice and fans felt happy with her looks in the barely-there swimsuit. The Oscar-winning actress accessorized with a Janessa Leone straw hat and the belly chain no doubt looks stunning in any dress she wears.
Apparently, being an Oscar winner makes you a fairly confident woman. Lupita you're certainly lovely, and amazingly breathtaking. Of course, I said it directly to her so you could help share this post across until it gets to the stunning African queen.
Read Also: 7 Types of Women Who Irritate Kenyan Men
4. Adelle Onyango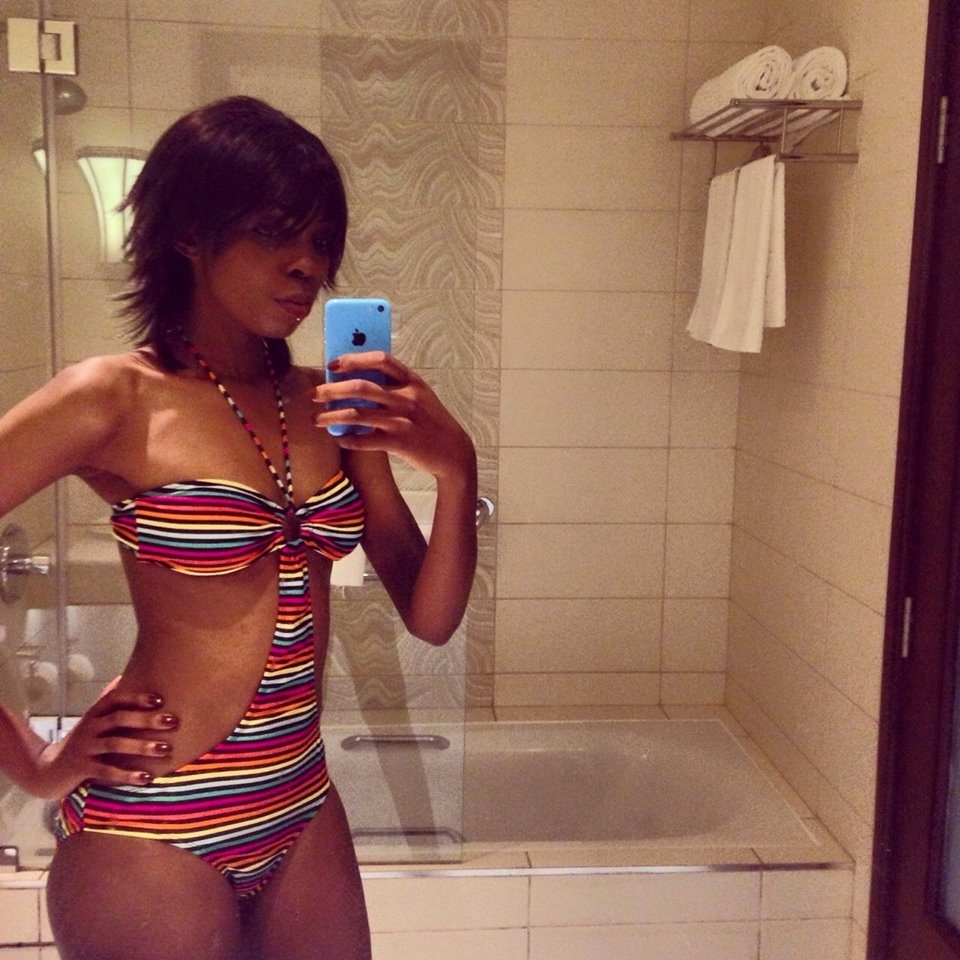 Adelle Onyango is another stunner in a bikini and doesn't hesitate to show off her bikini body when it's time to. The bubbly presenter took a photo of her trip to the beach, looking super hot in a rainbow coloured bikini and got everybody salivating.
Even while on her honeymoon in an undisclosed location, Adelle shared sexy beach pictures from the location.
Well, somebody with such a bikini-ready body, would get just everybody craving but unfortunately, all you'all can do is just crave – she has been taken. Oops!
 5. Sharon Mundia
She's charming and got that confident side of her that makes you want more and she's actually very sweet too. This fashion blogger, Sharon is always looking adorable in anything she wears … and this includes bikinis. Yes, you heard me right, BIKINIS! It does the nicest job on her.
This beauty, brainy and action blogger is among the few Kenyan female celebrities who look amazingly sexy in a bikini. For the magnificent look, one might be forced to suggest she wears a two-piece bikini everyday and to anywhere in Kenya.
If you agree with me say yay!