Marriage at least in Africa is a union of sanctity and sanity, a phase of life that only qualified people go for. Didn't think that time would come when anyone will use the term "preposterous" for somebody's wedding, by extension, marriage. Marriage should be a serious business; as such should be treated with a certain level of maturity; with severe and sincere carefulness. Generally speaking, Africans take marriage seriously, that is why it is rather funny when people deliberately make you wonder if their marriages were staged for fun or experiment. Reports have registered charades of marriages in Africa. I thought we were a conservative people, but some events in recent times have put a question mark on that assumption.
1. One Man, Three Wives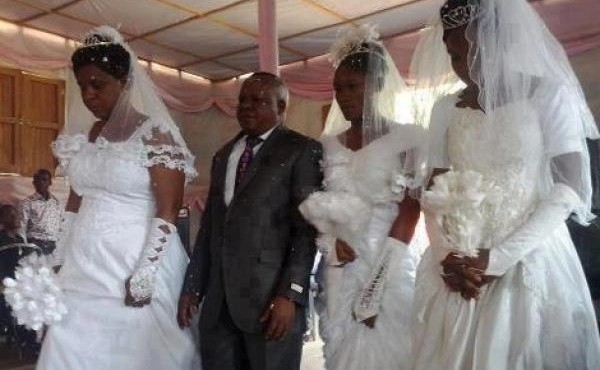 Marriage to one woman is serious business, but when there are 3 women at the altar, that's super serious business. I know Africans are traditionally polygamous but never has it been known that a man wedded three ladies peacefully in a church. I thought Christians are strict about the one man, one woman formula? The pastor must be a traditionalist in cassock. How is this even supposed to work? Never thought women have become so generous to the point of sharing their spouses with not one but two more ladies? They must be made of the real stuff; and definitely should be considering the idea of terms and conditions in order to make things work out relatively fine. Digesting the fact that more ladies are desperately looking for husbands does not explain this really, one man to three wives? Sounds a lot like a suicide mission. Except these women are deaf, dumb, or probably zombies, their household is a potential time bomb. Which pastor or priest even conducted this wedding? I wonder if he had a gun to his head when he said yes to the arrangement, or maybe they showed up independently on that same day? Well they appear sane and calm enough to suspect rage, but whatever the case, this is ludicrous!
2. Mister Weds Mister
This is Africa's first traditional gay marriage; long before Americans even legalized it. In 2013, two South African men, Thoba Sithole and Cameron Modisane, came together as man and man(sounds odd). They had a traditional ceremony in the presence of hundreds of audience exchanging marital vows to each other. They planned to make it through the odds and also having children through a surrogate. However in 2015, they divorced and when asked, irreconcilable differences. As long as this is Africa, gay activities and affairs remain preposterous, and Illegal in some countries. Africans define marriage as a union between a man and a woman or women as the case may be, but never between people of same gender, It's ridiculous.
3. Eight Year Old Groom For A 61 Year Old Bride

Utterly ridiculous! Never heard or seen child abuse celebrated with such grandiose. If there is anything I know about children upbringing in Africa, it is the somewhat dictatorial relationship, not in the bad way though, but you at least get to hear more NOs than yes, why? because your parents know better and want the best for you. So far it has been working, for the most part. Now looking at this picture I'm wondering which of the parties is nuts. When an eight  year old wakes up and tells you tales of ancestors and their demands to appease them requiring that he gets married at his age, you know it's just those children stuff that demand admonishing or better still counselling, most commonly for that area, church. Giving a green light to the intentions of the eight year old is one thing but does it also include marrying a 61-year-old woman, old enough to be his grand mother.
Funny enough the involved parties and their families seem to be happy with the development. After tying the knots, this weird couple came back a year later to renew their vows at Ximhungwe in Mpumalanga, South Africa. This is so unbelievable and beats my imagination. Where I come from, children of that age have no idea what you are talking about; if it's not school, birthday/Christmas/school parties, you are speaking gibberish. They just want to go to school and be happy. And here we have a 9-year old attesting his love for an already married woman with children in their 20s and 30s. In her words, she says,
"One day Sanele would grow normally and have family of his own and get married one day, all this ceremony is for making ancestors happy. We are playing."
Told you I wasn't sure who is more nuts than the other. I bet some of her children aren't married yet, in fact marrying at some "grown up age" still sounds imbalanced in the ear, how much more a child who is barely out the toddling age. Of all the toys in the world, they chose to literally play the game of marriage, how sad. According to reports, Sanele Masilela and Helen Shabangu do not live together; have a marriage certificate or plan to be a functional married couple, the wedding ceremony was to please the ancestors through a christian means, what a tragedy. The Tshwane local community regard this as obnoxious. Whatever happened to betrothing someone to him and see how things work as he grows. How superstitious can people get? Helen's long-term husband Alfred Shabangu, 66, says he is okay with the arrangement, and I still wonder, where has sanity gone to? It's either he's lying or just doesn't care.
4. Manchester themed wedding
Every wedding planner- professional or otherwise- bears a theme in mind when putting the details together. He/she has something in mind to achieve, a concept that will correspond to the occasion. This Kenyan couple probably wanted to show their patronage to their international football club, thus the groom traded his traditional suit for a Man U jersey. Just wondering, what this display will contribute or do for his marriage. In any case, this appears to be just for the fun of it.
5. Married to the Dog?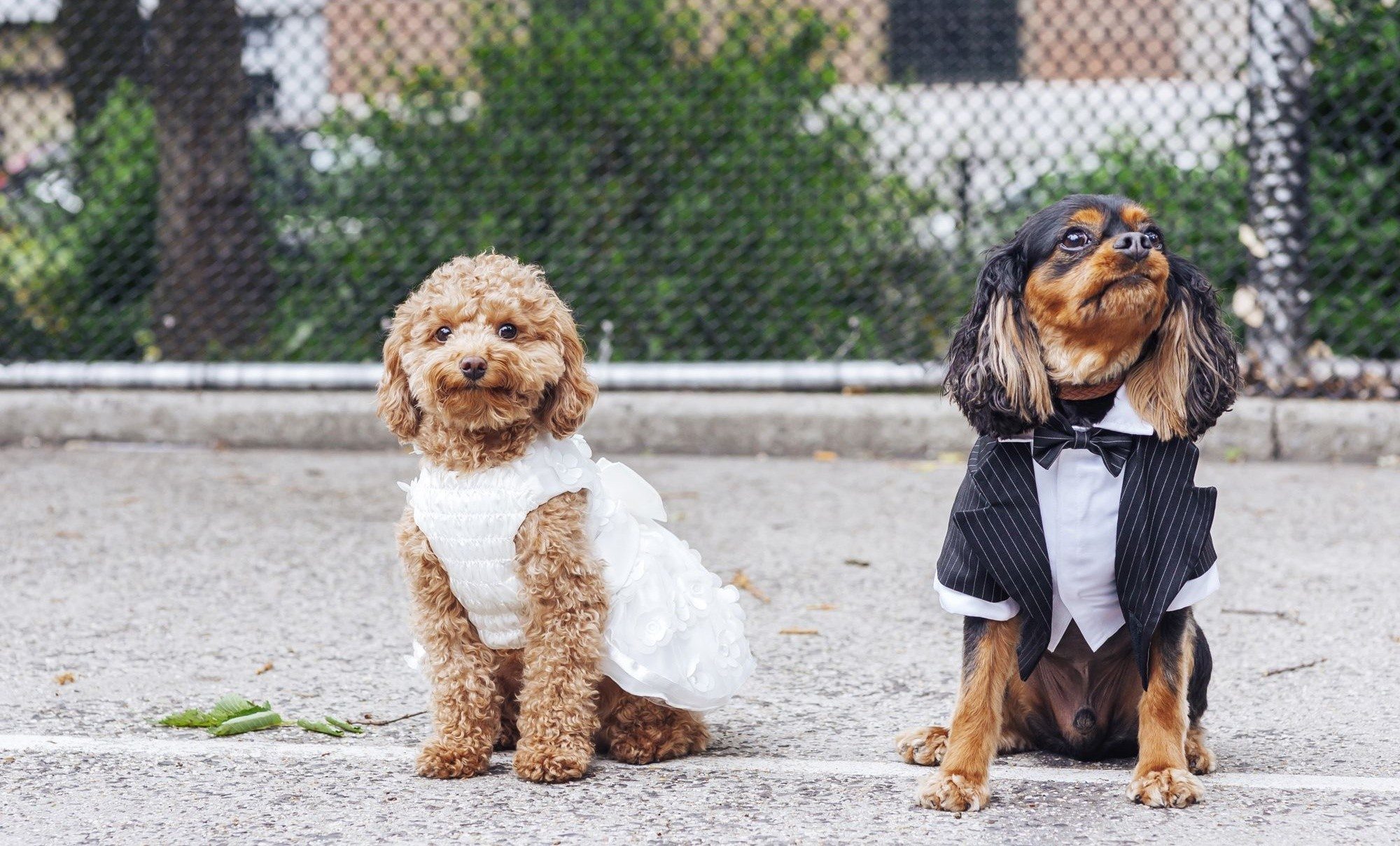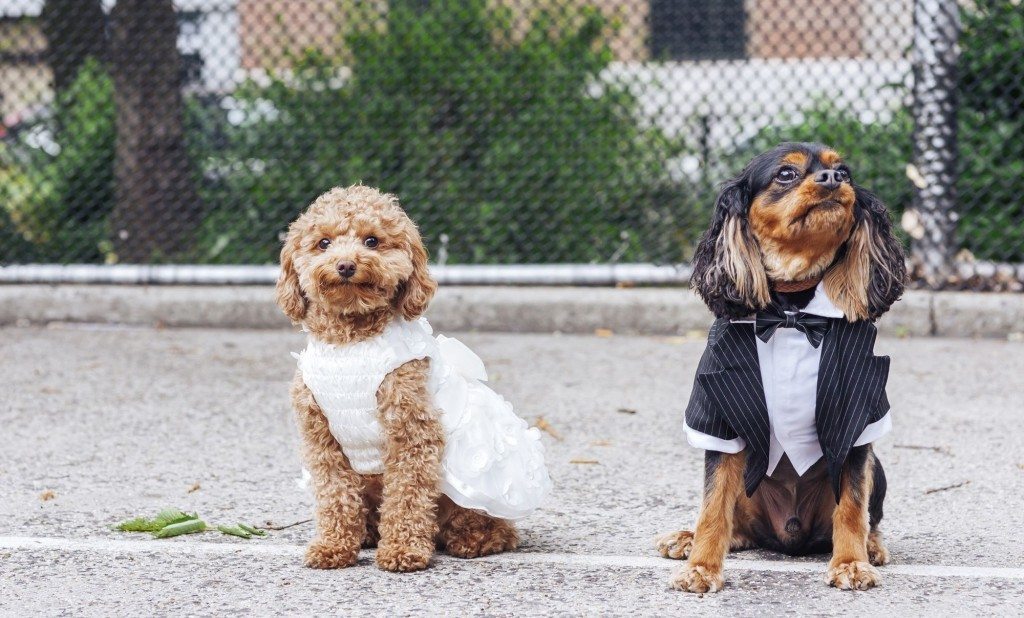 Bestiality by all ramification! Have humans become so unreliable that anyone would settle for a dog? And I mean that literally, a dog, like bingo, the dog. I thought the jersey was inappropriate for a wedding no matter the love but with this level of madness, I think the Kenyan man is super good to go. A lot of people can deal with that but tying the knot with an animal is just not conceivable, how could anybody do that? From reports the 29-year-old Emily Mabou from Accra, Ghana, married an 18 month old dog  because "the dog bears qualities that she had only seen in her father". She blames the root cause of the act on the several unreliable men she has dated in the past. What can't loneliness and desperation do to people? The embarrassed family of the lady did not attend the ceremony, saying it was a rather stupid way of dealing with her loneliness. Well I'm sure her late dad was a father, how in the world will that dog become the father of their children? This is as funny as serious, because it tells a lot about the psychological state of the lady who might as well be representing a whole lot of weirdos thinking up the same thing.
Well marriage has a formula, one plus one, equals one, so when  this lady married her dog, she automatically became a dog. Why will anyone disregard the beauty of being the highest of all creations just to condescend to the level of a dog. By implication she claims all the men she had dated were all dogs, for that reason, she decided to go for the real deal, typical dog. What does that make her? And why must she constantly be attracting dogs to herself? She obviously has a psychological situation, for which she should be seeking help and not tying the knot with a dog, a heightened psycho-complication.