The global appeal for South African traditional fabrics and attires have surged in recent years. The beauty of the evolving fashion designs in Xhosa, Zulu, Shweshwe, Sepedi, Tswana, Venda cultures, and other South African cultural designs are not just gaining new market base across the continent but also all over the world. So, in case you are considering rocking some South African designs for a wedding, traditional occasion, theme party, or what have you, here are some amazing South African traditional dresses and outfits to inspire you.
Beautiful Xhosa Traditional Dresses 
The Xhosa people are found in the Eastern Cape of South Africa as well as a small community in Zimbabwe. They are beautiful people with a rich heritage and culture. Their native attire is one that can't go unnoticed. If you are looking for a beautiful traditional dress or outfit for maybe a small wedding or dinner party, you won't go wrong trying out these amazing outfits.
Xhosa Strapless Umbhaco Dress with Doek and Beaded Cape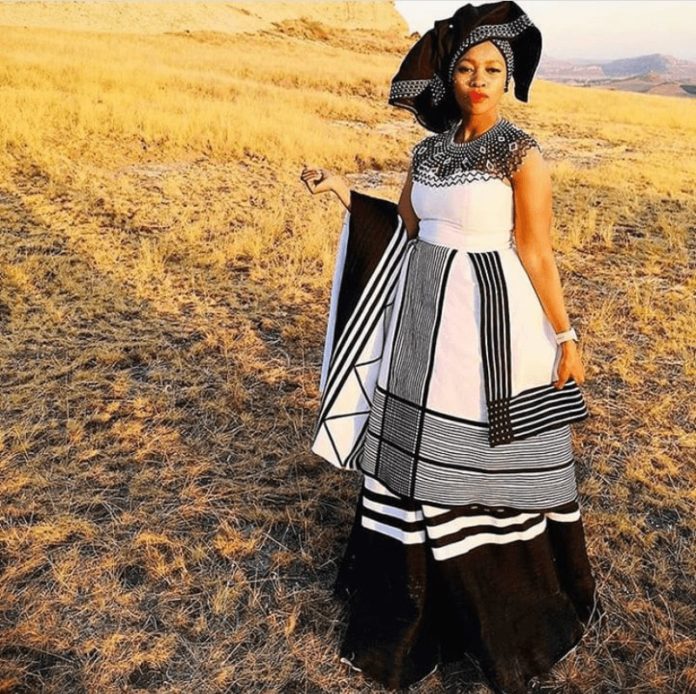 The Strapless Xhosa Umbhaco attire is currently in vogue and it fits snugly around the bust with the aid of an elastic or bra to give support. This design reinforces the natural shape of your body and it comes with a beautiful doek and beaded cape to adorn your neck. The strapless style can be worn alone or complemented with many other designs.
Xhosa Mini Umbhaco Dress
In case you are not one that loves long dresses, don't worry, there is something for you. The mini Xhosa traditional design will just be perfect for you; it is unique, classy, and modern. The short Umbhaco dress is one fashion craze that comes in vogue every now and then to meet the needs of modern women who want to dress classy yet traditional.
This craze can easily be incorporated into partying, plus the naughty styles can make you the hottest girl on any occasion. The short dress can also come with the doek and beaded cape or without it.
Xhosa Umbhaco Big Sleeved Garb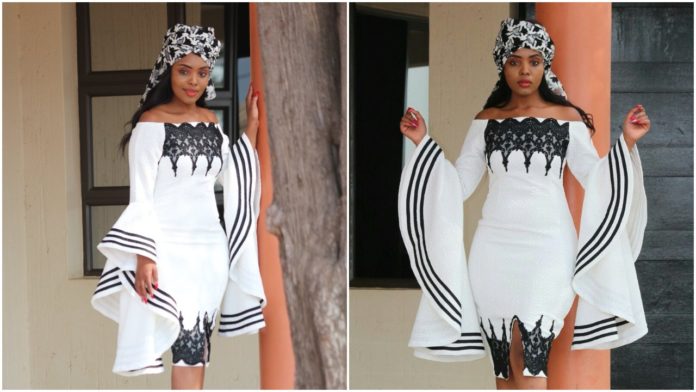 The big Sleeved Umbhaco is a trendy piece of clothing. With the emphasis on its sleeves, this garb gets you the attention you seek from all and sundry. There is a general tendency that this dress will make a statement that wouldn't let people forget your presence in a hurry and it simply gives you a classic look and the lines; they just make you stand out!
Best Zulu Traditional Attires
Living mainly in the province of KwaZulu-Natal. the Zulu tribe/nation is the largest ethnic group in South African with a population of 10 12 million people. The Zulu people share a rich cultural heritage not just in the way they live, their language, but also in the way they dress. The Zulu traditional attire lays emphasis and drives emotions with beads and animal skin. Without definite print patterns, two things are prominent enough to make a proud Zulu woman stand out: the Isicholo and the Ulimi. The Isicholo is a hat usually worn by a married Zulu woman while the Ulimi is the colorful beads that are used to adorn the neck. Zulu fashion is quite unique. Here are the latest Zulu styles you will love.
The Imvunulo Design
Imvunulo means costume, the Zulu Imvunulo is a cultural costume of the Zulu people. It involves the full regalia of a true Zulu born, being clothed in real leopard skin! The dress code of the Imvunulo has evolved over the years and in modern times fake leopard skin has been used to replace real leopard skin and is worn over traditional prints.
In the picture below, this proud Zulu woman wears the Isicholo and a leopard skin atop the sleeveless African print dress.
The Fold Pleated Design
The fold pleated style of the traditional Zulu prints is a common design in the Zulu society. Tailored simple and clean, this design gives a casual comfortable look but again the Ulimi and Isicholo are worn to complete the outdoorsy Zulu look.
The Mermaid Gown
The Zulu mermaid gown is one that comes in a body fitted design, it hugs the bust and waist closely and flares at or below the knee, creating an elegant mermaid tail. This style is never out of fashion and commonly used by brides in Zulu weddings. It gives off a sophisticated natural glam to the wearer and allows for a graceful poise. Well, don't forget the Isicholo, it's a part of the Zulu traditional outfit that can't be brushed aside. It complements almost every traditional attire in the Zulu kingdom.
Simple Shweshwe Traditional Designs
Coined from the fabric's association with Lesotho's King Moshoeshoe, the Shweshwe is a traditional Southern African clothing with a unique African print originally dyed indigo
but has now evolved into a variety of other colors with geometric designs. Shweshwe mostly comes in variants of blue these days and sometimes has other color prints too and can be made into different styles for both male and female fashionistas. Below are some amazing styles of 2021 you may want to try out.
The Blue Shades Colour Designs
Just as has been mentioned above, the print comes mostly in blue these days and can be made into beautiful styles for both males and females.
The Green Variant Designs
The green variants are not less beautiful, check them out.
You would agree that the Shweshwe prints are simple yet when tailored leaves nothing but prestige.
Beautiful Sepedi Traditional Styles You Should Be Rocking
Sepedi also called Pedi is the Sotho-Tswana language spoken by people residing in the northeastern provinces of South Africa. The Pedi people have an amazing culture, food, music, and traditional attire that is unique to them. In fact, Sepedi traditional prints are one of the most colorful in South Africa. The mix of bright colors is just astounding.
In the Xhosa tribe, the lines on the dress are mostly black or other dark prints. This is not how the Sepedi lines are. The Sepedi lines are colorful and consist mostly of red, yellow, pink stripes. Having a Sepedi cloth should be on the top of your list if you love beautiful color combinations. Did I add that no matter how you love your traditional attire to look; classy, simple, trendy, etc, you will definitely find something that suits your style in the Sepedi. Check them out
Sepedi Inspired Ball Gown
This full-length Sepedi inspired ball gown with its bright colors does most of the informing to the public. It screams royalty and like most ball gowns, it's just perfect for a ball, or even worn as a bride or wedding guest.
A Beautiful Sepedi Flay Gown
The Sepedi flay gown is a common design that is shaped to give the wearer a classic funky look. After the waist, the skirt is folded several times vertically such that when worn it gives an edge-cutting look.
 Sepedi Strapless 2-Step Dress
The strapless, 2-step design is a sleek, timeless feminine style that shows off a tight fit silhouette. It allows for the show off of some skin while maintaining decency. The step design adds an elegant finish to the otherwise simple garb.
Elegant Sepedi Couple Inspired Styles
There is something for everyone in Sepedi traditional attires. Check out these beautiful elegant couple styles of 2021.
Tswana Couple Designs
The Tswana people can be found in south-western parts of Botswana, North West, Gauteng, and some parts of Northern Cape provinces of South Africa. The Tswana people are amazing people with real cultural heritage that can be seen in their dance, food, language, and clothing.
The Tswana have beautiful traditional prints that are well known and loved in the African continent. Their traditional prints with its dark shade of blue and exclusive motif are so beautiful that one can't but desire them.
The pattern of the print allows for several different tweaks on styling appropriate for a traditional wedding or just for matching outfits for couples. Here are some couple styles to inspire you
Simple Venda Styles That Will Take Your Breath Away
Wondering if you just read that; well, yeah, you read correctly. The Vanda people have beautiful designs and styles that would literally take your breath away. Known for its multicolored vertical lines, the Venda fabric as simple as it is, speaks volumes when styled. Here are some beautiful designs you will love
I told you, check out this simple Venda lace gown. isn't it breathtaking? This design is a combination of lace with the traditional Venda print. The resulting design is quite simple
albeit stunning.
The addition of the strapless style gives a more classy look to the otherwise simple design. So if you have an occasion and want something classy, modern with a touch of culture, you should be rocking this design.
Here is another simple Venda design. This one is an A-line Design. The Venda A-line dress is a simple straight cut design. Without fitting too snugly to the hips and without flares or peplum, this style is fitting for a comfy relaxed atmosphere. It also allows for free mobility.
This is simply gorgeous, can serve as office wear or if you simply want to appear simple, cooperate and chicky at the same time. Want something classy and sexy? Then you should be rocking these styles.
Planning for a wedding soon but want a touch of the Venda traditional displayed in your outfits? Or you just want some amazing suggestions for Venda couple styles?  Below are some suggestions.
Beautiful Tsonga Modern Dresses
The Tsonga prints have unique and powerful motifs. Styling with a Tsonga fabric creates outstanding outfits. Here are some you will love
This modern Tsonga one shoulder Balloon Dress is everything beautiful. The balloon dress style or bubble dresses have the hem of the dress gathered into a circular yoke that falls gracefully to the knee or ankle. The dress would give you this princess bubble feel. You can never go wrong with this dress, I bet you.
Although styled in 2019, this beautiful modern Tsonga asymmetrical design made its way down into 2021 and still made the front passages of fashion mags and journals. Just like the Tswana design, is an intriguing styling. Even with no lace embellishments, that didn't make it less chicky. You will never go wrong rocking this for a Gala night or even a Polo event.
Elegant Ndebele Styles
The Ndebele people have this bold wonderful print! Mostly on a white backdrop, the colorful motif of African shapes gives the fabric an eternal spirit. The Ndebele traditional print is a must-have fabric that you would want to lighten up your wardrobe and ready it to meet every occasion.
This Ndebele elegant maxi gown will suit you if you are plus-sized or if you just love it free and maxi, this maxi gown is an attire that allows you to be relaxed and ensures all the freedom you need while giving you a clean casual look.
If you don't like it maxi, you might appreciate this slip dress. The slip dress is also a simple design that allows freedom when going for an outing, exercise, or sport. This sporty design which is usually a short dress gives you a glamorous look once you step out.
Beautiful Morden Basotho Attires
The Basotho traditional print is mostly styled as heavy clothing; this is because the Basotho people are popular for making and using heavy blanket prints which can be styled into your preferred styles to suit your mood and occasion, and due to the thickness of the prints, they can even be made into winter coats as well as hooded designs.
Check out some of the styles you should be rocking:
Designed to fend off cold the Basotho traditional fabric can be styled into a winter coat due to its thick and heavy nature.
The Basotho fabric can also be used to design a stylish long cape coat. You just have to wrap yourself around it and you are good to go. Truthfully, it looks like a kimono but well, kimonos aren't this thick.
Nguni Styles for an Evening Outing or a Date
The Nguni print which looks a little bit like the Ndebele print gives off an atmosphere of suave African royalty when sewn into a perfect design and it is ideal for these perfect styles below
Nguni Flow Gown
Although it appears simple, it isn't really. The gown hangs loosely in an easy and graceful manner and allows you a lot of freedom. Want to go for an evening stride with a lovely man, then dig this.
You could also try out this asymmetrical Design
This asymmetrical design is just romantic! The feminine power within this design is immense. With the first step folded into a circular peplum frill which gives it a playful look, this design should be able to tease your partner while letting him feel your feminity.
Oh wow, the Nguni has a mini too!
Folded into pleats after the hips, this design allows you to show off your beautiful skin and great legs. Taking a stride in these will definitely cause a stir. It would be a real gamy to crash a wedding in this.
And a Maxi Gown
Graceful, elegant, beautiful! These words wouldn't describe this Nguni maxi gown enough. Sewn simple, ordinary, and homely, this maxi gown is a breath taker. The Nguni print on the fabric
ensures a more relaxed mode while wearing these.
So whatever your taste, class, or choice for an evening outing or a date, there is a Nguni style for you.
Beautiful Swazi Dresses
Swazi prints are adorable even though they look simple. The print of the shield on the Lihiyas shows signs of strength and power.
Designs using this print are usually simple and beautiful
Check out this beautiful Swazi Emahiya (tied in the famous Swazi knot). The traditional dress of the Swazis is called Emahiya (plural Lihiyas). This attire does not need a single needle or sew.
The dress is made with a big piece of the Swazi fabric which is wrapped around the body in a toga-style and held by a beautifully tied knot at the right shoulder.
It is simple but also beautiful.
Swazi strapless gowns really look sexy. They allow you to show off your cleavage and collar-bones, make you look flattering, and hooks you in for a wonderful date. The bodice of the strapless traditional attire holds on to your upper body giving you a confident radiant posture.
Simple Afrikaans Dress of all Time
Whilst the Afrikaners may not have a particular print to call theirs, leaving them out of this list would be a crime. Of course, they have their culture and fashion too.
Here is a classy one you should love.  It called the Afrikaans jurk
This is one dress whose designs will leave you gasping and guess what? never goes out of fashion. This peplum stepped dress is classy. With its sleek design and a revealing silhouette, it remains a  head-turner any day and any time
Well, that is the classy Afrikaans jurk which brings us to a stylish conclusion of this list.
We hope you found a wonderful Southern African design for you on our list of South African traditional dresses and outfits of 2021. Have fun, and don't forget to dress gorgeously.