Most child actors often find it hard shrugging off the toga of 'child star' and transforming into full-fledged adult actors. One person who has however made a successful transition is Matthew Underwood. Underwood first rose to fame as Logan Reese, the cute mean jock on the hit Nickelodeon show, Zoey 101. He has since featured in several other productions and has collected many accolades along the way. Want to know more about the former Nickelodeon star? Then, we have got just what you need.
7 Interesting Things You Need To Know About Matthew Underwood
1. He commenced his career at the age of six months old.
Matthew Dillon Underwood was born on the 23rd of April 1990 in Fort Pierce, Florida. He commenced his career at the mere age of 6 months when he entered and won several talent hunt shows. The young boy thereafter went on to become a model and appeared in some TV and print ads. Underwood made his acting debut with a small part in the animated comedy series, My Neighbours the Yamadas, in 1999. He later went on to appear in several productions before getting his big break in 2005 in the Nickelodeon series, Zoey 101. Zoey 101 was a comedy/drama series about a teenage girl, named Zoey, who attends a posh boarding school. In the series, Underwood portrayed Logan Reese, a snooty and antagonistic rich boy who is Zoey's frenemy.
2. Matthew Underwood is a prolific voice actor.
Asides Zoey 101, Matthew Underwood has also featured in other movies and TV series including Go for it!, The Wishing, The marionette, Method & Red and E-Venture Kids. The Florida native is also a prolific voice actor and has lent his voice to animated productions such as Casper's Scare School and Avatar: The Last Airbender. Avatar: The Last Airbender is a Nickelodeon series which is set in a post-apocalyptic world filled with magic. In the series, Underwood voiced the role of a thuggish firebender named Hide.
3. He has run afoul of the law twice.
In April 2012, Underwood was with his 17-year-old girlfriend in his home when the police turned up to conduct a narcotics search. Cannabis, as well as numerous smoking devices, were discovered in the residence and the actor was charged with cannabis and paraphernalia possession as well as contributing to the delinquency of a minor. He later reached a plea deal with prosecutors and was given a 12-month probationary sentence. Matthew Underwood is not the first Nickelodeon star to run afoul of the law. Others that have gone that route include Amanda Bynes and Ryan Rottman.
4. Matthew Underwood once rescued a baby from a car crash.
Underwood made the headlines on a positive note in April 2017 when he rescued a four-month-old baby from a crashed vehicle. The actor initially thought that the adults had suffered a heart attack only to discover that they had passed out from drugs. He immediately removed the baby from the car and called emergency services. He also made sure to obtain video evidence of the strung-out parents. The parents were later charged with child neglect and drug possession while the baby was handed over to an extended family member. Underwood received praise for his actions with many hailing him as a hero.
5. He received several awards for his performance on Zoey 101.
Underwood received several nominations and awards during the three year run of Zoey 101. They include the award for best young ensemble performance in a TV series (comedy or drama) at the 2006 and 2007 Young Artist Awards. The Florida native also received a nomination for best supporting young actor in a TV series (comedy or drama), as well as a nomination for best young ensemble performance in a TV series, at the 2006 and 2008 edition of the Young Artist Awards respectively.
6. He is related to country music star Carrie Underwood.
Matthew Underwood hails from a family of six. His father's name is Jerry Wayne while his mother's name is Patricia. The actor also has three siblings namely, Rebecca, Jacob, and Joshua. Underwood is the paternal cousin of famous country singer, Carrie Underwood. Carrie Underwood is one of the best things to happen to country music in recent times. She has dropped several unforgettable hit songs including Jesus, Take The Wheel, Southbound and Before He Cheats. She has also won multiple Grammy awards and has been described as "the female vocalist of her generation of any genre".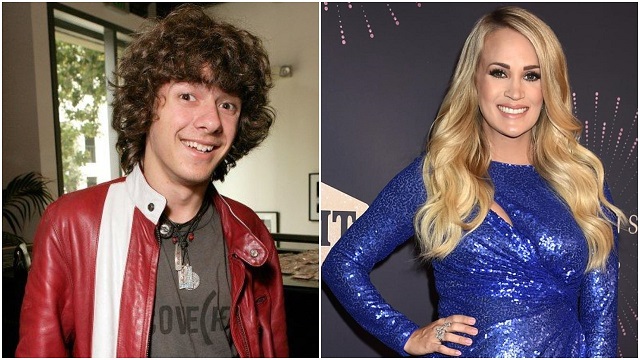 See Also:  Ashley Rickards – Biography, Celebrity Facts, Movies and TV Shows
7. He is an adventure lover
As a young boy, Matthew Underwood thrived on activities such as surfing, skateboarding, water-skiing, kitesurfing, parasailing, and wake-boarding. The actor still indulges in some of these hobbies whilst carving out time for charity. Underwood has traveled the world for the purposes of building homes for less-privileged people. He has also donated medical and school supplies to the needy, and additionally uses his spare time to teach theatre to young people.