With the ever-growing technological advancement comes a fast-paced life and its accompanying high-stress levels. There is, therefore, the need for people to often take genuinely relaxing breaks from the hustles and tussles. But how and where to get this much-needed rest becomes another top question. Although a handful of folks may choose to unwind at home, a lot of others would prefer a holiday destination away from their residence. We'll also not deny the fact that luxury has got a lot to do with an enjoyable and memorable vacation. We've therefore picked out top 7 luxury destinations that will certainly give you that dream holiday you've been longing for; from deluxe hotels and magical island resorts to lush safaris and extraordinary adventure destinations.
7 Luxury Destinations In The World For Holiday
1. Burj Al Arab Jumeirah – Dubai
Do you have an OK pocket and are looking for a perfect place to unwind and indulge? Burj Al Arab Jumeirah has got the answers and even much more! The 7-star hotel, Burj is located on its own island in the world's city of luxury, Dubai. Owing to its rare and exceptional relaxation offers, the hotel has over again been voted the most luxurious in the world. Among its numerous key features are its opulent suites draped with Egyptian lines and floor to ceiling windows that overlook the gulf, the city or the serene ocean view that gives travelers the deep tranquility and relaxation they so much desire. The suites also boast whirlpool baths alongside designer toiletries.
For lodgers' optimum comfort, Burj provides hospitable butler service. There is also a stand-by private Roll-Royce chauffeur if the visitor wishes to have one, and you'll also have an elevator all to yourself if you do not want to share with others. The hotel equally boasts nine world-class restaurants, five pools and a private beach with luxury cabanas, cinemas, state-of-the-art spas and gyms, libraries, and so on. Coming to the tech aspect, visitors are spoiled with all sorts of gold-coated gadgets from massive flat-screen TVs and Bose sound systems, to iPods, iMacs, iPads and free 24-hour wifi/internet services.
The resort has complimentary access to the popular Wild Wadi Water Park which is just a five-minute walk away. Moreover, if you wish to arrive on this stunning destination by helicopter, there is a grand helipad waiting to receive you!
2. Hotel Château du Grand-Lucé – France
Located in the lush Loire Valley known for its taste for luxury, Hotel Château du Grand-Lucé is one of the world's most luxurious destinations. Despite having been originally built as far back as 1764, Pilot Hotels' renovation after acquiring the building in 2017 left it with the most spectacular and deluxe interiors money can afford.
Hotel Château du Grand-Lucé which is precisely situated in its own villa called Le Grand Lucé, is unique for its epic and unconventional provisions that give lodgers the rare feeling of a noble in his or her own noble home. The hotel boasts 17 guest rooms and suites with up to 21-feet high ceilings, high-end furniture and fixtures alongside out-of-this-world interior decors including rare portraits, paintings, and other sorts of mind-blowing artworks. There are also ballrooms, salons, a spa and gym, a heated pool, and classical gardens for ultimate relaxation and enjoyment.
3. Gladden Private Island – Belize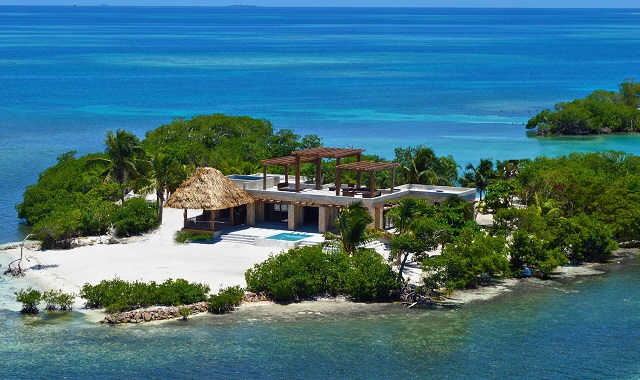 While a private pool or beach is something, have you thought of having a whole island all to yourself with the one you love? Well, that's exactly what Gladden offers. Rated the world's most private island, Gladden Private Island gives couples the opportunity to enjoy an all-inclusive holiday stay devoid of the prying eyes of other vacationers.
Meanwhile, the privacy of this wonderful island is not just on the side of not having other lodgers around. The island's staff stay on a separate island, coming to the service of guests only on request using speed boats. With just $3,000 per night, you can have Gladden and its immediate environs all to yourself with full service; and for sure, you'll be glad you did!
4. Maldives Island Resorts (Maldives)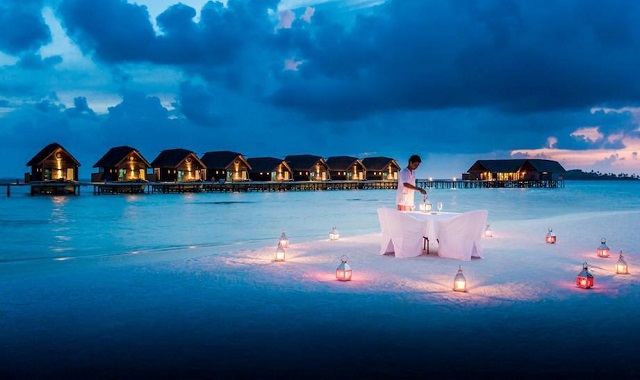 Tourism investors have leveraged on the natural blessings of Maldives to provide travelers some of the most spectacular experiences as far as vacationing is concerned. The Maldives which is a country in South Asia boasts of over a thousand coral islands in the Laccadive sea, several of which hold numerous luxury resorts. Some of the most prominent and luxurious among these Maldives islands resorts are the Como Cocoa island resort, Soneva Jani resort, Kudadoo private island, and Constance Moofushi resort, among many others. The Maldives resorts are unique for offering vacationers an all-inclusive holiday wrapped in luxury alongside unlimited access to water sports.
5. Wilderness Safaris Bisate Lodge – Rwanda
When you talk of safaris, Africa comes to mind. But when you talk of luxury safaris for holidays, particular destinations such as the Bisgate Lodge come to mind. Located directly next to Rwanda's iconic Volcano National Park, the remote destination boasts six villas, all designed to meet the taste of African royals. Aside from exploring the beautiful nature sights at the National Park, holidaymakers can take part in Bisgate's reforestation project as well as contribute to the conservation of Rwanda's mountain gorillas. Lodging at Bisgate starts at $1,100 per night for one person.
6. The Pikaia Lodge – Ecuador
Located on Santa Cruz Island on the Galapagos archipelago, the Pikaia Lodge is perfectly designed for the physically active, eco-conscious, and adventurous vacationer. The quietness of the lodge's environs affords holidaymakers all the peaceful relaxation they desire. Tourists dine at Pikaia's restaurant which is perched on the edge of a crater, affording them a vantage view of the scenery. Aside from free-roaming around on the green facility, visitors also have easy access to nearby islands alongside the very many wild varieties of rare games. A week's lodging in Pikaia's pool suite starts at $10,205 per individual.
Also See: Richest Gold Rush Cast Members and Their Net Worths
7. High-end Trip to Antarctica
Tired of conventional luxuries and looking for something out of the ordinary? You have your answer in an exclusive and dramatic White Desert trip to the end of the earth, Antarctica. White Desert's private Gulfstream jet which conveys travelers to this extraordinarily icy desert in five and half hours takes off from Cape Town in South Africa. The destination mostly suits those who want the ultimate luxury vacation but have a problem with time. A day's stay in a group starts at $10,000 per person while week's stay costs from $80,000 per person alongside gourmet meals and lots of champagne. But if you want a private chartered trip, you can have it at $195,000 for just a day!
The Antarctica breathtaking spot boasts heated moon-like camps otherwise called sleeping pods whose interiors offer a wild definition of luxury. Among the extraordinary adventures the trip offers are an exploration of the neon-blue ice tunnels, an up-close view of a community of about 6,000 emperor penguins, and a visit to the South Pole and main Antarctica. Wish to have more ideas on what the Antarctica experience feels like? Ask Buzz Aldrin or Prince Harry.