Dubai has emerged as one of the most popular vacation spots in the world in recent times. Once a desert outpost, the city now boasts of some of the most ambitious modern-day architecture you will ever see. These range from humongous shopping malls, man-made islands, as well as the tallest buildings in the entire world. The city has also liberalised tourist visas meaning that it is flexible to visit. Considering a trip to Dubai in the nearest future? Then consider one of these most expensive Luxury Hotels in Dubai.
7 Most Expensive Luxury Hotels in Dubai
1. The Burj Al Arab Jumeirah
Number 1 on the list of the most expensive luxury hotels in Dubai is The Burj Al Arab Jumeirah. The Burj Al Arab Jumeirah is regularly touted as the world's most luxurious hotel. The seven-star property stands on an artificial island and is connected to the mainland by a private curving beach. The hotel is designed to look like a sail and boasts of 28 double-story floors. It also has a total of 202 bedrooms and suites, as well as two fine dining establishments namely Al Muntaha and Al Mahara. The Burj Al Arab prides itself on decadence and offers chauffeur-driven Rolls Royce trips from the hotel's iconic helipad. Rooms start at $874 per night and can reach as high as $24,000.
2. Jumeirah Al Nassem
The Jumeirah Al Nassem is a fashionable Arabian Gulf resort which boasts of miles of sandy shoreline. The hotel is designed in classic Italian style with its dominant colours being cream and gold. It features a central family pool, an adults-only pool, a fitness centre, spa, water park, as well as a turtle rehabilitation lagoon. The hotel's restaurants offer Asian street food, Arabian flavours as well as staples such as bacon, sausages, eggs, and cheese. The hotel rooms are also designed for maximum comfort. They feature wide and long beds, with deep sofas at the foot, as well as leather headboards and desk chairs. The bathrooms also boast of Mosaic-tilled wet rooms as well as separate bathtubs and showers. Rooms at Jumeirah Al Nassem start at $356 and this makes it 2nd on the list of the most expensive luxury hotels in Dubai.
3. The Bulgari Resort Dubai
Occupying the number 3 spot is The Bulgari Resort Dubai which is situated on the man-made Jumeirah Bay Island. The resort offers the feel of a Mediterranean village and is the handiwork of Milan-based architect, Antonio Citterio Patricia Viel. The Bulgari Resort Dubai boasts of 100 rooms as well as 20 villas. Its exquisite facilities include a fitness centre, beauty salon, traditional barbershop, hairdressers, and private marina. The hotel also boasts of an indoor pool, lined with real gold, as well as warm, attentive and professional staff. There is also a 3-Michelin starred restaurant for your dining pleasure. Prices at the Bulgari Resort start from $324 per night.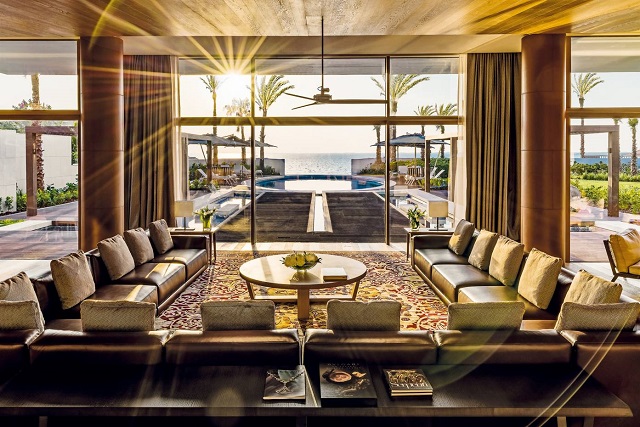 4. Armani Hotel Dubai
The 4th most expensive luxury hotel in Dubai is The Armani Hotel Dubai. Located in the 38 and 39th floors of the Burj Khalifa, it is designed by famed Italian fashion designer Giorgio Armani. The hotel offers a breath-taking view of the dancing Dubai fountain while the accompanying music can also be piped in your room via hidden iPod docks. The establishment boasts of an elegant treatment suite as well as an irresistible collection of gift shops carrying flowers, accessories and decadent chocolates. Armani Hotel Dubai has a total of 160 rooms and suites. The hotel also has several fine dining restaurants that offer Japanese, Indian, and Italian cuisine. Rooms at The Armani Hotel Dubai starts from $258 per night.
5. Atlantis The Palm
Atlantis The Palm is a five-star luxury hotel located on the Palm, another man-made island in Dubai. The establishment has an Atlantis theme and as such, features a beach resort and a signature underwater suites. Other attractions include an adventure waterpark, the Lost Chambers Aquarium, and Dolphin Bay. The hotel also has a world-class dining, spa, breath-taking shopping stores as well as one of the coolest clubs in Dubai. Room Prices at Atlantis The Palm start from $229 and can reach as high as $17,150
6. Four Seasons Resort Dubai
The Four Seasons Resort Dubai at Jumeirah Beach is an elegant property which has views of the Arabian Gulf, on one side, and the glittering Dubai skyline on the other. The establishment features classic Middle Eastern touches and its facilities include a 24-hour fitness centre, beach salon, the pearl spa, as well as tennis courts. The hotel also boasts of eleven restaurants as well as Arabic live cooking stations. Rooms at the Four Seasons Resort start at $209 and can get up to $9,528. This makes it one of the most expensive luxury hotels in Dubai.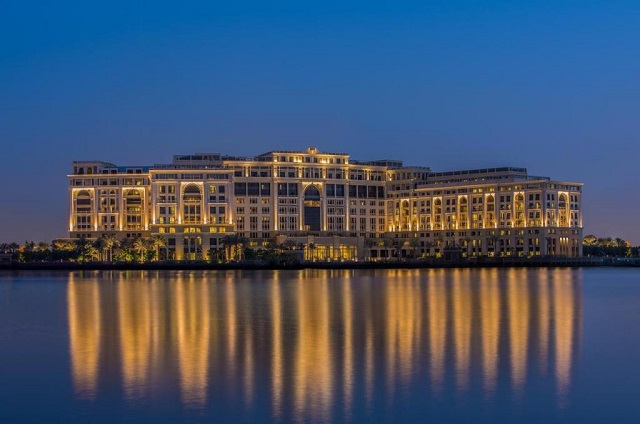 7. Palazzo Versace Dubai
The Palazzo Versace Dubai is a 215-room grand affair that reminds one of a 16th-century Italian palace. The hotel is unapologetically opulent and extravagant, with a three-tonne Czech chandelier, gilded columns, and a 1.5 million piece mosaic. The establishment also boasts of a large lagoon pool, a smaller one for children, free Wi-Fi, laundry, fitness centre, sauna, and spa. Its bathrooms come with lots of marble, separate tub, and rainhead shower, as well as La Bottega toiletries. The Palazzo Versace offers fine Italian dining as well as friendly and courteous staff.  Rooms start from $175 per night but can get as high as $20,962 in peak season.