Hanna Alström joins the likes of Max Riemelt and Charlotte LeBon as one of the foreign language actors who are making inroads into Hollywood. The Swedish actress commenced her career in her homeland at the age of five and went on to appear in several movies and TV series. She has since made a successful crossover to Hollywood and has featured in several reputable projects. Alström may not be a household name yet but she is definitely one to watch out for! Here are seven things you didn't know about her.
7 Things You Didn't Know About Hanna Alström
1. She was born in Stockholm
Hanna Carolina Alström was born on the 5th of March 1981 in Stockholm, Sweden. Alström grew up in Stockholm and nursed an ambition to be an actress from an early age. She, therefore, honed her acting skills at several institutions including the Sankt Eriks Gymnasium as well as the Swedish National Academy of Mime and Acting.
2. Hanna Alström commenced her acting career at the age of five
Alström started acting on the stage when she was just five years old. She initially acted at Unga Teatern (a traveling children's and youth theatre) before moving on to other theatres such as Puckteatern as well as Gröna Lund Theatre. The young Alström also joined the Royal Dramatic Company where she took part in several productions. Hanna Alström made her screen debut at the age of seven when she appeared in the 1988 Swedish film, Gull Pian. Gull Pian is a short drama about a girl, Eva, who has to live with her aunt, Ester, and her cousin, Berit, as a result of some unfortunate circumstances. Both aunt and cousin treat Eva badly but she takes comfort in her beloved doll named Via-Lisa. Gull Pian featured Zara Zetterquist as Eva while Alström played the role of the wicked cousin. The film received positive reviews while the two child stars were singled out for praise for their exceptional performance.
3. She has appeared in several movies and TV series.
Since making her screen debut in 1988, Hanna Alström has gone on to acquire an impressive filmography both at home and abroad. The Stockholm native has featured in several movies and TV series including Sherdill, Fjorton Suger, Kärlek 3000 , Sami Blood, Ted – För kärlekens skull, The Glassroom, Bert, Nya Tider, Cleo, Crimes of Passion, Barnen på Luna, Längtans blåa blomma, Livet i Fagervik, Blomstertid, Aspiranterna, Anmäld försvunnen, Skuggornas hus, and Aspiranterna etc.
4. She portrayed a Swedish princess on the screens
Hanna Alström became an international star after featuring in the 2014 film, Kingsman: The Secret Service. Kingsman: The Secret Service is a 2014 comedy/action film directed by Matthew Vaughn. The movie revolves around a troubled teen, Eggsy, who is recruited by a dapper agent and trained for secret service. Kingsman: The Secret Service featured the likes of Colin Firth and Samuel L. Jackson while Alström played the role of Tilde, the crown princess of Sweden. The movie received mostly positive reviews with Rolling Stone describing it as "unstoppable fun". The film also won the Saturn Award for best British film.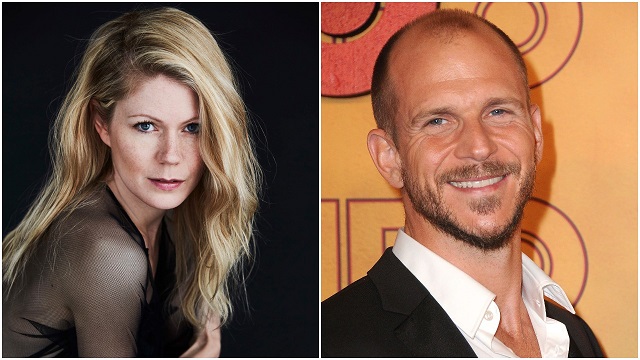 5. Hanna Alström was in a long-term relationship with fellow Swedish actor, Gustaf Skarsgård
Hanna Alström was previously in a relationship with award-winning Swedish actor, Gustaf Skarsgård. Skarsgård was born on the 12th of November 1980, in Stockholm, and commenced his career at the age of nine. He has featured in several movies and TV series including Cursed, Darling, Ettor & Nollor, The Big Leap, Vikings, Autumn Blood, Kor – Tiki, The Way Back, Trust Me, May Fly, Arn – The Kingdom at Road's End, Arn – The Knight Templar, Pyramiden, The Color of Milk, Cleo, The Invisible, Kontrakt and Westworld. Skarsgård has also received several awards including the European Film Academy's Shooting Stars Award in 2007. Alström and Skarsgård first met in 1999 and subsequently commenced a relationship. They were together for six years but sadly called it quits in 2005. The split was an amicable one and both parties have since moved on with their respective lives.
6. Her sister is also an actress
Hannah Alström is not the only artistically gifted individual in her family. Her elder sister, Sara Catherina Alström, is also an actress. Sara was born on the 28th of October 1975 in Stockholm. She studied at various drama schools including Balettakademien, Kulturama, Actors Studio as well as Stella Adler Studio of Acting. Sara commenced her acting career at the age of 11 and has since featured in several movies and TV shows including Badhuset, Sebastian, 9 Millimetre, Rederiet and Vanner och Fiender.
See Also:  10 Things You Need To Know About Dominique McElligott 
7. She is 5 feet 7 ½ inches tall
Hannah Alström boasts of an enviable svelte figure. She is 5 feet 7 ½ inches tall (1.71m) and her weight is given as 56 kg or 123 lbs. Her hair colour is blonde while her eye colour is blue. The Scandinavian actress also has a well-proportioned body shape that measures of bust – 34 inches (86 cm), waist 26 inches (66 cm) and hips – 34 inches (86 cm).