Most people know Ian Alexander Sr as the erstwhile husband of award-winning Hollywood actress, Regina King. Many people also know that the couple were together for a decade before getting divorced. Did you however know that Alexander Sr is an accomplished professional who has worked in several distribution companies? Did you also know that he allegedly cheated on his wife prior to their eventual breakup? Discover these and more facts about the elusive media personality right here.
7 Things You Didn't Know About Ian Alexander Sr
Ian Alexander was born in Canada
Ian Alexander Sr was born in the city of Kamloops, British Columbia, Canada. His exact date of birth is not known. There is also a paucity of information with regards to his family background or educational qualifications. It is however quite obvious that he is well educated. Alexander Sr spent part of his formative years in Canada before eventually moving to the United States of America.
Since then, the media personality has scored minor roles in several TV series and TV shows including Masters Horror, The Chris Isaak Show, and Animal Miracles. Alexander Sr also appeared in the 2000 Disney Channel original movie, The Ultimate Christmas Present. The Ultimate Christmas Present revolves around two teen girls, Sam and Allie, who plan to close school by making it snow during Christmas. They however get more than they bargained for when the small snowstorm turns into a blizzard.
He previously worked as Vice-president of Warner Bros.
Asides his acting chops, Ian Alexander Sr has handled distribution for several companies including Qwest Records. The Canadian-born media personality also worked at Warner Bros where he rose to the position of vice-president. Warner Bros is one of the biggest entertainment companies in America, and operates in the film, TV and video game sectors. The company has several subsidiaries and divisions including Warner Bros Television, Warner Bros Animation, Cartoon Network, and Warner Bros Technology etc.
He and his former wife welcomed a son before tying the knot.
Ian Alexander Sr and Regina King first met in the early 90's. The two became friends and eventually commenced a romantic relationship. They welcomed their only child together, a son named Ian Alexander Jr, on the 19th of January 1996. The couple later tied the knot on the 23rd of April 1997. Alexander Sr and King primarily made their home in Los Angeles. They supported each other's careers and made regular joint red carpet appearances. Alexander Sr was also by wife's side as she struggled to cope with the Parkinson's disease that had afflicted her dad, Thomas King. Thomas King eventually lost his battle with the disease in the summer of 2009. He was aged 80.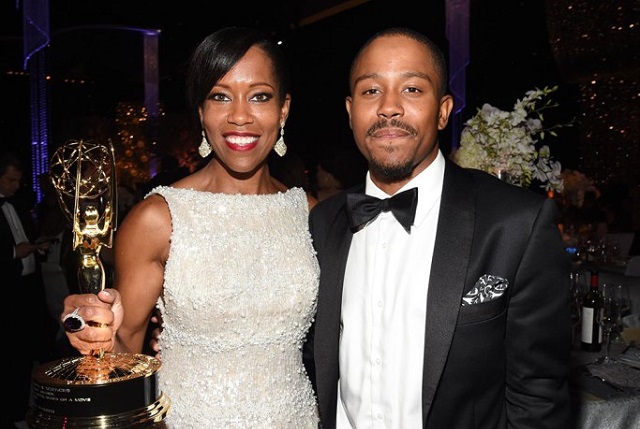 He allegedly cheated on his wife.
Alexander Sr's marriage to King came crumbling in 2007 and they subsequently obtained a divorce. Rumors had it that the media personality had 'stepped out' on his wife. They were also allegations of drug abuse, as well as domestic violence, but all these was never confirmed. Since the divorce, Alexander Sr and his Ex have worked on maintaining a cordial relationship for their child's sake. The couple initially had a frosty relationship but the actress realized that it would impact their son negatively. She therefore offered the olive branch to Alexander Sr and he gladly took it. The former couple have since put all the recriminations behind them and are now focused on co-parenting their son.
He has since moved on with his love life
Reports have it that Alexander Sr is now in a relationship with a cool lady. Meanwhile, his former wife, Regina King, similarly found love again with fellow movie star, Malcolm Jamal. The couple commenced their romance in 2008 and eventually moved in together. They enjoyed a blissful five year relationship during which they were engagement and even nuptial rumors. All these however failed to materialize as the couple broke up in early 2013. King is now focused on her son as well as her career.
His son is a college grad as well as a budding actor
Ian Alexander Sr definitely has all the reasons to be one proud papa. His son, Ian Alexander Jr, is not only a college grad but has also tried his hands at acting. Alexander Jr is also a fine young man who has supported his mom through the years. He regularly accompanies her to award ceremonies and did so again at the 2019 Golden Globes ceremony. During the event, Alexander Jr informed reporters that he loved spending time with his mom and that she was a superwoman. The discerning young man also wore a Time-Up pin and advocated for equal and safe work places for women.
See Also:  Where Is Russell Simmons, Kimora Lee's Simmons' Ex-husband Now
His Ex-wife is now an Oscar winner
Alexander Sr's ex-wife, Regina King, started acting when she was just a child and got her breakthrough on the NBC sitcom, 227, in 1985. She has since acquired an impressive filmography including American Crime, The Leftovers, Seven seconds, Boyz n the Hood, Poetic Justice, and Miss Congeniality: Armed and Fabulous. King has racked up several awards including one Golden Globe and three Emmy awards. She also received the 2019 Academy Award for best supporting actress. This was for her role in the highly-acclaimed 2018 movie, If Beale Street Could Talk.