KNK is a five-member South Korean boy band created by YNB Entertainment as their first-ever boy band. KNK is an acronym for K-Pop Knock which means 'to knock on the door of K-Pop with their music'. The band debuted on 29th February 2016 and dropped their first single album, 'Knock' on 3rd March 2016. Their original quintet lineup is made up of Jihun, Seoham, Inseong, Heejun, and Youjin. After Youjin left the group in 2018, a new member named Dongwon replaced him in December 2018. To discover more facts about KNK members, continue reading.
7 Things You Probably Didn't Know About KNK Members
1. KNK Members' History
Prior to the formation of KNK in 2016, all KNK members were trainees of diverse entertainment agencies. Starting from Jihun who is the leader of the group, he was a former Nega Network trainee. Inseong was a former trainee at BigHit Entertainment. When asked about his time at BigHit after debuting with KNK, he said that his hardest time was leaving the record label and his friends who later debuted as BTS members. Seoham also trained with BTS as a BigHit Entertainment trainee. However, BTS isn't the only famous group he trained with as he also trained with Got7 as a JYP Entertainment trainee after leaving BigHit. He admitted of sometimes feeling jealous of the meteoric rise to stardom of his friends that debuted as BTS and he sincerely congratulated them. He further stated that watching his friends who debuted before him become successful serves as a good stimulus for him. Furthermore, Youjin trained with members of B. A. P. as a TS Entertainment trainee while Heejun and Dongwon are former FNC Entertainment trainees.
2. Reasons Why Youjin Left
YNB Entertainment released an official statement on KNK Fandom page, Tinker Bell on 19th April 2018 and stated that KNK member, Kim Youjin had been diagnosed with a mental health disorder (panic disorder) and as a result, he has been exempted from all the group's activities until his full recovery. However, his contract was officially terminated on 10th September 2018. Youjin wrote a message to their fans on the KNK official fan cafe and apologized for having them worried and waiting for his return. He further wrote that the thought of performing better than anyone else made him become burdened and frustrated with himself which in turn led to a panic disorder that made him leave the group.
3. KNK Change of Social Media Handles
KNK members created a new Twitter and Instagram account before late 2018 that does not include YNB Entertainment in their profile. They have now set their old Twitter handle to private, signaling the end of their relationship with the record label.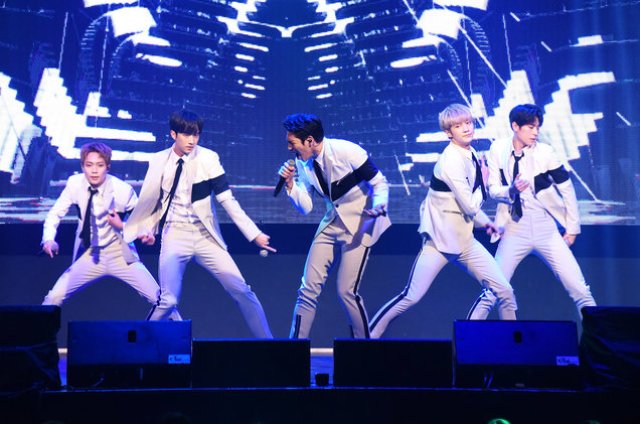 4. Why KNK Members Terminated Their Contracts with YNB Entertainment
It's no longer news that all KNK members terminated their contracts with YNB Entertainment on 10th September 2018 but still together as a group. One of YNB officials mentioned that long-term managerial problems within the record label was among the reasons for the contract termination. Meanwhile, it was alleged in March 2018 that staffs of YNB Entertainment were being owed three months salary and that KNK comeback songs were ready but the money for the sponsorship wasn't ready coupled with one of their managers that jumped ship and started working for Plan A. YNB managerial crisis began way back  in 2017 when most of their artists left for other agencies with singer-songwriter, 40 leaving in July 2017 and signed under LIMEZ Entertainment. Dahye and Uji of Bestie group left on 5th September 2017 with Uji signing under Curo Holdings Management. Noel also left in January 2018 and signed under Cjes.
5. Life After YNB Entertainment
KNK members representative announced on 19th December 2018 that a new member, Lee Dongwon has been added to the group, thereby making them a quintet again and that their comeback is imminent. KNK signed under 220 Entertainment on 2nd January 2019.
6. KNK Members' Heights
If there is one thing people probably didn't know about KNK, it's their heights. KNK members' heights range between 5 feet 11 inches (1.80 m) and 6 feet 3 inches (1.90 m). Heejun is the least tall as he stands at 5 feet 11 inches (1.80 m) while Seoham is the tallest among them with an impressive height of 6 feet 3 inches (1.90 m).
7. Awards and Achievements
While still under YNB Entertainment, KNK amassed many awards and achievements which include emerging the winners of Korean Culture Entertainment Awards, V Live Awards, Korean Entertainment Arts Awards, FANN STAR Awards, and Soribada Best K-Music Awards.