Once upon a time, James Franco was a hell-raising youth with a nose for trouble. All that is however in the past as Franco has leveraged acting as a veritable outlet for his abundant energy. The California native has featured in several highly-acclaimed movies. He is also a budding filmmaker as well as an academic, teaching film classes at several institutions. Want to know more about James Franco's movies? Then, we have got some of his best, and worst, projects right here.
8 James Franco Movies Rated From Best To Worst
1. The Disaster Artist
Production budget – $10 million
Box office – $31.1 million
The Disaster Artist is the James Franco movie which confirmed that he is not just a talented actor but also a gifted filmmaker. The 2017 biopic-comedy explored the relationship between an aspiring filmmaker, Tommy Wiseau, and actor, Greg Sestero. Their collaboration eventually resulted in the 2003 film, The Room; a movie that is widely considered to be one of the worst films ever made. The Disaster Artist featured Franco as Wiseau while his younger brother, Dave Franco, portrayed Sestero. The film was a critical and commercial success and fetched Franco the Golden Globe award for best actor – musical or comedy.
2. Spiderman
Production budget – $139 million
Box office – $821.7 million
Spiderman is a 2002 fantasy/action film which centres on an ordinary student, Peter Parker, who acquires superhuman abilities after being bitten by a genetically-modified spider. Parker subsequently utilises his newfound ability to fight crimes. Spiderman featured the likes of Tobey Maguire (as Spiderman) and Kirsten Dunst while James Franco portrayed the role of Harry Osborn, Parker's best friend and roommate. Harry's father, Norman Osborn, will later emerge as the evil villain who challenges Spiderman. Spiderman was a critical and commercial success, grossing more than $800 million at the box office. It has since spurned two sequels and is credited with redefining the modern superhero genre.
3. Milk
Production budget – $20 million
Box office – $54.6 million
Milk is another highly-acclaimed James Franco movie. The 2008 biopic is based the life of gay activist and politician, Harvey Milk. Harvey was instrumental in the conversion of the Castro district of San Francisco into a gay mecca. He was also the first openly gay man to be elected to public office in America; a feat he achieved in 1977. Harvey Milk was unfortunately murdered by a conservative colleague, named White, in 1998. Milk featured Sean Penn as Harvey while Franco played the role of Scott, one of Harvey's early lovers. The movie received several accolades including the Oscar award for best original screenplay.
4. Rise of the Planet of Apes
Production budget – $93 million
Box office – $481.8 million
Rise of the Planet of Apes is a 2011 sci-fi drama which revolves around Will, a scientist who is experimenting with drugs for Alzheimer's. These drugs turn out to be ineffective in curing the disease but greatly enhance the intelligence of a chimp known as Caesar. Will continues with his experiments and Caesar soon becomes so intelligent that he leads an ape uprising. Rise of the Planet of Apes featured the likes of Freida Pinto and David Oyelowo while Franco portrayed the role of Will. The movie was a blockbuster, as well as a critical success, and has spurned two sequels.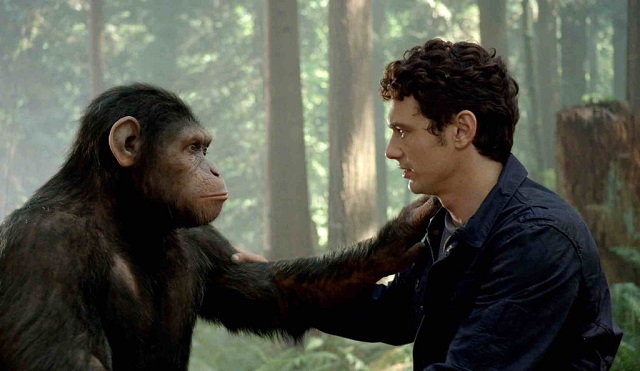 5. 127 Hours
Production budget – $18 million
Box office – $60.7 million
127 Hours is the James Franco movie which has thus far earned him an Oscar nomination. The 2010 biopic-drama/thriller revolved around Aron Rolston, the mountaineer and adventurer who was trapped in a remote Utah canyon after a boulder fell on him. Aron spent five agonising days in the canyon during which he had to decide on two options; amputate his arm and extricate himself or remain pinned to the canyon and most likely die. 127 Hours featured the likes of Kate Mara and Amber Tamblyn while Franco portrayed Aron. The movie was an overwhelming success and received an Oscar nomination for best picture. It also fetched Franco an Oscar nomination for best actor.
6. Eat Pray Love
Production budget – $60 million
Box office – $204.6 million
Eat Pray Love is a 2010 comedy/drama which revolves around Liz, a lady who supposedly had it all in the form of a husband and a thriving career. Liz's world, however, crumbles after she divorces her husband and later embarks on a journey of self-discovery. This journey takes her to Italy (for food), India (for prayers) and Indonesia (where she eventually finds love again). Eat Pray Love featured mercurial actress, Julia Roberts, as Liz while Franco portrayed her rebound guy, David. The movie was panned by the critics but was still a box office hit.
7. About Cherry
Production budget – N/A
Box office – $3,003
About Cherry is a 2012 drama which follows Angelina, a teen girl who runs away to San Francisco with the money she makes from a nude photoshoot. In San Francisco, Angelina runs into Francis, a wealthy lawyer who essentially offers to be her benefactor. She also runs into a lesbian porn director and soon goes into the porn industry using the moniker of Cherry. About Cherry featured the likes of Ashley Hinshaw and Dev Patel while Franco portrayed the role of Francis. The movie earned a miserly $3,003 at the cinemas. It also has a poor score of 10% on rotten tomatoes.
8. Good People
Production budget – N/A
Box office – $1,056,338
Good People is another James Franco movie which is certainly not one of his finest moments. The 2013 crime/drama revolved around a couple, Tom and Anna, who are heavily indebted. Tom and Anna later discover a cache of money in their former tenant's apartment and decide to use it to solve their needs. Things however go awry when the original owners of the cash come after them. Good People featured Kate Hudson as Anna while Franco portrayed Tom. The movie failed to pull any weight and has a score of just 9% on rotten tomatoes.