A cursory glance at Reese Witherspoon would have you pegging her as just another beautiful blonde actress. However, the Alabama native is much more than this, and is truly a Hollywood heavyweight. Witherspoon has appeared in several highly-acclaimed movies and has portrayed diverse roles. She has also scooped up several awards including the 2006 Academy Award for best actress. Fancy a Reese Witherspoon movie marathon in the nearest future? Then we have got some of the best, and worst, of her works right here.
9 Reese Witherspoon Movies and TV Shows Rated From Best To Worst
1. Legally Blonde (2001)
IMDB: 6.4/10
Rotten Tomatoes: 71%
Metacritic: 59%
If there is one Reese Witherspoon movie that should make your must-see list, then it is Legally Blonde. In this classic rom-com, Witherspoon portrays the lead role of Elle, a beautiful sorority girl who is dumped by her boyfriend because she is unserious. Elle later attempts to win her boyfriend back by enrolling in Harvard to study law. Legally Blonde was a critical and commercial success; earning $141 million on a budget of $18 million. Witherspoon received praise for her performance which turned a predictable script into something special. The Alabama native also received the 2002 MTV Movie Award for best female performance.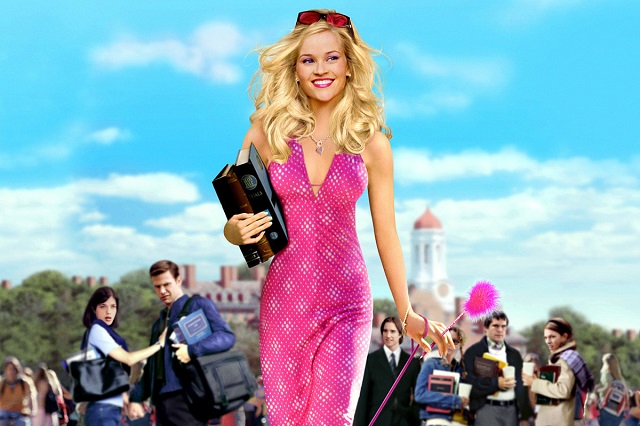 2. Walk The Line (2005)
IMDB: 7.8/10
Rotten Tomatoes: 82%
Metacritic: 72%
Walk The Line is the Reese Witherspoon movie which has thus far earned her an Oscar. The 2005 biopic revolved around the rise of country music legend, Johnny Cash, his marriage to his first wife, Vivian, as well as his lifelong romance with the eventual love of his life, singer – June Carter. Walk The Line featured the likes of Joaquin Phoenix and Ginnifer Goodwin while Witherspoon portrayed June Carter. Her excellent performance earned her the 2006 Oscar, Golden Globes, BAFTA and SAG awards for best actress.
3. Sweet Home Alabama (2002)
IMDB: 6.2/10
Rotten Tomatoes: 38%
Metacritic: 45%
Sweet Home Alabama is another classic rom-com in which Witherspoon portrays the lead role of Melanie, a successful New York fashion designer who is all set to marry the city's most eligible bachelor. There is however a snag as Melanie is still legally married to her high school sweetheart back in Alabama. She thus embarks on a journey to confront her past and get a divorce. Sweet Home Alabama received mixed reviews but was a box office hit, earning $180.6 million on a budget of $30 million.
4. Wild (2014)
IMDB: 7.1/10
Rotten Tomatoes:
Metacritic: 74%
Wild is another Reese Witherspoon movie which has fetched her critical acclaim. The 2014 biopic/adventure/drama revolved around Cheryl, a lady who is driven to the edge by the death of her mom as well as her divorce. Determined to stop her dive into self-destructive behaviour, the inexperienced Cheryl embarks on a hike of the longest and most dangerous trail in America. Wild was a critical and commercial success and fetched Witherspoon an Oscar nomination for best actress.
5. Big Little Lies (2017)
IMDB:
Rotten Tomatoes: 93%
Metacritic: 78%
Big Little Lies is a HBO drama which debuted in 2017. The series revolves around the picturesque town of Monterey which is inhabited by successful husbands, doting moms, and beautiful children. This illusion of perfection is eventually torn when five women in the community become embroiled in a murder investigation. Big Little Lies featured an A-list cast comprising of the likes of Nicole Kidman, Shailene Woodley, Meryl Streep and of course, Witherspoon. The series has received numerous accolades, including multiple Emmy awards, and has a score of 90% on rotten tomatoes.
6. Cruel Intentions (1999)
IMDB: 6.8/10
Rotten Tomatoes: 54%
Metacritic: 56%
Cruel Intentions is the Reese Witherspoon movie which propelled her to the limelight. In this film, the Alabama native portrayed the role of Annette, a teen who publicly propagates her belief in the idea of chastity before marriage. Annette later finds herself entangled in a dangerous game of seduction that is planned by step-siblings, Kathryn and Sebastian. Cruel Intentions was a critical and commercial success and fetched Witherspoon the Blockbuster Entertainment Award for best-supporting actress.
7. Election (1999)
IMDB: 7.3/10
Rotten Tomatoes: 92%
Metacritic: 83%
Election is a 1999 indie drama which satirizes high school life as well as general politics. The movie revolves around Jim, a beloved high school teacher who is hell-bent on stopping a popular student, Tracy, from emerging as school president. Jim's efforts are due to his belief that Tracy utilises underhanded tactics. Election featured the likes of Chris Klein and Matthew Broderick while Witherspoon portrayed Tracy. The movie did not do well at the cinemas but was a critical hit. It received the 1999 Independent Spirit Award for best film. Witherspoon also received a Golden Globe nomination for best actress.
8. Hot Pursuit (2015)
IMDB: 5.1/10
Rotten Tomatoes: 8%
Metacritic: 31%
Hot Pursuit is a 2015 action-comedy which follows Cooper, a straight-laced policewoman who is tasked with escorting Daniella, a sarcastic Colombian beauty, to testify against a drug lord. Both ladies' personalities initially clash but they are forced to join hands in order to escape murderous gunmen and crooked cops. Hot Pursuit featured Reese Witherspoon as Cooper while Sofia Vergara portrayed Daniella. The film received mostly negative reviews and has a score of just 7% on rotten tomatoes. It, however, performed decently at the cinemas, grossing $51.7 million on a budget of $35 million.
9. SFW (1994)
IMDB:
Rotten Tomatoes: 12%
Metacritic: 30%
SFW is a 1994 dark comedy which revolves around Cliff and Wendy, two teenagers who are propelled to the national spotlight after surviving a hostage-taking. Both subsequently commence a romantic relationship whilst struggling with their newfound fame. SFW featured Stephen Dorff as Cliff while Reese Witherspoon portrayed Wendy. The movie earned a miserly $63,513 at the box office and has a score of just 9% on Rotten Tomatoes.