Diamond Platnumz has dated a good number of women and among them are Wema Sepetu, Zari Hassan, Hamisa Mobetto, and Tanasha Donna. He has also been involved with a certain Sarah, Jacqueline Wolpe, Aunt Ezekiel, Jokate Mwengelo, Penny Mungilwa, and Dillish Mathews.
Wema Sepetu, a known bongo movie actress, is one lady that may well go down in history as the only woman who withstood a long-lasting relationship with Tanzanian musician Diamond Platnumz. Nasibu Abdul Juma Issack, which is the singer's real name name, is known to have dated a plethora of women from different parts of the globe.
As a result, he has not been able to achieve the same level of success he has managed in his career in his personal life. Fans had hopes when he dated the aforementioned Sepetu or even Kenyan singer Tanasha Donna, but all the same, both relationships still ended like the rest. Needless to mention that the singer's lifestyle has earned him the title of a notorious playboy and whenever he comes to the public arena with news of being in a new relationship and about to tie the knot, fans usually pay fleeting attention as they already pre-empted how it was going to end up.
However, Platnumz's latest girlfriend seems to have made a difference as word on the street is that dowry negotiations are already underway and wedding plans are on. Perhaps the Don Juan of Tanzania has finally met his match in a woman, but it is not yet time to heave a sigh of relief as he is not married yet.
All The Women To Have Once Dated Diamond Platnumz
Wema Sepetu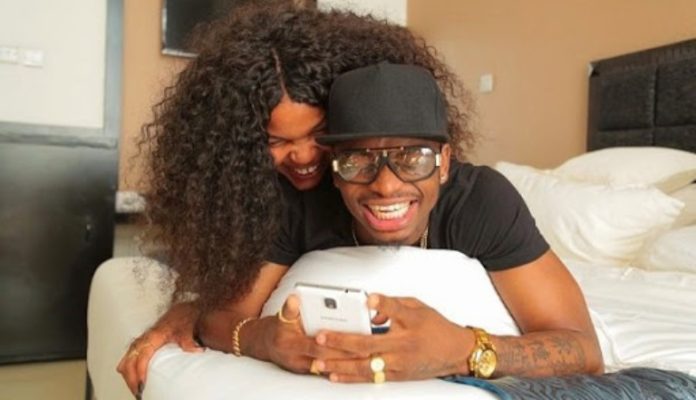 The exact time Diamond commenced his relationship with Wema Sepetu is not known but the duo enjoyed a long dalliance according to the records. Back in the days in the bongo flava music scene, they were viewed as the hottest couple ever. Their relationship later shifted grounds from solid to erratic as they started having an on and off thing before spilting a while later. The reason for their split was the singer's infidelity with Jokate Mwengelo who was supposedly Wema's close friend.
The Tanzanian heartthrob would later reconcile with Wema and even took her to be introduced to his mother, however, within months of their getting back together, the singer cum dancer finally dumped her for good in 2014. Their relationship is believed to have lasted for over five years and reports have it that Sandra Kassim, Diamond's mum, grew a soft spot for Wema as she forgave and put up with her son despite several cheating incidents.
Zari Hassan
Ugandan socialite Zari Hassan came on the scene after Diamond Platnumz called it quits with Wema. The crooner followed his usual protocol of introducing Zari to his mother as the girl he wanted to marry. The duo's relationship lasted for all of four years when they went ahead to make their dalliance public, relating with fans through social media platforms like Instagram.
When Zari, who was already a mother of three children from her past relationship, conceived for the singer, the couple made things Instagram official, updating fans on the latest happenings in their lives and how excited they were about their bundle of joy. Diamond even made a post where he was counting down to the baby's delivery date. In the post, the couple was seen in two half-nude photos with the Tanzanian singer holding Zari's tummy from behind.
Later on, infidelity on Diamond's side raised its ugly head once again. It happened that the singer was at the time also dating Tanzanian pop artiste and model Hamisa Mobetto with whom he sired a son. When she learned about this, Zari went public with the news that she had finished with Diamond over his infidelity. She made the announcement on the 14th of February 2014.
Reports said that Diamond and Hamisa's son was conceived while the model was starring in the video for his hit track Salome. Zari was then busy in South Africa, tending to her business concerns. Before they parted ways, the Ugandan socialite already had two kids with the singer though their dates of birth and gender are not known. Just before their break-up, the co-parents already talked about their plans for a big wedding in some interview sessions.
Hamisa Mobetto
Back into the single's fold in February 2014, Diamond wasted no time in rekindling his dalliance with baby mama number two, Hamisa Mobetto, who reportedly recorded three miscarriages before giving birth to her son.
While they lasted, Hamisa actually thought she was onto a good thing with Zari out of the way and a son named Dylan (date of birth not known) between them. The model believed that the road was clear for Diamond to take her on that walk down the aisle, but that never came to pass. In fact, their relationship ended sooner than you can think when sweet suddenly turned into sour following speculations that Hamisa took to witchcraft to get Diamond Platnumz to the altar.
Tanasha Donna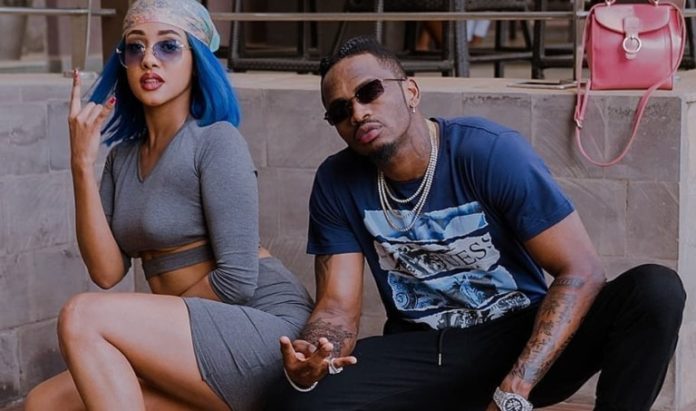 Perhaps the most popular of all Diamond's relationships is his dalliance with Kenyan radio presenter and model Tanasha Donna. The two started dating a year after they met and their relationship was sustained for barely one year.
When Tanasha first came into his life, Diamond was quick to announce on social media that he finally found his dream woman, the one he has been waiting for, and more notably, he credited her with being the one who has complete trust in him. Diamond said the new woman in his life doesn't see him as "a player". Though he omitted to mention his dream woman's name, fingers started pointing at Tanasha and they were 100 percent right.
The couple, who first met at a club, made their debut public appearance at Jomo Kenyatta International Airport while Diamond was jetting to Nairobi for a performance. He almost soon later announced that their nuptials won't take long in coming. Like his previous lovers, Tanasha too got to meet the bongo artist's mother which left fans wondering if the Kenyan model was going to succeed where others failed.
Did Diamond Platnumz and Tanasha Donna Eventually Go Through With Their Wedding?
Diamond Platnumz and Tanasha had planned for a big wedding that would hold on Valentine's day of 2019, but they never got to exchange the forever commitment as the February 14th wedding was later postponed. The two eventually went their separate ways in March 2019, citing irreconcilable differences, but in his usual way, Diamond left a legacy behind, a son named Naseeb Jr. (b. 2nd of October 2019).
According to reports, Tanasha left Tanzania for her home in Kenya with Naseeb Jr. almost immediately the relationship ended. On touching down on her country's soil, the model declared that it will now be her and Naseeb Jr. against the world.
It is quite interesting to note that she deleted and unfollowed Diamond and his Wasafi family from all her socials.
Exactly How Many Baby Mamas Does Diamond Platnumz Have?
Uncountable may well be an apt way to describe the number of children the Tanzanian heartthrob might have littered all over the continent. Diamond Platnumz is one African artist that has sown his wild oats far and near, in his home country Tanzania and in other parts of Africa.
The bongo flava recording artist sired his first two children with Zari Hassan. While his relationship with Zari was still ongoing, the Wasafi Record Label CEO had a time out with model Hamisa Mobetto, siring a child with her. The singer's last known girlfriend, Tanasha Donna also had a son for him.
Truth be told, when you think you have seen it all with Diamond, another more interesting story will burst from unsuspecting quarters. A while ago, ex Burundian beauty queen, Honey Jesca, made the headlines when she came up with the claims that Diamond Platnumz actually sired her twins. Now, with this latest development, it seems that the famous singer has children scattered all over four African countries; South Africa, Tanzania, Kenya, and probably Burundi. Besides, with this kind of reputation, Diamond may still hatch more surprises in the nearest future.
Lesser-Known Women Who Diamond Has Dated
Sarah
According to reports, Diamond Platnumz's breakthrough track Kamwambie which was released in 2009 was the product of heartbreak. The singer got the inspiration to ink the song after his then-girlfriend Sarah dumped him because of his pitiable financial standing.
In his own words, Diamond said the track was composed for Sarah whom he loved deeply but she hurt him when she moved on for the sole reason that he was poor. The lyrics of the song were expended telling Sarah how deeply her words hurt him but his heart was still filled with love for her. Diamond recalled her exact words the day they called it quits in a 2014 interview session with Tanzanian media outlet, Tubonge TZ. She allegedly said: "Listen, Diamond, right now I won't continue with a man that has no means of looking after me."
Jacqueline Wolpe
Jacqueline Wolper is a bongo actress whom Diamond dated for some months before their relationship hit the rocks. However, the couple remained good friends after their separation, working together on a good number of music projects, including the hit track Utanipenda.
It is important to note that the bongo artist never confirmed his relationship with Wolper. He had always insisted that they are nothing but long-time friends. Jacqueline would later date Harmonize – one of the artists signed to Diamond's record label, Wasafi Classic Baby.
Aunt Ezekiel
Another of the singer's rumored relationships happened with famous bongo movie actress, Aunt Ezekiel. Reports from several Tanzanian blogs say that what the duo had was a series of one night stands but were never an item. Aunt Ezekiel is now with Moze Iyobo, one of Platnumz's dancers.
Jokate Mwengelo 
The beautiful Tanzanian model dated Diamond Platnumz for a while before they later became enemies as a result of his relationship with Wema Sepetu. The irony of the whole thing was that Wema and Jokate were best of friends and it was like a stab in the back for Wema when her boyfriend started dating her best friend. To date, the friends never reconciled.
Penny Mungilwa
Even after Wema left the bongo artist for dating her friend Jokate, Diamond still found solace in the arms of another of Wema's friends, Penny Mungilwa, who works as a television presenter. Though they went public with their relationship, it fizzled out in no time at all, after which the bongo artist returned to Wema.
Dillish Mathews
Dillish Mathews, a former winner of the Big Brother reality show,bwas also rumored to be dating Diamond at one point in time. The duo allegedly once went on a trip to Zanzibar, but the singer wasted no time in addressing the issue. According to him, his path never crossed with Dillish as he has never set an eye on her. Diamond said he went to Zanzibar for a performance while Dillish was there for holiday but they never met.
There may still be other women of Diamond's acquaintance but at least these are the ones we know of. Even in the midst of all this, Diamond still remembers to celebrate all his women on International Women's Day.
Who is Diamond Platnumz Dating Now?
As the saying goes, a leopard hardly changes its spots and one will just have to agree that Naseeb Abdul Juma fits that particular description. Barley five months after his latest girlfriend and baby mama Tanasha Donna went back to her home country Kenya, the bongo star announced that he was in a new relationship. But that is not all, his most recent tale followed his signature plot of wedding bells and forever commitments.
In mid-July 2020, Diamond Platnumz was at a social gathering in his country when he declared that the days of keeping mistresses and having baby mamas were over for him as he feels that he has outgrown that pattern of life. The singer also said the time has come for him to take a wife since age is no longer on his side. He also mentioned that getting involved with so many women at the same time can lead to stress, exposing one to witchcraft from co-wives who engage in perpetual fights amongst themselves.
At his sister Esma Platnumz's wedding ceremony which occurred on the 1st of August 2020, the vocalist also reiterated his plans to finally tie the knot. Considering his reputation as the big bad wolf whose escapaded with the female population is nothing short of legendary, fans found his latest scoop difficult to accept. Besides, "I am preparing to get married" has become a cliché associated with him whenever he finds himself in a relationship, and to date, none has come to fruition. Hearing the same promise over and over, fans concluded that Platnumz's latest dalliance is just another phase like the past ones and will also go the same way as the others.
The Identity of His Soon To Be Bride is Yet To Be Revealed
After his admission, speculations began to run rife that wedding plans were already set in motion. Though Diamond failed to reveal the name of his wife to be, fans went to work to unravel the latest mystery, and the vocalist's mum Sanura Kassim made it easy for them. Sanura shared a picture of the Lebanon-born model and past Miss Universe Tanzania Jihan Dimack on her socials. More interesting is the fact that Platnumz's mother showered the beauty queen with praises following which she responded with a "Thank you."
From the looks of things, Diamond Platnumz seems to be serious this time around as Nairobi News reported that the family has already finalized plans for the payment of dowry and the arrangement for the wedding. However, everything was conducted in secrecy, well away from prying eyes. A close family friend, Paul Makonda – past Dar es Salaam regional commander, will be the one to lead the negotiations for dowry payment while the wedding plans are undertaken by Hellen Kazimoto – Diamond's lifestyle manager.