Tonto Dikeh is a Nigerian actress, singer, songwriter, and humanitarian with an estimated net worth of $1.6 million.
A veteran, Tonto has been active in Nollywood for years and has become one of the instantly recognizable faces onscreen anywhere in Nigeria. As a matter of fact, her fame has now extended across the African continent and beyond. It is noteworthy that apart from acting, Dikeh, who is a very adventurous person, has ventured into other dealings that helped to increase her net worth over the years.
How Tonto Dikeh Built Her $1.5 Million Net Worth
Tonto Dikeh's net worth of at least $1.5 million was built through years of hard work in different fields of endeavor. Even though she is more known as an actress who has been in the game for so many years, transitioning into a veteran, she has also branched into other ventures, including music and business.
Tonto Dikeh's Exploits As An Actress In Nollywood
Tonto Dikeh kickstarted her acting career in 2006 when she starred in Pounds and Dollars, a comedy film. The same year, she starred in Pounds and Dollars 2, a sequel. The next year, in 2007, Dikeh landed several roles in different films, including Rush Hour, Python King, Missing Rib, Insecurity, Game Fools Play, Final Hour, Divine Grace, and others. At this time, the actress was already making some waves in the industry, catching attention with her very evident talent and beauty.
Eventually, Tonto Dikeh got her very big break when she starred in the controversial movie, Dirty Secret alongside Muna Obiekwe and Jibola Dabo. Upon its release, the movie generated great controversy among Nigerians, especially because there were a lot of adult scenes in it. Some people blasted her for agreeing to feature in a movie like that but the controversy that was generated helped to make her even more famous.
Dikeh went on to star in other highly-acclaimed Nigerian movies, including Pleasure and Crime in 2010 and Just in Case which was released in 2012. The same year, she starred in Broken Silence alongside Uche Jombo and Uti Nwachukwu. The movie was a hit, giving her even more popularity among Nigerians. In 2013, she scored a role in My Life, My Damage, a drama film in which she played Dora. The movie also got her rave reviews, further establishing her prominence in Nollywood.
So far, Tonto Dikeh has starred in more than 70 movies in a career spanning more than a decade. During this time, she has risen to become one of the most talked-about actresses in Nollywood and has garnered so many fans who follow her every move on social media.
Tonto Dikeh has also tried her hands on movie production. In 2017, she served as an executive producer on Broken Chakkels, a TV series.
All About Dikeh's Rip-roaring Music Career
Tonto Dikeh is widely recognized as an actress who has made a big name in Nollywood. However, this is not the only thing she has done with her life; the actress has also tried her hands on making music.
Dikeh launched her music career in 2011 with the release of two singles titled "Hi" and "Itz Ova". The songs caught attention because of the person behind their release. Many people only knew Tonto Dikeh as an actress and were surprised to see her sing, hence, the attention the songs got.
However, the reception was not very favorable. Some reviews harshly labeled her music career as 'dead on arrival' and many fans asked her to immediately quit making music and focus on acting. But, other fans were quite supportive and urged her to keep releasing her music.
Not minding the criticisms, Tonto Dikeh kept making music and even began performing on stage at different events. On one of such occasions, while performing at Nigerian singer, Iyanya's concert in London, Dikeh tripped and fell on stage. The video of the fall went viral on social media.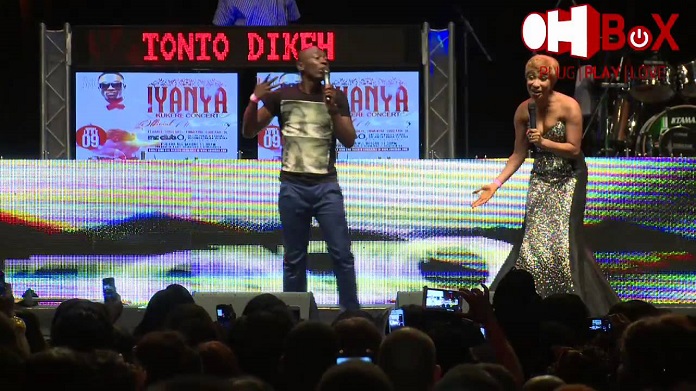 Tonto Dikeh later signed a record deal with popular Nigerian singer, D'banj's record label, DB Records in June 2014. Under DB Records, Dikeh released a single called "Sugar Rush" featuring D'Banj himself. At this time, she was already gaining some acceptance as a musician among fans who found her style quite intriguing. However, she soon departed from the label in March 2015. The actress eventually quit her music career in 2017.
The Actress Has A Knack For Business
Tonto Dikeh is also a businesswoman. The actress revealed in 2020 that she owns a poultry farm. She made this revelation while replying to a fan who asked her a question on Instagram. Dikeh also explained that the has other businesses that were still at their infant stages, although she did not reveal much about them.
The actress also runs a cooking show called Grub & Rub with King Tonto on YouTube. The show has featured different prominent people on various episodes.
Tonto Dikeh Has Landed Many Endorsements
As expected, Tonto Dikeh has had different endorsements over the years. Her works as an actress have given her so much exposure that landing these endorsements has become quite easy for her. Dikeh has been an ambassador for different companies and brands.
On the 5th of February 2016, the actress signed an endorsement deal worth millions of Naira with NUMATVILLE, a property firm in Abuja. Shortly after, in January 2018, the actress landed another endorsement as a brand ambassador for Pels International, a beauty and skincare brand.
Weeks later, on the 8th of March 2018, Tonto Dikeh signed an endorsement deal with a new perfume line, Sapphire Scents, which was offering some distributorship business opportunities to Nigerians. Shortly after this, on 27 April 2018, the actress became an ambassador for the National Agency For Prohibition of Trafficking In Persons (NAPTIP) on human trafficking.
The actress was made a brand ambassador for Amstel Malta on 24 March 2019. Her contract was announced at a dinner party organized by Amstel Malta. The actress further signed another endorsement deal worth ₦100 million with Zikel Cosmetics on 23 May 2019.
Brands Tonto Dikeh's Has Endorsed
NUMATVILLE
Pels International
Sapphire Scents
National Agency For Prohibition of Trafficking In Persons (NAPTIP)
Amstel Malta
Zikel Cosmetics
Political Association
Is Tonto Dikeh a politician? Some people have often asked this question about the star actress several times. This is because of the way she relates with top politicians and carries herself with poise. However, the answer to the question is 'no!'
Tonto Dikeh is not a politician. However, she does have an appointment from the President Muhammadu Buhari-led administration. On August 10, 2020, Tonto Dikeh announced that she had been appointed as the Director, Socials & Empowerment at the Committee of Youth on Mobilization and Sensitization (CYMS). She also shared her appointment letter online.
It is expected that, soon, the actress may start landing more political appointments in government.
From the foregoing, it is easy to see why Tonto Dikeh has made so much money. Her film career, as well as her musical journey and many endorsements so far, have all served to enrich the superstar actress
Tonto Dikeh's Impressive Acquisitions
Tonto Dikeh does not just make money, she also spends the money that she makes. This is expected, of course, considering her standing in society and the kind of money she has racked up in her career so far.
Over the years, she has become the proud owner of a number of expensive properties. She is also known to be in love with showing off what she has.
She Owns A Multi-million Naira Mansion
In June 2020, just days to her 35th birthday, the actress acquired a multi-million naira mansion in Abuja. The house is reportedly located at Aso Drive, Abuja. A video of the beaming actress in her new house with friends also emerged online.
It is noteworthy that the actress also has a huge house in Lagos where she spends most of her time with her son, Andre.
Expensive Fleet Of Cars
Apart from her expensive mansion, Tonto Dikeh has also acquired cars. The actress is a lover of automobiles and actually owns a variety of expensive cars from great auto brands. Some of these cars were given to her as gifts and some were bought with her own money.
Below are the cars owned by Tonto Dikeh;
2016 Toyota Prado TXL
Tonto Dikeh owns a 2016 Toyota Prado TXL. The very beautiful vehicle was reportedly given to her as a gift by her ex-husband, Olakunle Churchhill.
Bentley Continental GT Coupe
The actress is also the owner of a Bentley Continental GT Coupe. Unlike the 2016 Toyota Prado TXL which she received as a gift, the actress actually bought this vehicle for herself. She announced the purchase of the vehicle in 2019 when she shared photos of the car on her Instagram page and captioned it: "from me to me with love."
2017 Lexus LX 570
Tonto Dikeh also owns a 2017 Lexus LX 570. This is also a gift from her ex-husband from the time when they were still head over heels in love with each other.
Mercedes Benz C300
The actress is also the owner of a Mercedes Benz C300. The incredibly mindblowing piece of machine was bought for her as a gift by Lisa Ogunrobo, a Nigerian fashion entrepreneur who is the owner of the Pretiwomannn brand. The gift was presented to Tonto Dikeh during her 35th birthday celebration on June 9, 2020.
2016 GMC Yukon XL
The 2016 GMC Yukon XL also occupies a space in Tonto Dikeh's fine and very impressive garage. This huge car is also a gift from her ex-husband, Churchill to their son, Andre on his birthday.
There is no doubt about it; Tonto Dikeh has a very impressive garage that can easily make the ordinary man quite jealous.
Giving Back To Society With The Tonto Dikeh Foundation
Making money and spending the cash is not the only thing that Tonto Dikeh does with her life. She also dedicates her time and resources to helping the needy and giving back to society. Her efforts to give back have received commendation from various quarters.
The actress has a foundation called The Tonto Dikeh Foundation. It was formed on the 27th of August 2000 with a mission to create a world where there will be an equal opportunity for all people to benefit from health care, education, agriculture, empowerment, enlightenment, and other modern necessities of life.
A quick look through the foundation's website shows that it has a vision to make life much better for the less privileged women, girls, youth, and children in Africa and all displaced people all over the continent.
What The Foundation Has Achieved
Dikeh, with the Tonto Dikeh Foundation, has embarked on a regular sensitization programs and symposium discussion organized to pursue the actualization of the vision and mission of the organization. Some of these discussions center on the effects of drug abuse, sexual abuse prevention, and suicide prevention. The actress has also used the foundation to partner with the African Scholars Care Initiative in order to empower young girls in ICT. Occasionally, the Tonto Dikeh Foundation has organized friendly football matches between girls at IDP camps and has also donated food to affected people.
In August 2018, the actress announced that the Tonto Dikeh Foundation had effected plans to empower over 2,000 widows in the Federal Capital Territory (FCT) through its Widow's Start-up Fund Initiative in September. In August 2020, Tonto Dikeh, through an initiative of her Foundation, donated some food items, as well some other relief materials, including money to over 500 Internally Displaced Person's (IDPs) who were gathered at IDP camps at Area 1, in the Federal Capital Territory (FCT). She made the donation during a goodwill visit to the IDPs.
Shortly after, in September 2020, the actress announced that The Tonto Dikeh Foundation has reached an agreement with a credible university to offer an Educational Scholarship for any course of their choice to as many as 15 to 20 Nigerian Youths. In October that year, the names of 15 beneficiaries of the educational scholarships were released.
Apparently, Tonto Dikeh is using her Tonto Dikeh Foundation to touch many lives positively and this has been very evident over the years.
How Does Tonto Dikeh Fund Her Foundation?
Like other foundations, The Tonto Dikeh Foundation is funded by donations from well-meaning Nigerians and people from other countries all over the world. On the website of the foundation, there is a donation page where people can visit and make their donations.
The foundation also has active volunteers who have decided to give their time to helping other people. According to stats from the website, the Tonto Dikeh Foundation currently has 50 volunteers and 20 active projects all over Africa. It is also stated that the foundation has helped as many as 50,000 people so far.
Dikeh's Humanitarian Efforts Have Been Recognized
Tonto Dikeh's efforts to help people have not gone unnoticed and she has received awards and honors to that effect. In April 2020, The World Human Commission honored Tonto Dikeh by awarding her the Humanity Certificate of Commitment and Achievement for her love and drive for helping people through her Foundation.
She has also been honored with an award of excellence for humanitarian personality award by VIP360 Event, a social entertainment organization.