Siphiwe Tshabalala is a South African professional football player with a net worth estimated at R13.8 million. His last publicized salary was R350,000 as of 2013, while he was still manning the left-wing of the Kaizer Chiefs. Through his massive wealth, Tshabalala is able to afford a life of luxury with exotic cars and mansions.
With a net worth calculated in excess of R13.8 million, South African football player, Siphiwe Tshabalala, has come a long way from the time he used to live in a face brick house belonging to his grandfather. His early years were littered with tales of want and penury as the sole breadwinner of the home was his dad, who earned a living as a taxi driver. With the meager income he earned from ferrying commuters across town, Siphiwe's dad Isaac took care of a teeming household that included his parents, spouse, children, nieces, and nephews. This sure paints a clear picture of the kind of background the football star comes.
However, the story is now different for Siphiwe Tshabalala who is fondly called Shabba by fans that consider him to be the best left-winger South Africa ever produced. The SA native now hobnobs with the crème de la crème of his country's sports industry, playing football with some top clubs on a global scale, living in luxury homes, and splurging around town in some of the best automobiles. This is just the tip of the full story as there is much more to know about the Bafana Bafana star.
Siphiwe Tshabalala's Salary and Allowances
The sports industry, especially football, is a place where players who distinguish themselves on the field of play are exposed to the opportunity of earning huge paychecks. Tshabalala sure made good use of his own chance when it came calling. As of 2013, while he was still manning the left-wing of the Kaizer Chiefs, his salary was estimated at R350,000. However, what he was paid in Turkey by BB Erzurumspor and what he earned at AmaZulu were never made public.
His Net-worth Is Calculated in Excess of R13.8 Million
There is no doubt that Siphiwe Tshabalala's financial standing started changing from penury to affluence as he debuted with Alexandra United and later Free State Stars. However, joining Kaizer Chiefs F.C in 2007 marked a major breakthrough in his football career. His income did not only increase, but the SA native gained more exposure that saw him move outside the shores of South Africa. It goes without mentioning that he went on to earn way higher than he ever did around this time.
Today, the famous SA left winger's net worth is estimated to be around R13.8 million. According to reports, Tshabalala owes a lion's share of his affluence to his career earnings in football. However, he equally recorded some endorsement gigs which will take credit for a digit or two.
Breakdown Of Shabba's Sources Of Wealth
Football Career
Not long after he emerged from Seanamarena Secondary School as a young boy with aspirations to become a chartered accountant, Siphiwe Tshabalala joined Alexandra United in 2003. The ensuing season saw him play for Free State Stars where his three years spell made him a household name in all of South Africa. Consequently, top SA clubs got interested in the emerging soccer star. He may not have started earning the big bucks from his first two teams, but the left-winger leveraged them as stepping stones to a greater future.
Kaizer Chiefs
Siphiwe Tshabalala's time with Free State Stars and Alexandra United aided him in joining Kaizer Chiefs. However, a serious knee injury got him sidelined for six months after he signed a deal with the team. Eventually, his debut with the Chiefs was recorded on the 31st of August 2007 during the 2007–08 season in a match against the Bidvest Wits.
Though the details of his deal with the Chiefs were not made public, the left-winger achieved so many career milestones as a member of the club. His consistent great goals delivery gave him prominence during the Chief's award ceremony for the 2008–09 season where he bagged the awards for Player of the Year, Goal of the Season, Website Player of the Year, and Readers' Choice. In fact, at the end of the Kaizer Chiefs' 2008–09 season awards, Siphiwe Tshabalala left with the total sum of R170,000 in prize money, in addition to a brand new Nissan X-Trail.
Before exiting from the Kaizer Chiefs football club, Tshabalala scored a total of 58 goals in 372 appearances.
Büyükşehir Belediye Erzurumspor
An announcement came from the Kaizer Chiefs on the 28th of August 2018 that the left-winger was set to join the Turkish side, Büyükşehir Belediye Erzurumspor. Between 2018 and 2019, he enjoyed a full season with the club before returning to his home country. Again, the details of the contract he signed with the Turkish side BB Erzurumspor was never made public but according to reports, it was really substantial. He made a total of 17 appearances for the side.
AmaZulu
Siphiwe Tshabalala didn't get a club immediately after he returned to South Africa but in October 2020, AmaZulu F.C – SA's Premier Division club, gave him a chance. He has also been active in his country's national team, featuring 90 times in all.
Recap Of All The Teams He Has Played For
Alexandra United
Free State Stars
Kaizer Chiefs
Büyükşehir Belediye Erzurumspor
AmaZulu
Siphiwe Tshabalala Has Recorded Major Endorsements
The number of endorsement deals inked by the SA left-winger keeps increasing by the day. In October 2009, he launched the then brand new Nike CTR360 Maestri boots. Tshabalala shared this privilege with Arsenal's Cesc Fàbregas as the first two footballers to do so.
Recently, he became a brand ambassador for the Lexus brand of automobiles.
The Player's Luxury Lifestyle
Armed with a fortune of R13.8 million, anybody would be tempted to opt for the luxury life and going by the available records, Shabba is no exception. The SA native has been living a lavish life since his financial status changed from want to affluence and evidence abound in the type of houses he lives in and the exotic automobiles he splurges around town with.
His South African House Is Quite Plush With Top-notch Amenities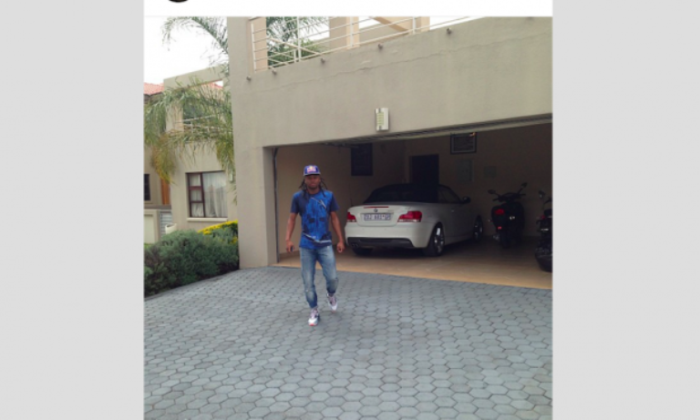 Siphiwe Tshabalala's abode in South Africa has been described as a luxurious mega-house sporting an open-plan lounge, a huge kitchen, large walk-in closets in several bedrooms, a gym, and a huge shimmering swimming pool. However, the house's exact location and how much it is worth is not known.
Tshabalala's Garage is Bursting With Luxury Automobiles
Shabba's garage houses some exotic brands of cars. They include:
1. Lexus IS 350 (Sponsored Car)
The value of this car, which is said to have been given to him through his role as an ambassador, is estimated at R450 000
2. BMW 125i
This particular vehicle is valued at R401,926.
3. Range Rover
The footballer's Ranger Rover is worth as much as R800 000
4. The Red Bull-sponsored Jeep (4×4)
Details of this vehicle which looks to have been given to him through his role as an ambassador are not available.
5. Golf 7 R 
Shabba was spotted in his IG story posing in front of a Golf 7 R, though it was never established if he was the owner.
6. Lexus LX 450d
Being an ambassador for the Lexus brand, the South African gets to splurge around town in some of their latest brands and his Lexus LX 450d is one of them.
7. Sporty Beast
The player's Lexus LX 450d which he calls a "house in motion" was recently traded in for a sporty beast. It is not clear how much this vehicle costs.