Knowing how to buy KPLC tokens via various options has never been as important or useful as it is now. In an era where convenience and accessibility are key, being able to buy electricity tokens whenever necessary is undoubtedly important information.
In the not so distant past, it would have been a hassle to get KPLC tokens as one would typically be left to scurry around looking for an electricity vendor. Thankfully, not anymore. Today, with the number of options for buying tokens available, the biggest hassle one encounters is simply choosing which method to use.
What Are KPLC Tokens And How Do They Work?
Kenya Power and Lighting Company (KPLC) provides electricity service to the country through two primary methods, namely the postpaid and prepaid meter. With a prepaid meter, you have to purchase electricity tokens. You enter these tokens into your meter and use them until they are exhausted.
This method of electricity service helps with budgeting. It also lets consumers use only the amount of electricity they can afford at a time.
The Various Options Available To Buy KPLC Tokens
With the advent of technology comes comfort. Buying your KPLC tokens has never been easier seeing as you have multiple options currently available to you. There is no longer a monopoly of electricity token sales as numerous online vendors now exist for this purpose. The problem you now have has shifted from frantically seeking a vendor on the road to finding an online vendor you trust to be always reliable from the options available.
It is important to learn how to use certain channels to purchase KPLC tokens, why you should or shouldn't use each method, and if you can use the aforementioned methods. The most popular options to know are through M-Pesa Paybill, Safaricom Bonga points, and Equitel.
How To Purchase KPLC Tokens Using M-Pesa Paybill
With Safaricom's M-Pesa, you can pay for and generate your token within seconds. It is one of the most common methods used by Kenyans when it comes to purchasing KPLC tokens. This method is open to all Safaricom line users. That is, if you have Safaricom as your primary phone line, you can easily use the M-Pesa option to purchase your token.
A significant advantage of this process is that it is very secure and safe seeing as Safaricom is a reputable telecommunication line in Kenya. One disadvantage with this method is that occasionally, it might take some time before the token is generated. This is not ideal, especially when you are in a hurry.
If you have decided to use the M-Pesa Paybill to buy KPLC tokens, below is a step-by-step guide detailing how to go about the process with minimal fuss:
Navigate to your Safaricom tool kit
Click on the M-Pesa menu
Select 'Lipa na M-Pesa' after doing the above
Click 'pay bill'
Select 'enter business no' before going on to input KPLC's Lipa na M-Pesa Paybill number. For those that do not know, the number is 888880; then press OK to confirm
Select 'enter account no' before proceeding to enter in your KPLC prepaid meter number. Press OK to confirm
You are then directed to 'enter amount'. Enter the amount of token you wish to purchase between Ksh 100 and Ksh 35,000. Press OK once again
Input your unique M-Pesa pin and press OK
Do a quick run-through to confirm all details are correct before pressing OK again
You will get a notification with the recipient's name and a prompt to press 1 within 20 seconds if you wish to stop the transfer.
If you think the transaction is wrong or you have changed your mind, enter 1 and hit send within 20 seconds to cancel the transaction
If you want to complete the transaction instead, press 'cancel'
You will receive a confirmation SMS from M-Pesa
You will then receive a generated token that is valid for your meter via SMS from KPLC.
Purchasing Prepaid Tokens With Equitel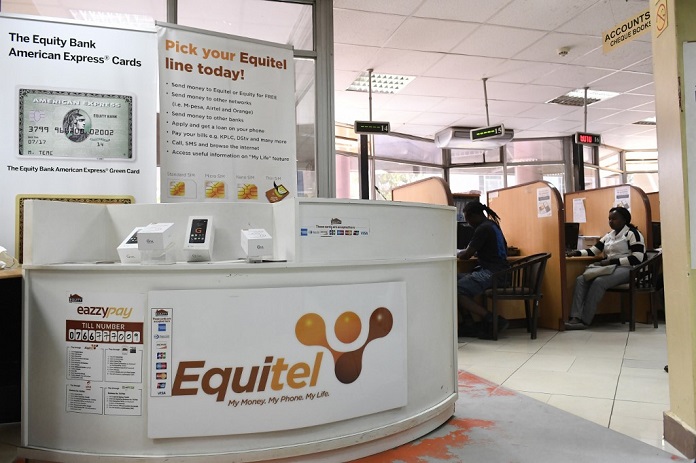 Equitel is a mobile virtual network operator which operates in Kenya and uses Airtel Kenya as its network carrier. The mobile virtual network operator also provides an avenue for customers to purchase prepaid tokens. They are one of the options available to Kenyans.
This service is opened to Equitel users under the Airtel Kenya umbrella. An advantage of this process is that it is pretty simple and straightforward and saves time. However, as with any network operator though, network issues might lead to customers not getting swift responses after payment.
If you decide to use Equitel as your mode of token purchase, follow the step-by-guide provided below for a smooth transaction.
Scroll to the Eazzy pay option on your Equitel menu
Click on 'pay bill' from the Eazzy pay options
Choose the bank account you wish to make your payment from
Select KPLC Tokens as your business number
Proceed to enter your KPLC prepaid meter number
Enter the amount you wish to pay. Note that the minimum is Ksh 100 and the maximum is Ksh 500,000
Input your Equitel pin and press OK
Go through everything for confirmation before clicking 1 as OK
Equity bank will send you a confirmation of the transaction as a notification
You will then get the generated token for your prepaid meter via SMS from KPLC
The whole process should take no more than a few minutes as it is pretty fast and secure.
Buying Through Safaricom Bonga Points Method
Safaricom subscribers can use Bonga points to pay for their prepaid tokens after Safaricom teamed up with KPLC to bring this initiative. Bonga points had previously been used for airtime or data but can now be used to purchase tokens at the rate of 20 cents per Bonga point.
This initiative is aimed at providing a cash-free method to Kenyans to pay for their tokens to free up the financial burden, especially in light of the Covid-19 pandemic. The Bonga loyalty scheme is all about customers accumulating points based on how frequently they use services on Safaricom's network.
The advantage of this method is that there are no additional financial charges deducted after payment as KPLC only deducts the required Bonga points from your total. On the downside, a customer needs to frequently spend enough money and make use of the Safaricom services to build substantial Bonga points. This method is also only open to Safaricom subscribers.
Below is a step-by-step to guide you when you decide to use Bonga points to purchase prepaid tokens:
Launch your phone's dial pad and dial *126#
When presented with a list of options, select 'Lipa na Bonga points'
Choose 'pay bills' from the new options
Enter KPLC Paybill number, i.e. 888880 for prepaid meters
Input your prepaid meter number as the account number
Enter your service pin and submit your application
You will receive a confirmation message followed by your token from KPLC via SMS
Remember, you can increase your Bonga points by merely recharging your Safaricom line frequently. For every Ksh 100 you spend on airtime, you will receive 10 Bonga points.