An important figure in the South African political arena, Blade Nzimande (Born: 14 April 1958, Age: 64 years old) is a politician and an educator who is known for unapologetically voicing out his reservations about how those at the helm of affairs in his country. Over the years, he has made headlines for heavily criticizing the actions of those in power. From Thabo Mbeki to Jacob Zuma, different South African presidents all felt the sting of his severe criticisms.
Having begun his political journey in the 1980s, Blade Nzimande has been actively involved in South African politics for decades. He won respect as an anti-apartheid activist and achieved success academically by rising to become a university lecturer and sociologist. He has also been serving as the General Secretary of the South African Communist Party since 1998.
Profile Summary of Blade Nzimande
Full Name: Bonginkosi Emmanuel "Blade" Nzimande
Date of Birth: 14 April 1958
Age: 64 years old
Place of Birth: Edendale near Pietermaritzburg, Kwa-Zulu Natal
Nationality: South African
Marital Status: Married to Phumelele Ntombela-Nzimande
Education: University of Natal
Occupation: Politician, Lecturer, Sociologist, Government Minister
Political Party: South African Communist Party (SACP)
Blade Nzimande Was Born To A Tsonga Herbalist

Blade, whose real name is Bonginkosi Emmanuel Nzimande, was born on the 14th day of April 1958. He is 64 years old. The South African politician was born in Edendale, a township near Pietermaritzburg, the capital and second-largest city in the province of KwaZulu-Natal. He is one of the three children born to their parents. His two siblings include a sister called Mano Nzimande and a brother identified as Mxolisi Nzimande.
One interesting thing about Blade Nzimande is the fact that he was born to a father who was a Tsonga herbalist. Nzimande's father, Phillip Sphambano, was originally from Mozambique. His mother, on the other hand, was called Nozipho Alice. Not much is known about what she did for a living.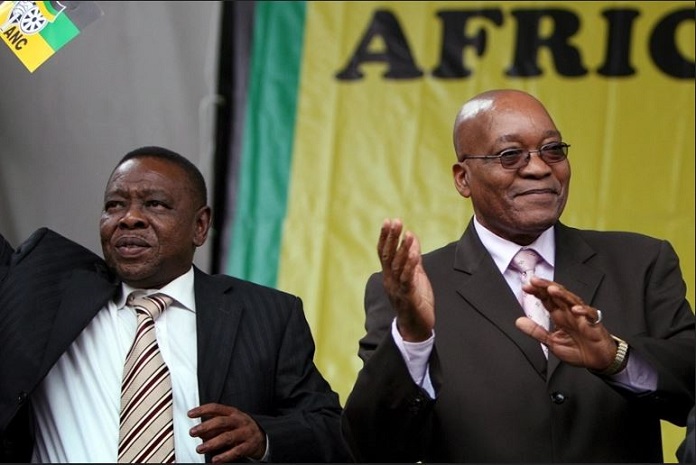 Nzimande Is A Very Learned Man
Blade Nzimande is a learned man. Growing up, he attended the Roman Catholic School, Henryville, a primary school in Pietermaritzburg. After this, he proceeded to attend Plessiers Lower Primary School before going to Mthethomusha School in Edendale.
Incidentally, the Mthethomusha School in Edendale happens to be the first school in the area to be established under the Bantu education system, a segregation law that aided the spread of the apartheid system.
After Blade finished from Mthethomusha School, he went on to attend Georgetown High School, also in Edendale. Eventually, he graduated from high school in 1975 when he was about 17 years old. Following his graduation, he went on to attend university for higher studies.
What Is Blade Nzimande's Highest Educational Qualification?
With a passion for learning burning in his chest, Blade Nzimande attended the University of Natal (now the University of KwaZulu-Natal) to study Psychology in 1976. He graduated from the institution in 1980 with an Honours degree at age 22.
After bagging his Psychology Honours degree, Blade Nzimande decided to get a Masters degree. He promptly began a Master's course in Industrial Psychology at his alma mater, finishing a year later in 1981.
Not done yet, he pushed to get his doctorate degree, and in 1991 when he was about 33 years old, he bagged a Ph.D. in the field of Sociology from the same university.
His thesis was titled The Corporate Guerrillas: Class Formation and the African Corporate Petty Bourgeoisie in Post-1973 South Africa.
How He Got Into Activism and Politics

Blade Nzimande began his journey into politics by first joining activism and it all started from his university days. In his first year as a university student, he got involved in student activity. He even joined a food boycott and took part in demonstrations to kick against the award of an honorary doctorate to Prince Mangosuthu Buthelezi in May 1976.
After bagging his first degree, he returned to Edendale and joined the Azanian Students' Organization (Azaso), a popular student movement that was founded in 1979 to serve as a replacement for the banned South African Student Organization (SASO). Nzimande and his colleagues would later get acquainted with the policy of the African National Congress (ANC) and, afterward, began to receive underground ANC documents. Shortly after, he would become a member of the ANC.
It was while he was with the Azanian Students' Organization that Nzimande got his Master's degree. In 1982, after acquiring his Master's, he moved to Durban where he became active in the Dambuza Youth Organisation which later became affiliated to the United Democratic Front (UDF) after its launch in 1983. He soon started working informally with unions after he met Jay Naidoo, the founding general secretary of the Congress of South African Trade Union. Nzimande became known for his intelligence as he actively addressed union seminars on job grading and other issues.
Blade Nzimande later joined the South African Communist Party (SACP), a political party in South Africa that was founded in 1921. In 1998, when he was about 40 years old, he rose through the ranks and became the General Secretary of the party and has held that position ever since.
It is noteworthy that despite being the General Secretary of the SACP, Nzimande is also a member of the ANC. This is because the SACP, ANC, and Congress of South African Trade Unions (COSATU) are now all associated through an alliance known as the Tripartite Alliance which was formed in 1990 after the release of Nelson Mandela.
Blade Nzimande's Journey As An Educator
Blade Nzimande is not just an activist and a politician, he is also an educator. With all the education he has acquired, it made perfect sense to go into the educational sector. In 1984, Nzimande became a lecturer at the Umlazi branch of the University of Zululand. As a lecturer, he founded the Department of Industrial Psychology on the Umlazi campus, winning the admiration of many.
Nzimande lectured at the University of Zululand until June 1987 when he left the institution and took up another job as a lecturer in the Psychology Department of the University of Natal, Durban. It was while he was on the job that he bagged his Ph.D. degree.
He Has Authored Some Publications
Blade Nzimande is an author of books. In 1991, he co-authored Children of War: The Impact of Political Violence on Schooling in Natal. He is also the author of the book Civil Society and the role of the NECC.
Nzimande is respected for his works and his efforts to reposition society on the path to achieving more peace.
Nzimande Does Not Hold Back When Criticising Those In Leadership

Blade Nzimande is admired for his fearlessness. Over the years, he has been very vocal in criticizing the government. When former South African President Thabo Mbeki was elected, Nzimande heavily criticized his economic policy. He later became very vocal in his support for the removal of Mbeki as President.
When Mbeki finally resigned due to pressure, Kgalema Motlanthe took his place as president. Shortly after Motlanthe became president, Nzimande also criticized him. President Motlanthe came under Nzimande's attack after he refused to sign the SABC bill which would have given the ANC full control of state television.
When Jacob Zuma became president of South Africa in 2009, he appointed Blade Nzimande as Minister of Higher Education. Interestingly, even though he was in Zuma's cabinet, this did not stop Nzimande from criticizing the president. In 2017, Nzimande attacked President Zuma, calling his latest Cabinet reshuffle an abuse of power. He then made calls for Zuma to step down. Shortly after this, in October 2017, President Zuma removed Nzimande from his position as the Minister of Higher Education and Training and replaced him with Hlengiwe Mkhize.
— Minister Blade Nzimande (@DrBladeNzimande) June 29, 2021
He Continues To Serve As Minister In The New Government

Blade Nzimande is still part of the South African government at the moment. In 2018, after Jacob Zuma resigned and was replaced by President Cyril Ramaphosa, Nzimande reinstated Blade as minister. This happened on 26 February 2018 when Nzimande was about 59 years old.
Blade now serves as the Minister of Higher Education, Science, and Technology of South Africa and keeps lending his voice whenever it is needed for change to happen.