Akothee (Real Name: Esther Akoth) is a Kenyan musician and businesswoman with a net worth estimated at $61 million (Ksh6.6 billion).
The Kisumu County native's music career has grown tremendously with songs like Give it to Me and Djele Djele being worthy mentions. Her music career has contributed to her wealth but the bulk of it comes from her personal relationships and business ventures in real estate and transportation.
Akothee's Music Career is the Most Prominent Source of Her $61 Million Net Worth
It is the most visible source of her wealth, but it could very well be the least contributor to Akothee's net worth. After a tumultuous living period, which included working as a house help for seven years, Akothee began her music career in 2008.
Besides the fact she grew up in a music inclined family, there is little insight into the machinations that birthed her career. But how she began is not as important as where she is and the success she has achieved along the way, particularly when it comes to her net worth.
So far, Akothee has released several successful songs, becoming a stable of Kenyan parties and concerts. Some of her notable songs include Oyoyo, Tucheze, Mwitu asa, Yuko Moyoni, and more. As her music career grew and the demand for her performances expanded, Akothee raked in cash.
According to unconfirmed reports, Akothee's net worth benefits from making an estimated Ksh 1 million per show or collaboration. It is an income status that has also enabled her to pay high sums like Ksh6 million and Ksh1.7 million to singers: Flavour, and Diamond. Akothee paid the artists for their feature on the songs, Give It to Me and Sweet Love.
She also Makes a Lot of Money as an Entrepreneur
Beyond her income from music, Akothee has made a lot of money from her business ventures. The musician has two known businesses in real estate and transportation. Her entrepreneurial endeavors began after leaving her mother-in-law's home in Migori, where she had spent seven years as a house help.
She relocated to Kanga and began working as a fish hawker to make ends meet. Through some luck and the blessings of some personal relationships, she found the capital to establish her businesses, Akothee Safaris, and Akothee Property. The former is a tour and travel company, while the latter manages her real estate portfolio. Her travel and tours company reportedly has over 15 vehicles in operation, including two 27-seater buses, minibuses, and five tour land cruiser vehicles.
Presumably under Akothee Property is Morning Star Diana, a business that provides 5-star accommodation at 3-star rates. Due to her businesses' private nature, we cannot tell, to the nearest shilling how much each venture makes her. But having been in existence for years and considered significant sources of Akothee's net worth, they are substantial.
According to her manager, Nelson Oyugi, between her businesses and luxury properties, her Kenya assets are worth $10 million (Ksh1 billion). The rest is in Switzerland.
A Romantic Relationship Fetched Her $50 Million
As mentioned earlier, Akothee has had a tumultuous life, and a lot of it involves her personal life. She went into a bad relationship at the age of 13, and at 14, she gave birth to her first child. Despite efforts to make things work with her baby father, their financial struggles proved a hindrance.
Eventually, they parted ways, and Akothee met an unnamed diplomat. Her relationship with him caused a relocation from Kenya to Zurich, Switzerland. There, she performed at various private dance parties, earning up to Ksh300,000. Her time in Zurich also fetched her a house, worth $50 million (Ksh5 billion).
Although her relationship with the mystery diplomat has since ended, she has made additional money from other relationships. She met a French man who reportedly gave her $734, 000 (Ksh80 million), a brand-new Prado, and other cash gifts.
To recap, Akothee has made her money from
A Thriving Music Career
Businesses (Owner, Akothee Property and Akothee Safaris)
Cash Gifts, including a $50 million home in Zurich
These sources have propped Akothee to a $61 million net worth, a far cry from the malicious rumours of making her money from human trafficking and being a cult member. Confident in the sources of her wealth, she has not hesitated in spending lavishly, including on a few mansions.
She Owns Multiple Luxurious Houses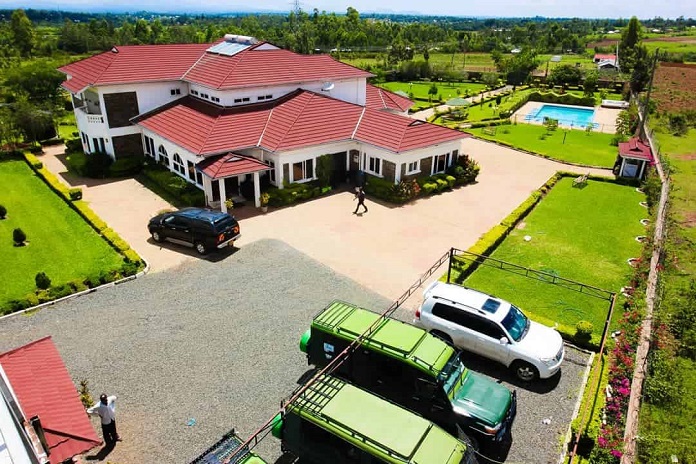 A scroll through Akothee's social media pages, especially Instagram, shows she is not shy about showing off her massive net worth. Her array of luxury includes exotic cars, a designer-clad wardrobe, vacations, and many more. But none of them best capture Akothee's lavish spending than her houses, which are spread across Kenya.
The current count puts her total number of palatial homes at five, in locations like Kisumu, Nairobi, and Mombasa. Her Zurich, Switzerland home is her most expensive, at $50 million, but her Kenya homes are no slouch either. Her most expensive home in Kenya is in Mombasa, and reportedly cost her $1.1 million (Ksh120 million)
The house is in Mombasa's rich man reserve, at the North Coast beachfront. It has sixteen bedrooms with other luxurious amenities like a gym and a swimming pool. The house also has 20 security cameras to monitor and protect the expansive property. It also has a private chef and a personal masseuse. She lived on the property for nine years before relocating to Nairobi, where she currently resides.
Other Properties in Akothee's Collection
Beyond her prime asset in Mombasa, Akothee has spent her net worth on other homes like a retirement home in Rongo, Migori county, worth Ksh100 million. She bought her Nairobi property for Ksh80 million and a luxury apartment complex also on the North Coast.
Her Zurich house has five bedrooms, among other luxurious amenities that justifies its $50 million worth. Beyond homes, Akothee has a fleet of cars that include a Toyota Land Cruiser V8, a Mercedes Benz Mclaren, and AMG SL 63 convertible Roadstar. She also owns a Range Rover Vogue and a Prado.
Asides from stationary luxuries, she has also been on luxury vacations with her five children to France, Switzerland, Dubai, and Italy. She is also renowned for throwing high-end private parties for her children and their friends.