Asamoah Gyan is a Ghanaian professional footballer who has an estimated net worth of $23 million.
Having a net worth of $23 million is sure to make the world stand and pay attention to Asamoah Gyan. Still, it just might be a starting point for the Ghanaian striker who has invested in a couple of well-performing businesses ranging from transportation to food and even sports promotion.
Gyan accumulated his fortune from several ventures, however, football has always been his first love and the reason for his emergence to the limelight. With the wealth accumulated from soccer, the Legon Cities player has proven to the world that he is not just good in football, but is equally an astute businessman.
Asamoah Gyan's Net worth Was Recently Estimated at $23 Million
To say that the Black Stars striker is living a good life with his fortune is an understatement as it would be more apt to state that he is actually living in the lap of luxury. Being one of the richest footballers of Ghanaian origin, the soccer player cum business mogul spends lavishly on luxury houses and exotic automobiles. His Ghana residence is said to worth around $3 million dollars and considering the top-notch amenities in the building, you will agree that it is money well spent. What about his vehicles?. Asamoah Gyan splurges around town in very expensive automobiles, fit only for kings, but this is just the tip of the iceberg on the footballer's financial status and lifestyle.
The most recent estimation of Asamoah Gyan's net worth pegged it at an admirable $23 million and it goes without mention that the striker earned a lion's share of his fortune through his stint in the soccer field. Despite the huge paycheck that comes in from football, the businessman in Gyan needed to find expression, leading him to launch several lucrative businesses from a private airline to grains and noodles business. With the strong foundation he has laid in business, the African footballer seems to have prepared another life for himself after retirement from football.
Here are all of Gyan's income sources:
Football
Baby Jet private airline
Mama Vits Noodles and Rice
Music
Boxing Promotion
Events Management
Baby Jet Plaza
Transportation business
Baby Jet Private Airline
His Early Career in Football, Deals, and Contracts
Asamoah Gyan started accumulating his fortune when he launched his football career in 2003 with the Accra-based Ghanaian club called Liberty Professionals. The same year, the aspiring football star was signed on by Udinese, and while on loan to Serie B club Modena, he displayed stellar moves at the FIFA 2006 tournament that attracted the attention of Russian club Lokomotiv Moscow. He was on the verge of inking a contract with the club to the tune of US$10.5 million; this would have marked the fourth biggest transfer fee in the history of the Russian football club.
Despite his fame and popularity in the field of play, the Ghanaian native returned to Udinese and on the 10th of August 2007, he opted to extend his contract with the club for five years which would have seen him stay with them till the 30th of June 2012. However, things didn't go as planned as he sustained major injuries that kept him off the field. Eventually, in July 2008, he inked another 4-years deal with Stade Rennais – Ligue 1 club (Rennes) on a transfer fee estimated at €8 million.
To Date, Asamoah Gyan is Still Doing Exploits in Football and Inking More Lucrative Deals
On the 31st of August 2010, he departed to Sunderland – Premier League club – which to signed him on a four-year deal for a transfer fee totaling €13 million; this was considered to be a then club-record signing. Still, Asamoah Gyan got one of the best deals of his career when he joined Al Ain FC in Abu Dhabi, the United Arab Emirates on a long loan season for the transfer fee of €6 million; with the deal finalized, the Ghanaian striker was smiling to the bank with four-times his former income. Impressed by his performance, Al Ain FC signed him on fully on the 6th of July 2012 on a five-year deal with a huge transfer fee of more than €6 million for each season.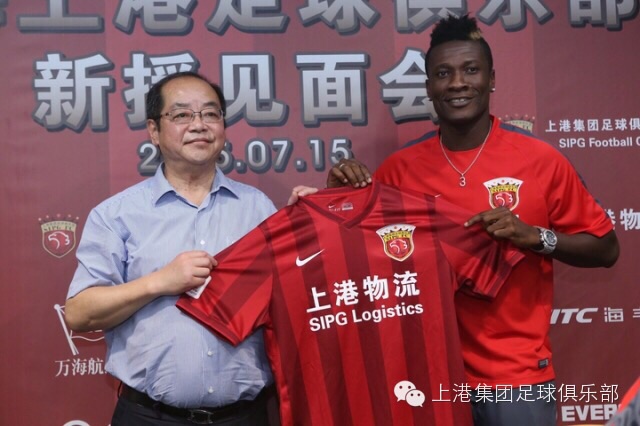 On the 7th of July 2015, he joined Chinese Super League club Shangai SIPG where he was earning a weekly pay of €227, 000, placing him among the topmost earning soccer players worldwide. A couple of years later on the 5th of July 2017, the powerful striker penned another contract with the Turkish club Kayserispor. As of 2018, he was getting a weekly pay of €550,000 from Kayserispor and also receives €15,000 per appearance in a match. On the 19th of September 2019, North East United, the Indian Super League side signed him on but had to let him go because of an injury. The football superstar is currently in his home country Ghana playing for the local team known as Legon City FC.
List of Clubs Asamoah Gyan has Played For
Liberty Professionals
Udinese
Serie B club Modena
Rennes
Sunderland
Al-Ain
Shanghai SIPG
Kayserispor
North East United
Legon Cities
Facts About Gyan's Numerous Businesses
It is a fact well known that football turned around the fortunes of Asamoah Gyan from an unknown person to a football celebrity well known across the African continent and even in some parts of the world. His fame also came with lots of monetary benefits and as a business-minded person, he invested his money wisely.
Mama Vits Noodles and Rice
Asamoah Gyan has proved that he is a businessman through and through. The prolific striker invested in the grains and Noodles business. The company which was launched in 2012 imports both rice and noodles and appears to be doing extremely well in the Ghanaian food market.
Asa Band
Gyan gave expression to his love for music when he launched the musical band popularly known as Asa Band. Launched in 2015, the musical band has put up performances in several functions in Ghana. In fact, the band took things a notch higher when they came out with their debut album "Fly Away" which remains their only album to date.
Events Management
Asamoah Gyan also has a finger in event management. He is the owner of Jetlink Events & Logistic located at Adjiringanor in Accra-Ghana. The company undertakes activities such as organizing events, construction of trusses, arrangement of stages, LED screens, public address systems, lights, as well as tents for events.
Baby Jet Plaza
Asamoah is the owner of a huge plaza located in East Legon, Accra-Ghana. The said plaza is the location of a good number of shops as well as companies. The striker earns from the plaza through the collection of rent and other fees.
Real Estate Business
The football superstar's business acumen extends to include huge real estate investments. Gyan has invested in the property business with a line-up of beautiful buildings scattered all over Ghana; these houses are leased out as residential homes, offices, and even shops.
Boxing Promotion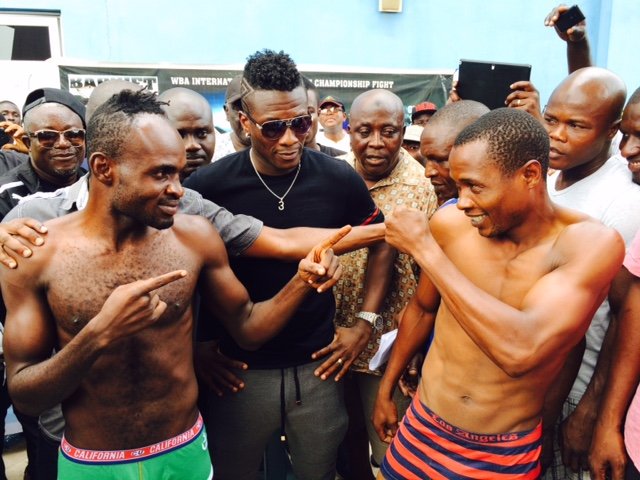 Asamoah's interests in sports don't just end with football, the Ghanaian striker happens to be a lover of the boxing game. Though he does not perform in the rings, Gyan plays a big role in boxing promotion in Ghana. According to the famous footballer, he aims to nurture his countrymen who are talented in boxing. Notable among his protégées is the boxing lightweight champion, Emmanuel 'G Tagoe. Besides, there are still several other talented upcoming boxers on their roaster.
Transportation Company
From what is perceivable, Asamoah Gyan seems to have a finger in every business pie. The business tycoon is also interested in the transportation business with way more than 20 coaches under his name. Gyan's transport line ferry's people to & from Accra, Kumasi as well as other parts of the country. It also runs cross-country, transporting commuters to neighboring countries.
Baby Jet Airline
If the recent reports we are hearing about the football superstar is anything to go by, then, we are yet to see that last of Gyan's business acumen. According to the said reports, the Ghanaian government recently granted him a license to operate a private airline. The same report also let on that the name of the airline is Baby Jet and it will start as a freight forwarding company and later extend to ferrying passengers within Ghana and other parts of the world.
Considering how profitable an airline can be, one would expect that a business mogul like Gyan will make good use of this opportunity to boost his bottom line. In fact, with this latest addition to his business empire, we just have to agree that the striker may yet turn out to be better at business than he ever was at football.
While we don't have a breakdown of how much he makes from each business venture, there is no doubt that Asamoah has proved that he is worth his weight in gold, both in football and in the wheeling-dealing world of business. His success has no doubt made him a role model for the Ghanaian youths who are assiduously aspiring to be like him.
How Does Asamoah Gyan Spend His Fortune
It has become the norm for the rich and famous all over the world to spend money like it is fast running out of fashion and who could blame them, since whatever goes out their pockets gets replaced in hundred folds the next instant. In the case of Ghanaian super striker Asamoah Gyan, the footballer cum businessman spends as big as he earns dishing out huge sums in building and furnishing his residence as well as lavishing a fortune on a fleet of exotic vehicles.
His Ghana House Simply Shows Luxury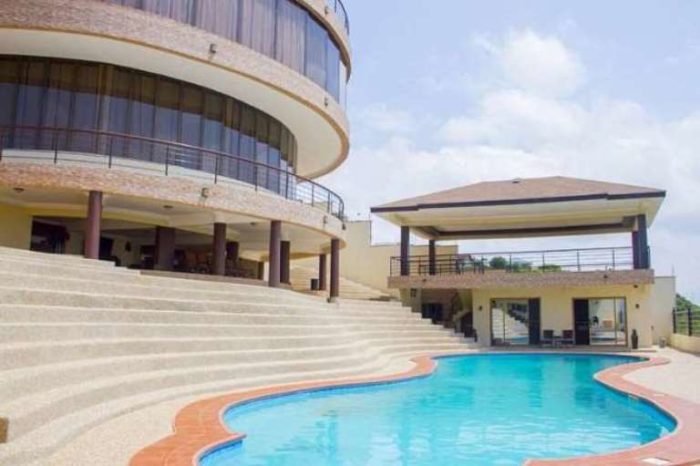 The powerful striker of the Ghanaian national team kept mouths agape in 2015 when he acquired what he called La Basillica De Baby Jet; this is a luxury mansion with worth estimated at over $3 million or GHC15 million. When the house was opened it made the headlines, becoming a topic of discussion for Ghanaians across the country. The house is situated at a strategic spot where it sits, overlooking the Weija Dam, giving it an incredible view of nature.
According to reports, the house which is cited in the elite area of Kasoa, Accra Ghana mansion is one beautiful abode designed on three floors; the floors each have their own unique theme which adds to the overall beauty of the house. Knowing his financial standing, one would expect that Asamoah Gyan's dwelling would be equipped with top-of-the-notch security gadgets and the super striker did not disappoint one bit. For each of the three floors, there are impregnable security features such as bulletproof doors which ensure the safety of the occupants.
The house also boasts of other amenities that are fit for royalty, anybody coming into the house will surely not miss the huge blue glistering curvy swimming pull as it dominates one corner of the compound. The pool is sandwiched between two smaller buildings, probably bars with a flight of steps leading to the main house.
The Interior of the House is Equally Luxurious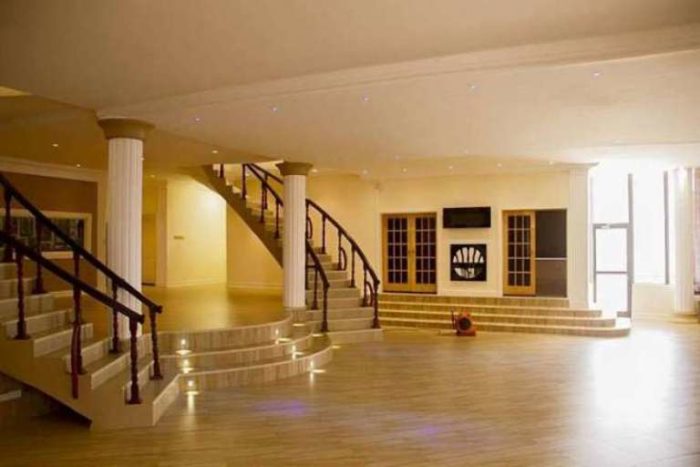 The interior of the striker's house is best described in two words, exotic and classy. Sporting huge balconies on each floor, the mansion has beautiful tiles, elegant floral designs, and pristine décor. We are yet to factor in the luxury linens and a collection of artifacts and furniture imported from different parts of the world.
There are several master-fitter bedrooms in La Basilica De Baby Jet, what about the welcoming cafeteria, a pub, gymnasium, snooker bar, movie room, several kitchens, automated garages, several living rooms, and self-contained boys quarters. Anybody who has seen the interior of Asamoah Gyan's home will agree that it swallows a huge sum in maintenance. The football star has also acknowledged this fact when he mentioned how he has been saving and investing wisely so he can continue to maintain his house after retirement.
He also owns a Fleet of Luxury Automobiles
Gyan is one football star that spares no expense when it comes to acquiring expensive automobiles and he seems to have no problem with flaunting his exotic fleet on social media. We have seen him severally on the picture-sharing platform Instagram with a lineup of rides.
His Roll Royce is Painted in Gold Color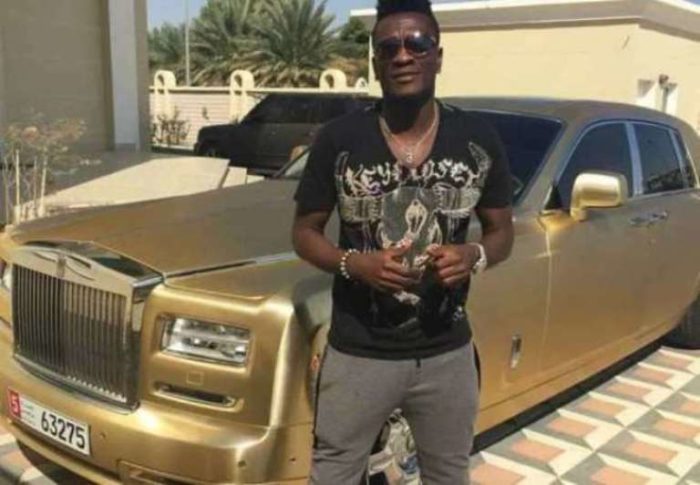 Most notable among them is a gold-colored Rolls Royce worth a whopping $400, 000. The special features of this particular automobile are not known, but according to reports, its gold color is a testament to the kind of luxury that is sure to come with such expensive taste.
He has a White Coloured Mercedez Benz SLS
Similar to the Rolls Royce, the Black Star's striker also acquired a Mercedez-Benz SLA AMG worth over $250, 000. Though cheaper than the Royce, the Mercedes is equally as luxurious. The car has alloy wheels, power steering, power windows front, wheelbase of 2680mm, and automatic Climate Control.
These two automobiles are the ones he has been seen splurging around town with, but in several of the photos he has shared on social media, the footballer has been spotted with other cars that are equally as expensive if not more. You wouldn't expect less from a talented footballer cum businessman who makes above six figures in dollars every year.