Patience Ozokwor (born: 14 September 1958, Age: 65 years old) is one of the most popular Nigerian actresses and one of the wealthy ones with an estimated net worth of about $500,000.
There is no doubt that her name rings a very loud and resounding bell in Nigeria, and for obvious reasons too. Ozokwor, who is fondly referred to as 'Mama G' by her many adoring fans, is regarded to be one of the greatest women to have ever graced TV screens in the West African nation. She is known all over the African continent for her unique style of acting and her very boisterous nature. Over the years, she has won over millions of fans who consider her a godmother in Nollywood.
The 65 year-old actress has starred in over 300 movies since she started her career and has remained active in the Nigerian movie industry for over two decades, cementing her place as one of the most influential women in Nollywood. She has inspired countless women to become actresses and has mentored several people into becoming successful actors. Patience Ozokwor has won several awards for her incredibly mind-blowing work onscreen and is now one of Nigeria's most respected movie veterans.
Profile Summary Of Patience Ozokwor
Full Name: Patience Ozokwor
Date of Birth: 14 September 1958
Age: 65 years old
Place of Birth: Ngwo, Enugu, Nigeria
Ethnicity: Igbo
Nationality: Nigerian
Education: IMT Enugu, Women's Training College
Profession: Actress, Fashion Designer, Musician
Marital Status: Widowed
Children: 3
Patience Ozokwor Was Born 65 Years Ago In Enugu
Patience Ozokwor was born on the 14th day of September 1958. This means that she is 65 years old at the moment. The veteran actress was born in the village of Amaobo, a community located in Ngwo in the present-day south-eastern state of Enugu, Nigeria. It is also in Amaobo that she grew up.
Patience is not an only child. She had siblings with whom she grew up in Amaobo. She has also talked about them occasionally after becoming a star actress. However, not much is known about them as they never became as popular as she did. Also, details about who her parents were are elusive, although the actress once revealed that her mother was a popular trader back in the day. This means she never had it rough as a child because her parents were doing well and brought enough money home.
She Started Acting In Primary School
Acting started early for Patience Ozokwor. While she was still very little and still in primary school, she got interested in acting and began to act in different stage plays that were staged in school. After she was done with her primary school education, Ozokwor went on to attend the popular Abimbola Gibson Memorial School in Lagos in the southwestern part of Nigeria.
While at Abimbola Gibson Memorial School, Ozokwor took part in several stage plays too. In fact, she and other students staged some classic Shakespearean plays before ecstatic audiences. One of the memorable Shakespearean characters she played was the classic Hamlet. She got more passionate about acting as time went on, however, she did not think about making acting a career choice. It was just something she loved to do in school and nothing more. Fate would change that years later.
She was also a very dramatic person in the house and everyone knew that she loved to be active and when she eventually went into professional acting, it didn't really come to many people who knew her as a huge surprise.
Patience Ozokwor's Life Before Nollywood Fame
Patience Ozokwor is widely known all over Africa and beyond as a veteran actress, however, acting is not the only thing she has done with her life. As a matter of fact, long before she became known as a movie star, she had other jobs and was involved in other businesses.
Ozokwor Was A Teacher
Patience Ozokwor was a teacher before acting fame found her. After she finished secondary school, she got married at the age of 19. She then proceeded to further her education by enrolling at Women's Training College where she took teaching courses and obtained a degree in teaching.
When she graduated from Women's Training College, Patience Ozokwor applied for teaching jobs and eventually began teaching in Enugu. She taught at the WTC School in Enugu. Ozokwor taught at the school for about 4 years and became very relaxed with the art of teaching. While teaching at the school, the actress organized debates for the kids and made sure they took part in other extra-curricular activities.
She Worked In Radio Nigeria
Apart from teaching, Patience Ozokwor also worked in Radio Nigeria before she started acting. In an interview she had with The PUNCH Newspapers in March 2019, the actress explained how she transitioned from being a school teacher to working in Radio Nigeria. According to her, she had a cousin who worked with Radio Nigeria at the time. One day, the cousin came to see her at the school where she was teaching. Incidentally, Patience was organizing a debate for the kids at the time. The cousin was so impressed by how she was handling the debate that he asked her to come and anchor a children's program at Radio Nigeria.
Ozokwor eventually anchored the children's program and did it so well that Radio Nigeria asked her to write an official application letter so that she could be employed as a staff. She promptly wrote the application letter and was eventually employed. At first, she continued to anchor many children's programs at the radio station before she was made an announcer/newscaster.
While at Radio Nigeria, Patience Ozokwor's love for acting came to the fore when she started taking part in radio drama. She actually became popular among fans of the station who frequently tuned in to listen to her and the others act out their dramas on the radio. During this time, the love that she already had for acting increased. However, even at this stage, she didn't really think of becoming a professional TV actress yet. She just loved acting in radio dramas.
Sadly, some years after she began working at Radio Nigeria, Patience Ozokwor and many other workers were laid off. She later explained that she and the others were laid off because of some inherent corruption in the media outfit. According to her, those at the helm of affairs laid her and other people off so they could make room to employ their relatives and friends. Even though she pleaded to be given her job back, her plea fell on deaf ears so she was left without a job.
She Was A Confectioner For A While
After she was laid off from Radio Nigeria, Patience Ozokwor became a Confectioner and made quite a lot of money from this. She made wedding cakes, popcorn, and other food products which she sold for cash. She became quite popular in her area in Enugu because of the quality of her confectionery products.
Patience also went into event planning and helped many people decorate the venues of their weddings and burial ceremonies. The actress also made money from this venture and became even more popular. She once claimed that she may have been the one who actually started event decoration in Enugu.
How The Journey To Nollywood Began For Patience Ozokwor
Because she was so good in dramas, especially when she acted in radio dramas, some people close to Patience Ozokwor urged her to go and audition to become involved in movies. However, she was too shy and reserved and decided not to. Eventually, she was coerced to go into movies after things got so hard for her.
At the time, her husband was so sick and he could not do much for the family so she was saddled with the sole responsibility of providing what the family needed. Because of this, she was involved in many things and did whatever she could do to raise money. One day, her cousin told her to go to the office of Chika Okpala, the legendary Nigerian actor and comedian popularly known as Chief Zebrudaya. The actor was looking for someone to do a commercial.
When Patience got to the office, Chika Okpala was not there but his team saw her and quickly handed her a script and asked her to read it. She did as she was asked and impressed the crew. They were so impressed with how she played the part that they gave her the role immediately and asked her to go and dress up in traditional clothes so that the shoot can begin on the spot. At the end of the commercial, she was applauded by the crew members who were so impressed by her, especially because this was her first time to do such a thing.
Soon after she was involved in shooting the commercial, Patience Ozokwor got her first TV role when she was cast to star in Someone Cares, a soap opera produced by the Nigerian Television Authority (NTA) in the early 1990s. Incidentally, it was someone from the crew of the TV commercial she did that got her the job. Ozokwor explained that the man came to her house with Chika Okpala himself to look for her when the role in Someone Cares opened up. They didn't meet her at home but before they left, they drew a map to show where she can find them and left it with her children. Of course, Ozokwor used the map to locate them and her journey in Nollywood began.
The Actress Was 41 Years Old When She Shot To Fame
After starring in Someone Cares, Patience Ozokwor began to bag other roles in different movies. In 1995, she starred in Ukwa, a comedy/drama film alongside legendary Nigerian actors Nkem Owoh and Sam Loco. The same year, she reprised her role in Ukwa 2, a sequel to Ukwa.
Patience would later get her big break in 1999 when she was about 41 years old. This was when she was cast to star in Authority, a drama movie. The movie became very popular around Nigeria and introduced her to a very large fan base. In 2001, she starred in Terrible Sin and its sequel, Terrible Sin 2. The same year, she appeared in Mothering Sunday, Greedy Genius, and Desperadoes. By this time, she was already becoming one of the most well-known faces on TV in Nigeria.
Around this time, Patience Ozokwor was so big that she was bagging multiple roles every year. In fact, sometimes she appeared in more than 60 movies in a year. For instance, in 2006 alone, she starred in about 67 movies, including sequels. Some of these movies included Sacred Blood, Sweet Mama, My Mother's Decision, Living in Pain, Pounds and Dollars, 'U' General, and many others. In 2007 alone, she appeared in about 58 movies, including sequels.
In 2008, Patience Ozokwor starred in the drama movie, New Jerusalem. Her role was so well-acted that she was nominated for the Africa Movie Academy Award for Best Actress in a Supporting Role. That same year, she starred in Heart of a Slave, Heaven After Hell, Female Lion, and many others.
In 2012, the actress bagged another nomination for the Africa Movie Academy Award for Best Actress after starring in the drama movie, Turning Point. Two years later, in 2014, she finally won the award after starring in the movie, After the Proposal. Her performance was hailed by many people. Around this time, she had become one of the most popular Nigerian actresses in the movie business. Fans began to fondly refer to her as 'Mama G'.
How Ozokwor Became Known As The Wicked Mother-In-Law and Evil Stepmother
Patience Ozokwor is a great actress who has portrayed different characters in the movies she has starred in. She has played the role of a Queen, a calm wife, and a good mother. However, she has also played the role of a wicked mother-in-law and a terrible stepmother. Incidentally, the role that many people know her for is that of the wicked stepmother and evil mother-in-law.
The reason for this is mainly because she has played these roles more times than any other. Over the years, she portrayed the wicked mother-in-law character in dozens of movies and has also starred in dozens of other movies as a very wicked and terrible stepmother. In fact, she has been described as the woman to deliver the perfect 'wicked mother-in-law' character interpretation. Because she was typecast in these roles, Patience Ozokwor became known by many people as the 'wicked woman'.
During her career, Patience Ozokwor has played the role of onscreen mother to many popular actors and actresses. Some of these people include Omotola Jalade-Ekeinde, Genevieve Nnaji, Van Vicker, Ini Edo, Ramsey Nouah, and Rita Dominic among many others. People have joked that no actor should feel accomplished until Ozokwor has played their mother in movies. In some of these movies, Patience played a terrible stepmother and wicked mother-in-law to these actors and actresses.
Fans' Reaction To The Role
As expected, many fans have been substantially affected by Patience Ozokwor's perfect delivery of the 'wicked mother-in-law' character. As a matter of fact, there were some people who felt that she was a very wicked woman in real life. According to them, there was no way that a person could portray a wicked woman in movies so well and not be a terrible person in real life.
In mid-2021, fans took social media to express themselves, claiming that the roles that Patience Ozokwor played in movies traumatized them. According to some of them, they have been watching the actress since they were kids, and right from that period of their childhood, they had been scared of Ozokwor because they thought she was a witch and evil woman in real life. Some people even claimed that the actress' roles in movies made them very scared of their mothers-in-law.
Because of all the buzz that the fans were generating, Patience Ozokwor was later forced to issue an apology to the fans, albeit in a joking manner. She apologized in an Instagram post she made on her verified page. According to her, she was totally flabbergasted by the comments she saw fans making about her movie roles.
In a swift turn of events, after issuing the apology, many fans took to her comment section to side with Patience Ozokwor. Some of them told the actress that she did not need to apologize. According to them, even though Patience Ozokwor's movie roles scared them as children, when they became adults, they eventually got to understand the message she was passing across to everyone.
On her own part, Patience Ozokwor has in some interviews defended her wicked character portrayal. According to her, she should not be judged based on her wicked roles in movies because it is only make-believe. She explained that the wicked roles she plays in movies complement her passion for preaching the Word of God against bad behavior. She explained that whenever she plays wicked roles in movies, her character always ends up suffering serious and terrible consequences for the bad behavior. According to her, this is one reason why acting in these wicked roles is a good thing.
She also insisted that she is nothing like what she appears to be onscreen because she is loving, romantic, emotional, and very caring to those who are close to her.
She Has Won Awards For Work
During her career, Patience Ozokwor rose to become one of the most instantly recognizable faces in the movie industry around Nigeria and Africa as a whole. She has also become a known face beyond the shores of Africa. As expected, the actress has won several awards and recognitions for her work in the Nigerian movie industry.
Some of the awards and nominations she has bagged over the years include:
In 2008, she was nominated for Africa Movie Academy Award for Best Actress
In 2013, she bagged a nomination for the Africa Movie Academy Award for Best Actress
In 2014, she emerged winner of the Africa Movie Academy Award for Best Actress in a Supporting Role
In 2014, she was awarded the City People Movie Award for Best Actress of the Year (English)
In 2014, she was honored with the Member Federal Republic (MFR) title by the Nigerian Government in recognition of her stunning work in Nollywood.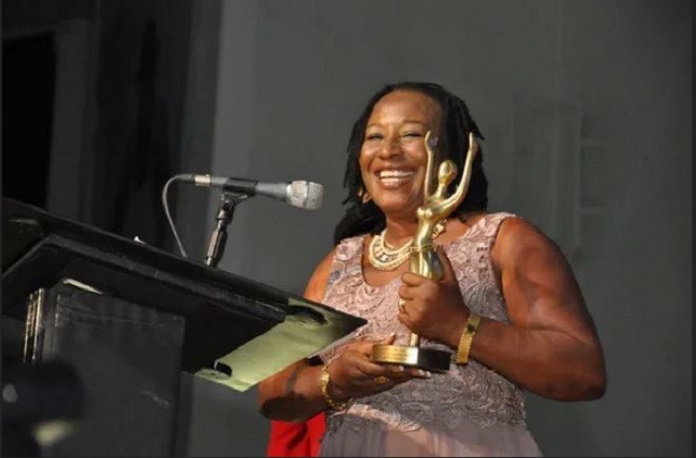 Patience Ozokwor Is Worth $500,000
There is no doubt at all that Patience Ozokwor is a wealthy woman. Having been in the industry for over 20 years and having risen to become one of the most successful and admired actresses of her era, it is only certain that she has raked in quite a lot of money in the process.
Patience Ozokwor's net worth has been a topic of debate over the years as the figure has been disputed by different platforms. However, a more generally accepted figure said to be her net worth at the moment is $500,000. Converted to the Nigerian currency, this figure runs into millions of naira.
A Recap Of How She Earned Her Money
Acting has been Patience Ozokwor's main source of income. The actress has starred in hundreds of movies since she started out in the movie industry. As a matter of fact, a quick look at all her acting credits shows that the actress has starred in over 300 movies since her career gathered steam.
It also appears that even now she is not done yet as she keeps featuring in new movies, establishing her undying relevance in the industry.
How Much Is Being Paid Per Movie Role?
It has been revealed that Patience Ozokwor is among the highest-paid actresses in Nigeria. A research conducted by Daily Trust showed that the actress is paid an estimated N850,000 – N1.5 million per movie script. She makes quite a lot of money from her acting career.
She Is A Fashion Designer
Apart from being an actress who has won the hearts of many people around the world, Patience Ozokwor is also a fashion designer. Although she no longer sews clothes for commercial profit, she still makes her own clothes and for people close to her. In June 2021, the actress posted a video on her Instagram page, explaining to her many fans that she used to be a very popular seamstress who was known as PATQEENTIS. According to her, she learned how to sew since she was a child and has continued to sew ever since.
When she actively worked as a fashion designer, she made quite a lot of money which she used in supporting her family when her husband was sick and was not able to fend for the family much. It is noteworthy that her husband passed away in 2000 after succumbing to his illness.
She Has Released Some Music
Patience Ozokwor did not only do movies, she also ventured into music at some point. The actress released an album titled Ojadili in 2012 and made some buzz as a result. However, she is not as successful in music as she is in movies. She has not released another album since she released the one in 2012.