Genevieve Nnaji is an award-winning Nigerian actress, director and producer who has an estimated net worth of $10 million which is about N5 billion.
When you think of someone who defines the word 'household name,' Genevieve Nnaji immediately springs to mind. The veteran actress has been in the Nigerian film industry since she was eight years old, and over time, blossomed into a universally revered thespian. With over 200 movies to her credit, Nnaji is wildly popular among ardent followers of Nollywood, with a net worth to match.
The actress was one of the pioneers and driving forces behind the growth and development of Nollywood, Nigeria's movie industry. Her dedication and commitment towards sustaining this development have ensured that her career blossom as well. With the illustrious career that she has built, it is perhaps not surprising that she is considered the richest actress in Nigeria. The actress has a net worth that puts her well above any other in the industry. Below is the story of how she made it all happen.
What Is Genevieve Nnaji's Net Worth Now?
When you have been an active participant in a lucrative industry since 1987, becoming one of the most popular and influential individuals around, your net worth is bound to reflect such influence. This belief is true for Genevieve, who is comfortably the richest actress in Nigeria, a title she holds every year.
Genevieve Nnaji remains the actress to beat in Nigeria with an estimated net worth set at N5 billion. Although she is primarily known for her acting career, she has diversified her income sources over the years and is undoubtedly reaping the juicy benefits. Her other sources of income come from her efforts as a movie director, producer, businesswoman, and being a brand ambassador for high-class brands. She is not the type to forget hard work, and the results are there for all to see.
The Journey to Her Wealth Status Started with Acting
Her illustrious acting career began at a young age. At the age of eight, she was already starring as a child-actor on the popular soap opera called Ripples. Her role on the show was her first-ever acting role and opened doors to a world of opportunities.
However, she did not venture into the growing movie industry in Nigeria until eleven years later. In 1998, at the age of 19, she featured in the movie Most Wanted and began her journey into Nollywood as an actress. She appeared in other films such as Camouflage, Valentino, and Love Boat between 1999 and 2001.
Her big break arrived in 2002 when she starred in the Adam Williams-directed movie Sharon Stone, playing the titular role. The film was well-received by audiences and introduced Genevieve Nnaji to the limelight. It is widely attributed to be her breakout role. Since Sharon Stone, she has gone on to star in other movies that further solidified her position as a Nollywood Queen.
Some of Genevieve Nnaji's most famous films include:
Honey (2003)
Blood Sister (2003)
Emergency Wedding (2003)
Sharon Stone in Abuja (2003)
Games Women Play (2005)
30 Days (2006)
Letters to a Stranger (2006)
Silent Scandals (2009)
Ije: The Journey (2009)
Tango With Me (2010)
Weekend Getaway (2012)
Half of a Yellow Sun (2013)
Doctor Bello (2013)
Road to Yesterday (2015)
Lionheart (2018)
Farming (2018)
While it is not particularly clear how much she earned for her performances in each role, it is a well-known fact that Genevieve Nnaji is the best-paid actress in the Nollywood industry. In 2018, she topped the list of highest-earning actresses in Nigeria, allegedly earning N2 Million per script. With over 200 movie credits to her name and such earning power, it is no wonder that Genevieve Nnaji has a massive net worth.
Transition to Producer and Director
It is a known fact that Genevieve Nnaji is a hugely ambitious woman. Not content with forging a very remarkable acting career, she decided to expand her skills and repertoire by adding 'producer' and 'director' to her resume.
Her first production effort is titled Road to Yesterday, released in 2015 under her entertainment company, The Entertainment Network (TEN). It was a successful production debut for Genevieve Nnaji, with a positive reception from critics and viewers alike. The movie also won the Best Movie Overall – West Africa at the Africa Magic Viewers Choice Awards in 2016. She also served as executive producer for her directorial debut, Lionheart.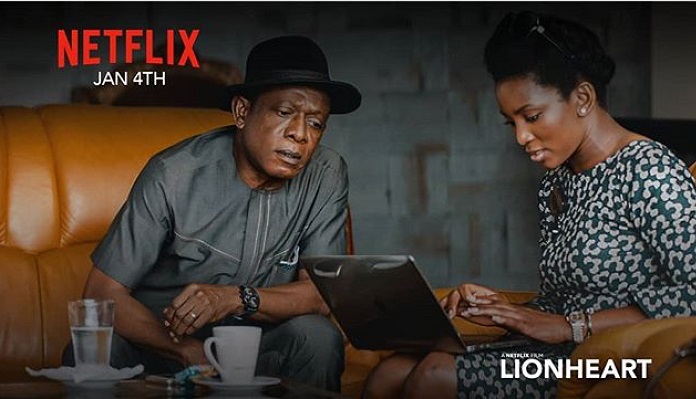 Her directorial debut was an even more significant event. The movie, Lionheart, was due for release in 2018 when Netflix announced that it had acquired the worldwide rights to the movie. This announcement marked the first-ever Netflix original film from Nigeria, guaranteeing her directorial journey was off to the perfect start. It was alleged that Netflix paid a whopping $3.8 million to acquire the license to the film. The movie had its world premiere at the Toronto International Film Festival (TIFF) on the 8th of September 2018. It was also the first-ever movie from Nigeria submitted to the Academy Awards for Best International Film consideration.
She Owns Several Businesses
Away from the world of entertainment, Genevieve Nnaji is a savvy businesswoman, as evidenced in her business ventures and investments. In 2008, the actress launched a clothing line called St. Genevieve. The company is all about showcasing and selling exquisite fashion wear that caters to the needs of women.
In 2014, she partnered with online retail giant, Jumia, to release a new collection of St. Genevieve wears. The collection was exclusive to Jumia Nigeria. Additionally, she has the Genevieve Nnaji Supermarket and Salon, both located in the Federal Capital Territory, Abuja. These businesses continue to generate revenue for the superstar actress, which helps bolster her net worth.
She also ventured into real estate with the acquisition of landed properties in Abuja. One of her houses, a four-bedroom terraced duplex, looks big enough to house numerous tenants. It also contains a centralized generator system and quarters for servants. According to gossip columns, the property cost her N30 million. It certainly looks like money well spent.
She Has Been and Continues to Be a Brand Ambassador for Numerous Brands
Another income source for Genevieve Nnaji's net worth is her job as a brand ambassador for numerous brands. As the highest-paid actress in Nollywood and arguably, its most famous face, it should come as no surprise that she has represented multiple brands in the past and continues to do so.
In return for her endorsement, these brands shell out eye-watering amounts, contributing immensely to her wealth. Her first-ever brand ambassadorial role came in 2004 when she beat other competitors to become Lux's new face.
The deal was highly lucrative as it fetched Genevieve a whopping N20 million. She is the first-ever Nigerian to be the face of the global brand. This deal helped her climb another rung on the ladder of superstardom.
Also, in May 2010, she became the face of Make-Up Designatory (MUD). Below is a list detailing her past and present endorsement deals along with the year she was signed:
The face of Lux – 2004, with a reported N20 million.
The face of MUD – 2010, amount not specified.
SUV brand ambassador – 2012, reportedly worth N40 million.
Cintron Energy Drink – 2012, N50 million.
Amstel Malta brand ambassador – 2014, worth N30 million.
Etisalat brand ambassador – 2014, N100 million fee.
Polo – 2014, signed a deal worth N70 million.
Toronto Film Festival – appointed ambassador in 2020.
Awards and Recognitions Have Also Contributed to Genevieve Nnaji's Net Worth
Often regarded as the most prominent and respected actress in the Nigerian film industry, Genevieve Nnaji's net worth has also been bolstered by numerous awards and recognition in her career. One of the biggest highlights came in 2011 when she was honoured as a Member of the Order of the Federal Republic of Nigeria.
This honour was bestowed upon her for her immense contribution to the Nigerian film industry by the erstwhile president, Goodluck Jonathan. The table below lists some of the awards she has won throughout what has been a glittering career.
| | | | |
| --- | --- | --- | --- |
| Year | Award Body | Award | Movie Won For |
| 2001 | City People Entertainment Awards | Best Actress | Herself |
| 2005 | Africa Movie Academy Awards | Best Actress in a leading role | Unspecified |
| 2010 | Ghana Movie Awards | Best Actress | Silent Scandal |
| 2010 | Nigeria Entertainment Awards | Best Actress in a TV series | Guinness Ultimate Survivor |
| 2011 | Zulu African Film Festival | Best Actress | The Mirror Boy |
| 2011 | Best of Nollywood Shows | Best Kiss | Bursting Out |
| 2012 | Nollywood Movies Award | Viewers Choice – Female | Herself |
| 2013 | Nollywood and African Film Critics Awards | Best Actress in a leading role | Weekend Getaway |
| 2014 | Nigeria Entertainment Awards | Best Actress – Supporting | Half of a Yellow Sun |
| 2016 | Africa Magic Viewers Choice Awards | Best Movie – West Africa | Road to Yesterday |
Genevieve Nnaji Owns Three Luxury Homes in Nigeria and Ghana
As previously mentioned, Genevieve Nnaji has a net worth that ranges from N850 million to N1.2 billion. With this amount, there are not many things you cannot buy. It is quite clear that she loves the finer things of life, and this much shows in the quality of her homes. The Nigerian actress reportedly has three homes spread around Lagos and Ghana, and they are all magnificent.
Genevieve Nnaji's Ikoyi House
Her Ikoyi building is one of her oldest purchases, having reportedly bought it in 2013. The mansion, located in Park View Estate, is where the movie darling primarily resides. The grand structure allegedly cost Genevieve over N220 million. That is a hefty sum of money to invest in a residential abode. Still, she is Genevieve Nnaji.
Her ultra privacy policy means there is no description of the house's features. But if the cost is anything to go by, one can safely assume it has top of the line amenities and designs that justify the price.
Genevieve Nnaji's Lekki House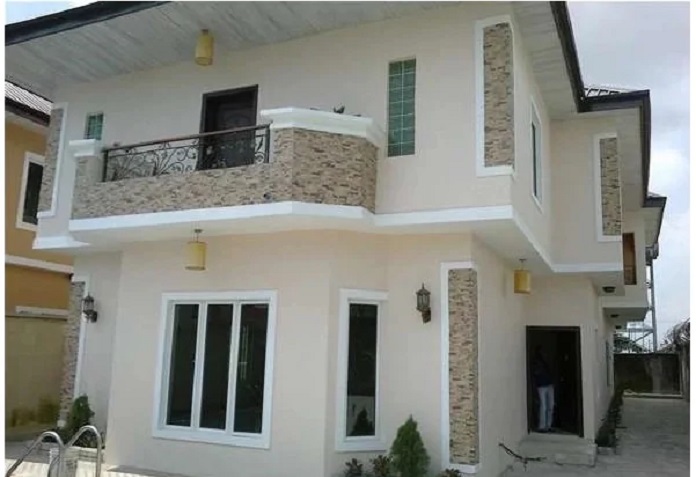 The house purchased by Genevieve Nnaji a few years ago in Lekki was reportedly for her parents. There are very few things one can do to please their parents more than buying a majestic building for them in a country's high-brow region.
Genevieve bestowed this wonderful gift on her parents as a token of her gratitude for their support and commitment to her journey. Having resided in Egbeda on the Lagos Mainland for a long time, this move to the Island would have been a welcome development for the Nnajis. It was all possible due to their daughter's generosity. Her father had also been battling some health issues and it had been difficult for Genevieve to visit him. Moving him closer to her eliminated this problem and ensured he could get access to better health as well.
Genevieve Nnaji's Ghana House
Not content with owning properties in her native country only, Genevieve Nnaji splashed the cash on a beautiful house in Ghana's Achimota area. By spending so much on landed properties like a building, it is clear to see that Genevieve Nnaji is a smart investor and has been spending her money wisely. Her business acumen is why she also has a real estate property in Abuja.
Genevieve Nnaji's Real Estate Property in Abuja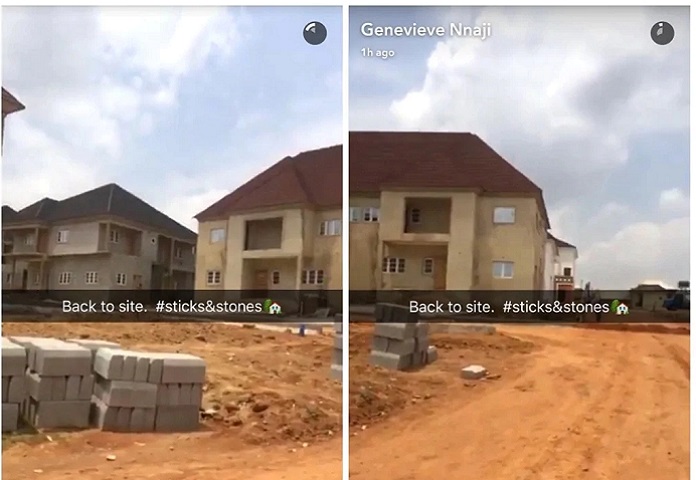 The Abuja property was reportedly built by Sticks & Stones Property in the Apo-Dutse region and cost her N30 million to finish. Like her primary residence, details about its features remain undisclosed.
However, considering the location and amount invested, there is no doubt that it is luxurious. That being the case, it would be assumed that the building has attracted a high rent, fetching her impressive revenue on her investment.
The Actress is Also the Owner of Some Magnificent Vehicles
Asides from stacking up on gorgeous buildings, it would seem the Lionheart star also has a fantastic eye when it comes to acquiring some beautiful automobiles. While her garage is not overflowing with cars, one can argue that it is a case of quality over quantity for Genevieve Nnaji. Take a look at some of her vehicles below:
Range Rover Evoque
As reported earlier, Genevieve Nnaji had a brand ambassadorial deal with Range Rover. It is therefore not surprising that she is the owner of a stunning Range Rover Evogue. The Evogue, constructed with lightweight materials, comes with biofuel capabilities, removable carbon composite roof panels, regenerative brakes, and a stop-start system. The minimum amount to get this fantastic machine is N30 million.
Mercedez Benz G-Wagon
Renowned for its peculiar body shape and boxy styling, the G-Wagon is globally one of the most popular luxury vehicles. It is one of the few cars in the world to make use of three different locking differentials. The vehicle comes with a horsepower of 416 to 577 and comes in at a minimum price of N50 million. Genevieve Nnaji rolls around in this beauty a lot, and if you are in Lagos, you might be lucky to see her in it one of these days.
Genevieve Has Been Known to Carry Out Philanthropic Acts
The general expectation is that celebrities with a lot of money should give back to the less privileged. While it can breed a sense of entitlement, some stars typically enjoy helping people. Genevieve Nnaji is one of those celebrities who joyfully use some of their wealth to improve their community.
Over time, she has engaged in philanthropic acts that sought to help people with less. In 2013, she traveled to Delta State to visit the flood-ravaged regions in the state. She helped out by donating a few items to the needy in the affected places.
Similarly, in 2009, Genevieve leveraged on her business, St. Genevieve, to partake in the Charity Runway event held at the Expo Hall of the Eko Hotel & Suites in Victoria Island. The event aimed to raise money for the orphaned children resident at Arrows of God Orphanage Home. After showcasing her 2009 fashion collection from St. Genevieve, Genevieve Nnaji proceeded to donate the proceeds from sales directly to Arrows of God.