For many years, Omotola Jalade Ekeinde has remained a shining star among other celebrities. She is talented as an actress and singer and has maintained one of the most fascinating marital relationships in the entertainment industry, having been married to her husband, Capt. Matthew Ekeinde for more than 25 years.
Whenever the names of the two get mentioned, it's always in reference to a blossoming marriage with their kids, loved-up pictures, or something of the sort. Unfortunately, the name of the actress was drawn into controversy following a report that she was involved in an extramarital affair with former APC chairman, Comrade Adams Oshiomhole. Although she has since come out to deny the allegations, the report only attracted more attention to her marriage with her husband as well as their family life and kids.
Omotola Met Captain Matthew When She Was Sixteen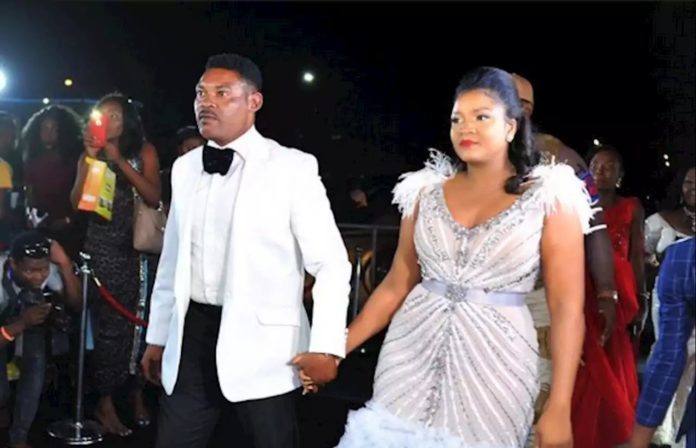 The love story of Omotola and her husband did not begin like many others. The pair first met in 1994 when Matthew's eldest sister introduced them to each other in their church, Solid Rock at Iyana-Ipaja. Omotola was then a 16-year-old teen while the man who later became her husband was already 26.
Mathew was surprised when he realized that Omotola was only 16, because she looked much older, and so he decided that they were going to remain friends. Things remained that way for the next two years a week after she turned 18, he saw her from an entirely new light and he felt she was wife material. He immediately told her he wanted to marry her, but she thought he was joking so she laughed it off, saying it was what guys would say.
Although Mathew was based in the United States at the time, he already knew so much about her and had even met Omotola's family on one of his visits. When he showed her how serious he was about marrying her, Omotola Jalade Ekeinde told her admirer to go and meet her parents which he did. Initially, they wanted him to wait for her to finish university since she just got admission into the University of Ife, but he was not willing to wait as he believed other guys in the university would give him a hard time.
The Lovely Couple Had Their Wedding Mid Air
The duo got married in 1996. However, the couple still decided to have their dream wedding again mid-air in 2000. They had the ceremony on board a Dash 7 aircraft.
They pulled together the officiating priest, their family members, and a few friends for one of the most talked-about weddings at the time. What makes it even more memorable was the fact that it was Omotola's husband that was flying the plane for about 10 minutes. When it was time to say his vows, he left his co-pilot in charge
They Are Blessed With 4 Children
In a union that has spanned many years and survived through so much, Omotola Jalade Ekeinde and her husband are blessed with 4 beautiful children; two boys and two girls. The couple's children are Princess Ekeinde, Matthew Johnson Ekeinde Jnr, Meraiah Ekeinde, and then Micheal Ekeinde.
Princess Ekeinde
Princess is the oldest daughter of the couple. Born on 30 March 1997, she is currently 26 years old. The young beauty and almost a replica of her mother went to Chrisland College, Idimu, and then she proceeded to the FIDM/Fashion Institute of Design & Merchandising. She became a graduate at 22.
Her parents almost lost her when she was only a year old. She started running temperature before slipping into a coma as a result of a medicine she was given by her young and inexperienced parents. Luckily, she was revived in the hospital where she was rushed and diagnosed with a high fever. She struggled with issues relating to her sight while growing up but everything has now turned out well for her.
Currently an enterprising young woman and a social media influencer, Princess Ekeinde has an interest in continuing with her education with the hoped of obtaining a master's degree.
Matthew Johnson Ekeinde Jnr (Captain E)
The second child of the actress and her pilot husband is Matthew Johnson (MJ) who is better known professionally as Captain E. He was born on 20 August 1998, which means that he is 25 years old.
While he was growing up, the younger Ekeinde was interested in following in the footsteps of his father by becoming a pilot, but he later opted to pursue a career in entertainment business instead. The decision left his father disappointed because he wanted his son to take after him, but he still accepted it and continues to support him.
Captain E is now a musical artist who is trying to carve a niche for himself in the busy and competitive Nigerian music scene. He made a bold move in 2017 by releasing his first album, Sounds of Winter 2. This was then followed by an EP in 2018, titled 20.
He first fell in love with music at the age of 6 when he first learned to play the guitar. Today, more than just a recording artist, he is also a DJ, music producer, sound engineer, and video director among other things.
Meraiah Ekeinde 
The second daughter and third child of the veteran Nigerian actress Omotola Jalade Ekeinde and her pilot husband is Meraiah Ekeinde who was born on 7 February 2000. While she may be the third of the four kids, she is no less adventurous and hard-working than her two older siblings. She is currently 23 years old.
A goal-getter, the young beauty graduated with two degrees; Associate of Art in Merchandise Product Development as well as a Bachelors of Science in Business Management in 2019 when she was only 19 years old. The actress took to social media to celebrate her daughter's successes, stating that her husband was supposed to be around for the graduation was stuck in South Africa.
Before the young beauty and brains left for the United States for her university education, she attended the Chrisland College in Lagos, Nigeria. She is currently working as a Design Assistant Intern with Los Angeles-based firm, Colourist.
Micheal Ekeinde
The fourth and youngest child of the family is Michael Ekeinde who is currently 21 years old, being born on April 19, 2002. While growing up, Michael was very close to his mother and on many occasions, he went with her to film locations. This triggered his interest in also having a career in the same field as his mother but rather than becoming an actor, he chose to be a cinematographer and a film director.
He indicated that he believed it was the right career path for him because each time he watched a movie, he analyzed it differently. In an interview he granted, when he was 16, he said he didnt know if he would be interested in working in Nollywood. Back in 2015, he attended a 5-day Blackmagic Camera Workshop where he learned how to operate and shoot with different Blackmagic cameras that include 4K production camera, pocket camera, and cinema camera.
Earlier in the same year, he nearly scared his mother to death when he collapsed at the US Embassy in Lagos. He was rushed to the St. Nicholas Hospital where he was revived and stabilized. The reason behind the collapse was due to excessive heat.
He may be the youngest member of the family, but not any less smart than the rest or even less hardworking. More so, he is probably the most private member of the family, stating that he is always very careful what he posts on social media.
Omotola And Capt. Mathew's 25 Years Old Marriage, The Recipe for Marital Success
Unlike what has become the unfortunate norm of failed marriages amongst Nollywood stars, Omotola has been able to hold and keep her marriage together for more than two and a half decades. The beautiful actress and her husband have been together since they got married in 1996, a year after she started her career as an actress. They have both been supportive of each other to rise to the top of their careers.
One of her secrets to having a thriving marriage is to take one's marriage seriously. The actress revealed that she got to realize that if one takes one's marriage with levity, it may not work out. She revealed that although they had their challenges, they have always been able to work it out. Another thing that she claimed as the reason behind her marriage working is that she has learned not to put everything out there to the public most especially concerning her marriage.
Initially a Muslim before she converted to Christianity years before her marriage, the actress has a very spiritual side, as she is said to be very prayerful. She noted that her relationship with the supernatural has also been a very important factor in the success of her marriage. The first thing one must do, according to her, is to pray that one meets the right person because it is not enough for a relationship to work with only one person good.
The Marriage Has Not Been Without Issues
Omotola and her husband have come a very long way as a couple heading for three decades as man and wife. While it is something amazing, their marriage has not been without ups and downs, including rumors of cheating mostly peddled on social media and blogs.
In 2021, a Nigerian Blogger reported that the actress was in the aforementioned relationship with former All Progressive Congress chairman and former governor of Edo State, Adams Oshimole. The actress denied the reports and urged fans to block the Instagram handle of the blogger where a photo of the actress and the politician was shared together. She also demanded that the blogger completes the story and bring evidence to support the claims.
The actress was not the only one to have got her name muddied; her husband has also had his own fair share. A number of Nigerian blogs including Gist Lover Blog which the actress has had issues with after the aforementioned cheating reports against her have also made reports that the pilot was in an affair with a lady whose name was not revealed. A purported chat was shared on social media between the captain and the woman said to be his side chick in the UK.
It is not the first time that both of them would be accused by anonymous individuals and faceless blogs of cheating on each other, although there was never solid evidence. Even though the cheating allegations have continued to be peddled by social media users and blogs, the couple seems to be enjoying their marriage with things growing even stronger between them.
 Omotola Jalade Ekeinde Has Been Able To Balance Her Busy Career With Being a Mother
Omotola is one of the most hard-working women in the Nigerian entertainment circle. Other actresses who have also don exceptionally well like her include Genevieve Nnaji, Rita Dominic, Stephanie Okereke, and a few others in her class.
More than an actress, she is also a businesswoman, brand ambassador for many companies, and at a point, she was also a singer before she decided to call it quits having made only a little progress in that regard. In spite of her very busy career, she is still a great mother to all her kids who have all turned out responsible and are doing well for themselves thus far.
According to her youngest son, she is a strict disciplinarian, something that makes it possible for her to always keep them on their toes even in her absence. She is also very close to all her kids, always encouraging and supporting them in all their endeavors even when she is in Nigeria and they are in other parts of the world.
When one considers that Omotola Jalade Ekeinde is also married to a very busy man whose job sees him flying around the world almost always, it becomes obvious that she has been able to balance being a mom and a busy career that has turned her into a workaholic.