Aaron Jones is a professional American football (NFL) player. He is a running back and currently plays for the Green Bay Packers where he dons the No. 33 jersey. Even though Jones only joined the NFL in 2017, he is already proving to be one of the most promising young players in the league. Want to know more about this young man who has been described as "a dynamo who blows through defenses as if powered by rocket fuel"? We have all the info you need.
Who is Aaron Jones?
Aaron LaRae Jones (as well as his twin brother Alvin) was born on the 2nd of December 1994 in the city of Savannah, Georgia. He had his high school education at Burges High School where he was a multi-sport athlete – lettering in football, basketball, and track. In high school, he did not just play as a running back and a wide receiver but equally played in the defense. As a senior, he scored 30 touchdowns and earned All-City and All-District honors. Jones had his college education at the University of Texas at El Paso (UTEP) where he played for the school's team, fondly known as the Miners, between 2013 and 2016. In his first season for the UTEP Miners, he played 9 games and rushed 155 times for 811 rushing yards and 4 rushing touchdowns. He also had 4 receptions for 14 yards and zero touchdowns.
In his sophomore season (2014), he featured in 12 games and rushed 242 times for 1321 yards and 11 touchdowns. He also recorded a whopping 30 receptions for 293 receiving yards and 3 touchdowns. Jones' junior season was seriously hampered by an ankle injury and he was granted a medical redshirt, making him eligible for a 5th year of college football. He, however, came back with a bang in his senior season. He took part in all 12 games and rushed 229 times for 1773 rushing yards and 17 rushing touchdowns. He also caught 28 receptions for 233 receiving yards and 3 receiving touchdowns. His awesome performance caught the attention of the NFL and as such, he decided to forego his fifth year of college football and enter the 2017 NFL draft.
See Also: Darius Slay Wife, Son, Family, Girlfriend, Age, Height, Salary
NFL Career
Jones was picked in the fifth round by Wisconsin's Green Bay Packers, becoming the first UTEP player to be drafted into the NFL in almost a decade. The Packers signed him to a four-year contract worth $2,601,937 after his draft in 2017. Jones made an immediate impact in his rookie season. He played 12 games (out of which he started 4) and rushed 81 times for 448 rushing yards and four rushing touchdowns. He averaged 5.53 yards-per-carry and had six runs of at least 20 yards among his 81 carries. Only two players among the NFL's top-50 rushers had higher yards-per-carry average than Jones in 2017. They are Seattle's Russell Wilson (6.2 yards) and New Orleans' Alvin Kamara (6.1 yards).
Jones' rookie season was however not without a hitch. On the 1st of October 2017, he was stopped for over speeding on a highway in Wisconsin. A further on-the-spot investigation revealed that he was high on marijuana. He was therefore charged with over speeding, operating a vehicle with a controlled substance in his system, and operating a vehicle without a valid license. He, however, reached a plea deal with the authorities and the charges for over speeding and driving without a license were dropped. Jones thereafter pleaded guilty to driving with a controlled substance in his system and was ordered to pay costs. His driver's license was suspended for six months. The NFL also imposed its own punishment on Jones for the incident for violating the League's Policy on substances abuse. He was suspended without pay for the first two games of the 2018 season.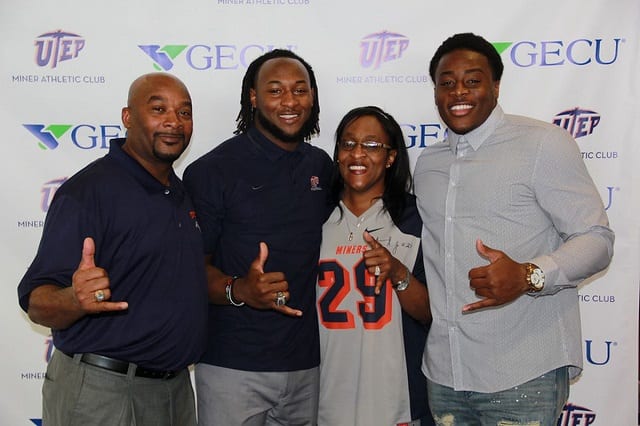 His Family
Aaron Jones comes from a close-knit family of five. This consists of dad, Alvin Jones Sr., mom, Vurgess Jones, elder sister, Chelsirae as well as his twin brother, Alvin Jr. Jones with whom he grew up in a military household. His dad retired as an Army Command Sergeant Major after 29 years of service in the US Army while his mom retired as an Army Sergeant after 27 years of service. Due to his parents' military background, Jones and his siblings had the lives of regular military brats. Respect and discipline were drilled into them from an early age and they grew up in varied locations across the world and the US including Georgia, Germany, Kentucky, Tennessee, Virginia and finally El Paso in 2007. Jones credits his family's love and unwavering support with getting him far in his career. Unsurprisingly, he is very close to his twin brother, Alvin, whom he regards as his biggest motivation. His brother is equally a football player. He is a quarterback and plays college football at UTEP. The brothers hope to be reunited soon in the NFL.
Body Stats (Height And Weight)
Aaron Jones is 5 feet 9 inches tall and weighs 208lbs or 94 kg. Even though he lacks a great body frame, he makes up for it with his extraordinary stamina and explosiveness which enables him to dump defenders easily. Jones is a mixture of a power runner as well as an elusive runner. He can run through defenders and equally run around them.