Aaron Judge is an American professional baseball player who joined the Major League Baseball (MLB) in 2013 after he was selected by the New York Yankees in the first round of that year's draft, with the 32nd overall pick.
Before he made his way into the MLB, the outfielder played high school baseball at Linden High School. He also played as a wide receiver and center for the school's football and basketball teams. As a result of his outstanding record in the three sports, he drew the attention of different colleges which recruited him to play football but he chose to pursue a career in baseball.
He was so good at baseball that despite his zero college baseball experience, the Oakland Athletics picked him in the 31st round of the 2010 MBL draft, but following the advice of his parents, he turned down the offer in favor of a college career with the Fresno State Bulldogs of the California State University, Fresno (Fresno State).
Following his draft in 2013, Judge spent a number of years in the minor league before eventually making his major league baseball debut against the Tampa Bay Rays on August 13, 2016.
Some of his achievements include AL Rookie of the Year (2017), Silver Slugger Award (2017), All-Star (2017, 2018), AL home run leader (2017), most home runs in a rookie season (52), most walks in a rookie season (127), and Home Run Derby champion (2017).
Aaron Judge's Ethnicity
The baseball player whose full name is Aaron James Judge was born and raised in Linden, California, on April 26, 1992. A lot of people have asked questions about his ethnicity and although it isn't clear to the media which country his biological parents hail from, it is obvious from his physical looks that the pro athlete is bi-racial.
He has, however, never spoken about his roots and according to reports, he has also never had any form of contact with his biological parents.
What to know about his parents and brother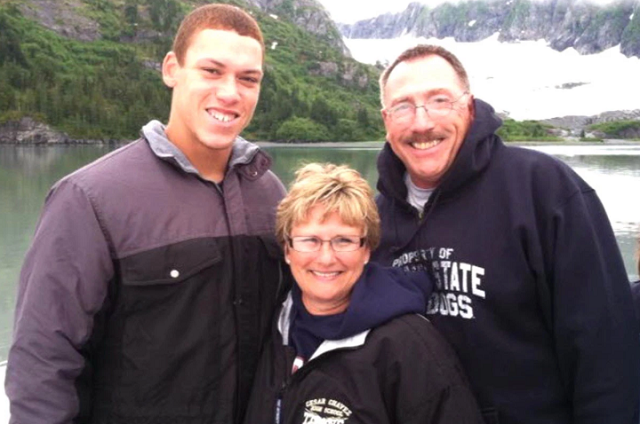 Aaron Judge may not have known his biological parents but he was lucky enough to be adopted by a couple named Wayne and Patty Judge, who became his adoptive parents just a day after his birth. Judge would come to learn from his adoptive parents that he was an adopted son when he was 10 years old.
The information confirmed his suspicion because according to the baseball player, his looks were obviously different from that of his parents.
The news, however, did not affect their relationship in any way as his parents loved him as much as any biological parent would love their child. Aaron Judge, on different occasions, has attributed his becoming an MLB player to his parents. They even convinced him to chose college rather than accepting a deal to join the MLB earlier than he did.
Wayne and Patty Judge did not only help guide their son into becoming a professional baseball player, the outfielder told Fox Sports in May 2017, that they also taught him right from wrong and how to treat people with respect.
Aaron's parents, both retired school teachers, taught in San Joaquin County, California. They adopted Aaron's older brother, John, who like them, chose to become a teacher.
Girlfriend
Aaron Judge has been involved in a number of relationships that attracted the attention of the media. He made headlines in 2017 not just because of the records he made as a rookie, but also because of his romantic relationship with a certain lady named Jen Flaum.
A native of Franklin Lakes, New Jersey, Jen Flaum is the daughter of James and Nancy Flaum. She has two brothers – twins Andrew and Matt. She attended Ramapo High School, New Jersey, and was inducted into the National Honor Society before moving on to the University of Michigan from where she graduated in 2017 with a BA in Psychology and Marketing.
Being a New Jersey native, it is not surprising that Jen is a New York Yankees fan. She was first seen together with Aaron publicly on September 2, 2017, watching the match between Rafael Nadal and Leonardo Mayer during the US Open and as their relationship grew stronger, they were again spotted going on a date in Nobu restaurant in New York. At that time, Jen had just graduated from college.
During Halloween in 2017, the duo decided to do a couples' costume with Aaron Judge dressing as Superman and Jen, Lois Lane, his love interest journalist. They finally decided to make their relationship official, posting pictures of their costumes on Flaum's Instagram page. By early April 2018, the couple's relationship which appeared to be very rosy was reported to have ended and as a proof of the reports, Aaron stopped following Jen on Instagram.
Sequel to their breakup, rumors that Insta-babe, Jen Selter, was making efforts to get the attention of the baseball outfielder by following him on Instagram and attending Yankees games started making rounds. According to one of her friends who spoke to a US sports media, she doesn't follow many people on Instagram and the ones she does are usually in fitness as well and she also never attends Yankees games, but she suddenly developed an interest after news of Aaron's break-up from his girlfriend.
Sadly for the Instagram model, Aaron Judge who never followed her back on Instagram seemed to have settled for his old high school friend, Britt Hodges. They were pictured together towards the end of 2018 while hanging out in New York, before the Yankee's tie with the Blue Jays.
However, it would seem that his relationships are not cut out to last as they broke up and he is now dating Samantha Bracksieck, a woman he's been on and off with and it is a question of time before we get to know if this leads to happily ever after.
Height And Weight
Aaron Judge is very tall and quite big too. He is one of the tallest players in the major league, standing at 6 feet 7 inches (2 meters). On March 31, 2018, he made his first career start at center field in the majors and with his aforementioned height and weight of 282 pounds, he became both the tallest and heaviest player in the history of baseball to play in that position.
Judging by his career statistics, it is obvious that the player has mastered the art of using his body stats to his advantage.