Abdul Khoza (born 14 August 1987) is a 36 year old South African actor and musician who gained fame after emerging as the winner of the 2011 edition of the SABC1 reality competition Class Act. The actor has since appeared in many South African television series, most notably Isibaya, where he played the role of Qaphela.
Summary of Abdul Khoza's Bio
Full name: Abdul Khoza
Gender: Male
Date of birth: 14 August 1987
Abdul Khoza's Age: 36 years old
Ethnicity: Of South African roots
Nationality: South African
Zodiac Sign: Leo
Sexual Orientation: Straight
Religion: Christianity
Marital Status: Divorced
Abdul Khoza's Wife: Baatile Themane (ex-wife)
Khoza's Children: OKuhlekwethu Morafe Khoza and Amzamahle
Abdul's Parents: Stan Khoza (Father) and Lindiwe Khoza (Mother)
Siblings: SK Khoza, Sanelisiwe Zuleika
Abdul Khoza's Net worth: Over $1 million
Famous for: Being an actor
Abdul Khoza's Instagram: @abdul_khoza
Twitter: @Abdul_Khoza
Facebook: Abdul
Abdul Khosa Was Born Into A Famous Family
It was on 14th August 1987 that Abdul Khosa was born in KwaMashu, KwaZulu-Natal, South Africa. It was also in this town in eThekwini that the talented actor was brought up by his parents, Stan Khoza and Lindiwe Khoza, alongside his siblings SK and Sanelisiwe Zuleka. Even before he got the chance to sip from the cup of fame, his father had not only risen to popularity in South Africa but has also attained a legendary status in karate. In addition to that, Stan is also a respected union leader.
Since he was a child he has been fascinated with various activities, including acting. The star got drawn to the craft when he was only 7 years old together with his brother SK. The two also fell in love with sports thanks to their father. Abdul participated in many sports but never had the dreams of either becoming an actor or an athlete.
His older brother, on the other hand, also excelled in different sports, including soccer, rugby, cricket, and needless to say, Karate for which he was awarded his black belt even before he was a teenager. By and large, Abdul and His brother were brought up in a very stable and famous family thanks to the achievements of their father.
He Did Not Start Out As An Actor
The story of how Abdul began acting is almost very similar to that of his brother who ended up acting by chance after he arrived for an interview an hour earlier and then found out a producer was looking for actors for some roles. He was then asked if he would be interested in auditioning for a role. He agreed and went ahead to perform even better than the producers would have expected, paving the way for him to get his start in acting.
On his part, Abdul has almost always wanted to become an actor but he did not get the chance to delve in immediately after his education. He took regular jobs before finally coming back to his childhood dream. It is known that the actor's career path was first paved when he worked with the army for four years before he finally called it quits. Next, he took to another uniform job in Durban when he became a fireman but this too did not last a very long time before he answered the call of his first love; acting. He left Durban for Johannesburg where he gave acting a shot.
When the chance came for him to try acting, he was not afraid to take a chance. This came after he had a motorbike accident a year before he took part in a TV competition. After he survived the tragic accident, he told himself that he was going to take any chance that came to him and go head-on in it. Hence, when the chance for him to become an actor came, he did not hold back.
The doors opened for him in 2011 after he emerged as the winner of the reality competition, Class Act which was organized by SABC1. Since then, he has had many jobs both as a TV actor and appearing in films.
From working in the army, then as a firefighter and actor, Khoza revealed that his next dream in life is to go into directing as he is keen on making action films. His hope of going into action films as a director is because of his talent as a stuntman and because of his father who is a karate expert.
He Has Recorded His Name In Many Productions
Taking advantage of the platform that was created for him after he won the aforementioned reality competition, Abdul began his acting career proper in 2013, following in the footsteps of his older brother.
Some of the production in which he appeared include the following:
Intersexions (Drama) – 2013
Tempy Pushas (Drama) – 2013
The Road (Telenovela) – 2015
Ring of Lies (Telenovela) – 2017
Kings of Jo'burg (TV Series) – 2020
Durban Gen (Telenovela) – 2020
Nqobile (Drama) – 2021
Isibaya (TV Series ) – 2018
In as much as he has not appeared in too many films and TV shows like a good number of other South African actors, his talent has always spoken for him. It is thanks to this that he has come to clinch some accolades in the form of awards and nominations. The biggest award he took home was the South African Film and Television Awards (SAFTA) which he cinched for the Best Supporting Actor (TV Soap) in 2019 for his role of Qhaphela Ngwenya in Isibaya. More interesting than the award itself is the fact that it came to him for a role he didn't audition for. According to him, it was simply handed to him.
Many years before that, as earlier indicated, he won an important award that set him on his career path when he was named the winner of the aforementioned reality contest, Class Act. More than the awards he has gotten, the talented actor has earned the praises of fans and fellow actors for his roles in some of his most important productions such as Kings of Jo'burg where he played the role of Lester and Isibaya which is arguably his biggest and most significant work thus far, earning him a Golden Horn.
Abdul Shares A Close Bond With His Brother
Whenever the name of Abdul Khoza is mentioned, the next name that mostly follows is that of his brother, SK Khoza who was born Sthembiso Khoza. The two have become household names in the country's entertainment industry thanks to their amazing talents. Being the older of the two, Sthembiso was born on July 1, 1986, in South Africa.
More than following the same career paths, the two brothers share a very close bond. Detailing some aspects of their childhood, they once revealed in an interview that when they were little kids, SK once got angry with his brother and went home from school leaving him behind. They indicated that SK got mad after he asked Abdul for his food after eating his own, and Abdul refused since they were given the same portion at home. In anger, the older Khoza entered a car and went home without his brother. Fortunately for him, Abdul made his way back home with the help of a stranger.
Sthembiso got his primary education from a school in KwaZulu-Natal and from there, he went to Parkhill High School where he had his secondary education. He furthered at the University of Johannesburg from where he graduated with a Degree in Sports Management. Almost as though they had a shared script to life, SK did not also start out his career as an actor. He began by following a career in the course he studied in the university as he worked with Supersport as a log editor.
In no time, he got to join Channel O, having made a good impression of himself during an audition for a show on the music channel. He became the host of Mzansi Ridez, paving the way for him to get more jobs, including as a radio host for TransAfrica radio and also to become the presenter of the V-Entertainment magazine show on Vuzu. He got to also make his resume more attractive by adding voice-over and MCing to the things he does.
With a talent that was very clear for all to see, he got to start his acting career and earned a place in the Mzansi Magic telenovela, iNkaba. From then, he came to appear in more productions and films, including Kings of Jo'burg and HouseKeepers.
In the same manner, he shares a good bond with his sister, Sanelisiwe Zuleika. Not so much is known about her as she maintains a very private life.
The Life Of Abdul Khosa Has Not Been Without Its Challenges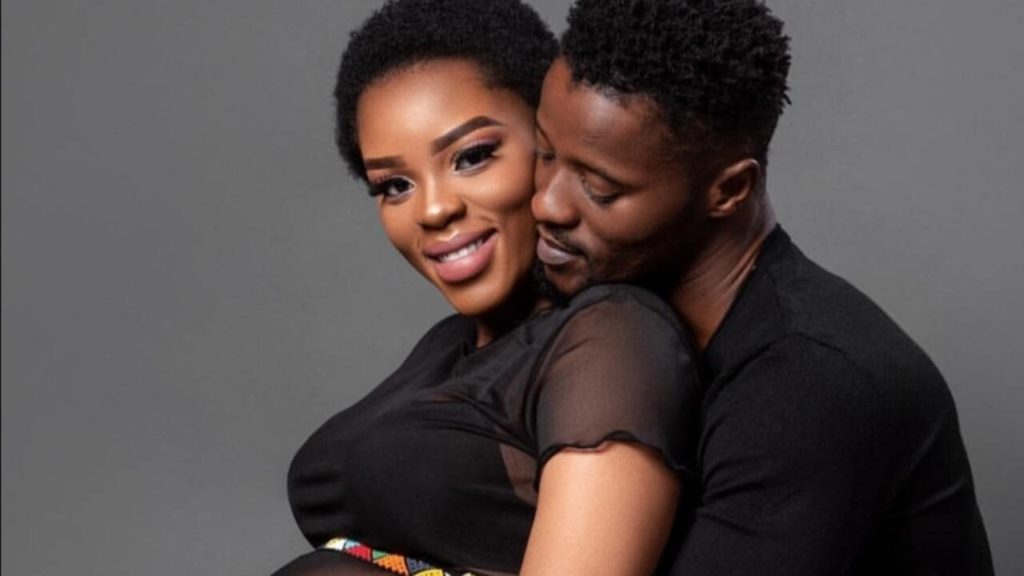 Professionally, everything seems to always be fine with the actor, but not the same can be said about his personal life. One of the biggest and most known controversies that he got into is as regards his love life with his former partner and mother of his first child, Azamhle. The actor has been very careful not to mention the name of his former lover, but he did not hide the fact that their relationship did not wind up well.
While celebrating the fifth birthday of his daughter, the actor revealed that he had never had the chance to celebrate the special day with her. He also suggested that he has been having a custody battle with his baby mama to have his daughter in his life, making it clear that he was never going to stop fighting to have her.
The Zulu actor found love again in the arms of Baatile Themane whom he first met in a mall in 2018. For him, it was love at first sight when he spotted her in a parking lot trying to find a spot for her car. He assisted her with that and that seemed to be the end of it for her but he knew that he had seen his wife.
When he tried getting her to date him, she was hesitant because she was not interested in having a relationship with a celebrity. However, he came around to convince her to give it a try. Only 7 months later, she agreed to become his wife. The pair walked down the aisle in 2019 and they are blessed with a child together.
At the earlier stages of their marriage, Abdul Khoza and Baatile were always sharing photos of each other on their separate social media handles. However, this later stopped rather abruptly, with all previous pictures of each other deleted on Instagram. This got followers asking if all was well in their matrimonial home, only less than a year after they got married. While neither has come out to make any statement as regards the marriage, there are various reports that claimed the marriage has since come to an end sometime between the end of 2020 and early 2021.
He Left The Movie Industry For Two Years
Khoza may be one of the most appreciated actors in South Africa today but his story has not always been an easy one. There was a time when jobs no longer came to him and things went dry. To complicate matters, he had already had his daughter at the time and was forced to leave the industry and find other ways that he could raise money and care for her.
While he didn't reveal the kind of jobs that he got engaged in, he never thought he would come back to making films ever again. Nonetheless, when the chance came to him again, he decided to give it another shot for the sake of his daughter. Not only did it now work out for him, but he also got the chance to win one of the biggest awards in the country as far as acting is concerned.
Abdul has pushed his creativity to another level, with the start of his career as a rapper. He has a group which is known as Audio Assassins. He revealed in 2019 that his group was working on releasing an EP. Khoza's love for music was something that he had had for a very long time and he decided to pursue it as a career because he felt it was a good way to share himself some more. Because of that, he is after making rap music for all ages.
A fitness enthusiast and vegetarian, he has a net worth that is estimated at over $1 million which he made from his aforementioned career pursuits.