Moja Love show host, Aaron Molosi has been a closeted gay for a long time but has finally taken the decision to out his gay status. Aaron is a presenter, actor, businessman, producer, scriptwriter, offline editor, translator, and sales consultant. Fans have been suspicious of his gay status for a long time but he kept on denying it until recently when he chose to put all pretense to rest and come out with his real personality.
Aaron's same-sex partner is non-other than the good-looking young presenter, Innocent Matijane who is his colleague at Moja Love. While Aaron deemed it necessary to hide his gay status from the public, Inno has no such problems as he has been openly gay right from the word go. Reportedly, Innocent Matijane is overjoyed to be dating a celebrity of Aaron's ilk.
How Aaron Molosi Met Innocent Matijane 
Reportedly, Aaron Moloisi and his same-sex partner, Innocent Matijane met at their place of work, the Moja Love studios; they are both employed by the same company. But then, since they obviously kept their relationship shrouded at the onset, it is difficult to ascertain exactly when they started mixing business with pleasure. Apart from that, Aaron has never come up to declare his true sexuality, thus fans couldn't figure out his exact side of the divide; straight or gay. The confusion about his sexuality was worsened by the fact that he will be rumored to be involved with a woman today, only for him to hook up with a man tomorrow.
However, all speculations about his sexual orientation were laid to rest following the photo he shared on social media; the shots captured him and social media sensation Innocent Matijane, looking so cozy. The upload threw Mzansi into a frenzy as they scampered to unravel the meaning of the post and its caption "finally"
The situation was further elucidated when Innocent Matijane also shared the same snapshot. Fans later came to the conclusion that the "finally" in the post insinuates that the duo has been involved for a while but kept it under wraps. They just mustered up enough courage to bring it to the public. Confirmation later came from Aaron Molosi that he and Inno are actually dating; Needless to mention that this became a confirmation of his long-suspected gay status.
Who is Innocent Matijane
Aaron Moloisi 's same-sex partner, Inno Matijane is a media personality, model, YouTuber, and reality television star. He was born on the 27th of January 1998 in Lesotho, but is a permanent resident in South Africa. The Lesotho native came to SA at the age of seven when his family moved from Lesotho to SA. The youngster who is in his early twenties is known for his good looks, remarkable sense of fashion, and style. When he came to prominence, Inno effortlessly stole the hearts of South African women, however, the internet star has been vocal in letting the world know that he is openly gay.
Though there is nothing to go by on his academic qualifications, it is safe to surmise that he attended school in SA since he arrived in the country at age seven. Inno is currently working with The Way Ngingakhona of the Moja Love show.
A goal-getter that wastes no time in making things happen in SA's showbiz scene, Inno's work exposes him to the opportunity to hobnob with the elites of the country's top personalities and entertainers. The SA entertainer has this inborn creativity, stellar dance skills, remarkable work ethic, and of course his natural ability to recognize new opportunities and go all out to achieve results; this was what brought him to prominence. He may not be as famous as his bae Aaron, but Inno can hold his own in the SA entertainment scene.
The People Aaron Molosi had Has Dated
Aaron Molosi has always been perceived as a private person who loves to keep both his sexual orientation and dating life away from prying eyes. However, fans still managed to dig up some useful info about the movie star's love life.
Aaron Molosi and Siphesihle Masango Were Rumored To Be An Item
The seasoned actor's name has been linked to Siphesihle Masango who earns a living as a fashion designer. Fans were able to put two and two together after both Siphesihle and Aaron shared similar photos of a gateway in the African country, Mozambique; these photos were posted around the same period. Though neither of them came up to confirm or deny the claims, it was very clear that they went on that vacation together.
Speculations Once Ran Rife That he Was Dating Somizi's Husband, Mohale Motaung
It all started after the television host shared one of his old photos where he was seen in front of a mystery man. According to reports, the man in question was light-skinned and bald-headed and resembled Somizi's estranged spouse Mohale Motaung. The picture led to speculations that pointed accusing fingers at Aaron as the major reason for the trouble in the couple's marriage.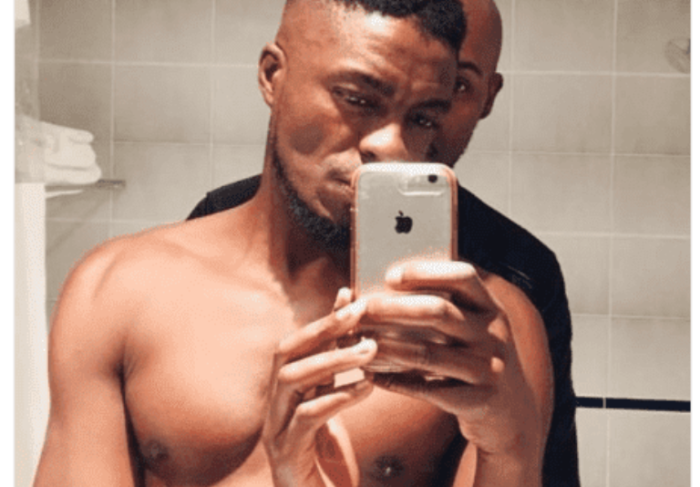 These claims infuriated Aaron who quickly took to Twitter to set the records straight. According to the famous actor, The claims that he was an item with Mohale are not true. And the person in the picture he shared on the 17th of October 2018 was not Somizi's husband, Mohale Motaung-Mhlongo. Aaron Molosi told a tale of how he will not condescend to participate in Karma and has always given his support to loving differently.
Aaron Opened Up About The Long-term Friendship he Has With Caster Semenya
Actor Aaron Moloisi has been in a long-term relationship with athlete Caster Semenya. According to the entertainer, they are very good friends and joining True Love in an interview session, Aarons said people misconstrue his friend to be arrogant and illiterate. The movie star went on to explain that Semenya is in actual fact a genuine person; among the most genuine people known to him.
The duo hail from Limpopo and going by Aaron Moloisi's post on social media, he knew the athlete long before she earned the moniker, "Caster the golden girl". In addition, Aaron vented his annoyance about the misconception people have of Caster. His friend he said isn't fazed by the fame she has earned and is someone who loves to appreciate even the smallest victories.
The duo met way back in 2006 and it was an instant attraction for both. Aaron said their friendship is not based on their individual work, rather it is more like the kind of relationship between brothers and sisters. That put paid to any speculations that they might be romantically involved