Adam Sandler is a superb actor whose movies have been critically acclaimed and equally box office successes. Although some have gained negative reviews, the famed actor is quite known for his unique and comedic acting works. He is also a writer and producer who has carried out some works that have been ranked among the finest Hollywood movies to date. For smash movie lovers, this article will definitely guide you through some of the mega-hit films in Hollywood. Stay tuned as we unravel the amazing works done by one of the celebrated actors in the United States.
How Many Movies Have Adam Sandler Been In?
The multi-award-winning American actor who has received a star on the Hollywood Walk of Fame has featured in numerous movies since making his debut in 1987 by appearing in TV shows like The Cosby Show and MTV game show, Remote Control. As of 2019, Adam Sandler has starred in over 45 movies which have grossed more than $2 billion at the box office.
Some of his acting works include Mixed Nuts (1994), The Wedding Singer (1996), The Master of Disguise (2001), 50 First Dates (2003), Reign Over Me (2006), Hotel Transylvania Franchise (2012 – 2018), Just Go With It (2010), The Do-Over (2016), Murder Mystery (2019), among several others.
Working as a screenwriter, Sandler who is also a voice-over actor has written scripts for Going Overboard (1989), Billy Madison (1995), Happy Gilmore (1996), Little Nicky (2000), You Don't Mess with the Zohan (2008), Funny People (2009), Grown Ups (2010), Grown Ups 2 (2013), Hotel Transylvania 2 (2015), Sandy Wexler (2017), and others.
Having established his film production company named, Happy Madison Productions in 1999, the New-York born movie star has been credited with the production of many films which includes Deuce Bigalow: Male Gigolo (1999), Mr. Deeds (2001), Eight Crazy Nights (2002), Anger Management (2003), The Longest Yard (2004), The Benchwarmers (2006), Click (2006), I Now Pronounce You Chuck and Larry (2007), Paul Blart: Mall Cop (2008), Here Comes the Boom (2012), Blended (2013), The Ridiculous 6 (2015), Murder Mystery (2018), among others. Below are some of Adam Sandler's best movies.
Best Adam Sandler's Movies
5. Happy Gilmore (1996)
Although this may not necessarily be the finest movie that Adam Sandler has featured in, it is probably ranked as one of his most exciting movies following his great performance. He plays the role of an unsuccessful ice hockey player who discovers a newfound talent for golf. The movie was a commercial success as it grossed about $41.2 million on a $12 million budget. It also earned Sandler an MTV Movie Award for Best Fight with Bob Barker.
4. Punch-Drunk Love (2001)
Having been known for the comedic roles he has played in quite a lot of movies, here, Sandler played a whole new different role as Barry Egan, a businessman who suffers from chronic social anxiety and is hooked up on a date with his sister's colleague.
The two instantly fell for each other but he has to defend himself and his new love interest from gangsters attempting to extort him and steal his identity. The movie gained positive reviews, with Adam Sandler's performance critically lauded but was a box office failure.
3. The Longest Yard (2001)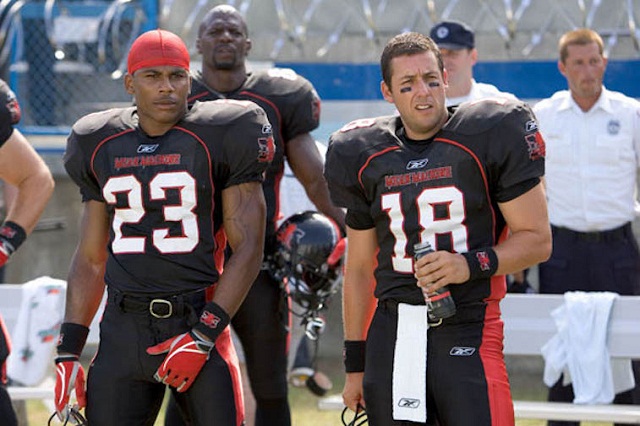 In this remake of the 1997 movie of the same name, Adam Sandler was cast in a lead role as Paul Crewe, a humiliated former professional Pittsburgh Steelers quarterback, who is locked up in prison and is forced to build a football team from the prison inmates played by the likes of Chris Rock, Burt Reynolds, Nelly, Terry Crews and others, that will compete against the prison guards. The film was a box office success, earning $158.1 million in the United States and Canada, and $190 million worldwide. Its overall cast performance claimed 17 nominations and two wins.
2. Just Go With It (2010)
This romantic comedy movie that is based on the 2005 Hindi film, Maine Pyar Kyun Kiya? is unarguably still among the finest movies of the present era. The movie which grossed about $124 million in the box office earned Adam Sandler a Teen Choice Award nomination for Choice Movie Actor.
See Also: Clint Eastwood Movies and TV Shows Ranked From Best To Worst
He was cast as Dr. Daniel "Danny" Maccabee, a plastic surgeon who goes on a weekend trip to Hawaii with his loyal assistant he convinced to pose as his soon-to-be-divorced wife in order to cover a careless lie he told his much-younger girlfriend. Adam Sandler's on-screen chemistry with his co-star, Jennifer Aniston is charged full of originality, honesty, and tenderness.
1. Blended (2013)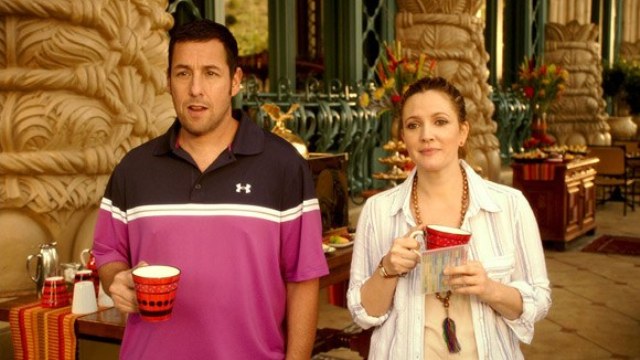 With Frank Coraci overseeing this motion picture as the director along with Adam Sandler's sensational performance, Blended has attained a rightful place as one of the best Adam Sandler's Movies ever made. As usual with most of the American actor's movies, this movie was a box office success as well. It stars Adam Sandler and Drew Barrymore as the protagonists. The attraction between the two in the romantic comedy movie is one of a kind which makes Blended to attain a high ranking in the romantic genre as a whole.