Children are fond of following in the footsteps of their parents and Adam Sandler's kids, Sunny Madeline and Sadie are not an exception. Both kids are prodigies of the movie industry emulating their father who is an actor, comedian, film producer, screenwriter, and musician. Here is all that you need to know about Adam Sandler's kids – Sunny Madeline and Sadie Sandler.
What To Know About Sadie Sandler
Sadie Sandler is the first of Adam Sandler's kids. She was born to the talented comic actor and his wife Jackie Sandler as Sadie Madison Titone-Sandler on 6th May 2006 in California, USA. Her paternal grandparents are Stanley and Judy Sandler while her maternal grandparents are Joseph and Lila Titone.
Born into a family that is well known in the show business, it only took her two years to start playing with the cameras instead of toys that girls of her age played with. She made her first movie appearance by featuring as Sweetest Medieval Girl of All Time in the 2008 comedy film, Bedtime Stories. She went on to feature in other movies like That's My Boy as Lemonade Stand Kid, Blended as Little League Announcer and The Do-Over as Lou's Daughter Sally.
The child prodigy further proved her mettle by lending the voice of Winnie in Hotel Transylvania and its sequels, Hotel Transylvania 2, Hotel Transylvania 3: Summer Vacation. She is also known for her stunning performances in the films like Just Go With It, Grown Ups, and Pixels. Her other movie credits include Murder Mystery, Sandy Wexler and The Ridiculous 6.
What To Know About Sunny Madeline Sandler
Sunny Madeline Sandler is the second of Adam Sandler's kids with his wife Jackie Sandler. She was born on 2nd November 2008 in California, USA. At the age of two, she began to prove that acting runs in their gene as she made her debut in the film industry by appearing as Tardio's Daughter in the 2010 comedy movie, Grown Ups written by her father and Fred Wolf. Her rendition in the aforementioned movie earned her Teens Choice Awards nomination for Choice Celebrity Baby Category.
The child star followed it up the next year by featuring as a Member of the Hawaiian Family at Rope Bridge in the comedy movie, Just Go With It, starring her parents, Jennifer Aniston, Nicole Kidman and Nick Swardson. In the same year, Sunny featured as a Little Girl on Ship in the comedy film, Jack and Jill.
Interestingly, Sunny Sandler got her breakthrough role when she was cast as Wall Street Stepdaughter in the 2014 romantic comedy film, Blended. She went on to feature as Sweet Scout Girl in the 2015 sci-fi comedy movie, Pixels. The movie which was a box office success shot her popularity to new heights.
Besides acting, the gifted child star has done some voice works which includes lending the voices of Baby Dennis and Sunny in Hotel Transylvania 2 and Hotel Transylvania 3: Summer Vacation respectively. Her other film credits include The Week Of, The Ridiculous 6, Sandy Wexler and many others.
About Adam Sandler's Family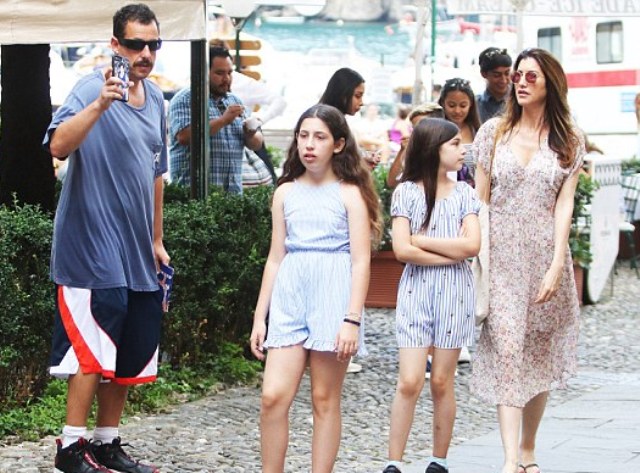 The renowned comedian met his now-wife, Jacqueline Samantha Titone alias Jackie on the movie set of Big Daddy in 1999. In the course of their relationship, Jackie who was a Christian proselytized to Judaism in 2000, because of Adam's faith and for their relationship.
After four years of courtship, the duo sealed their love with a nuptial bond on 22nd June 2003 at Dick Clark's oceanfront Malibu estate. Among those in attendance were there family, relations and friends as well as their fellow movie stars including Rodney Dangerfield, Jennifer Aniston, and Rob Schneider, not forgetting their dog, meatball that was dressed in a black tux like Adam. Three years later, the couple expanded their small circle with the arrival of their daughter Sadie, followed by the birth of their second daughter, Sunny two years later.
Quick Trivia
– Adam Sandler's kids revealed that they prefer to watch other movies than to watch their father's own.
See Also: Who Is Matthew Gray Gubler? Bio, Age, Height, Wife, Girlfriend
– There are very few families in the United States where the whole family are actors and Adam Sandler's family is one of them.
– Working as a movie director and producer, the award-winning actor guides his wife and kids through their acting career by always featuring alongside them. Some of the movies include Just Go With It, Blended, Murder Mystery, Sandy Wexler, The Do-Over, Pixels and Grown Ups.