Adam Scott, a skillful American actor who is widely known as Ben Wyatt following the character he played in the NBC comedy series, Parks and Recreation. His sensational performance in the sitcom earned him a nomination for Critics' Choice Television Award for Best Actor in a Comedy Series. He also leaped into stardom by starring in the movie Vicious Kind which further landed him multiple public recognition and accolades including Sidewalk Film Festival Award. The sensational actor has also done some works as a producer and Podcaster. His production credits include The Overnight, Passenger Side, and A.C.O.D.
The multi-talented entertainer was born in Santa Cruz, California, on 3rd April 1973 to Anne Scott and Douglas Scott. He grew up in his hometown along with his two siblings; David Scott and Shannon Scott. He is of Sicilian ethnicity and completed his higher education at the American Academy of Dramatic Arts in Los Angeles, California.
Adam Scott Has Been a Professional Actor Since 1994
The award-winning actor kicked off his acting career immediately after his graduation from the American Academy of Dramatic Arts. He made his film debut with Cityscapes: Los Angeles in 1994, wherein he was cast to play the character of Joe. Also in the same year, he landed another role as Dan in the MTV drama series titled Dead at 21.
In the years that followed, he would play various roles in feature films and television projects. For the former, the most popular works include Hellraiser: Bloodline, The Last Days of Frankie the Fly, and Star Trek: First Contact which were all 1996 productions. He was subsequently seen in Winding Roads, Hairshirt, Girl, and the Lesser Evil.
In the 2000s, Adam Scott also pulled off a handful of popular film roles, he played Peter in Seven and a Match and Lieutenant Terrence Embry in High Crimes. He was also seen in The Aviator, The Matador, Monster-in-Law, The Return, Knocked Up, Operation: Endgame, and several others. For television, his significant works include Boy Meets World, Murder One, Party of Five, Wasteland, Tell Me You Love Me, and Party Down.
Parks and Recreation Remains His Most Popular Work
While Adam Scott had played numerous roles both in the small and big screens before he was hired to play Ben Wyatt in Parks and Recreation, political satire sitcom has become the work he's most known for.
Since he started playing the role, he has had a busy acting career as he went on to feature in quite a number of other movies and television series.
In recent years, he has been seen in movies like The Overnight, Black Mass, Krampus, My Blind Brother, The Most Hated Woman In America, Flower, and Little Evil. His notable TV roles since Parks and Recreations include Burning Love, The Good Place, Big Little Lies, and Ghosted.
As a result of Adam's love for the famous musical band, U2, he was inspired to co-create and co-host a podcast along with Scott Aukerman, which they titled The Earwolf podcast 1 Talking U2 To Me; this was launched in February 2014. Then four years later, the duo moved ahead to launch a similar podcast that entails the career and work of another musical group, R.E.M., and just like their previous podcast, they called the new one R U Talking R.E.M. RE: Me?
His Career Has Seen Him Win Two Awards So Far
The popular American actor has earned several award nominations as a result of his sensational acting skills. As of August 2020, he has only been able to win two awards out of his many nominations.
In 2009, he won the Strasbourg International Film Festival Award and Sidewalk Film Festival Award. Both were for his outstanding performance in The Vicious Kind.
A Look At Other Gongs He's Been Nominated for
Most recently (in 2020), Adam Scott received a Screen Actors Guild Awards nomination for Outstanding Performance by an Ensemble in a Drama Series; which he shared with other cast members of Big Little Lies. Earlier in 2019, the actor was nominated for Teen Choice Awards' Choice TV: Villain; this was for his role in The Good Place. The role also earned him an OFTA Television Award nomination for Best Guest Actor in a Comedy Series. That's not the only OFTA nomination he has received; in 2012 and 2013, the body nominated him for Best Actor in a Comedy Series; these were for Parks and Recreation.
Also in 2019, Adam received a Gold Derby Awards nomination for Comedy Guest Actor, thanks to his performance in The Good Place. It added to the list of his previous nominations from the body. For Parks and Recreations, he was nominated for Comedy Lead Actor in 2013 and 2014. Big Little Lies brought him another Gold Derby nomination in 2017. That same year and in 2010, Scott received the Film Independent Spirit Awards for Best First Feature and Best Male Lead, respectively for 2016's Other People and 2009's The Vicious Kind.
As Parks and Recreation is his most popular work, it is no surprise that it has earned him the most nominations. In 2013, it earned him a Critics Choice Television Awards nomination for Best Actor in a Comedy Series. He was again nominated in the same category the following year.
What We Know About The Family He Hails From
As stated earlier, the actor was born to Anne and Douglas Scott. He is not their only child as he has two older siblings named David Scott and Shannon Scott; they all grew up together in Santa Cruz, California.
Adams Scott is very fond of his relative, especially his mother whom the family has lost to ALS.
Meet The Actor's Wife – Naomi Scott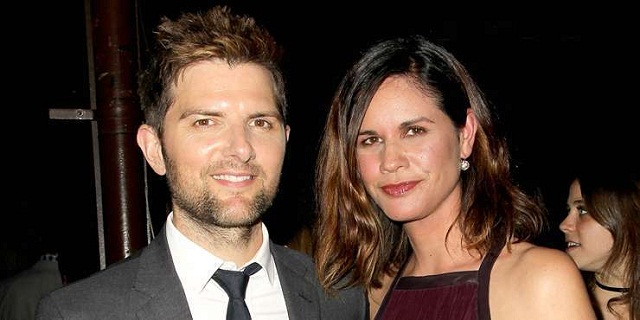 The award-winning actor is married to a fairly renowned film producer, Naomi Scott. Born as Naomi Sablan, Adam's wife has also thrived as a writer; and has been credited in popular works like Other People, Ghosted, and The Overnight. Based on the foregoing, you don't need to be told that she has been collaborating with her husband a good deal.
From what we have gathered, Naomi was born sometime in 1972 and raised in California. She is often mistaken for Naomi Scott, the English actress cum singer that played Princess Jasmine in Aladdin (2019). Why this is so is not far-fetched; they share the same name and are both invovled in the entertainment business, but that's only as far as it goes. The Aladdin actress is not Adam's wife, she is married to Jordan Spence, an English professional footballer.
When and How The Couple Met
As the story goes, Adam and Naomi met for the first time when they were in their early 20s. Being one of such celebrity couples that are particular about keeping their private life private, it has been difficult to uncover details of their love journey. Nonetheless, we can tell that they were introduced to each other at a Sunset Boulevard bar.
They dated for about two years before they decided to become life partners. Ultimately, the pair solemnized their union in 2005. Soon after, the couple welcomed their two sons named Frankie Scott and Graham Scott.
Much is not known about their married life as the couple has kept that information away from the prying eyes of the media.