Adrian Peterson has recorded much success in his career as a running back in the National Football League (NFL). He has played for multiple teams since his career kicked off in 2007 and has accomplished what many can only dream of in the sport. Right from his college career, Adrian has endeavored to set himself apart from the rest of his kind. He won the Hall Trophy in 2003 and the following year, was named the Big 12 Offensive Freshman of the Year in addition to making the Unanimous All-American team. Also, he was consecutively named to the First-team All-Big 12 from 2004 to 2006.
Joining the NFL, Peterson has been able to live up to the expectations his college career triggered. He was the league's Offensive Rookie of the Year 2007 and a seven-time Pro Bowler amongst other records. As you'd soon learn, Adrian attained these feats playing for five teams thus far.
He Was Drafted by the Minnesota Vikings and Played for them from 2007 to 2016
The Vikings drafted Adrian Peterson as the seventh overall player during the 2007 NFL Draft. Sometime in July that year, he made a five-year pact with the team worth $40.5 million; the deal guaranteed $17 million. With that, much was expected of him and he lived up to it. Peterson dominated the league and emerged as the NFL Offensive Rookie of the Year. He was named to the Second-team All-Pro and played his first Pro Bowl which saw him win the 2008 NFL Pro Bowl MVP.
His second season with the Vikings was as fruitful as his first. He finished the season leading the league in rushing with 1,760 yards. For his remarkable performance, he was celebrated with the Bert Bell Award, named to First-team All-Pro, and for his second Pro Bowl. He kept up with his good work the following season and was voted to his third consecutive Pro Bowl, as well as being named as a First-team All-Pro for the second consecutive season.
By the end of the 2010 season, Adrian Peterson was again selected to the Pro Bowl. In addition to that, he was voted as the best running back and third-ranked player in NFL Top 100 Players of 2011.
The Contract Extension that Saw Him Become the Highest-paid Running Back in NFL History
Given his outstanding record over the years, it was only deserving that the Vikings handed him a deal that made him the highest-paid running back in NFL history. In 2011, he inked a seven-season contract extension which was worth $96 million and guaranteed $32 million. That season was the first time he failed to attain a 1,000-yard season. He played only 12 games in the year but still made the NFL Top 100 Players of 2012 wherein he was ranked 8th by fellow players.
Adrian returned to his incredible form in the 2012 season and was named to his fifth Pro Bowl and third First-team All-Pro. It was a historic season for the running back as he emerged the league's Most Valuable Player and the Offensive Player of the Year. As he suffered an ACL tear the previous season, he also finished second behind Peyton Manning as the NFL Comeback Player of the Year. To cap it all, he was voted as the best player in the league by fellow players on the NFL Top 100 Players of 2013. Even though he dropped to the fourth position the following year, he rushed for 1,266 yards and pulled off 10 touchdowns in 14 games. This was enough to earn him his sixth career Pro Bowl.
His 2014 season was bedeviled with child abuse allegations and he was suspended without pay at some point. Nonetheless, he was able to make the NFL Top 100 Players of 2015, albeit he dropped to the 58th position. Following his reinstatement to the league in 2015, he returned to the fifth spot. Adrian finished the 2015 season with a league-high 327 carries for 1,485 rushing yards and 11 touchdowns. Thus, he was named to the seventh Pro Bowl of his career and made the First-team All-Pro list for the fourth time.
The 2016 season was his last with the Minnesota Vikings and he battled with a torn meniscus that saw him play only three games. He rushed for just 72 yards that season but was able to retain a spot on the NFL Top 100 Players of 2017, wherein he was ranked 98th.
Adrian Journeyed from New Orleans Saints to Arizona Cardinals for His 2017 Season
It was in February 2017 that the Vikings announced their intent to part ways with Peterson. He became a free agent and by April 2017, he bagged a two-year deal with the New Orleans Saints. With a $2.5 million signing bonus, the contract was worth $7 million.
As fate would have it, his first game with the Saints was against the Vikings, his former team. Peterson only managed 18 rushing yards on six carries while Vikings' Dalvin Cook broke his franchise record for rushing yards on rookie debut with the Vikings. The game ended 29 – 19 in favor of the Vikings. He only played four games for the Saints and rushed for a total of 81 yards.
In October of 2017, Adrian Peterson was traded to the Arizona Cardinals. He thrived with the side and was on his way to a grand finish when a neck injury had him sidelined. In all, he finished the 2017 season with 11 receptions for 70 receiving yards, 529 rushing yards, and two rushing touchdowns. The Cardinals released him in March 2018.
He Joined the Washington Redskins on a Veteran Minimum Contract in 2018
Released in March 2018 by the Cardinals, August of the same year saw Adrian Peterson make a one-year pact with the Redskins. It was a veteran minimum deal that would see the running back earn the NFL minimum salary of $1.015 million.
By the end of the season, he became one of the only five players in the history of the league aged 33 and above to rush for 1,000 yards in a season. He finished the season with a total of 1,042 rushing yards and seven rushing touchdowns.
It was a remarkable feat that earned him a two-year $8 million contract to remain with the Redskins. He received the Art Rooney Award in the 2019 season as he rushed for 898 yards and pulled off five rushing touchdowns. It was also the season Adrian became the 10th NLF player to attain 3,000 career rushing attempts. The Redskins released him in September 2020.
Adrian Peterson Now Plays for the Detroit Lions
The running back wasted no time in finding another home after he was released by the Redskins. Records have it he was released on the 4th of September 2020. By the 6th of that same month, he signed a one-year contract with the Detroit Lions.
As reported, the deal worth $1.05 million came with some incentives. His performance with the team has been good, it remains to be seen how he will end the season and what the future holds for him in the league.
For a player of his caliber, it is not surprising to learn that he was once among the world's highest-paid athletes. He was ranked as such in Forbes' list of 2012. The American business magazine reported that he earned $20.5 million as his salary and another $1 million from endorsements. He has earned more than any running back in NFL history.
If he plays out his $1.015M salary w/ the #Redskins in 2018, Adrian Peterson will bring his career earnings to just under $100M over 12 NFL seasons, $30M more than any other RB in history. https://t.co/iSId2RUHxk pic.twitter.com/SaDeXmpx6z

— Spotrac (@spotrac) August 21, 2018
In view of the above, it comes as a surprise that his net worth is estimated at only $4 million. It has been claimed that this is so because he trusted the wrong people to manage his finances and they took advantage of him.
His Wife Is a Model and Prominent Figure in the Beauty and Fashion Industry
Name: Ashley Peterson (AKA Ashley Brown Peterson, Ashley Thompson, and Elizabeth Brown)
Date of Birth: Undetermined
Occupation: Model and Entrepreneur
From what we learned, Adrian Peterson's wife has had a long history with the makeup and beauty industry. Her passion for all things cosmetic has been traced to her mother and when she was a kid. As the story goes, her mother gifted her a makeup set when she was five years old. Also a beauty lover, her mother's influence propelled Ashley's passion for makeup and beauty to the point of building a career around it.
When Ashley was 21, she moved to Los Angeles where she pursued a career in modeling. She began modeling for Abrams Artists Agency and Ford Model and would later work with other prominent names in the industry like Playboy: she posed for the magazine in a Girls of the Big 12 issue way back in 2006.
Working as a model helped Ashley gain more insight into the beauty and fashion world which in turn inspired her to create a business around it. She is the founder of Elizabella, an establishment that takes pride in describing itself as a premier cosmetics line. Ashley founded it with the aim of enhancing natural beauty and uplifting people's confidence. Amazingly, some portion of proceeds from the cosmetics line is channeled towards supporting women empowerment programs and initiatives.
Ashley is very public-spirited, she co-founded the A&A Peterson Family Foundation with her husband. Through the organization, the couple hopes to create and introduce initiatives that would transform the lives of young women who lack economic and educational resources.
Adrian and Ashley Started Dating in College and Got Married in 2014
The couple met while they were schooling at the University of Oklahoma. Reports have it that they dated on-and-off for years before they decided to have a low-key wedding in the summer of 2014.
Many didn't know they were married until they were seen at a gala in Minnesota with wedding bands. Their marriage has been blessed with two sons named Adrian Peterson Jr. and Axyl Eugene Peterson.
Apart from Adrian Jr. and Axyl, it is said that he has about 6 more children from different women. This was revealed after he lost a son named Tyrese Robert Ruffin; he was killed by Joseph Robert Patterson, his mother's boyfriend.
No, the NFL Star Had Nothing to do With the Death of His Son
It is really difficult to lose a child but losing a child you learned about a few weeks earlier could be very devastating. Among his many offsprings, Tyrese Ruffin was Adrian's son who died when he was two. He was said to have been in the care of his mother, Ann Doohan, who lives somewhere in South Dakota. According to Ann's boyfriend, Joseph Robert Patterson, the little boy was choked to death by his snacks.
However, Joseph's report did not satisfy the boy's family and they insisted on carrying out an autopsy on the deceased. With that done, it was discovered that the child died of brain injury as a result of multiple blows to the head. Joseph was subsequently charged with second-degree murder and sentenced to life imprisonment.
On Adrian Peterson's part, it wasn't an easy experience as he faced a lot of criticism afterward; he was accused of child neglect. But then, it emerged that the NFL player didn't know he fathered the child until a few weeks before his (Tyrese) death.
But He Was Once Charged With Assaulting His Four-year-old Son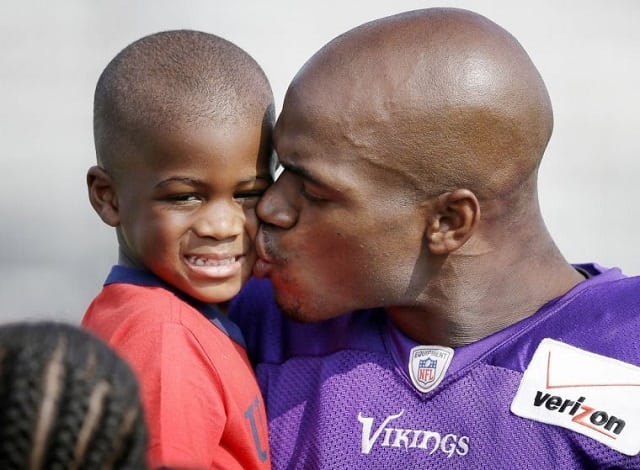 About a year after the incident involving his son Tyrese, Adrian Peterson made headlines again for an indictment on charges of reckless and negligent injury, after using corporal punishment on his 4-year-old kid.
Adrian related that he whipped the child with a tree branch because he pushed one of his brothers off a bike. But the police report suggested that he did not only whip the kid with a tree branch but also hit him in the face and lashed him with a belt.
Investigations were carried out and it was found that the kid sustained injuries on multiple parts of his body including his back, buttocks, genitals, ankles, and legs. The footballer would later agree to a plea bargain which reduced the felony child-abuse charges against him to a single charge of reckless assault. Given that, he was made to pay a $4,000 fine in addition to 80 hours of community service.
Despite the ugly child-abuse case, Adrian has made it clear that nothing is more important to him than his family. His wife has echoed this sentiment on several occasions through her social media pages, affirming that the NFL player is a loving husband as much as he is a good and caring father.