Most people know Adrienne Williams Bosh as the wife of two-time NBA champion, as well as Olympic gold medallist, Chris Bosh. Many people also know that rapper, Lil Wayne, once claimed to have slept with her during an anger-fuelled rant directed at the Miami Heat. However, Bosh is so much more than all this. She is a successful businesswoman as well as a passionate philanthropist who has used her time and money to support causes that are close to her heart. Want to know more about this incredible lady? Then you are in the right place.
Adrienne Williams Bosh's Age and Early Life
Adrienne Nicole Williams was born on the 17th of April 1985 in Vevay, Indiana. Her mother is Venezuelan and her name is Susan Chatham. Her father's name is not available but it is however known that he has German, Scottish, and English ancestry. The media personality also has a sister named Rachel Chatham. Bosh grew up in Vevay and attended Switzerland County High School.
As a young girl, she actively pursued various interests including gymnastics and theatre. She also participated in several beauty contests and won the princess title at the 2002 Vevay Swiss Wine Festival. On graduating high school in 2003, Adrienne Williams Bosh moved to Los Angeles to pursue a career in modelling and acting. In the city of angels, she scored minor parts in several movies including Three Barbecues (2002) and How to Throw a Party (2006). She landed guest roles in a variety of TV series and also appeared in several photoshoots and magazines. Additionally, Bosh also featured as a video vixen in many music videos.
Career
In recent times, Adrienne Williams Bosh has turned her focus to business and philanthropy. She founded her own club promotion business (known as Diamonds & Dimes Entertainment) as well as home décor and gift shop.
On the philanthropic side, Bosh has supported causes that promote the welfare of children, families, and military veterans. She has also raised awareness on pressing issues such as breast cancer and domestic violence. The Indiana native once partnered with the Miami Heat, Miami Beach PD as well as Safe Space Organisation to organize an awareness walk and expo on the issue of domestic violence. She also organized a Welcome Home Day, as well as a Home Strong Celebrity Gala, for veterans in Miami. Additionally, Adrienne Williams Bosh is the founder of a mentorship program for children known as Vice President of Team Tomorrow Inc.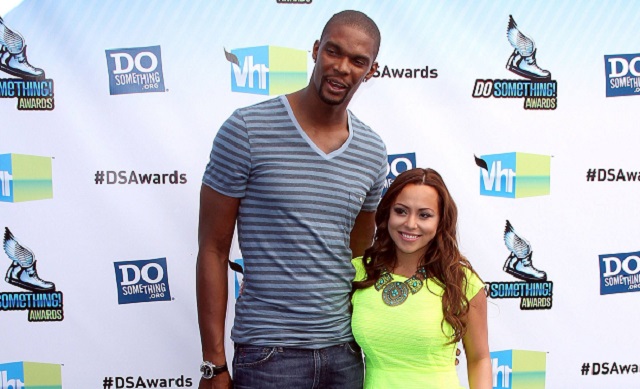 Adrienne Williams Bosh's Husband and Kids
Adrienne Williams Bosh is married to NBA great, Chris Bosh. Chris was born on the 24th of March 1894 in Dallas, Texas. He attended Lincoln High School where he was not just an outstanding basketball player (leading his school to a Class 4A state title) but was also an excellent student. Chris Bosh later played one year of college basketball at Georgia Tech before being drafted into the NBA (4th overall) in 2003. He would go on to spend a total of 14 years in the league; seven with the Toronto Raptors and seven with the Miami Heat. Chris won the NBA championships twice with the Miami Heat; in 2012 and 2013. He was named an NBA All-star on 11 occasions.
If there is one thing that Bosh and her husband have in common, it is their passion for philanthropy. It is therefore not surprising that their first meeting happened at a charity event in New York in 2009. They started dating that same year and secretly wed, two years later, in April 2011. The couple later organised a lavish wedding ceremony in Miami in July 2011. Their guests included sports stars such as Dwayne Wade, LeBron James, and Serena Williams. Bosh and her husband now have four children together. Their first, son – Jackson Anthony, was born in November 2012. Their second, son – Dylan Skye, was born in 2013. The couple also welcomed twins, Phoenix Avery (daughter) and Lennox Noel (son) in 2016. Additionally, Bosh's husband has a daughter named Trinity from a previous relationship.
Height
Adrienne Williams Bosh is also nicknamed short stack and the reason is not farfetched. The lady boasts of a sexy figure but with little height. Bosh is 5 feet tall which converts into 1.5 m. This means that she is quite miniature compared to her giant of a husband who is 6 feet 11 inches tall (2.11 m). The height difference between husband and wife makes for some interesting couple of photos.
Other Facts About Adrienne Williams Bosh
– She entered her very first beauty pageant at the age of seven and won it.
– Her hubby was part of the USA team that won gold at the 2008 Beijing Olympics.
– She previously owned a home décor and gift boutique, known as Sparkle and Shine Darling, in Miami, Florida.
– Bosh has chaired The Dress for Success Gala which provided professional clothing and employability training for female job seekers in Florida.
– She wore an Oscar de la Renta gown, as well as Christian Louboutin heels, for her wedding ceremony.
– Her husband's No 1 jersey number was retired by the Miami Heat in March 2019.