Africa is the second-largest continent, after Asia, in both size and population; it is located south of Europe and bordered to the west by the Atlantic Ocean and to the east by the Indian Ocean at about 30.2 million km² (11.7 million sq mi) including adjacent islands, it covers 6% of the Earth's total surface area and 20.4% of the total land area. With 1.0 billion people (as of 2009, see table), Africa accounts for about 14.72% of the world's human population. In this article, we are going to cover the continent's – Africa internet usage and statistics, hopefully, you'll find it informative.
Africa Internet Usage and Statistics: What You Need to Know
Although it's an established fact that the Internet usage in Africa is still limited by a lower penetration rate when compared to Europe and the United States with most Internet activity and infrastructure concentrated in countries like South Africa, Morocco, Egypt and smaller economies like Mauritius and Seychelles. Africa is also one of the fastest-growing in the world in terms of connectivity and usage especially in mobile telephony which has become more widespread than fixed line telephone. The opportunity lies more in Broadband Wireless Access technologies as the key to making Internet available to the population at large, several Telco's (Telecommunication companies) in Africa are looking at this option as a more viable alternative.
All indication about internet in Africa which includes but not limited to network traffic, available bandwidth and the cost of bandwidth, Internet Service Provider subscriptions, host number shows that South Africa is not just a leader here but also the only African country that has figures closely related to what you find in Europe and North America; this is closely followed by countries like Seychelles and Mauritius, also coming up is a number of North African countries that includes Morocco and Egypt, the leading Subsaharan country in telecommunication and Internet development apart from South Africa is Kenya.
While internet penetration is still low as reported by several sources, It should be noted that "the data on Internet subscribers only partially reflect the actual number of Internet users in Africa, and the impact of the network on African daily life and culture". A number of internet users do not have broadband internet services in their homes but a higher percentage of Africans rely on cyber cafes and other means like that, even greater percentage prefer to access the web via mobile devices, up to 50% of Nigerians access the web via mobile devices for instance.
See Also: 10 Angel Investors in Africa That Can Help Grow Your Business
Top 10 Countries in Africa Based On Internet
 Usage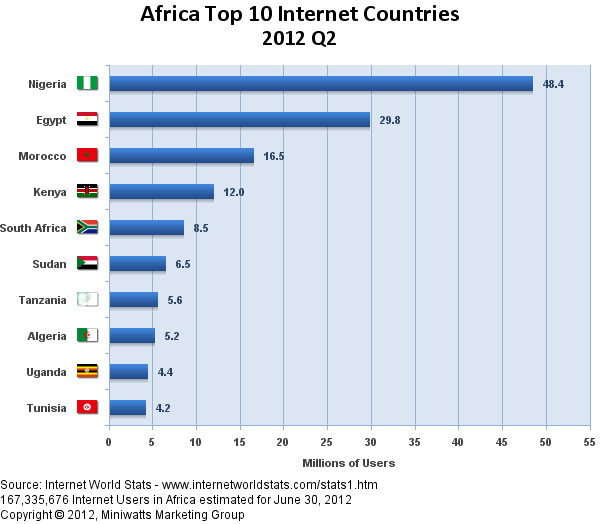 Read More: Best Tech Startups in Africa According to Forbes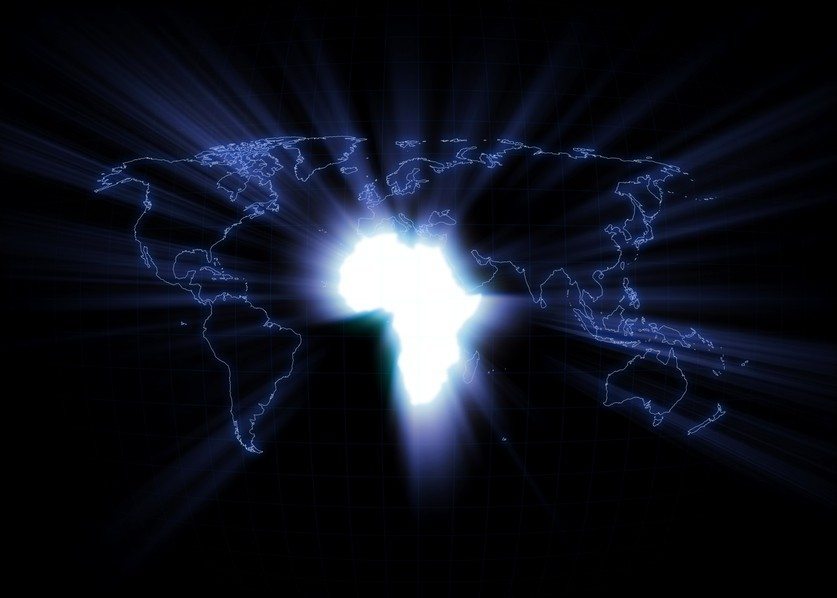 Key facts about 

Africa Internet usage that are worth noting
1,037,524,058 is population estimate for Africa in 2012, out of which there are 167,335,676 Internet users in Africa on June 30, 2012, 2011, a 15.6 %% penetration rate, a significant increase from 2011 data which placed it at approx 13%+
Nigeria still has the highest number of users at 48,366,179 followed by Egypt at 29,809,724, Morroco at 16 million, Kenya at 12 million and South Africa at 8.5 million
The largest percentage of Internet subscribers are found in small economies such as Seychelles, where as much as 37% of the population has Internet access (while in South Africa this value is 11% and in Egypt it is 8%).
Mobile! Mobile!! Mobile!!! Africans cherish mobile. There are more than 650 million mobile phone subscribers in the continent, this is more than either the United States or the European Union.
See Again: Top 10 Venture Capitalists in Africa
Meanwhile, the new 2018 Global Digital suite of reports from We Are Social and Hootsuite discloses that over 4 billion people around the world are now using the internet.
Far more than half of the world's population is now online, with the most recent data showing that almost a quarter of a billion new internet users came online for the very first time in the year 2017.
Africa has not been left behind in the rapid growth as it has witnessed the fastest growth rates, with the number of internet users across the continent increasing significantly by more than 20% year-on-year.
Much of the increase in internet users in 2018 has been as a result of cheaper smartphones and mobile data plans.
You can view the latest internet usage statistics and Facebook usage by countries through this link.