Africa, the motherland, the world's second largest and second most-populous continent. Full of spirit and colour, but defined in recent time by political instability and socio-economic problems. However, the continent is revered for its uniqueness which can be seen through its rich cultural heritage and diversity, as well as an abundance of natural resources.
Africa's uniqueness can be seen through its various art forms, from music, dancing, to paintings, drawings, and most especially its vibrant fashion which has recently begun to get the attention of the world.
When it comes to fashion, African designs have made a significant contribution to the world of knowledge that informs the style of its people and the outside world. African designs have come a long way from producing things that were once regarded as classes or basic, to distinguishing its designs from that of every other continent.
African people respect their deep heritage and as such, have tried to reflect it in fashion designs even as the 21st-century aspects of fashion has swept through its fashion industry. The rich blend of Africa's unique styles and the modern trend is something that is simply jaw-dropping to see. It will definitely make any African, or someone of origin from Africa, proud to be affiliated with the continent.
We have put together some beautiful pictures of African designs that are not just guaranteed to brighten your day but will make you want to own a piece of the new wave.
Mouth-Watering Pictures Of African Designs
Ankara Inspired Swimsuit
A day by the beach or a dive into the pool is a good way to unwind from all the stress life has put on your doorstep. Add a glass of wine to the equation and that could be the closest thing to perfection you can experience.
But unfortunately, it is not. Dorning an Ankara inspired swimsuit will make you the envy of all the females around. This swimsuit will have you looking stylish and different from the normal modern day trend.
Another example of how good the African print or Ankara inspired swimsuit can look on anybody regardless of race.
The lady above certainly looks good in her swimsuit, doesn't she? Many have said that this can be deemed as cultural appropriation, but we say, fashion is for all.
Read Also: 10 Accomplished Designers of African Fashion Wears
Avant-garde Ankara Turban Headwrap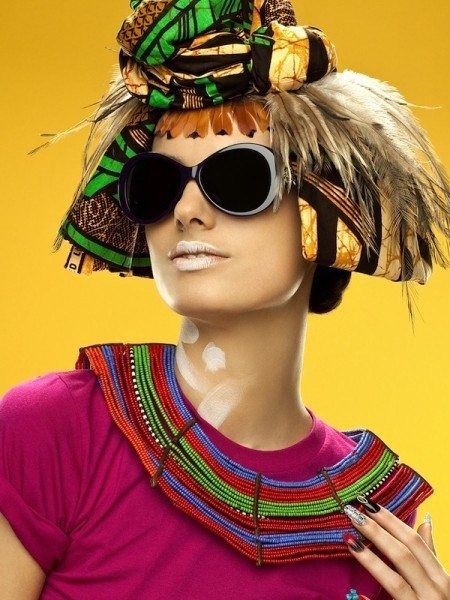 A bad hair day can quickly be forgotten through this new and experimental Ankara turban headwrap. It is very fashionable and easy to tie and can be put together in various styles and with various accessories, leaving you to steal the show.
African Print Mono Strap Top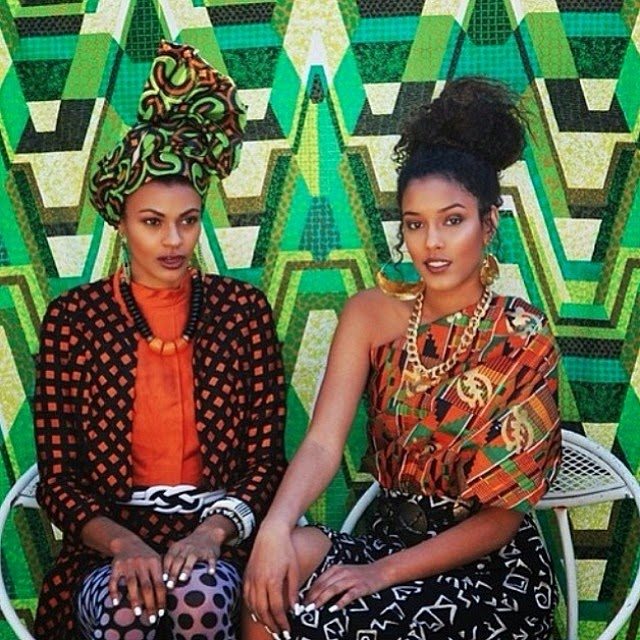 The African print material can be interpreted to any style you can imagine it to be and you will definitely be able to pull it off.
One of these styles is the African print mono strap top or blouse as pictured above. This can go with a skirt or a pair of trousers, and if paired with some other unique accessories, will make a combination that leaves you outstanding.
Ankara Inspired Accessories
The simplicity of your dress can be brought to life with Ankara inspired accessories such as an Ankara brooch, an Ankara bracelet, an Ankara handbag, and possibly earrings and necklaces made from Ankara material.
Other accessories made from Ankara.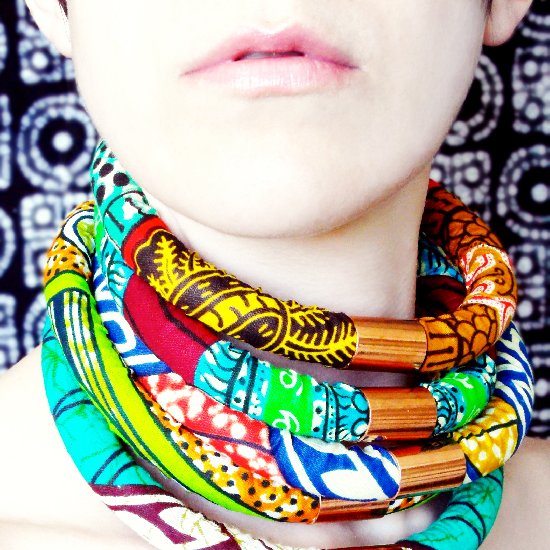 A few fashion accessories made out of materials unique only to Africa that not only gives you an identity but compliments what you are wearing.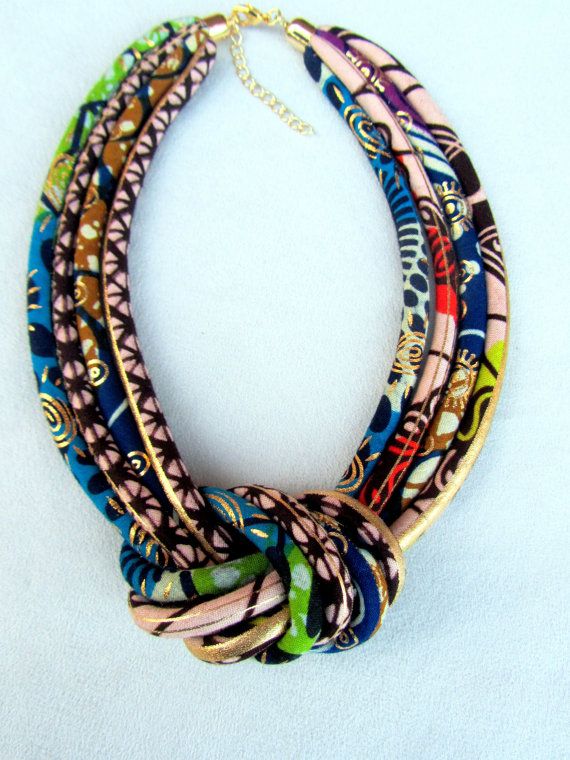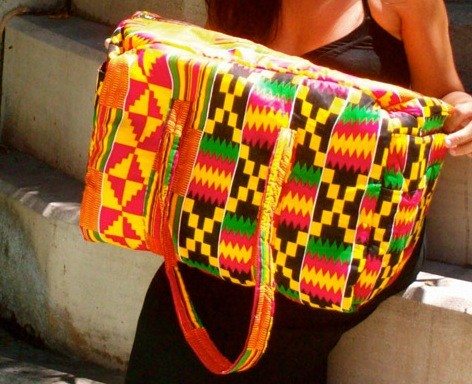 The necklace of buttons pictured above with different African print patterns is not only eye-catching but paints a picture of Africa's diversity but uniqueness together.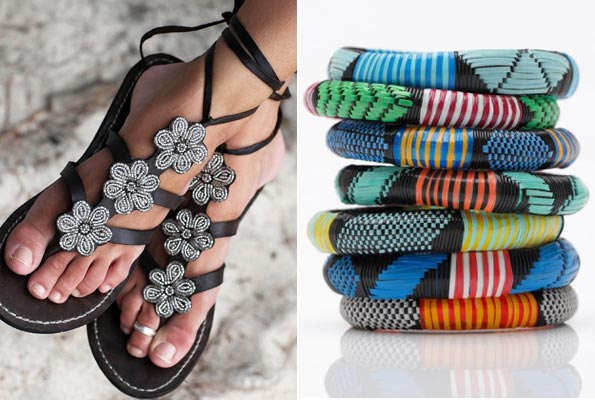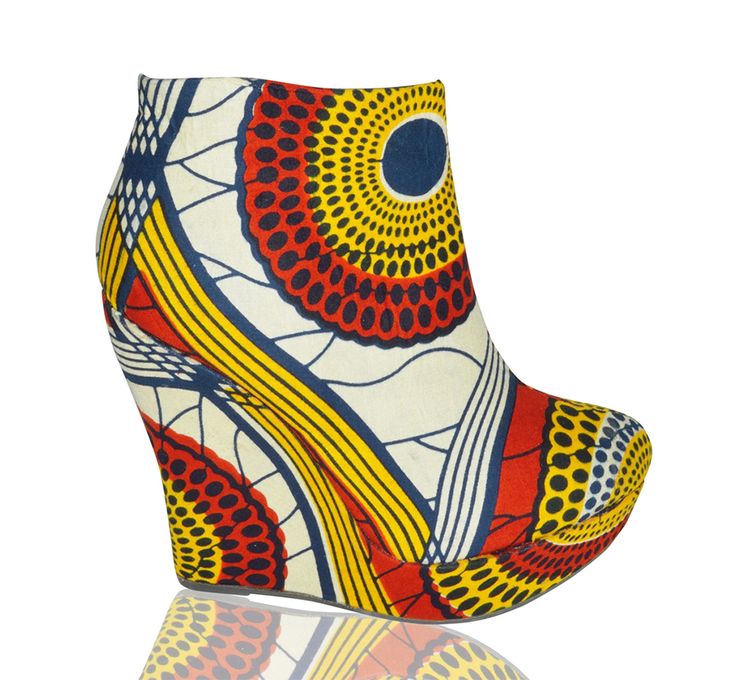 African print themed shoes have seen a surge in popularity in recent times. From 6 inch heels to wedges and flip-flops, they are trendy and a must have for women.
Ankara Victorian-era and 21st Century Dresses
One of the staples of African designs is its ability to push boundaries when it comes to avant-garde fashion.
The above fashion shows that African/Ankara materials look good in just about everything. Designs like this will appeal to mostly the creatives, the fashionistas, and the role players.
Ankara Materials Used To Compliment Everyday Clothing
Here, the Ankara material is used to compliment an everyday clothing material.
With the illustrations above, you can clearly see that these African designs are really amazing and is sure to improve as time goes on.