In the traditional African system, the man and the woman had distinguished roles. The women were automatically rated as high or low as their spouses; women had a specifically constructed role of nurturing and management of the home front. Over time, this style has changed and society not only demands but includes women in the workforce. Thus, some women have risen side by side to their spouses on the economic ladder.
The core of Africa's focal point is to uplift the economy, as a result, we will be looking at couples who have done well for themselves in that regard. Africa's power couples are married persons, both of whom have worked to conspicuously great and admirable positions in the society; men and women whose matrimonial contracts are still waxing strong and has not deterred their significance and purpose in the society.
It is indeed striking, the growing idea of individuality and personal interest in business/life pursuit in recent African marriages. We see couples who independently go after an interest in directions that are not necessarily those of their spouses. One would expect that as a couple they run joint family businesses but that is not always the case. Africa's Power couples are partners who have and are fulfilling a socio-economic purpose in the African society; partners who have become formidable forces in their own respects whether jointly or in varied African sectors. In no particular order, these are the African power couples that will utterly interest you:
12. Strive And Tsitsi Masiyiwa 
Country: Zimbabwe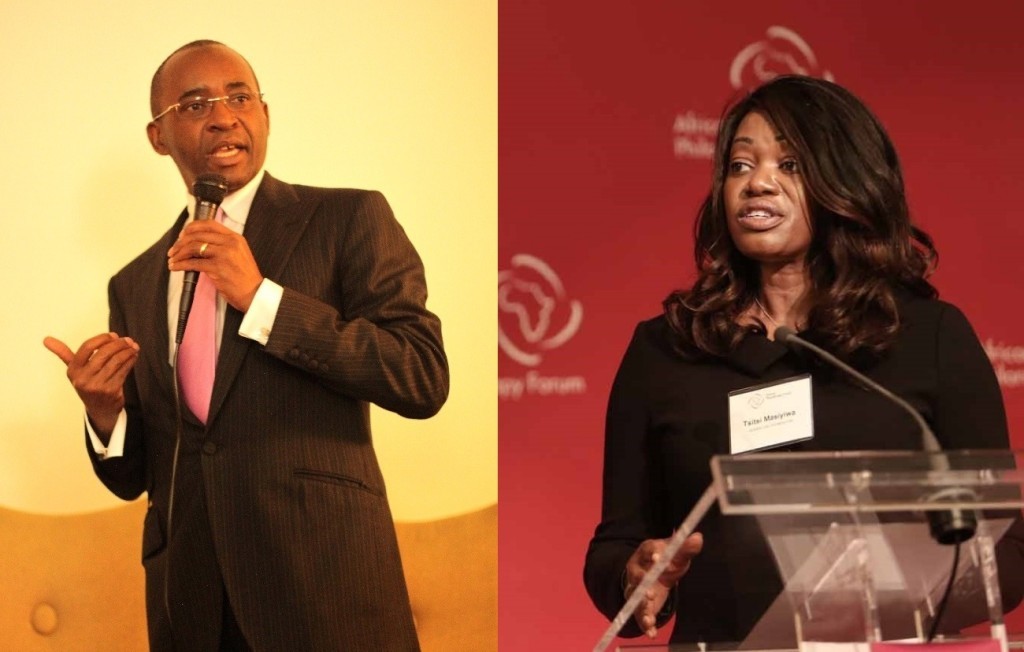 Think Econet Wireless, Think Strive Masiyiwa, a business mogul, and an incredible philanthropist. Econet is the first and leading telecoms company in Zimbabwe since its inception in 1998. His wife Tsitsi featured in Forbes for feeding 40, 000 children in Zimbabwe. Together both set up a number of charities for the welfare and education of the needy, orphans as well as for encouraging evangelism- supporting church constructions in the remotest part of the country.
While we have billionaires who lavish billions on frivolities, here is a Zimbabwean couple who practically welcomed the idea of giving back; and religiously includes the welfare of 40,000+ children in their budget. If this does not qualify them as Africa's "super" power couple, I wonder what will. Thanks to their humanitarian personalities, orphans have been taken off the streets and harsh conditions into the bliss of education and sound formation. The couple is not scared of spreading their goodness across the continent, as several beneficiaries also come from surrounding nations. Today they are Zimbabwe's richest couple. In 2012, Strive reportedly made a $6.4 million fund for college scholarships. He has made countless adventures in the international economic scene, which we could say was considerable enough to make the duo Obama invitees to the 38th G8 summit in 2012.
Tsitsi strongly believes that "people who are successful have a responsibility to support initiatives that will fuel Africa's growth and development". In addition to her daunting charities, she has taken up the course of sensitizing all and sundry with the capacity to help to aid Africa to soar higher. In April 2013, the charitable wife and pace setter, in conjunction with Tony Elumelu and other African economy enthusiasts formed the African Philanthropy Forum (AFP). Such are the stuff power couples are made of.
11. Victor And Funke Osibodu 
Country: Nigeria
Victor Osibodu effectively runs the Vigeo group conglomerate While his wife is a renowned banking professional. Very distinctly both make towering progresses in their personal fields. With her knowledge and skill in economics, Funke has headed series of sensitive banking positions in various banking firms. In 2012, she vacated the position of Chief Executive of Union Bank Nigeria Plc. Victor remains the Chairman of the Vigeo conglomerate with diversified interests in commerce, shipping, oil & gas. The Osibodu Couple sure does know their way around money matters.
10. Trevor Manuel & Maria Ramos
Country: South Africa
Trevor and Maria are both financial experts who operate rather independently. Trevor is a long time player in the South African government, most recently served as a minister for the National Population Commission. Born during the apartheid regime he suffered series of prison detentions, and in much better days, Trevor served as a South African minister for a span of 10 years, and also was a World Bank Board member. In 1994, he was chosen to be the "Global Leader for Tomorrow" at the World Economic Forum while his better half, Maria "currently serves on the executive committee of the World Economic Forum's International Business Council" (Wikipedia).
Maria Ramos is of a Portuguese-South African descent; after her university degree in economics, she gradually made her way to the top. From an economics' teacher to top financial management positions in prominent South African organizations. From 1996-2003, she served as the director general of S.A's national treasury; in 2009, she became the CEO of Barclays. She has been honored severally for her achievements including the 2005 Sunday Times Business Times Business Leader of the Year.
The two economic and political minded people met in the course of working together and tied the knot in 2008.
9. Mo and Haina Ibrahim 
Country: Sudan
Irrespective of his billionaire personality, Mo is a humble telecoms engineer/entrepreneur and business tycoon as much so is he an African optimist. He also moves for the motion of African Philanthropy and less of foreign aid which has since lost its essence. With the likes of Bill Gates and other international philanthropists, Mo has pledged half of his wealth to charity. After successfully founding and running the Celtel network, he diverted his interest and fortune to Africa's capacity building and advocating for good leadership in Africa through the Mo Ibrahim Foundation and other platforms. Behind this successful Sudanese, is Haina Ibrahim who worked for many years as a consultant radiologist. Mo and Haina are one of a kind deliberately low profile couple.
8. Uhuru and Margaret Kenyatta 
Country: Kenya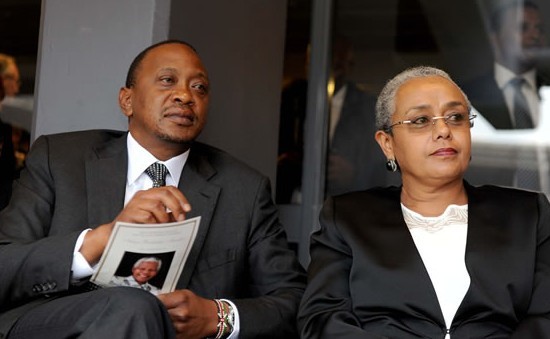 Uhuru and Margaret Kenyatta were high school friends who later in the years became a couple and in 2013 became Kenya's first family. Uhuru is the son of Kenya's founding father, Jomo Kenyatta, as well as the current President of Kenya. Just like his father, Uhuru has always been a political juggernaut. In his regime, Kenya's economy, the largest in East Africa has considerably grown by 25%. Margaret is yet another simple but powerful personality whose skills and charisma are tagged the secret ingredients for Uhuru's successful campaign. On a more humanitarian level, Margaret passionately campaigns for a lesser child mortality rate in Zimbabwe; this earned her 2014 UN person of the year.
7. Isabella Dos Santos & Sindika Dokolo
Country: Angola & Congo Republic
Angola's official daddy's girl and the richest black woman of our time, Isabella dos Santos is the daughter of Angola's longtime president, José Eduardo dos Santos. Isabella is an Amazon who has a good head for business and that has paid off for her. Her investments cut across, telecommunication, Oil & Gas, media and most significantly the precious stones, Diamonds which Angola supplies in large amounts.
And in his father's footprints, Sindika is an art collector/promoter and businessman, born into a Congolese prominent family. Sindika is famous for his international art exhibitions aimed at initiating and showcasing development potentials in Africa.
In 2003, the power duo got married in a record-breaking lavish ceremony estimated to a worth of $4 million.
6. Anna Getaneh & Admassu Tadesse
Country: Ethiopia
Admassu Tadesse is the 4th and current President and CEO of PTA Bank- Eastern and Southern African Trade and Development bank; an economist and banker Known for his prowess in corporate strategic planning both in Africa and internationally. For a decade he was at the helm of affairs of DBSA- Development Bank of Southern Africa.
Anna Getaneh was a supermodel who traded her fame and glamour for the good and welfare of some 700+ students. She founded the Ethiopian Children's Fund (ECF), under which she sources and makes funds available for the healthcare and education of the less privileged. However, Ann runs a fashion outfit in Johannesburg.
These Ethiopian patriots met on several occasions in their country and later became a married 'power' couple.
5. The Bandas 
Country: Malawi
Joyce is an active player in the country's politics and is most remembered for being the first ever female Malawian Vice President, First female Malawian President (2012-2104) and the 2nd female head of state in Africa. In 2011, Joyce founded the People's party in her tug of war with the then President. Before her venture into politics, her initial interest was in business leadership and women entrepreneurship. From her personal experience in her first marriage, she is a devout advocate for women empowerment, education and poverty eradication. In that respect, she served as the Minister of Foreign Affairs, as well as the Minister of Gender, Child Welfare, and Community Services.
Richard Banda is the power partner of the former Malawian President. Prior to that, he had served the Malawian government as the Chief Justice (1992–2002). In his earlier days, Richard was a national sports personality, known for representing the country in the Olympics and also as the captain of the Malawian national football team.
The Banda Couple started their marital union after Joyce ended her union with her first husband in 1981. Together they have 2 children.
4. Onsi and Yousirya Sawiris
Country: Egypt
Onsi Sawiris is the Egyptian billionaire founder of the Orascom Conglomerate with diversified interests in Tourism, Development, and Construction which are currently under the management of his 3 billionaire sons, respectively.
Yousirya Sawiris is a devout environmentalist and humanitarian with tested and trusted capability in Finance/business management and development. She has headed a private accounting firm and served as a member of the parliament from 1995 – 2000. Yousirya is the Secretary-General of the Sawiris Foundation
The Sawiris family is prominently known today because these 2 powerful figures paired up as one, to beget one of the most powerful families in Egypt.
3. Zerenesay Mehari & Mehret Mandefro 
Country: Ethiopia
Zerenesay is an Ethiopian Filmmaker. In 2014, he premiered his debut feature film, Difra which later bagged the award for the World Cinema Dramatic Audience at the Sundance Film Festival, Utah. The movie addressed the issue of Child marriage and women's right in Ethiopia, this he did by re-enacting a true life story.
The erudite Mehret Mandefro is a public health doctor and researcher. She founded Truth Aid Foundation- a media platform that helps to impact didactic and motivational life views. The Harvard Medical school graduate (and humanitarian) reaches out to HIV/AIDS patients in Africa – Botswana, South Africa, Ethiopia- and New York.
The Ethiopian media couple are such that believe and see the need to reform the community through media arts. Obviously, they are successfully using the power of the media to the advantage of the society.
2. Tony and Awele Elumelu 
Country: Nigeria
Tony is an entrepreneur, billionaire economist, and philanthropist who is generous enough to give attention to Africa start-ups, encouraging and supporting the plight of budding entrepreneurs through grants and financial assistance through the Tony Elumelu Foundation. He is the Chairman of Union Bank Of Nigeria and Transcorp Conglomerate with operational interests in Energy, Agriculture and Hospitality businesses (&development). Elumelu is a visionary who believes in the concept of "Africapitalism"- the power to grow and improve African economy by empowering the private sectors.
Awele is the wife of this patriotic African money bag. She is a certified and practicing medical doctor, together with her husband they founded the Tony & Awele Elumelu Prize which aims at awarding and rewarding best University graduating students from across Nigeria, and in time has extended to other parts of Africa.
The amiable couple has been married since 1993 and blessed with 5 children.
1. Patrick Motsepe & Precious Moloi
Country: South Africa
Meet South Africa's only black billionaire, Patrice Motsepe who took to his father's footsteps in business and mining. In his own business dealings, Motsepe accumulated a vast knowledge and experience in the mining sector. This made him a formidable figure in that department as he is known to have headed and/or founded several mining-related establishments- he was the President of South Africa's Chamber of Commerce and Industry. In 2002, he was South Africa's Best Entrepreneur.
A pediatrician by profession, but Precious Moloi Motsepe rather chose to blossom in the entrepreneur world of fashion. If you've heard of the South African Fashion Week, this is the woman who makes it happen. She owns the fashion company that organizes the event and also does more in commercial fashion – African Fashion International. However, she still reaches out to the subjects of her profession – women, and children (health). Till date, the environmentalist is the CEO of the Motsepe Family Foundation which caters to social development and community services.
In line with Mo Ibrahim, Strive and Tsitsi Masiyiwa and the world's richest people, Motsepe has also joined the giving pledge initiative, thereby giving up half of his fortune for philanthropic courses. The Mining tycoon and the queen of fashion got married in 1989.