Kuami Eugene (born 1st February 1997, Age: 26 years old) is a multi-talented award-winning Ghanaian highlife and afrobeat singer who rose to stardom after participating in season 5 of the MTN Hitmaker reality competition show in 2016. Since then, his musical journey has been a fascinating one with multiple outstanding awards to his name.
Among the numerous awards he has won, Eugene took home the New Artist gong in 2018 at both the Ghana Music Awards and Ghana Music Awards UK. The following year, after receiving a total of seven awards at the Ghana Music Awards, he won the awards for Album of the Year, Producer of the Year, and Highlife Artiste of the Year. The singer, who has since acquired the nickname of Rock Star, has continued to work hard to ensure his career continues to attain greater heights.
Biography and Profile Summary Of Kuami Eugene
Full Name: Eugene Kwame Marfo
Date of Birth: 1st February 1997
Age: 26 years old
Place of Birth: Akim Oda, Ghana
Nationality: Ghanaian
Marital Status: Single
Education: Ghana Communication Technology University
Occupation: Singer
Years Active: 2016 – present
Kuami Eugene Was Born 26 Years Ago In Akim Oda
Kuami Eugene was born on the first of February, 1997, in Akim Oda, a town in south Ghana that is the traditional capital of the Akyem Kotoku. At birth, the singer was named Eugene Kwame Marfo but he has decided to go by the name Kuami Eugene which also serves as his birth name.
The Truth About His Biological Parents
For almost everyone, Kuami's parents are recognized as Mr. Alex and Mrs. Juliana Marfo. In recent times, it has been reported that Mr. Alex is not the biological father of the musician but one Mr. Kofi Boakye. In an interview, Boakye claimed that Juliana separated from him after he traveled from their hometown, Akim Oda, to another faraway town, Akwatia, in search of greener pastures. According to him, he returned after two years but couldn't meet his wife again and there was no means of communicating with them at the time.
Boakye managed to find some of her wife's family members but they completely denied knowing her whereabouts, and that was it till today. In a bid to prove his claims, Boakye said that his son, Kuami Eugene, was born on a Friday and was surprised that he is now known as Kuami as though he was born on a Saturday. Going on, he categorically made it known that he is not after his money but only wanted to see his son and for him to recognize him as his father too. He said that it is true he (Mr. Boakye) has not been rich all his life but at least he is still living, adding that he has other children who are already working, and so it's not about his money.
Furthermore, Boakye said that his son, Kuami Eugene, could not be the age that he claims as he was born in 1989. He revealed that he is 60 years old and married Kuami's mother over 30 years ago. Finally, he communicated his attempt to get in touch with his wife since he came back but all proved abortive especially after Eugene became a music star. Be it as it may, some believed his story to be the truth while others dismissed it as scrupulous lies, saying that he only needs help and popularity.
Juliana Marfo Has Confirmed That Mr. Boakye is Eugene's Biological Father
Eugene's mother, at first, denied the report but has finally confirmed it to be true as she unraveled the whole story to her son. Juliana said that her husband ran away from the house two years after she gave birth to Eugene. She said that though it is true they were facing hard times at that time, Boakye did not ever take responsibility for the child but what he did was to run to his other wife whose name is said to be Naomi.
Following this, Juliana and her son went through a period of hard times because she didn't have anyone to help her. As a result, she left Akim for the city of Accra with Kuami Eugene where she met her second husband, Alex Marfo. She further added that Boakye was only able to recognize him because of his current status and appearances on the television because he left them when Eugene was only two years.
Kuami's Response To The Whole Saga
To this day, Kuami Eugene has not believed that Kofi Boakye is his biological father. He told the media that he only knows his parents to be Alex and Juliana Marfo. He further added that he has grown to a stage that once you mention his name, you get exactly the attention you need, and so does not see any truth in the story.
Eugene further revealed that Boakye is not the first person to have come out to claim they are his father; over eight people have made the same claims. On a day to celebrate father's day, Kuami simply posted the photo of Mr. Alex, wishing him a happy father's day.
Does Kuami Eugene Have Any Siblings?
Though many details about his family are not in the public sphere, it is known that Kuami Eugene is not the only child of his mum. His mother subsequently had other children from her second husband but how many they are is not known. Also, Eugene has step-siblings from his biological father's wife as revealed by Mr. Boakye.
However, one person who the public knows to be Kuami's sister is a lady simply identified as Kimberly's mum. The said lady is married and gave birth to her baby named Kimberly in 2020, making Eugene a young and proud uncle. Meanwhile, social media got busy after the musician took to his Instagram page to celebrate and congratulate his sister on her newborn baby. Some of his fans mistook the baby for his child but it was later confirmed that it was rather his sister's.
Kuami Eugene Dropped Out Of Secondary School Due To His Passion For Music
Kuami Eugene had both his primary and secondary school education in Accra. However, he could not complete secondary school due to his strong desire to pursue a career in music. Eugene took this decision against his studies without the knowledge of his parents nor the school management.
Initially, he would skip school to go to a studio in the Eastern part of the town where he learns music. When the school management discovered that he had not been in school for over two months, he was expelled and that was the point he called it quits to give his full attention to music. It was gathered that he later completed his secondary school and proceeded to study at the Ghana Telecom University, but rumor has it that he did not graduate from the university.
Eugene Had A Strong Passion For Music From An Early Age
With a strong passion for music burning in his chest, Eugene joined his church choir group at a very tender age, and that was where he also learned how to play some musical instruments like the guitar, drum, keyboard, and so on. His joining of the choir served as a big source of inspiration to him at that time. Also, he grew up in a neighborhood that is considered the busiest part of Akim Oda and this contributed to his music style.
While growing up, Eugene spent all of his free time with his friends to showcase his freestyling abilities. He also forms and writes down songs, and sometimes would sing them to the observation of his family and friends probably for them to evaluate his skills and capacity. This is exactly where and how Kuami Eugene began. Today, he has made numerous achievements in the music industry and has no plans of slowing down.
The MTN Hitmaker Reality Show Launched Him To Limelight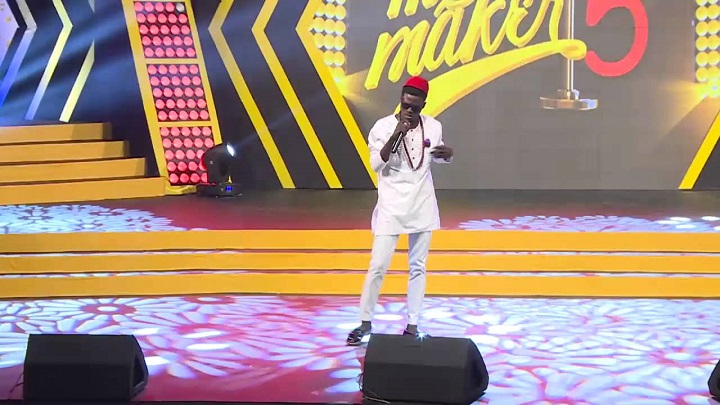 Kuami Eugene is among those who have leveraged the golden opportunity given by the MTN Hitmaker reality show to launch their music career. MTN Hitmaker is a platform made available for music amateurs to discover and nurture their talents. Eugene got public recognition after he participated in the fifth season of the show in 2016. Though he did not emerge the winner, he finished in third place.
His amazing and superb performance on the show caught the sight of a leading record label, Lynx Entertainment. Not long after, he was signed to the record label through which he released his first song, "Angela" and has gone on to achieve greatness in the music industry.
Kuami Officially Kicked Off His Music Career in 2017 When He Was 19 Years Old
Ready and willing to unleash all he's got, Kuami Eugene dropped his first single, "Angela" which garnered over one million views on youtube within its two weeks of release. Not only that, the song is considered the biggest hit ever for any artist who is signed to Lynx Entertainment. When the video of the song was released, Eugene stole the hearts of many with his graceful performance. As of July 2021, the song has been viewed over 18 million times.
DJ Vyrusky later featured the young artiste in his song, "Adwenfi" which went on to become a hit and received massive airplay. Kuami further collaborated with the award-winning dancehall artiste MzVee in the song "Rewind". In 2018, he released "Confusion", a song that is a continuation of the storyline in his first song Angela. In the same year, he released another single titled "Wish Me Well". He sang the song in response to the negative comments he received especially on social media whereby some people claimed that he steals lyrics from the famous Nigerian artist, Ice Prince.
In 2019, Kuami Eugene released his third single, "Ohemaa", and in October 2020, he dropped his much-anticipated studio album titled Son Of Africa. The album comprises 14 songs and features musicians from across Africa, including Sarkodie, Zlatan, and Falz.
With a lot of hard work and creativity, Eugene has become a star. Below is a list of some of his songs that have received massive airplay.
Open Gate
Wish Me Well
Ohemaa
Ghana We Dey
Walaahi
Wa Ye Wie
Turn Up
Confusion
Boom Bang Bang
Rockstar
Show Body
Ebeyeyie Heaven
Fadama Boy
Show Me Love
Show Dem
Psalm 35
His Milestones In Music So Far
Having achieved so much success in a short while, Kuami Eugene sure has quite a lot to offer the Ghanaian music industry. The success of his music has earned him a chance to perform in both local and international shows. He has notably featured in shows like the Oh My Festival in Amsterdam, Afronation in Ghana, Afrobeats to the World concert at the Playstation Theatre in New York, etc.
Even though Kuami's music has had its twists and turns, he is today celebrated as one of the most successful and famous faces in the Ghanaian music industry. Angela climbed Apple Music Chart Ghana, Spotify, Boomplay, and other top music streaming platforms for a long time. Other songs like Wish Me Well and Ohemaa joined Angela to get above 100k views on YouTube and achieve top charting positions on many music platforms in Ghana.
What Is The First Award Kuami Eugene Won as a Singer?
Kuami Eugene's success as a singer in the Ghanaian music industry has earned him multiple awards so far. His first award was the Most Promising Artiste in Africa Award from the All Africa Music Awards (AFRIMA) in 2018. Other notable awards he has received include:
2018 – Best New Artist of the Year by Ghana Music Awards UK
2018 – AFRIMA Most Promising Artiste in Africa
2018 – Vodafone Ghana Music Awards Best New Artist
2018 – Best New Artist of the Year by Ghana Music Awards UK
2019 – 3Music Awards High-life Song of the year Wish Me Well
2019 – Album of the Year by Vodafone Ghana Music Awards
2019 – Highlife Artiste of the Year by Ghana Music & Arts Awards Europe
2019 – Collaboration of the Year "Happy Day" by Ghana Music & Arts Awards Europe
2020 – Highlife Artiste of the Year by 3 music Award
2020 – Highlife Artiste of the Year by Vodafone Ghana Music Awards
2021 – 3Music Awards High-life Act of the year
2021 – Best Highlife Video by 4syte TV Music Video Awards
2021 – Most Influential Artist by 4syte TV Music Video Awards