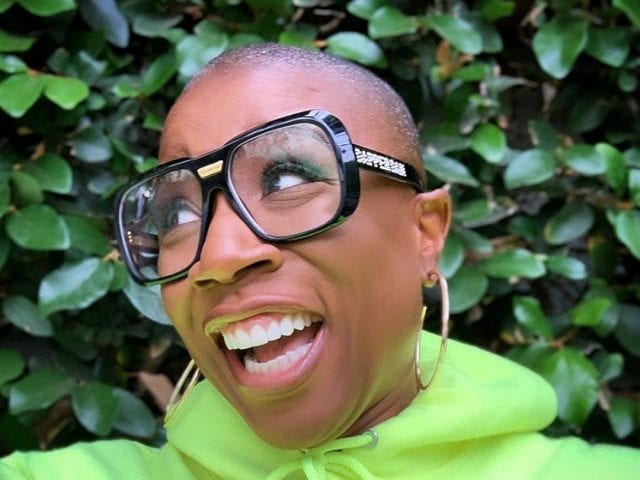 You may have seen this beautiful, powerful woman on multiple television series such as True Blood, The Shield, Under the Dome, and Detroit 1-8-7. Aisha Hinds was born to be on our television sets and we are absolutely grateful to the universe for that opportunity. To find out more about the professional and personal life of this American stage, television and film actress, read further.
Aisha Hinds' Biography (Age)
Aisha Hinds was born on the 13th of November, 1975. She was born in Brooklyn, New York and no doubt inherited the New York spirit of hard work, or as we like to call it, hustle. She was brought up alongside her sibling by her two parents and is reportedly from a middle-class family. She holds an American Nationality and is obviously African-American. For her education, Aisha attended the High School of Performing Arts and this is where her formal training in acting began.
Movies and TV Shows
Professionally, Aisha Hinds began her acting career in 2003 where she appeared on television in the series NYPD Blue where she played the role of Carla Howell, appearing in 2 episodes. Also, in 2003, she appeared in 4 episodes of Blue's Clues where she played the role of Miss Marigold. More notably, she has had recurring roles in a number of television series including Invasion where she played the role of Mona Gomez, Dollhouse where she played Loomis, Hawthorne where she played the role of Isabel Walsh, True Blood where she played the role of Miss Jeanette, Detroit 1-8-7 where she played the role of Lieutenant Maureen Mason and Under the Dome where she played the role of Carolyn Hill.
Apart from recurring roles, Aisha Hinds has had a fair share of single appearances in series including Law & Order: Special Victims Unit, Bones, Cold Case, Women's Murder Club, and Lost.
Aisha Hinds has also made quite a name for herself in the film industry. In 2004, she appeared in a short film called Love Aquarium where she played the role of Nina. In 2009, she appeared in the popular movie Madea Goes to Jail as Fran. In that same year, she appeared in Prison Break: The Final Break as the Guard Fowler. More recently, in 2014, she appeared as Nurse Ramirez in the movie If I Stay which featured Chloe Grace Moretz and in that same year, appeared in Beyond the Lights as J Stanley. She also featured in the 2019 movie Godzilla: King of the Monsters as Colonel Diane Foster.
Does Aisha Hinds Have A Husband or Is She Gay?
This powerful black actress has come under a lot of scrutiny by fans who suspect that she may be gay. This perhaps is attributed to her boyish looks as she has maintained a low cut for a long time now. However, it appears that Aisha Hinds is very straight. Being a very private person, not much is known about her romantic life but as of this writing, she is not in any relationship.
See Also: Danny Masterson – Bio, Wife, Brother, Sibling, Net Worth, Age, Height
Aisha Hind's Net Worth
For a woman with such a robust filmography, it comes as no surprise that Aisha earns a handsome sum from her acting career. With all the work that she has put into her acting career, the American actress is estimated to have a net worth of $6 million.
Interesting Facts About Aisha Hinds
She is very active on social media.
In this day and age, regardless of what year a person was born, everyone realizes the importance of staying connected with the world and Aisha is no different. She has about 132 thousand followers on Instagram and over 30 thousand followers on Twitter.
Outstanding Talent
For her role of Arlene Carter in Gun Hill, Aisha was nominated for the Black Reel Award for Best Supporting Actress: Television Movie/Cable. That is a huge deal and she deserves every inch of it!
Whoopi Goldberg is one of her Mentors
In one of her interviews, Aisha remarked on how Whoopi Goldberg helped her feel valued and validated as a woman wanting to become an actress. She attributed Whoopi Goldberg's onscreen appearances as the door that helped her have a voice of her own.
Her Zodiac Sign is Scorpio
No surprises there. For those who don't know anything about zodiac signs, Scorpios possess the characteristics of being passionate, ambitious and hardworking. Many astrologers describe this sign as complex, fascinating and magnetic.
5. Height and Body Measurements
Aisha stands at an average height of 5 feet 7 inches and maintains an athletic body. She weighs a total of 66 kg. She has black hair and dark brown eyes.