Since her Hollywood debut in 2003 with roles in works like 9-1-1, Underground, and Under the Dome, Aisha Hinds has become somewhat of a covert star. In turn, there has been a rising interest in her personal life as fans clamour to learn more about one of their favourite actresses. What they have found instead is a mystery, not just about who her partner might be, but her sexuality.
To those who might not be familiar with Aisha Hinds, she is a native of Brooklyn, New York. Born on November 13, 1975, Hinds, no doubt inherited the New York spirit of hard work, or as it is universally known, hustle. Her parents are of Grenadian descent, and she has one sibling.
Tracing The Genesis Of Aisha Hinds' Sexuality Speculations
Right from her childhood, Aisha developed an affinity for creative expression. For a while, she expressed it through her tap dancing shoes, until her junior high school tap dance instructor told her she needed something else. Something else turned out to be acting, at the High School of Performing Arts, in New York.
There, she began her formal acting training and, at the end of it, relocated to America's movie capital – Los Angeles. She has been working in Hollywood ever since, working her way through multiple films and TV shows.
A Couple Of Lesbian Roles And Her Fashion Style Sparked Gay Rumors
When she reached Los Angeles, Aisha Hinds made it a point of duty to keep her public presence focused on her work. But as she grew famous, with appearances on shows like The Shield and Invasion, many began to wonder about her lifestyle. For years, she provided no answer, which only fed the mystery about her personal life.
Thus, when Hinds began portraying a woman, Carolyn, in an interracial relationship with another woman in the Stephen King novel adaptation, Under the Dome, rumours began to fly around with regards to her sexuality.
The rumours intensified when she began starring on the Fox series, 9-1-1, as Henrietta Wilson, a firefighter/paramedic who is also a lesbian. Fueling the rumours in addition to her lesbian roles is her fashion style. From social media to the red carpets, Aisha Hinds' non-traditional feminine style, combined with a bald head, is a distinct identity of the actress.
Together, these traits contributed to rampant rumours that she is a lesbian. But while following laid down patterns and stereotypes can be insightful, sometimes they are not.
Her True Sexuality Remains A Mystery
If Aisha Hinds were any other kind of actress, perhaps the mystery that began in 2013 might be answered by now. But to date, the actress refuses to discuss her personal life, including her sexuality. She has, however, addressed at least one of the contributors to the rumours – her fashion style, specifically her bald head.
Speaking on The Real, she mentioned it was a conscious decision she made after she relocated to California. At the time, she could not afford to make her hair every week and rather than worry about it, decided to cut it off. And while her change in fortunes now puts her in a position to afford it, she continues to stay bald in protest of the traditional image of what a black woman's hair should be.
Regarding the fashion style and her lesbian roles, it turns out the former is a choice, and the latter is just acting. At least for now. Notably, the closest we have come to an insight into her personal life involved a man.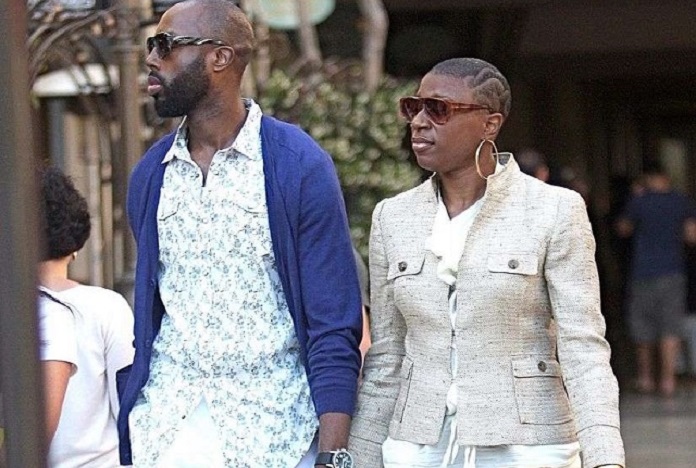 In June 2010, paparazzi took photos of her holding hands with an unknown man. His identity remains anonymous to date. So, does this mean Aisha Hinds is straight? One picture is not enough evidence, and neither does her looks. For now, fans of the actress will have to wait till she is ready to share.
Aisha Hinds Found Industry Recognition With Invasion
Professionally, Aisha Hinds began her acting career in 2003, where she guest-starred in an episode of the series NYPD Blue as Carla Howell. Also, in the same year, she appeared in four episodes of Blue's Clues as Miss Marigold across four episodes. Her first notable role came the following year, in the popular crime drama, The Shield.
She starred in a recurring role as Annie Price, across eight episodes between the third and thirteenth episode of the third season. After it ended, Aisha went on to guest star in several other popular shows like Boston Legal, Judging Amy, Crossing Jordan, and CSI: NY.
In 2005, she found her first long-running work as Mona Gomez in the horror-drama, Invasion. She appeared in a regular role, starring in 15 out of the show's 22 episodes between 2005 and 2006. Over time, she continued a slow but steady climb as an actress with guest-starring roles in TV series like Lost, Lincoln Heights, Cold Case, Bones, among others
Lumped in between the one-off appearances were recurring roles in Dollhouse, Hawthorne, True Blood, Cult, and Detroit 1-8-7. She got her first taste of significant success in the 2010s as Carolyn Hill in the Stephen King novel adaptation, Under the Dome. Hinds went on to star in 16 episodes between 2013 and 2015.
While most of her early appearances came on TV, she also made big-screen appearances. Her first was in 2005 when she played Anna in Assault on Precinct 13. She has subsequently played a role in a few of them since then, including films like Mr. Brooks, Madea Goes to Jail, Star Trek Into Darkness, and Runaway Island.
She Found Global Fame With Underground And 9-1-1
After almost two decades as an actress, Aisha Hinds found widespread fame in a role as Harriet Tubman in the WGN America period drama, Underground. She starred in seven episodes in the show's second season, and her performance as the black American icon drew praise from every corner.
The abrupt cancellation of the show after Sinclair Broadcasting Group, a conservative corporation, bought the network, further drew national attention to her performance. In the same year, she starred as Pastor Janae James in the miniseries, Shots Fired. Both projects earned her nominations for Outstanding Supporting Actress from Black Reel Awards for Television.
In 2018, Aisha Hinds rose further when she began starring in a supporting role alongside acting icon Angela Bassett, in the Fox drama, 9-1-1. She plays Henrietta' Hen' Wilson, on the show, with more than 47 episodes under her belt across four seasons.
In-between Underground and since she began starring on the Fox show, she made an appearance in the blockbuster, Godzilla: King of the Monsters and the short film, First Day Back. So far, she has more than 60 credits to her name, and with her stock on the rise, more are expected to come.
Aisha's Film Exploits Has Earned Her A $3 Million Net Worth
She may yet to become a full-fledged global name, but Aisha Hinds is on her way there. In the meantime, her steady work on television, in guest and recurring roles, has earned her a $3 million net worth. Although she is yet to take on the big screen as a lead actress, a modest number of appearances in minor and supporting roles have also contributed to her net worth.
A look through her Instagram account shows some of her riches go to amassing beautiful fashion pieces and vacations to exotic destinations. With no known husband and a child to cater to, Aisha Hinds seems to be living her best life.