Aishwarya Rai is a former model-turned-actress best known for winning the 1994 Miss World beauty pageant before going on to become a Bollywood superstar. She has won several honors for her contributions to the entertainment industry, including being a recipient of national honors from the government of India and France. She was awarded the fourth highest Indian civilian award, the Padma Shri in 2009 and the French national order, the Ordre des Arts et des Lettres in 2012.
Rai is also prominently recognized as the first actress of Indian origin to be a jury member at the Cannes Film Festival. The multiple most beautiful Indian woman list entrant is also lauded for her humanitarian work, which has led her to be named a Goodwill Ambassador for the Joint United Nations Programme on AIDS (UNAIDS).
Aishwarya Rai First Wanted to Be An Architect
Aishwarya spent her early years in Karnataka and grew up in Mumbai, India. There, she attended the Arya Vidya Mandir High School, as well as the Jai Hind College before transferring to DG Ruparel College in Matunga. Rai had hoped to either become an architect or have a career in medicine. As a result, she went on to enroll at Rachana Sansad Academy of Architecture, where she spent a little time before opting out to focus on modeling.
Starting her career as a model, Aishwarya Rai's first notable gig was in 1991 when she won the Ford Motor Company organized international Supermodel Contest, which led to her being featured in the American magazine Vogue. Two years later, she appeared in a Pepsi Commercial that made her very famous alongside Mahima Chaudhry and Aamir Khan. She then went on to contest in the 1994 Miss India Pageant, where she emerged the first runner-up of the competition.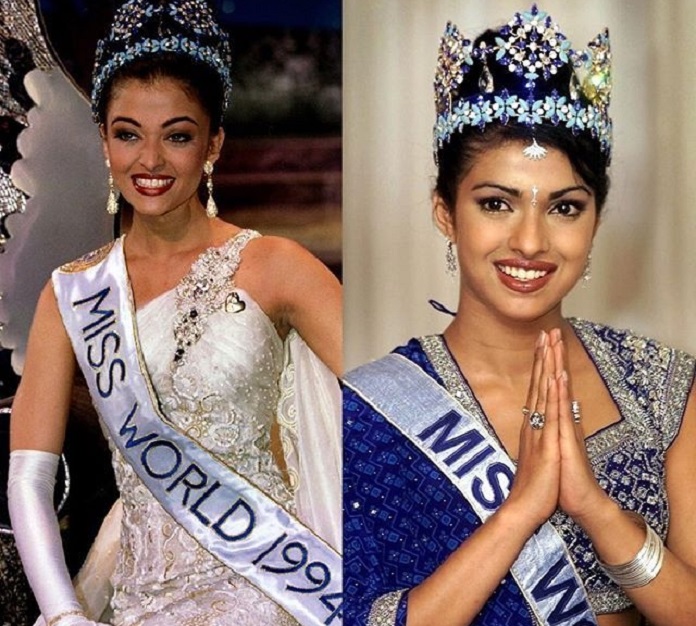 After she got crowned as India World, Rai equally won Miss Popular, Miss Miraculous, Miss Catwalk, Miss Perfect Ten, and Miss Photogenic Awards. With the winner of Miss India, Sushmita Sen representing her country in the 1994 Miss Universe Pageant, Aishwarya had to represent India at the Miss World Pageant the same year. There at Sun City, South Africa, the gorgeous model won the Miss World crown and also walked away with awards for Miss Photogenic and Miss World Continental Queen of Beauty – Asia, and Oceania.
Her Reign As Miss World and Successful Transition to Acting
After her one year reign in London as Miss World, Aishwarya Rai continued with her modeling career. However, in 1997, she decided to go into acting, making her debut with Tamil movie, Iruvar. In the same year, she scored the role of Ashi in her first Bollywood film, Aur Pyaar Ho Gaya, which landed her a Screen Award for Best Female Debut. In the next year, the former beauty queen portrayed Madhumita in the Tamil film Jeans.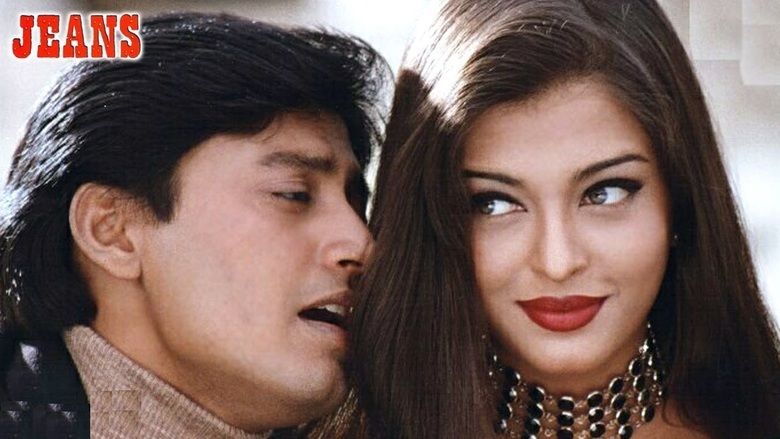 Her performance in the commercially successful movie was critically acclaimed, and it paved the way for the actress to subsequently land a plethora of acting offers. She reached another milestone in her acting career in the year 1999 when she was cast in the romantic drama film, Hum Dil De Chuke Sanam. Having played the movie's main protagonist Nandini with precision, Aishwarya Rai took home a Film Fare Award for Best Actress, and the movie was a box office hit.
Between 2000 and 2010, when the comely actress went on a five-year acting break, she starred in more than thirty movies, which include Mela, Hamara Dil Aapke Paas Hai, Hum Tumhare Hain Sanam, Shakti: The Power, The Mistress of Spices, Dhoom 2, The Pink Panther 2, Raavanan, and Action Replayy. Coming back to the acting scene in the year 2015, Rai has scored roles in Jazbaa (2015), Sarbjit (2016), Ae Dil Hai Mushkil (2016), and Fanney Khan (2018). She is also among the cast of the upcoming Tamil movie, Ponniyiri Slevan, which is slated for release in 2021.
Rai Has Starred In Several Commercially Successful Movies
Aside from the aforementioned films, Jeans and Hum Dil De Chuke Sanam, which were box office hit, Aishwarya Rai has starred in a good number of commercially successful movies since the inception of her illustrious career. In 1999, she featured in the musical film, Taal, which grossed moderately at the box office while becoming the first Indian movie to make the top 20 list on the US box office.
In the next year, she was cast in Kandukondain Kandukondain, a Tamil language romantic drama movie that completed 150 days on the Tamil Nadu's box office and was equally a critical success. The multi-award-winning actress further had roles in Hindi film Mohabbatein, which ended up becoming the second highest-grossing film of the year 2000 and Devdas that was ranked among Time Magazine's 10 best films of the millennium, having earned over US$12 million in the worldwide box office.
Other commercially successful films that Rai has starred in include Chokher Bali (2003), Khakee (2004), Bride and Prejudice (2004), Guru (2007), Jodhaa Akbar (2008), Sarkar Raj (2008), Raavanan (2010), Enthiran (2010).
She Shares a Strong Bond With Her Immediate Family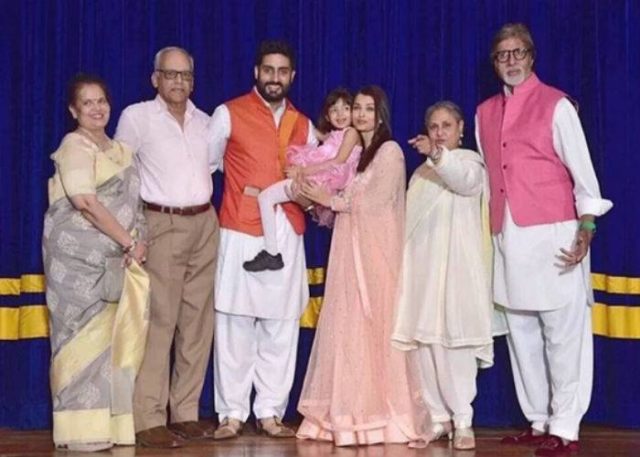 Aishwarya Rai is one of those people who believe in maintaining close relationships with family. She has over the years made sure to keep her immediate family, including her father Krishnaraj Rai, mother Vrinda Rai, and brother Aditya Rai, who is a merchant navy engineer, very close to her as they have been frequently spotted by their daughter's side on the red carpet and at other social events. In 2003, the trio of sister (actor), brother (co-producer), and mother (co-writer) collaborated in the Hindi romance movie Dil Ka Rishta, which was a huge box office hit.
Tragedy, however, struck the family in March 2017 when Rai's father passed away following a long battle with cancer. Aishwarya was frequently seen visiting her father in the hospital as she canceled all appointments and professional trips to be by her father's side during his final moments.
How Aishwarya Rai Met Her Husband Abhishek
Before getting acquainted with her now-husband Abhishek, Aishwarya Rai dated Bollywood star, Salmon Khan, from 1999 to 2002. The two called off their public relationship on the grounds of infidelity on the part of the actor, who also abused Ria verbally, physically, and emotionally while they were together.
Abhishek Bachchan, on the other hand, was previously engaged to actress Karisma Kapoor before calling off the engagement in January 2003. Bachchan was reported to have fallen in love with Rai while they were filming the action thriller Dhoom 2 (2006), although they had known each other for a while and had previously appeared together in some other movies.
Their Marriage Has Produced a Daughter
In January 2007, the couple went public with their engagement. They went on to tie the knot a few months later in April 2007. Their wedding, which was a private ceremony, was held at the Bachchan residence located in Prateeksha, Juhu, Mumbai. The duo, who has been described as a super couple by the Indian media, welcomed their first child, a daughter named Aaradhya Bachchan on 16 November 2011.
After welcoming their baby girl, it took the cute couple more than four months to christen her. As a result, their daughter was called Beti B in the media, and she became quite famous at the time. Aaradhya Bachchan attended the Kookaburra Learning Center before proceeding to one of the top schools in India called Dhirubhai Ambani International School situated in Mumbai.
As a celebrity child, she often makes headlines on Indian media outlets, having been seen most times in the company of her influential parents and grandparents at several social events.
What We Know About Her Movie Star Husband
Aishwarya Rai is married to actor Abhishek Bachchan, the son of legendary Indian film actors and politicians. His mother Jaya Bachchan is an actress turned politician while his dad is Amitabh Bachchan, who ruled Bollywood in the '70s before becoming a politician but continues to act. He has been seen in recent projects like The Great Gatsby (2013) and Piku (2015).
Abhishek, who was born on the 5th of February, 1976, in Mumbai, is best known for movies like Yuva (2004), Kabhi Alvida Naa Kehna (2006), Dostana (2008), Bol Bachchan (2012), Happy New Year (2014), Housefull 3 (2016), and Manmarziyaan (2018). He is a recipient of the National Film Award for Best Feature Film in Hindi, Filmfare Awards, and Bollywood Movie Awards.
Read Also: Priyanka Chopra Age, Height, Married, Husband, Dating, Boyfriend, Sister
Aishwarya Rai's Stunning Looks Has Earned Her Several Accolades
The former beauty pageant winner is considerably tall for a woman with a height of 5 feet 7 inches (1.7 m), which is 2 inches taller than the height of an average woman and a whopping 7 inches taller than the average Indian woman. She has a slim body build that weighs 58 kg (128 lbs), and her other body measurements are given as 34-26-34 inches (86-66-86 cm) for bust, waist, and hip, respectively. She further has a black hair color and hazel green-blue set of eyes.
Having been endowed with stunning looks and hourglass figure, the prominent actress was ranked first on Maxim's list of the Hottest Women of India in 2005. She also took the ninth spot on the 2005 Harpers and Queen list of The Most Beautiful Women in The World. The actress was equally rated third on Eastern Eye's list of Asia's Sexiest Women in 2006.