Ajiona Alexus is fit all over! Talk of her physical demeanor, and her consistent workout habit and outstanding beauty gives you whatever you need in a celebrity. As for her professional skills, Alexus is one of the young and fast-rising actresses you can count on. She is in fact, one of the budding creative and talented artists who are set to take over the silver screens in no distant time. Making her more exceptional is Alexus' blend of her acting prowess with excellent musical talents. She is also a fine singer and songwriter.
Ajiona Alexus initially gained popularity for her role in The Rickey Smiley Show (2012-2014). She is, however, most popular for portraying Sheri Holland in Netflix's teen drama series, 13 Reasons Why.
Let's take a closer look at the life of the talented artist. And this time around, instead of "13 Reasons…", we'll give you 7 solid reasons why you should get to know her better. Here we go!
Who Is Ajiona Alexus?
Ajiona Alexus Brown is an American actress, singer, and songwriter. She was born on the 16th of March, 1996 in Tuskegee, Alabama, United States. Ajiona is an American citizen with African-American origins. She is the only daughter and last child of her parents and has an older brother, Dee Brown. When she was three (in 1999), her family moved to Birmingham, Alabama where she attended the Alabama School of Fine Arts. She subsequently studied at Texas A&M University.
Ajiona Alexus stands at an average height of 5 feet 5 inches (1.68 m) and weighs 52 kg. She has a pear-shaped athletic body build that measures 32-28-36 inches by bust, waist, and hips respectively.
Ajiona Alexus hit the acting stage for the first time when she was 8. She, however, later debuted her professional acting career in 2012 in TV One's situation comedy, The Rickey Smiley Show where she portrayed the recurring character of De'Anna in 24 out of the 37 episodes of the series which aired till 2014. Meanwhile, she released her first music single titled "Dream Big" in 2013.
In 2015, Ajiona Alexus guest-starred in two medical television drama series – ABC's Grey's Anatomy and CBS' Code Black. In 2016, she portrayed recurring character Teenage Cookie Lyon in Fox's television musical drama series, Empire.
Alexus landed her breakthrough role in 2017. She became part of the cast of the famed web television series, 13 Reasons Why where she plays Sheri Holland. The series which turned out a hit has swiftly shot Ajiona to the limelight. Also in 2017, Ajiona Alexus made her movie debut. Her first movie role came in Something Like Summers, a musical film in which she portrayed the character of Alison Cross.
In 2018, Ajiona Alexus starred as main character Candace Preston in Light as a Feather. She subsequently starred in Family Blood, Acrimony, and Break In, all in 2018. In addition, Ajiona released her lyric video "Baggage" the same year. She also featured as the cover girl for Prune Magazine's June 2018 issue.
Alexus is portrays the recurring character of Livvie in Marvel's 2018 web TV series, Runaways.
7 Reasons You Need To Know Who She Is
1. She is very versatile
Ajiona Alexus was born into a musically talented family. The easier path for her would have been to also become a musician. But Alexus is such an artist that loves challenging herself. She wanted to try out something more daunting, and that's why she shifted from the family's mainstream career and ventured into acting. Meanwhile, that didn't make her to altogether throw away music. Of course, you already know she is also a singer/songwriter with several productions to her credit.
And sports? Ajiona is not completely left out. Growing up, she actively participated in both football and basketball. She, however, decided against making any of them a lifetime career. Howbeit, she is ever ready to hit the field any moment; thanks to her regular workouts.
2. Alexus Means Business!
While many of her fellow upcoming artists are still managing a few minor roles in short films, or even uncredited works, Ajiona Alexus has already starred in twelve major films and TV series just within six years of stepping foot on the acting stage. Such feat is certainly no joke at all. It can only mean real business.
3. She already has over 2 million social media followers!
After taking just a peep at Alexus' individual social media accounts, you cannot help but become captivated. So far, she has garnered over 2 million fans across her accounts – Instagram, Twitter, and Facebook. She is, however, most active on Instagram where she boasts 1.9 million followers. She also has a YouTube channel with over 13k subscribers.
4. Ajiona is also an activist
Ajiona Alexus is an anti-bully. From time to time and through various media, she has continued to make her voice count in the war against bullying.
5. She's a popular Rihanna look-alike
Alexus visibly looks like the famous actress and singer, Rihanna, especially in the forehead, eyes, and nose. Some have also quipped that she also resembles Janet Jackson. Below is a look-alike photo of Rihanna and Alexus.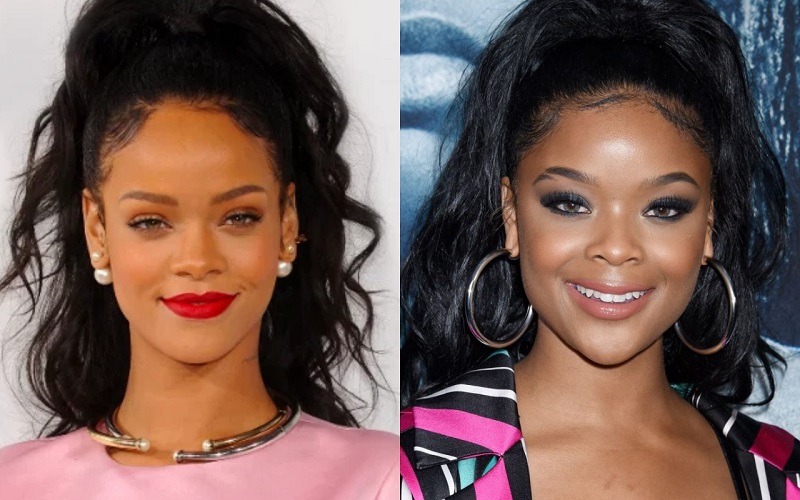 See Also: Interesting Facts About Ronni Hawk
6.  Ajiona Alexus will NEVER let anyone limit her!
The last but not the least reason why you should get to know Ajiona Alexus is simply the fact that Alexus believes that anything is possible, and there are no limits to what she can achieve. The rising star won't let any human or anything – age, color, etc limit her possibilities and opportunities, as well as her ability to move to the next level. It's, in fact, one of her daily pledges to push to another level. Alexus says she learned this life rule from her Bring It On star, Gabrielle Union. Applying this to her acting career, Ajiona is always ready to create room for herself in the industry as well as in movies, even when they say "no room"!