Aleister Crowley earned the reputation as the Wickedest Man in the World and a Master of Darkness in his lifetime. He was an English occultist; a poet, novelist, ceremonial magician, painter, and mountaineer who lived a life that contradicts his Christian background.
Crowley was the founder of the Thelema religion, he claimed to have been inspired to found the religion by a supernatural entity named Aiwass, who gave him The Book of the Law. Serving as the "holy" book of the religion, the book authorizes followers to "do what thou wilt" and encourages people to practice magick and align themselves with their True Will.
While the British tabloids labeled him the wickedest man in the world, Aleister Crowley enjoyed being referred to as a beast by his own mother. This hasn't explained the kind of person he was or why he lived life the way he did, but you might get an insight after reading about his background, adventures to some part of the world, not to mention his experimentations with sex.
Aleister Crowley Biography
He was born Edward Alexander Crowley (a name he loathed and later changed as soon as he grew older) on October 12, 1875, in Royal Leamington Spa, England, into a wealthy and evangelical Christians family.
His father Edward Alexander Crowley, a trained engineer who inherited a share in a lucrative family brewing business retired before his only son (Aleister Crowley) was born. Crowley lost his father at age 11, in 1887 and grew up having a strained relationship with his mother Emily Bertha Bishop who wrote him off as "The Beast".
Before his demise, caused by tongue cancer, Crowley's father was a devout Christain who spent his life traveling and preaching as well as reading Chapters of the Bible to his family every day. 
At age 8, young Crowley was sent to evangelical Christian boarding school in Hastings and then Ebor preparatory school in Cambridge. This was after he lost his baby sister and the family moved to Redhill, Surrey. Crowley inherited a third of his father's wealth, giving him the liberty to travel the world.
Before that, he became increasingly skeptical about Christianity; disputing pages of the Bible with his religious teachers and indulging in immoral acts that are contrary to his upbringing such as smoking, masturbating, and having sex with prostitutes.
He continued his education in October 1895 at Trinity College, Cambridge where he enrolled for a three-year course, studying philosophy, but later changed to English literature. At the time, he's already adopted the name Aleister. While at the university, Aleister enjoyed much of his free time playing chess, writing poems that were published, mountaineering the Alps, and escalating his vigorous sex with women.
His Marriage and Love Life
Before meeting his wife Rose Edith Kelly, Aleister Crowley traveled excessively to Mexico, where he settled for some time. While in the North American country, he had a local woman as a mistress and continued to experiment with ceremonial magic, as well as writing series of poems published as Oracles in 1905. He later left Mexico for San Fransisco and visited other countries like Hawaii, Japan, Hong Kong, Germany, Egypt, India, China, and Canada.
He met his wife Rose in Paris after arriving in the city in November 1902. She was the sister of his friend and painter, Gerald Kelly. Their marriage was initially meant to prevent Rose from entering an arranged marriage. Nevertheless, the couple truly fell in love during their honeymoon with Crowley setting aside his dark writings to pen her series of love poems published as Rosa Mundi, Other Love Songs. Around this period, he also authored the religious satire Why Jesus Wept; the works were respectively published in 1904 and 1906.
Their union produced two daughters; the first child, Lilith died of typhoid of which Crowley blamed on his wife's alcoholism. Their second child, Lola was entrusted to Rose after they divorced on the ground of his adulterous lifestyle.
Notorious Reputation and Facts About Aleister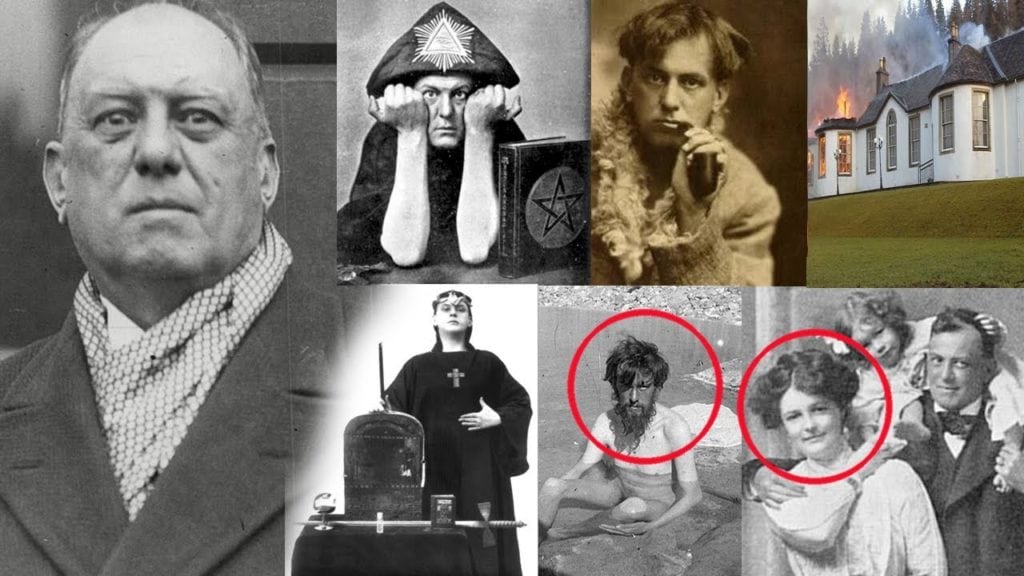 1. Aleister Crowley's interest in sexual exploration began as a teenager. By the age of 14, he had already lost his virginity on his mother's bed to one of the housemaids serving at his family home. As the maid was promptly sacked, Crowley sought his pleasure from prostitutes and eventually contracted syphilis and gonorrhea.
2. He became a member of Golden Dawn, in 1898, an occultic society in which he was unpopular and gained a bad reputation with his bisexuality and libertine lifestyle. He was expelled from the Hermetic Order before he could get to the Second Order.
3. It was in Egypt, along with his wife Rose, that Aleister Crowley claimed to have heard a disembodied voice named Aiwass; a voice that told him over the course of the next three days, the words of the book he titled The Book of the Law. The book was the base upon which he founded Thelema.
4. Crowley began to live from hand to mouth in the year 1914 after lavishing his inheritance due to his excesses. He started living off donations from the occult group A∴A∴ which he co-founded but later earned money writing for the American edition of Vanity Fair in New York City. While in NYC he continued to experiment with sex magic, using masturbation, female prostitutes, and rent boys (male prostitutes) of a Turkish bathhouse; all of which he documented in his diaries.
5. He suffered from asthma and doctors prescribed heroin to which he soon became addicted. In the meantime, he was running a community he called the Abbey of Thelema which he established in Italy. Members only wore robes and performed rituals to the sun god. After a young member, Raoul Loveday died of liver infection, his wife who hated Crowley's activities within the community, told the press that her husband was made to drink the blood of a cat and, that all members were required to cut themselves with razors every time they used the pronoun "I".
It was for this report that newspapers labeled him the "wickedest man in the world" who should be hanged. He has subsequently issued a deportation notice in April 1923 by Italy's government and the Abbey of Thelema closed in his absence.
6. It was said that Crowley, during the rise of Nazism in Germany, nurtured the belief that Aldof Hitler might convert to Thelema. But then, Nazis abolished the German branch of the occultic order Ordo Templi Orientis (O.T.O.) in which he was the head of its British branch.
7. The man had an illegitimate son, Aleister Atatürk born in May 1937.
See Also: David Parker Ray Biography, Childhood, Family Life and Crimes
Aleister Crowley's Death
Before his death at the age of 72 on December 1, 1947; he struggled with heroin addiction, underwent a series of nasal surgeries, and lost some court cases that plunged him into bankruptcy.
His funeral was dubbed the Black Mass by the press; with only about a dozen people in attendance. Excerpts from his books: Gnostic Mass, The Book of the Law, and Hymn to Pan was read as he was laid to rest.